Cashew cream cheese is the best homemade vegan cream cheese alternative. It's tangy, creamy, and spreadable. Comes together in 5 minutes and lasts all week in the fridge.
A warm toasted bagel slathered with this dairy-free cream cheese is one of my favorite morning meals. It's so easy I like to call it breakfast in under 5 minutes!
And lately, I've taken it to the next level by adding strawberry preserves. It's like having a healthier slice of strawberry cheesecake in the morning.
You've definitely got to try it!!
Ingredients
It only takes 4 common pantry staples to make this recipe.
Cashews. The cashews are soaked in water to soften them. Soaking the cashews makes a smoother cashew cream cheese.
Lemon juice. The lemon juice gives this vegan cream cheese a tart/tangy flavor.
Salt. Any brand or variety of salt is fine. I used Himalayan pink salt.
Oil. Refined coconut oil is best for this recipe since it has a neutral flavor and solidifies in the refrigerator.
Instructions
This vegan cream cheese can be made in 3 easy steps.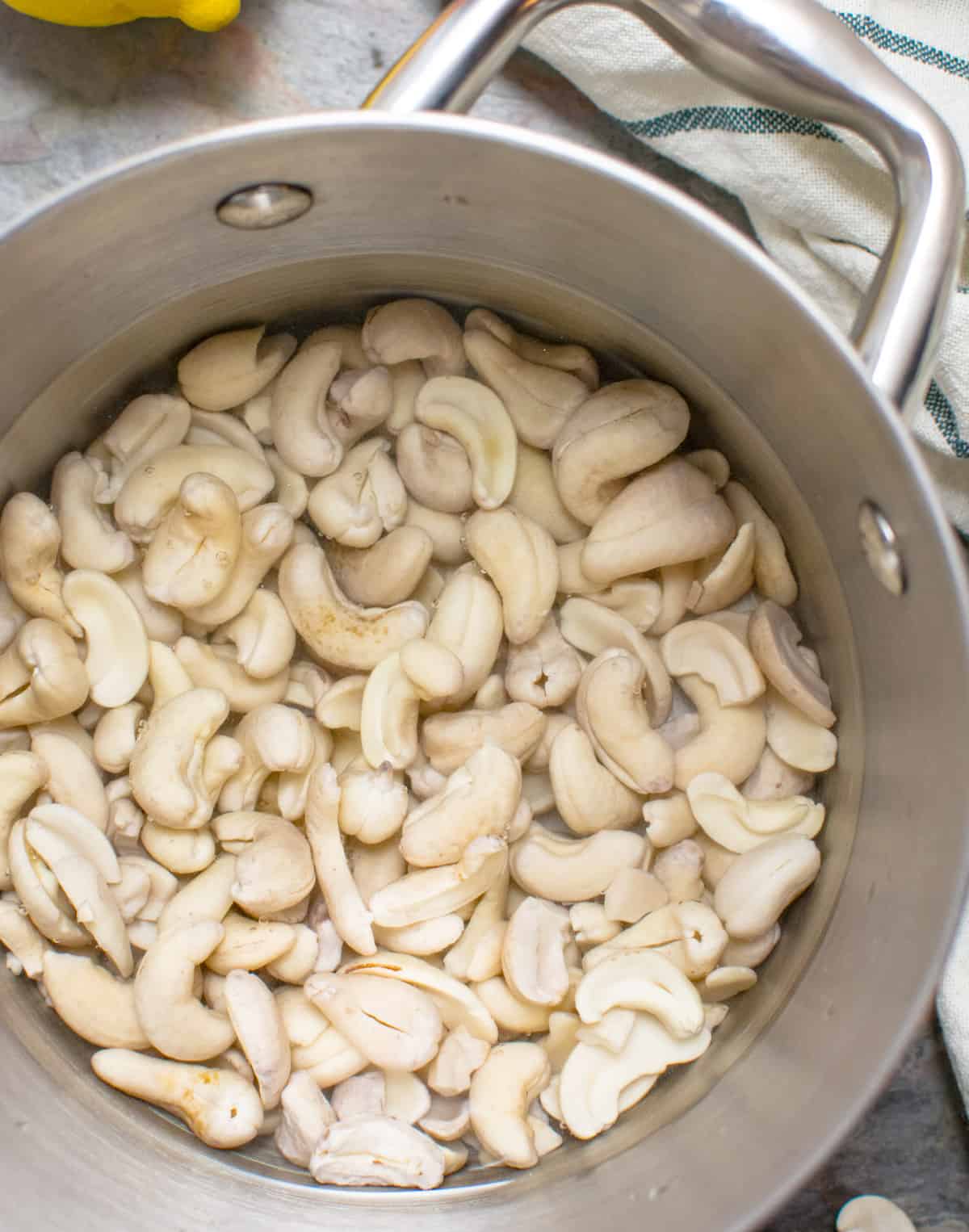 Step 1. Soak the cashews to soften them for a creamier vegan spread.
Step 2. Add the soaked cashews, lemon juice, salt, and coconut oil to a food processor (or blender).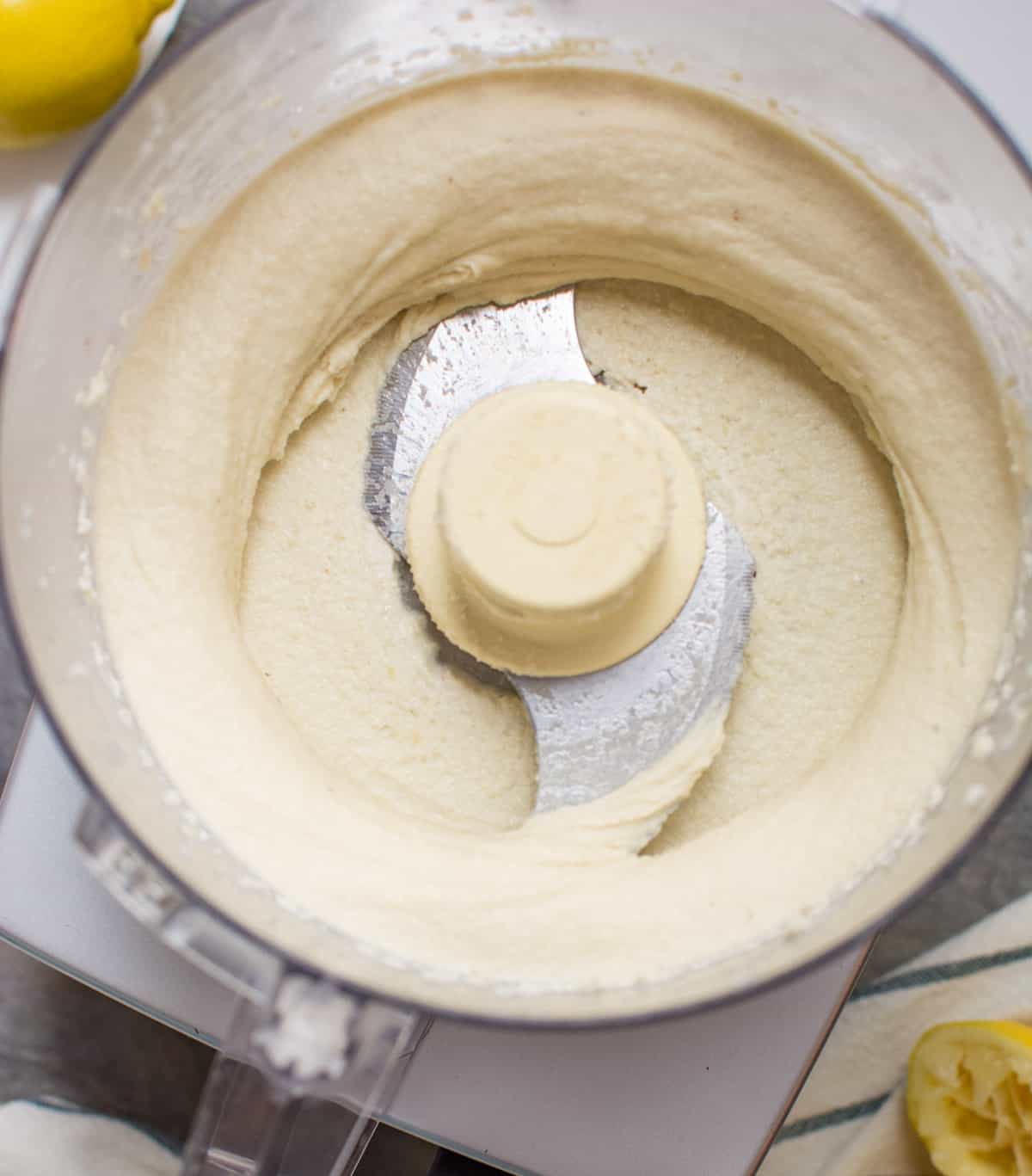 Step 3. Process until the cashews are smooth and creamy. Chill in the refrigerator for at least an hour before enjoying.
You've just made some of the best dairy-free cream cheese you'll ever enjoy!
Ways to use vegan cream cheese
Slather it on bagels, toast, crackers, or anything else you've got in your pantry. Then top with one of the suggestions below.
fruit preserves for one of my favorite combos.
chives and black pepper for a savory start.
apple slices topped with cinnamon and sugar.
avocado and red pepper flakes for a little kick.
cucumber and fresh ground pepper to keep it simple.
Or, use it in these amazing black bean enchiladas.
There are so many delicious options it's hard to choose one.
FAQ's
How long will this vegan cream cheese stay good?
This recipe will last in the fridge for up to 5 days if stored in an airtight container.
Can you freeze cashew cream cheese?
YES! Cashew cream cheese will last in the freezer for 2-3 months. Defrost in the fridge for 24 hours. If the consistency is lumpy, run it through the food processor or blender before using.
Can this recipe be substituted for cream cheese in cheesecake?
I don't suggest using this recipe in cheesecake. The texture wouldn't be as smooth. So I suggest using a store-bought brand.
What does cashew cream cheese taste like?
This recipe tastes very similar to dairy cream cheese. It has tang from the lemon juice, and the salt adds a savory flavor. Slather it on anything you would normally put cream cheese on for a vegan version.
Pro Tips
Smoothness. Coconut oil adds smoothness to the vegan cream cheese and creates a thicker spread when cold. This can easily be omitted without much change to the taste and only a slight change in the smoothness.
Consistency. I like my cream cheese thick and spreadable. For a thinner, more whipped cashew cream cheese add a few Tablespoons of water. Remember, it will firm up a bit in the fridge.
Processing. Use a food processor or high-speed blender. A high-speed blender will produce the smoothest texture.
Lemon Juice. Start with 3 Tablespoons of lemon juice. Add more as needed for an ideal "cream cheese tang". Depending on the lemons, I've used anywhere from 3 to 5 Tablespoons of juice. Sometimes more!
We'd love to hear from you!
If you enjoyed this vegan recipe, please leave a 5-star rating in the recipe card and share your thoughts in the comments below.
Also, if you snap a photo be sure to share it with us! We love to see your creations!! You can find us on Pinterest, Facebook, and Instagram.
Or, get the links to new recipes delivered straight to your inbox by signing up for our newsletter. See ya there!
Recipe
Vegan Cream Cheese
Yield:
about 1 and ½ cups cream cheese
Cashew Soaking Time:
20 minutes
Cashew cream cheese is the perfect homemade dairy-free option. It's tangy, creamy, spreadable and whips up in about 5 minutes. Lasts all week in the fridge.
Instructions
Add the soaked cashews, oil, lemon juice, and salt to a high-speed blender or food processor.
Blend for 5-8 mins to achieve a creamy texture. Stop the blender or processor and scrape down the sides 2-3 times during blending.
Taste and add more lemon juice or salt as needed.
Place in an airtight container and store in the fridge for up to 5 days.
Notes
Lemon juice: Depending on how citrusy your lemons are, you may need to use more or less juice. Start with 3 Tablespoons and add more as needed to make the cream cheese tangy.
Adding water: For a thinner, more whipped cashew cream cheese, add 2-3 Tablespoons of water to the cream cheese after blending. Pulse a few times to mix in the water.
Nutrition Information:
Yield:

5 servings
Serving Size:

¼ cup
Amount Per Serving:
Calories:

28
Total Fat:

3g
Saturated Fat:

2g
Trans Fat:

0g
Unsaturated Fat:

0g
Cholesterol:

0mg
Sodium:

0mg
Carbohydrates:

1g
Fiber:

0g
Sugar:

0g
Protein:

0g
**Nutritional info is provided as an estimate based on the ingredients I used and for convenience and as a courtesy only.**
More Delicious Cashew Recipes
Where You Get Your Protein is a participant in the Amazon Services LLC Associates Program, an affiliate advertising program designed to provide a means for sites to earn advertising fees by advertising and linking to Amazon.com. This site may contain some of these links to Amazon.com. If you make a purchase through one of those links, Where You Get Your Protein will receive a small commission from the purchase at no additional cost to you.