Pumpkin Frosted Chocolate Cupcakes with Bat Bites are a healthier, vegan holiday-inspired dessert. The pumpkin spiced frosting is made from whipped coconut cream and real pumpkin purée. And the cupcakes are rich and chocolatey with the addition of chocolate chips. Leave them as is, or top them with a thin mint bat cookie for a spooky fun Halloween treat!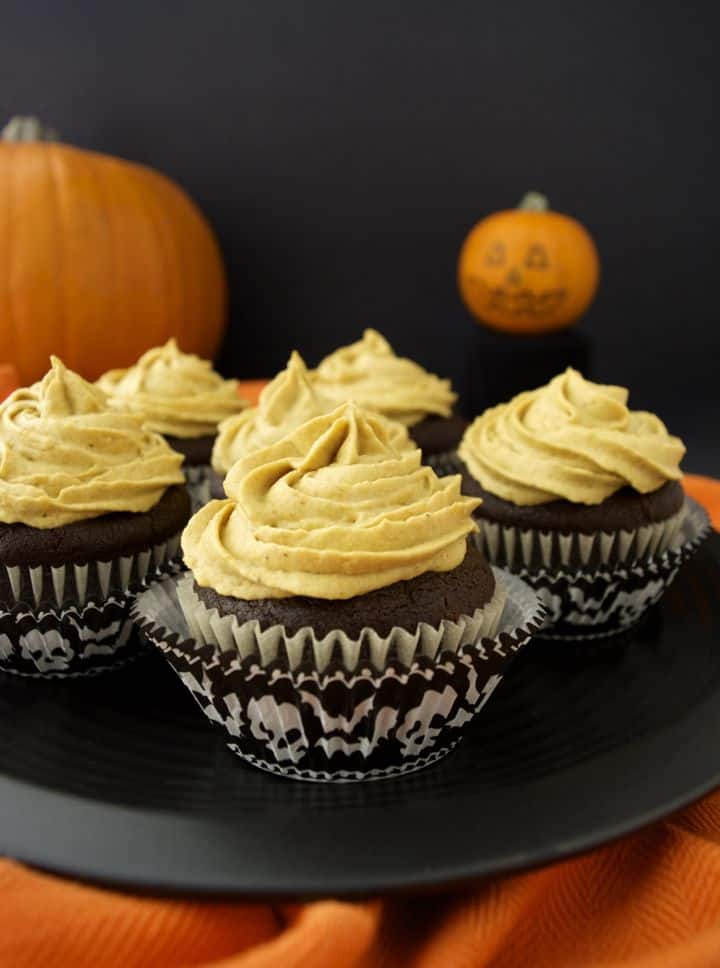 Halloween is just a few weeks away and this year I have something different planned for my daughter. The idea is to prep a few of her favorite foods the day before ––pizza pockets, hummus and of course these fun, Halloween Pumpkin Frosted Chocolate Cupcakes with Bat Bites.
Below is my daughter's 2015 Halloween experience. If you're here for only the cupcakes scroll down to the heading 'Pumpkin Frosted Chocolate Cupcakes with Bat Bites'.
To begin the night, my husband and I will decorate the house with ghosts, spiders, webs and lots of black and orange lighting. Nothing too spooky or frightening for our now 8-year-old daughter. Because after last year's scare (I'll get to that in a minute), she swore off Halloween forever. So this year we plan to make it creepy fun instead of horrifyingly scary.
"Trick-or-treating" is out of the question since most candies aren't vegan. So my husband and I came up with a fun way for our daughter to collect the candy we approve of. Our tradition for the past few years has been hiding treat bags throughout the backyard. We set up themed areas ––such as a 'spiders lair' and 'skeleton alley'–– and place treat bags, with attached glow bracelets, in each area.
This was what we were working with last year. ↓ We filled those treat boxes with the candy. You'll see what the masks were for in a second.
The Halloween hunts started out fun and not very scary. But as the years went on and my daughter grew older we began to up the spookiness. Last year my husband teased her saying he was going to scare her on Halloween. She just shrugged it off saying "you can't scare me". Let's just say she was wrong! Last year's candy hunt basically began with tears.
Now on to that frightful Halloween night of 2015….
---
My daughter has always been a pretty happy-go-lucky girl. She grew up fairly unafraid and I don't remember her having many fears as a younger child. She loved going on the Haunted Mansion at Disneyland. And would spend many nights in the dark backyard snail hunting with a flashlight. (she thinks snails are the cutest and is always putting greens out for them to eat.)
..........
Last year all that changed. My daughter woke up excited on Halloween. She had her Dorothy (Wizard of Oz) costume on all day anticipating nightfall, to collect all the treats, while my husband spent all day decorating the backyard. When the night finally grew near and the backyard was transformed into an eerie haunted yard, we tried to prepare her for what's to come. But with a tough girl attitude, she said she was ready.
Surprisingly, I didn't expect the instant reaction she gave as she stepped out the backdoor. A blood-curdling SCREAM while running from the patio back into the house and into the farthest bedroom. The sight of something hanging from the tree was just too much for her. She was in tears questioning what could possibly be hanging out there. Then swearing she HATES Halloween while refusing to go back out.
I'll save her the embarrassment of posting the photos of her crying.
And this is what sent her running and screaming to the bedroom.....
If I was 7 and saw that hanging in the backyard I'm sure my reaction wouldn't have been much different!
To persuade her back outside we told her his name is Zeek and he's actually nice. So nice in fact, he hid a surprise for her. After at least 20 minutes of trying to convince her he won't do anything, she finally agreed to go back out. But only under one condition; I hold her hand the whole time. Of course, I agreed and we began the now scary treat hunt.
I took her through 'skeleton alley' first because it was calm and more of what she's used to. Here the skeleton head with glowing eyeballs had a treat box for her.
Then it was on to the 'spiders lair'. This was an area she wasn't too fond of. My husband had a toy spider pulled up on a string. As soon as she walked past it, he dropped the spider and she FREAKED! screaming and burying her head in my stomach. It took a few minutes, but she collected herself and finally grabbed her treat box from the giant spider.
She grabbed a few more treat boxes scatted throughout the yard. Then it was on to last stop for Dorothy; the 'wicked witches lair'. We thought she would be creeped out by the witch, but surprisingly she wasn't scared at all. She happily grabbed the treat box which had a note attached. The note explained there was a hidden prize that needed to be dug up.
So, I walked with her to the 'grave yard' where she grabbed the shovel and started digging. She dug up her Shopkins shopping cart prize and was glad to have survived Halloween!
But she still had one big curiosity...…
Who is Zeek and why is he hanging from the tree?
We took her back outside where my husband disassembled him in front of her. We showed her he was made of towels, a clothes hanger, and a masked balloon. She was relieved and happy to have Zeek gone!
Now I know I can't top that story with these mundane cupcakes, but I'll give it a try because they're screamingly good….
• • •
Pumpkin Frosted Chocolate Cupcakes with Bat Bites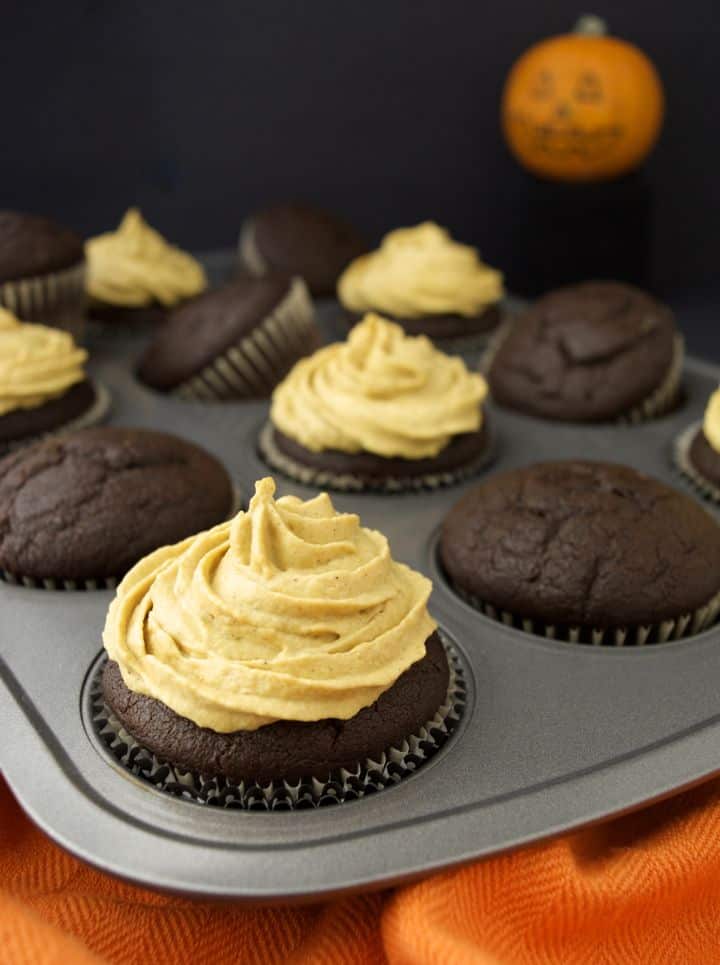 Well, we all know chocolate cake is a classic homemade treat. And when I came up with a chocolate cake my family loved I was ecstatic! I wanted to share the recipe with all of you! ...But I realized I'm an amateur at decorating cakes. So, I digressed and continued to make them for my family.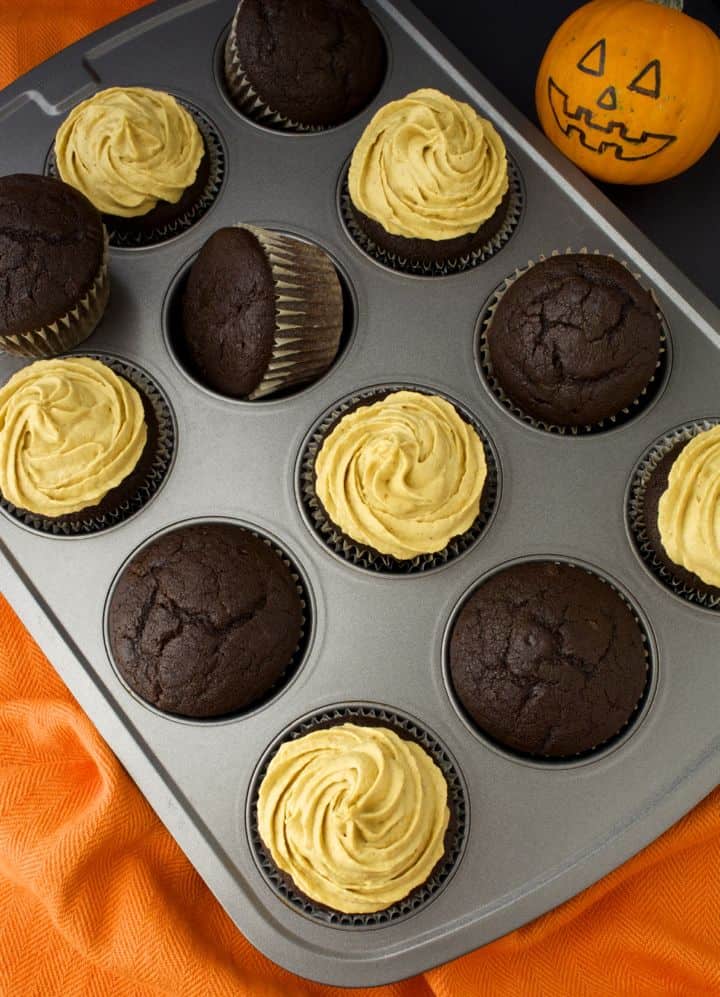 Then last week I made cupcakes using the cake recipe and they turned out perfect. And decorating them wasn't too difficult either……
Top the cupcakes with a spiral of frosting…I can do that!
Stick a thin mint bat cookie in the frosting to hide any flaws…I can do that too!
And Pumpkin Frosted Chocolate Cupcakes with Bat Bites were born.
I recently roasted and puréed pumpkin and used it to create the frosting. To avoid using heavy amounts of sugar, I opted for coconut cream as the frosting base. Then pumpkin spice was added for extra pumpkin flavor, powdered coconut sugar for sweetness, and natural orange dye for a bit of color.
It was a whipped, pumpkin cloud I couldn't wait to top the chocolatey cupcakes with!
To add a Halloween twist to the pumpkin frosted chocolate cupcakes, they're topped with gluten-free thin mint cookies cut using mini bat cookie cutters. I kept the mint in the chocolate coating, but you can always omit it for a classic chocolate taste.
Or save time and top them with a fun Halloween themed cupcake topper.
• • •
We'd love to hear from you!
If you enjoyed this recipe, please leave a 5-star rating in the recipe card and share your thoughts in the comments below.
Also, if you snap a photo be sure to share it with us! We love to see your creations! You can find us on Pinterest, Facebook, and Instagram.
Pumpkin Frosted Chocolate Cupcakes with Bat Bites
These chocolate cupcakes are topped with pumpkin frosting and homemade bat cookies. Their rich chocolatey flavor makes them a hit with vegan and non-vegans alike.
Ingredients
Dry
1 1/2 cups all purpose flour, sifted
1/3 cup cocoa powder, sifted
3/4 cup coconut sugar
1 teaspoon baking soda
1/4 cup chocolate chips
pinch of salt
Wet
1 cup non dairy milk
1/4 cup non-dairy chocolate chips
1/4 cup coconut oil
1 teaspoon vanilla extract
3 Tablespoons maple syrup
Pumpkin Frosting
1 can coconut cream, harvesting only the cream*
5 Tablespoons pumpkin puree
4 teaspoons powdered coconut sugar*
1/2 teaspoon pumpkin spice
Optional Toppings
Instructions
For the Cupcakes
Preheat the oven to 350º and line your cupcake tin with papers.
Add the non-dairy milk and chocolate chips (from the wet ingredients list) to a saucepan.
Heat over medium until the non-dairy milk is warmed and the chocolate chips begin melting. Turn off the heat and whisk until the chocolate chips are fully melted.
Add the remaining wet ingredients -coconut oil, vanilla extract, and maple syrup- into the sauce pan and whisk again. Set aside.
In a large mixing bowl sift the flour and cocoa powder.
Stir in the remaining dry ingredients -coconut sugar, baking soda, chocolate chips (from the dry ingredients list) and salt-.
Now pour the saucepan of wet ingredients into the bowl of dry and mix with a wooden spoon until combined.
Evenly transfer the batter to your lined cupcake tin. Each cupcake paper should be about two-thirds full.
Bake at 350º for for 25-30 min.
Let the cupcake cool for 10 minutes. Then, transfer to a wire cooling rack.
Place cupcakes in the fridge to completely cool before frosting.
For the Pumpkin Frosting
Scoop the coconut cream* into a large mixing bowl. With a hand mixer, whip the coconut cream until it is whipped and appears thicker, about a minute.
Add in the remaining ingredients and mix again until well combined.
Chill the frosting in the fridge for at least 30 minutes before piping.
Frost each cupcake using a piping bag and star tip.
To Pipe the Frosting
Start in the center of the cupcake and swirl your way out lightly lifting the bag as you go.
When you reach the edge of the cupcake bring the swirl back in to the center and pull up to finish.
Top each cupcake with a thin mint cookie or cupcake topper.
Cupcakes keep best in the fridge.
Notes
Coconut Cream: To harvest only the cream, place a can of coconut cream in the back of the fridge overnight. When ready to use, open and scoop off the top cream leaving the liquid in the can. You can choose to toss the liquid or add it to a smoothie!
To make Powdered Coconut Sugar: Place coconut sugar in a coffee grinder, NutriBullet, or high-speed blender.  Blend until it turns into a fine powder.  That's it!
Nutrition Information:
Yield:

12 cupcakes
Serving Size:

1 cupcake
Amount Per Serving:
Calories:

261
Total Fat:

10g
Saturated Fat:

7g
Trans Fat:

0g
Unsaturated Fat:

2g
Cholesterol:

6mg
Sodium:

153mg
Carbohydrates:

41g
Fiber:

2g
Sugar:

25g
Protein:

3g
**Nutritional info is provided as an estimate based on the ingredients I used and for convenience and as a courtesy only.**