These Gluten-Free Thin Mint Cookies are so good you can't eat just one! They're reminiscent of the classic "Girl Scout" cookie, but they're vegan, gluten-free AND only 10 ingredients. Enjoy a healthier option all year long.
These Vegan Thin Mints are:
Vegan (of course)
Gluten-Free
Only 10 ingredients
Chemical-Free
Non-GMO
HOW MUCH BETTER CAN IT GET?!?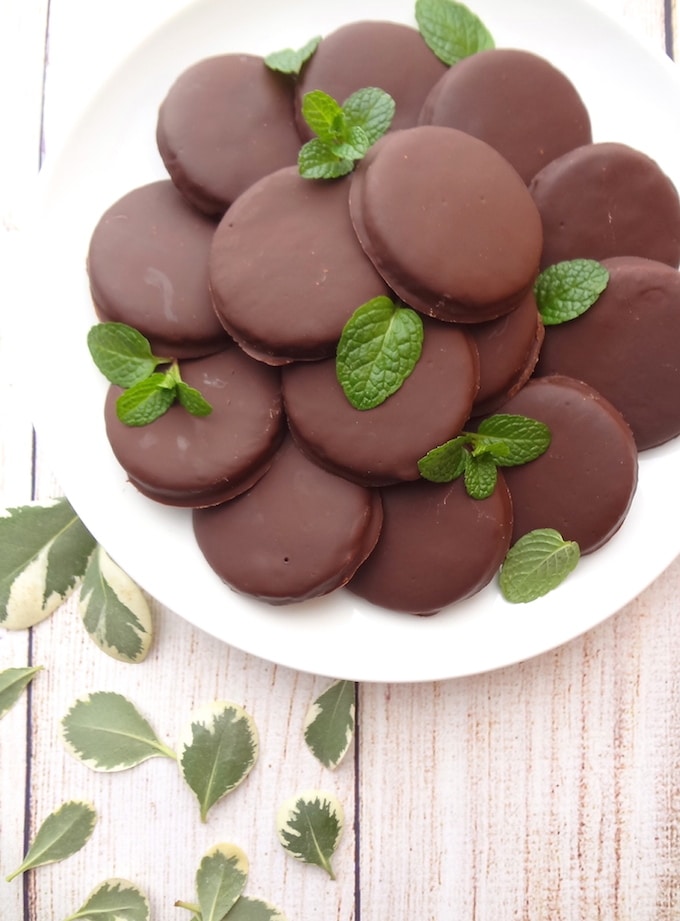 I was always a fan of Girl Scout cookies. I would wait all year to get a few boxes. The thin mints were by far my favorite, I could eat a whole box in a day!
Fast forward many years later and my eating habits have completely changed. I can no longer run to the store for a package of cookies, let alone a box of Girl Scout cookies.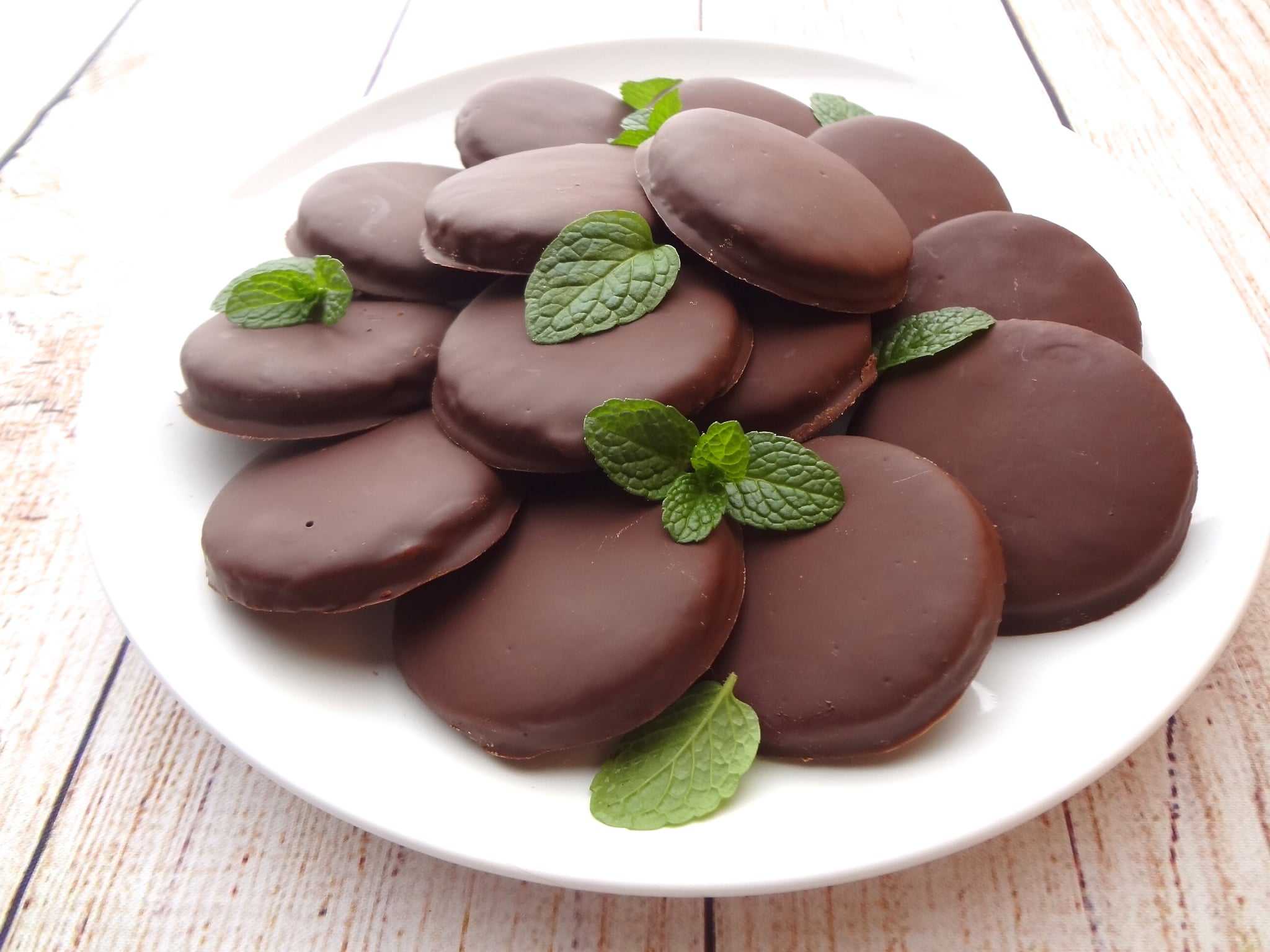 This Gluten-Free Thin Mint Cookie recipe allows me to enjoy those minty, chocolatey cookies I once loved without the "bad stuff". And the best part— I can enjoy this healthier option all year long!
Head on over to the Gluten-free section of the blog for more GF recipes!
We'd love to hear from you!
If you enjoyed this recipe, please leave a 5-star rating in the recipe card and share your thoughts in the comments below.
Also, if you snap a photo be sure to share it with us! We love to see your creations! You can find us on Pinterest, Facebook, and Instagram.
Recipe
Gluten-Free Thin Mint Cookies
These Gluten-Free Thin Mint Cookies are reminiscent of the classic "Girl Scout" cookie, but they're vegan, gluten-free AND only 10 ingredients.
Ingredients
For the Cookie
1 and ¼ cup almond flour*
4 Tablespoons coconut oil, use refined for a neutral flavor
1 teaspoon vanilla extract
4 Tablespoons maple syrup
pinch of Himalayan pink salt
¾ cup tapioca starch
1 Tablespoon cocoa powder, sifted
Mint Chocolate Coating
1 cup vegan chocolate chips, I use Enjoy Life
½ teaspoon peppermint extract
1 teaspoon coconut oil, refined
Instructions
Cookie
Preheat your oven to 350º and line a baking sheet with parchment paper.
With a whisk, whip the coconut oil until smooth. Add the vanilla extract, maple syrup, and salt. Mix until well combined.
Add the remaining dry ingredients: almond flour, tapioca starch, and cocoa powder. With a wooden spoon, mix until fully combined. If the dough is too sticky add 1 Tablespoon at a time, altering between tapioca starch and almond flour until a dough forms.
If the cookie dough becomes too oily after mixing, place it in the fridge for about 10-15 minutes to harden a bit.
Sprinkle a clean surface with tapioca starch. (I like to use a non-slip mat, it makes removing the cookies easier.) Roll the dough out to about a ¼ inch thickness.
Using a 2 inch round cookie cutter (or the rim of a small glass), cut out as many cookies as possible. Gather the remaining dough and repeat the previous 2 steps until the dough is gone.
Place cookies on a baking sheet and bake at 350º for 10-12 min. Bake in batches if needed.
Carefully remove the cookies from the oven.
When cool enough to handle, place cookies on a cooling rack to cool for at least 30 minutes before adding the chocolate coating.
Store cookies in the fridge if you're not adding the chocolate coating right away. When ready, remove from the fridge before prepping the chocolate.
Mint Chocolate Coating
Flip your baking sheet over and place a piece of parchment paper over the bottom. (Using the bottom of the baking sheet keeps the parchment paper from turning up in the corners and possibly ruining the chocolate coating.)
In a double boiler, add chocolate chips, oil, and mint extract. Heat on low until the chocolate is melted and smooth. Turn off fire and dip each cookie, 1 at a time, in the chocolate. Dip the top of the cookie first, then using a spatula, and the help of a fork, flip it over. Using the fork, remove the cookie from the chocolate and tap as much excess chocolate off as possible. Place on the parchment paper. Once the parchment paper is filled up, or all the cookies have been dipped, place them in the freezer for at least 15 minutes to solidify the chocolate.
Store in an airtight container. I found the cookies to be best kept in the freezer, but they also do well in the fridge.
Notes
Almond Flour- Almond flour can be substituted with almond meal.  To make the almond meal yourself, simply pulse almonds in a food processor until they are finely ground.  Be sure not to blend too much, you don't want to make almond butter.
Coconut Oil Note-  I use organic refined coconut oil, as my family isn't super fond of coconut taste.  However, if you don't mind the flavor, use unrefined coconut oil.
Nutrition Information:
Yield:

20 cookies
Serving Size:

1 cookie
Amount Per Serving:
Calories:

105
Total Fat:

6g
Saturated Fat:

4g
Trans Fat:

0g
Unsaturated Fat:

2g
Cholesterol:

0mg
Sodium:

6mg
Carbohydrates:

13g
Fiber:

1g
Sugar:

7g
Protein:

1g
**Nutritional info is provided as an estimate based on the ingredients I used and for convenience and as a courtesy only.**
*This post may contain affiliate links.