Instant Pot Vegetable Soup is a classic homestyle recipe made with simple ingredients.  It's super easy to bring together making it an ideal weeknight dinner.  This healthy & flavorful chunky vegetable soup is vegan, vegetarian, gluten free and allergy friendly!
Instant Pot Vegetable Soup is a simple and classic recipe packed with good for you ingredients
The hearty vegetable base is made of kitchen staples such as––
potatoes
carrots
onion
celery
canned tomatoes
However, feel free to swap out any of the veggies for ones you may need to use up in your fridge.  
And, don't be afraid to play around with the recipe by adding rice, beans or even pasta (see the notes below the recipe for amounts).  They'll add an extra dimension to this classic soup!
an easy Instant-Pot recipe
This Instant Pot Vegetable Soup comes together in minutes, and is ready just as fast!
Toss all the ingredients right into the IP -no need to sauté any vegetables.  Set it to manual/pressure cook for 10 minutes and walk away!
Allow the Instant Pot to naturally release pressure for 5-10 minutes and you're ready to eat!
pair this vegetable soup with…
a garden salad
breadsticks
crackers
crusty artisan bread
Why should you make Instant Pot Vegetable Soup?
It's a cinch to bring together.
Full of healthy whole food ingredients.
Perfect for keeping warm on those cold days.
Ingredients are interchangeable to what you have on hand.
Great for using up leftover veggies.
It's a fool proof recipe.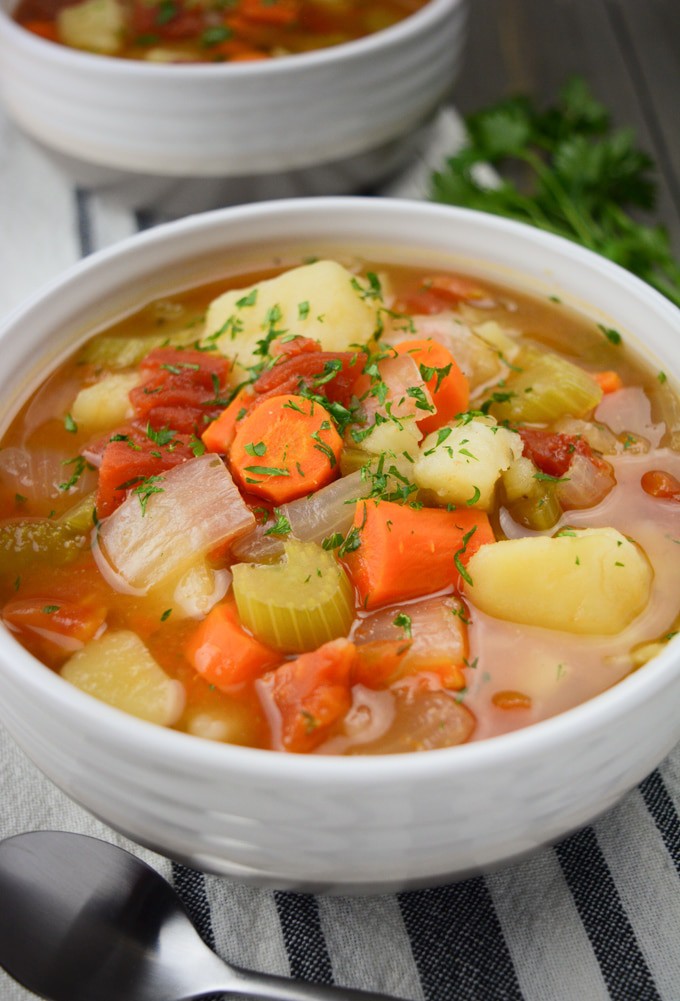 This rich and flavorful Instant Pot Vegetable Soup is sure to please even the pickiest of eaters. From adults to kids, this soup delivers a 'gotta have it' taste that will keep your Instant Pot busy all winter long.
If you don't own an instant pot yet, get one here!  In the mean time try the stovetop directions below.
Or…
Check out one of my other delicious soup recipes
---
---

*This post contains affiliate links