Creamy potato cauliflower soup gets it's creaminess from the cauliflower. It's blended to create the perfect base. Then the soup is loaded with with chunky potatoes to keep it hearty and textured.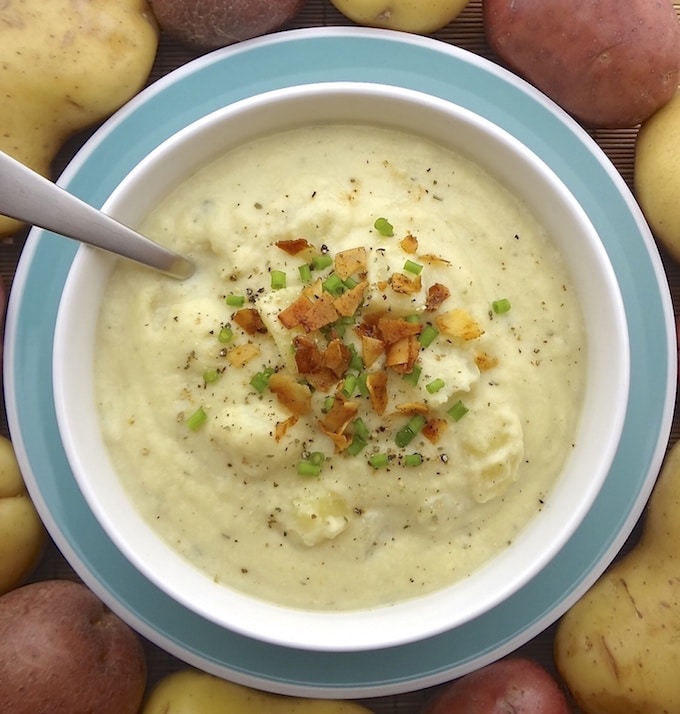 Cold, cloudy nights call for vegan soup! I love a good classic vegetable soup, or vegan noodle soup, but sometimes I want something a little heartier. Thats when I whip up a batch of Creamy Potato Cauliflower Soup.
The almonds and cauliflower give the soup a creamy base, while the onions, garlic, and seasonings nicely bring the flavors together.
It's so delicious my daughter asks for it weekly. I'm starting to think it's becoming her new obsession food, and I'm ok with that.
Can I replace the almonds?
This question gets asked quite often, and the answer is YES! Simply replace the almonds with an extra ½ cup of non-dairy milk or canned coconut milk.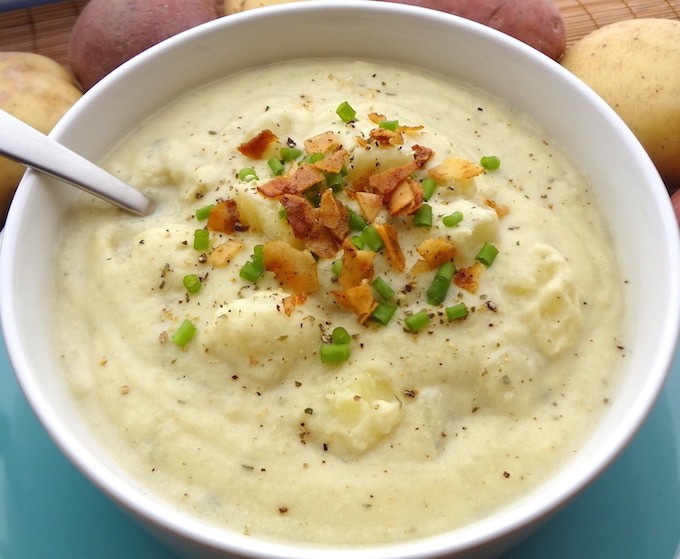 Enjoy this creamy potato soup with your favorite toppings
Each bowl of potato cauliflower soup can be customized making it a great family dinner.
My daughter likes hers topped with coconut bacon. While my husband and I go for a Loaded Potato Cauliflower Soup.
We top our bowls with a generous amount of fresh ground black pepper, coconut bacon and fresh green onions. It's also great with vegan cheese and sour cream.
It leaves us full and satisfied!
Coconut Bacon
Coconut bacon is a great vegan bacon alternative. It's made from dried, crispy coconut flakes for the perfect crunch. The coconut flakes are then coated in a smoky, salty, sweet "bacon flavoring" making them oh-so-irresistible and the perfect topper to this soup!
↑ This is the coconut bacon I use. It's delicious right out of the bag! I love the intense smoky flavor!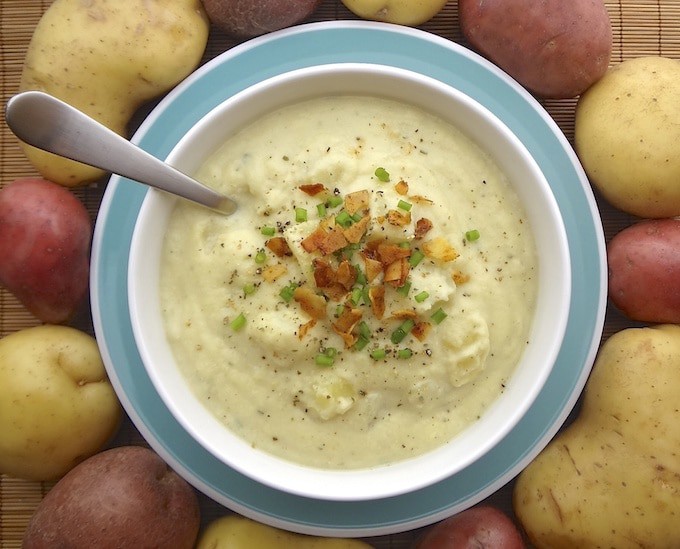 Looking for another tasty, filling soup? Check out my Hearty Potato Corn Chowder! It's super easy and another family favorite!
We'd love to hear from you!
If you make this soup, please 5 star rate it in the recipe card and tell us what you think in the comments below. Also, if you snap a photo be sure to share it with us! We love to see your creations! You can find us on Pinterest, Facebook and Instagram.
Recipe
Creamy Potato Cauliflower Soup
Creamy potato cauliflower soup gets its creaminess from the cauliflower. It's blended to create the perfect base. And to keep the soup hearty and textured it's loaded with chunky potatoes.
Ingredients
For the almonds
½ cup blanched almonds, soaked *(see note)
1 cup non-dairy milk
For the soup
3-4 medium golden potatoes, peeled and chopped into roughly 1 inch cubes
1 medium head of cauliflower, chopped
1 medium onion, chopped
3 large garlic cloves, chopped
1 cup water, plus 1-2 Tablespoons for sautéing
1 and ½ cups non-dairy milk, divided (plus more to thin if needed)
4 Tablespoons nutritional yeast
1 Tablespoon fresh lemon juice
1 and ¼ teaspoon Himalayan pink salt, or to taste
1 teaspoon dried parsley
½ teaspoon ground mustard
1 bay leaf
Optional Toppings
Fresh Ground Pepper
Green Onions or Chives
Instructions
for the almonds
Boil about a cup of water for soaking. Once the water is boiling, turn off the heat and add the almonds.
Let soak for 10-15 min while you chop your veggies.
Drain and rinse the softened almonds.
Transfer the almonds to a blender with 1 cup of non-dairy milk. Blend until smooth.
for the soup
Add the chopped onions, cauliflower, garlic, salt, ground mustard, parsley and 1-2 Tbsp. water to a large soup pot or dutch oven. Place over medium heat. Cook until the cauliflower is tender, about 8-10 min. If needed, add more water to keep the veggies from sticking.
Transfer the softened veggies along with ½ cup non-dairy milk to your blender, with the already blended almonds. Blend until smooth.
Pour the blended soup back into your pot. Add the cubed potatoes, nutritional yeast, bay leaf, lemon juice, 1 cup water and 1 and ½ cup non-dairy milk.
Let simmer on low for 30-45 min or until potatoes are fork soft. Stir frequently to keep the potatoes from sticking. Add more milk/water, if needed, for desired consistency.
Adjust the seasonings to taste.
Serve Immediately with optional toppings.
ENJOY!
Notes
For a nut-free version– skip the almonds altogether and replace with ½ cup non-dairy milk or coconut milk. It can be added in step 3 along with the remaining non-dairy milk.
Nutrition Information:
Yield:

4 bowls
Serving Size:

1 bowl
Amount Per Serving:
Calories:

191
More delicious vegan recipes