Soaking cashews is an essential step to creating creamy cashew-based recipes. Most recipes will have their own soaking process, but it may not always work for your schedule. I've compiled the top 3 ways to soak cashews, fast or slow, so you can choose the method that works best for you!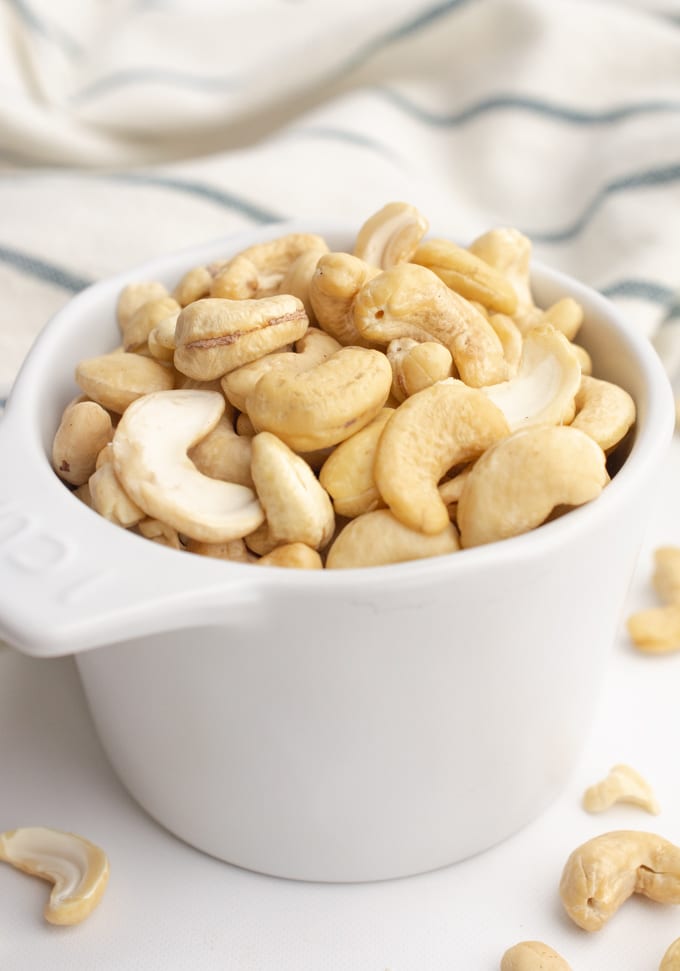 Cashews are a great vegan staple food. They can be used to make a variety of vegan cheeses, sauces, dressings, mayo, and even sweet frostings!
But, before processing the raw nuts into a creamy cashew-based recipe, they need to be soaked.
The 3 best ways to soak raw cashews are
All three of these methods will soften the nuts so they can easily be processed into creamy vegan recipes.
• • •
Soaking cashews in hot water
I'm starting with the hot water soak because this is my personal go-to method. It's easy and only takes about 30 minutes of soak time.
Start by bringing a pot of water to a boil. Once it reaches a roaring boil turn off the heat, toss in the cashews and cover the pot.
While they soak I like to get started on dinner.
REMEMBER— The longer you leave the cashews to soak in the hot water the softer they will become.
AND— The softer the cashews, the smoother and creamier your recipe will turn out.
Soaking Cashews Overnight
This method takes the most time because the cashews are soaked in room temperature water. However, the cashews will remain raw and retain their full nutritional value.
If you have the extra time and want to keep your dressings and sauces raw then this method is for you.
Add the cashews to a bowl and fill with enough water to cover the nuts. Allow them to soak overnight. if you are planning ahead for dinner, the cashews can also be soaked for 5-8 hours during the day.
Boiling Cashews
Boiling cashews is the fastest and easiest soaking method. It only takes about 15 minutes for the cashews to soften in boiling water. If you're in a hurry this is the quickest way to soak cashews.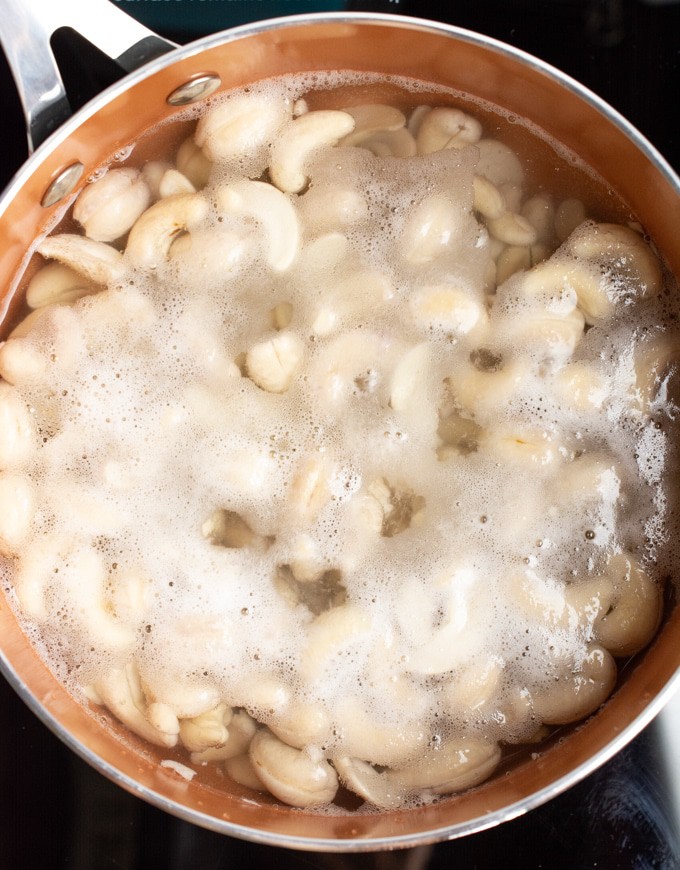 Add the cashews to a pot and fill with enough water to fully submerge them. Bring the water to a boil. Continue boiling the cashews for 10-15 minutes. Drain and rinse the softened cashews, then add them to the recipe.
• • •
Can you soak cashews too long?
Yes!
If cashews are soaked too long they acquire an unpleasant taste and texture.
If you notice the water they are soaking in becomes slimy and almost gel-like, toss 'em out. They've been soaking in the same stagnant water for too long.
To avoid over-soaking, change out the water every 6-8 hours.
Favorite vegan recipes using soaked cashews
We'd love to hear from you!
If you found this post helpful, please leave a 5-star rating in the recipe card and share your thoughts in the comments below. Also, if you snap a photo be sure to share it with us! We love to see your creations! You can find us on Pinterest, Facebook, and Instagram.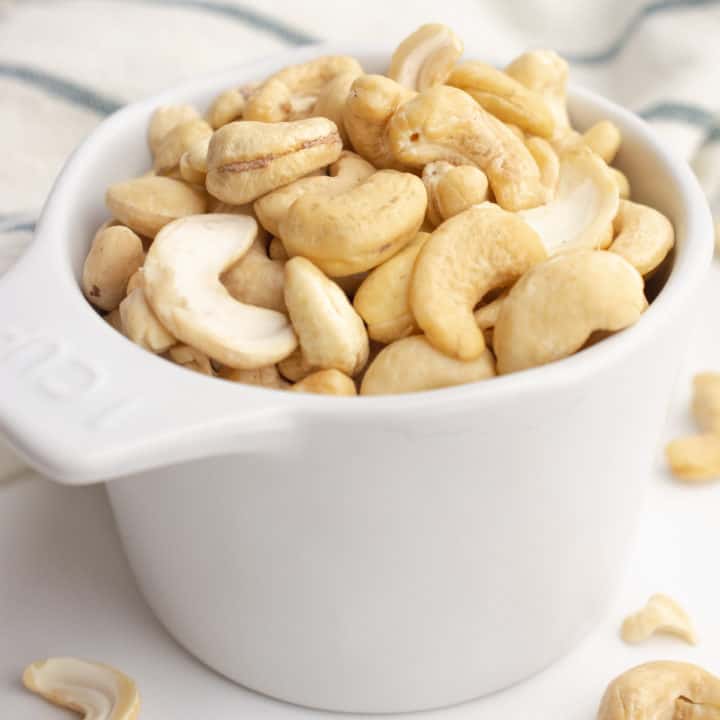 Soaking cashews 3 ways
Most creamy cashew-based recipes have their own process for soaking cashews, but it may not always work for your schedule. Choose one of these 3 ways to soak cashews, fast or slow, whichever works best for you.
Instructions
Hot Water Method
Bring 3-4 cups of water to a boil.  
Once the water is boiling, turn off the, add in the cashews, and cover the pot.
Soak the cashews in the hot water for 30 minutes to an hour.
Drain and thoroughly rinse the cashews.
Overnight Method
Add the cashews to a bowl and cover with enough water to cover them.
Soak overnight or for 5-8 hours.  You can leave them soaking on the counter or place them in the fridge.
Drain and thoroughly rinse the soaked cashews.
Boiling Method
Bring 4-5 cups of water to a boil then add the cashews.
Boil for about 15 minutes or until the cashews have softened.
Add cold water to the pot to cool it down before draining. Thoroughly rinse the cashews.
Notes
The soaked cashews can be stored in a sealed container in the fridge for about 2 days, but I suggest using them right away.
Nutrition Information:
Yield:

1
Serving Size:

1 cup cashews
Amount Per Serving:
Calories:

640
Total Fat:

48g
Sodium:

551mg
Carbohydrates:

32g
Sugar:

8g
Protein:

20g
**Nutritional info is provided as an estimate based on 1 cup raw organic cashews and 1/4 teaspoon Himalayan pink salt. This nutritional information is for convenience and as a courtesy only.**