This vegan frosting is made with cashews, coconut oil, agave nectar, and powdered sugar creating a rich and creamy, dairy-free frosting. Use it on cupcakes or frost your favorite layered cake!  This cashew frosting recipe includes vanilla and cream cheese options.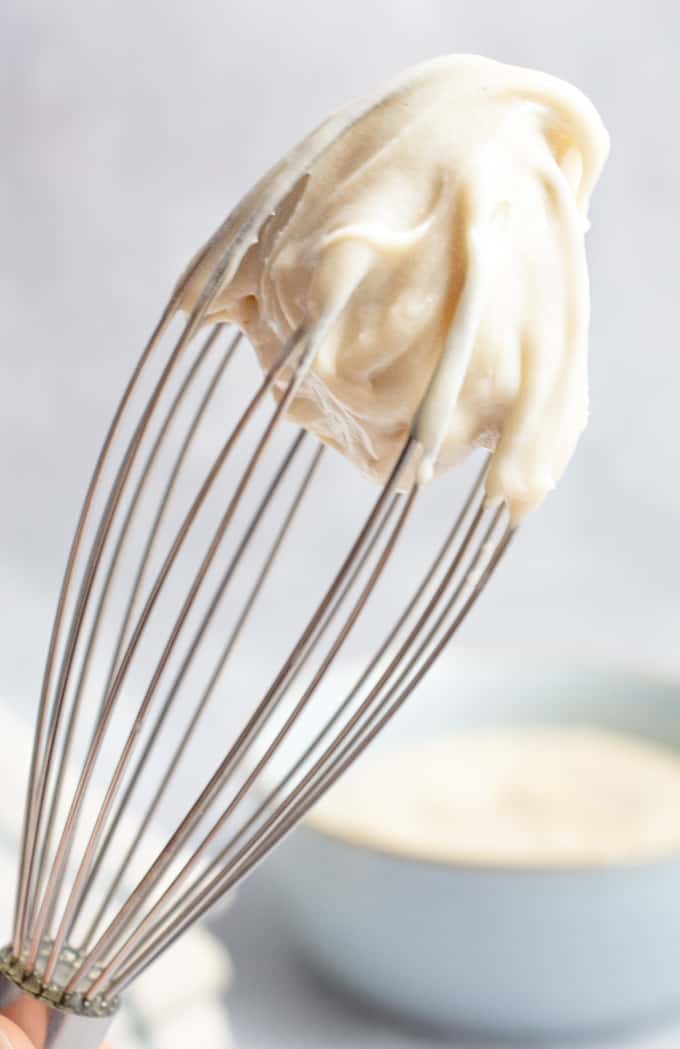 The frosting is the icing on the cake!
Today we're going to make the BEST vegan frosting using cashews!
A few months ago, I tested a cashew frosting for my vegan carrot cake recipe. I wasn't happy with the results. I ended up scrapping the idea and using store-bought cream cheese as the frosting base.
The problem with the cashew frosting was the taste and texture. The flavor seemed a bit off and the texture was grainy.
While recipe testing frosting for my vegan pumpkin cake I came to the conclusion I didn't blend the cashews long enough or add enough sweetener the first time.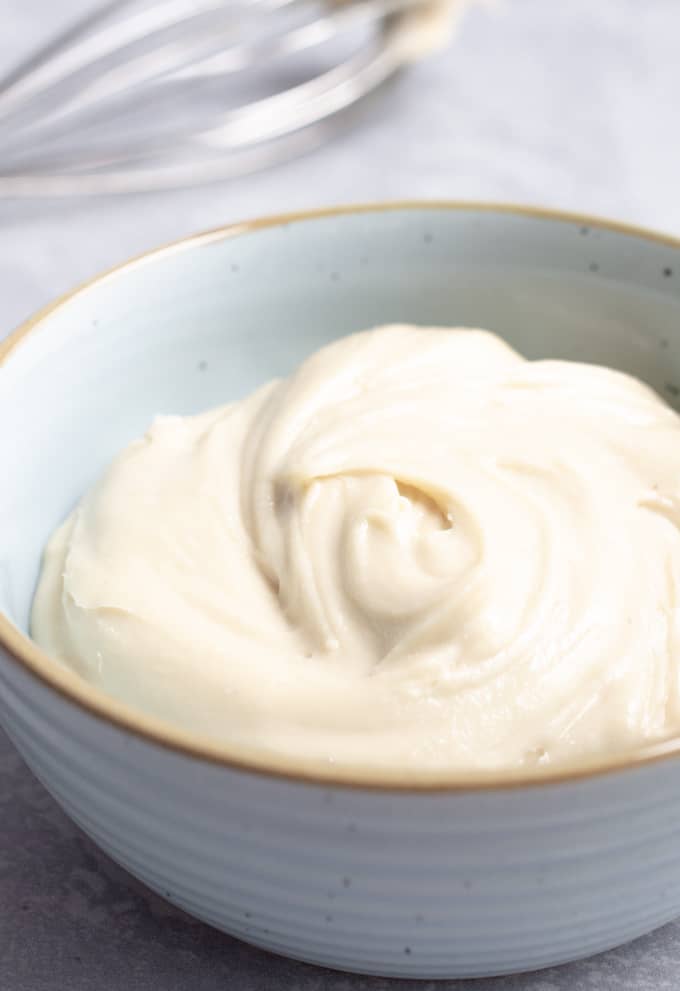 Achieving the perfect frosting consistency
In my next attempt, I added powdered sugar for sweetness and blended the cashews a bit longer for a better texture.
During the blending process, I stopped my Blendtec every 30 seconds or so to scrape down the sides and give it a break. This also gave me a chance to test the consistency. After about 4-5 blending cycles the frosting had a smooth palatable texture.
A high-speed blender, or equivalent, will blend the cashews into a smooth texture but it may take a bit longer than a Blendtec or Vitamix. I wouldn't recommend using a food processor.
Whichever appliance you decide to use, be sure to stop it every 30 seconds or so to scrape down the sides and test the consistency.
Tip: Don't over-process the nuts or you will end up with icing. When the nuts are blended for an extended period of time they release a lot of their own oil, which causes the frosting to become runny. So, it's important to regularly test the consistency and stop blending once the frosting has a smooth mouthfeel.
How to make cashew frosting
Start by soaking the cashews. Use one of the 3 easy methods in my soaking cashews post.
Once the cashews are soft, toss them along with the remaining frosting ingredients into a high-speed blender and blend until smooth.
Begin the first blending cycle at low speed. Slowly turn up the speed as the cashews smoothen out.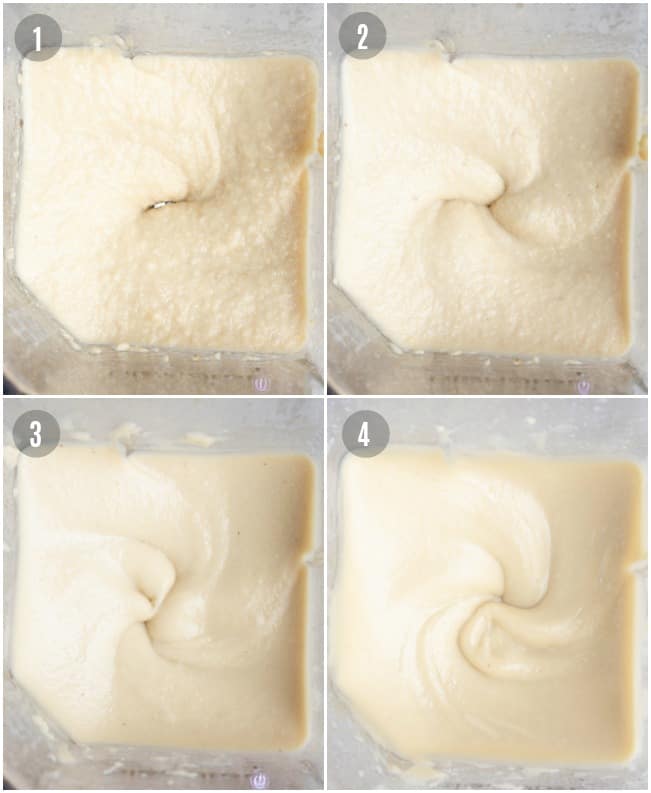 The first two images show how grainy the frosting starts.
In image 3 it looks smooth and ready, but the texture was still slightly grainy.
By image 4 it was a silky smooth, palatable frosting.
Chill the finished cashew frosting in the fridge.
This will help thicken it up. Periodically whisk the frosting as it cools to keep it from clumping.
You can also speed up the chilling process by placing the frosting in the freezer. Whisk it every 10-15 minutes until fully chilled, then move it to the fridge until you're ready to use it.
Top your favorite desserts with this dairy-free frosting. It's perfect for cakes, cupcakes, cinnamon rolls, cookies, and more.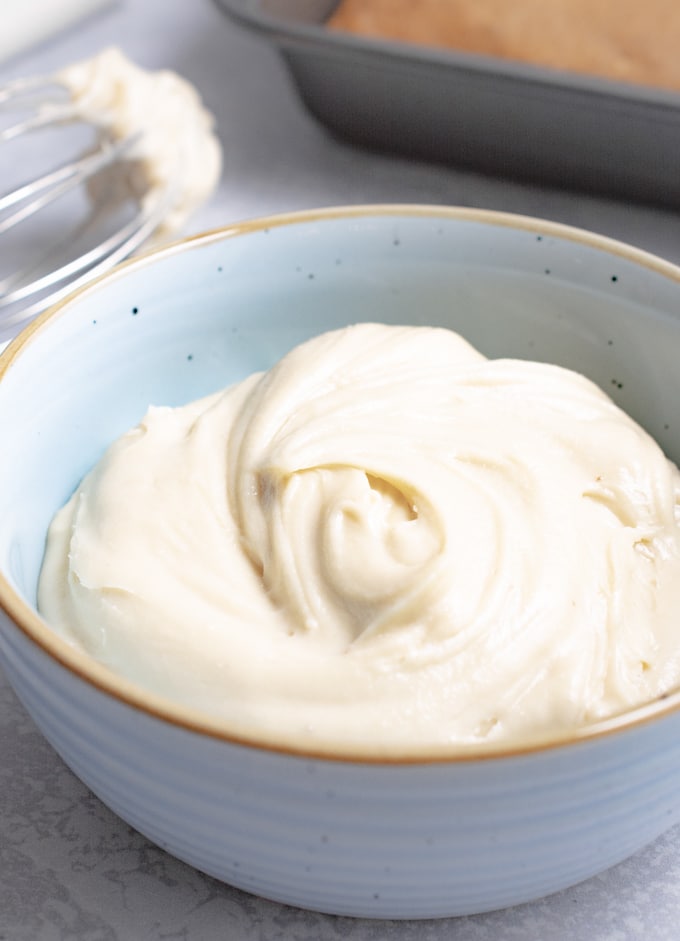 2 easy-to-make frosting flavors
Now it's time to choose your flavor.
Pick between a vanilla-flavored frosting that's sweet and to the point. Or a cream cheese variation with just the right amount of tang.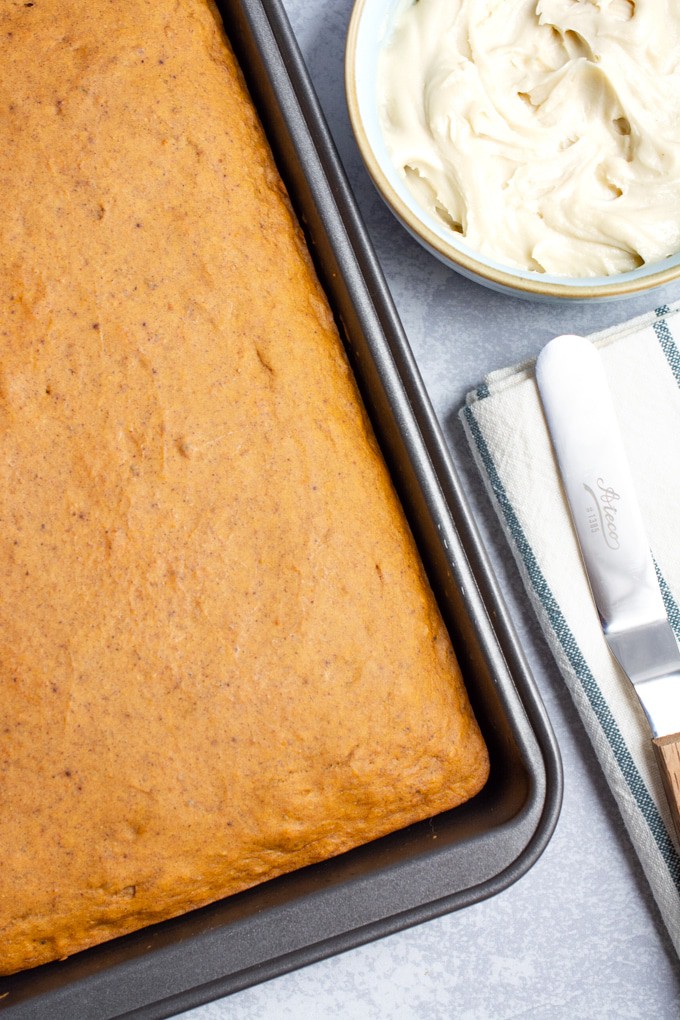 To make the vanilla cashew frosting: Follow the recipe as-is. Taste and adjust the vanilla and sweetness to your liking. Add more powdered sugar for a thicker consistency or agave nectar to thin it out a bit.
To make the cream cheese frosting: You'll want to increase the tanginess by adding extra freshly squeezed lemon juice to the vanilla version.
However, lemons do yield different levels of tartness. So for the cream cheese version, start by blending in 3-4 Tablespoons of lemon juice. Give the frosting a taste and whisk in more lemon juice until you're satisfied with the level of tartness.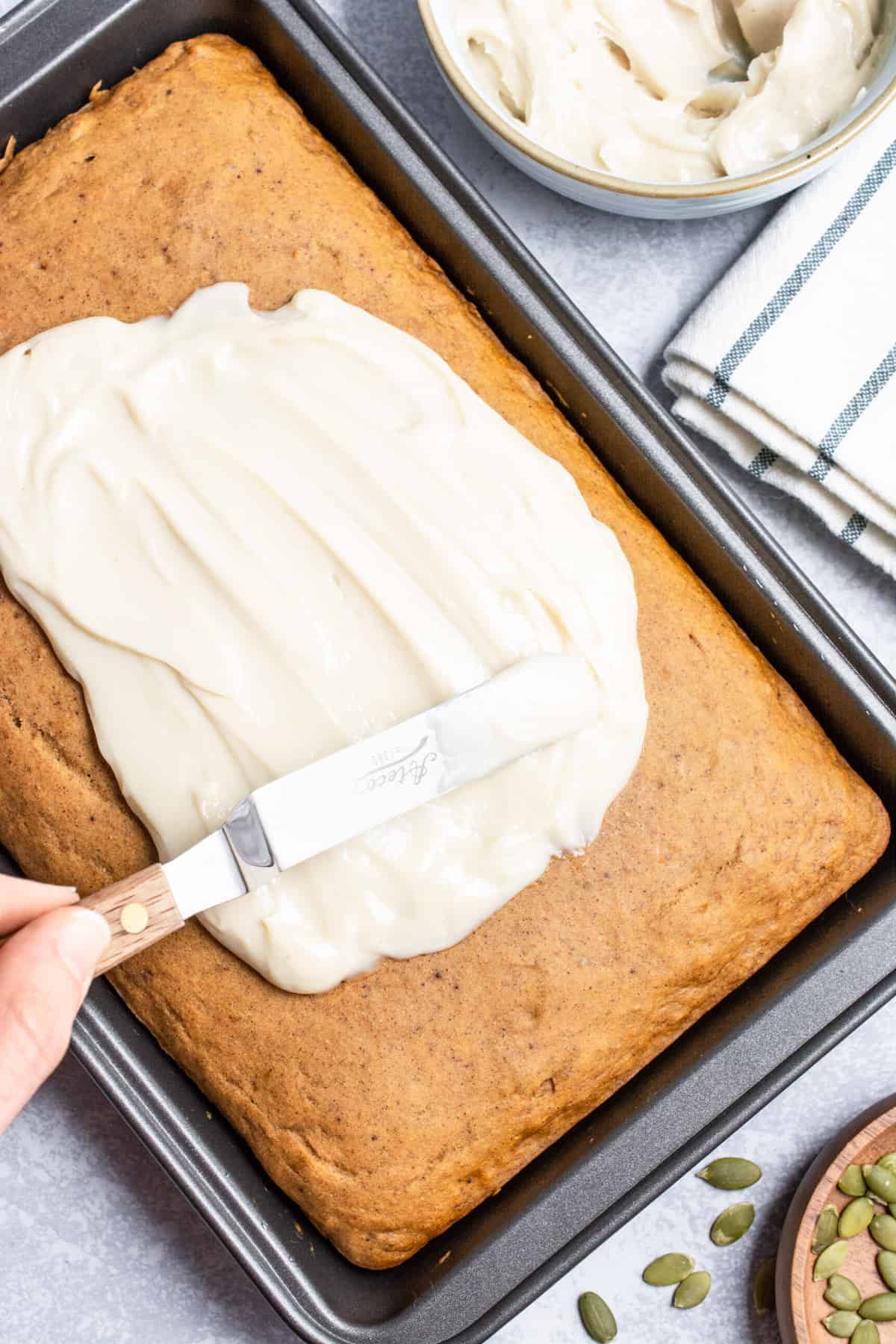 Powdered sugar
Powdered sugar was added for sweetness and also stability. A super healthy cashew frosting wasn't my intention. I wanted to create a tasty frosting that enhanced tastebuds AND desserts, rather than worrying about the ingredients used.
Powdered sugar was definitely the right touch!
The frosting has the taste and consistency I was after. It's sweet, thick, rich, and perfectly creamy just like frosting should be. No one will ever know it's dairy-free and made with CASHEWS!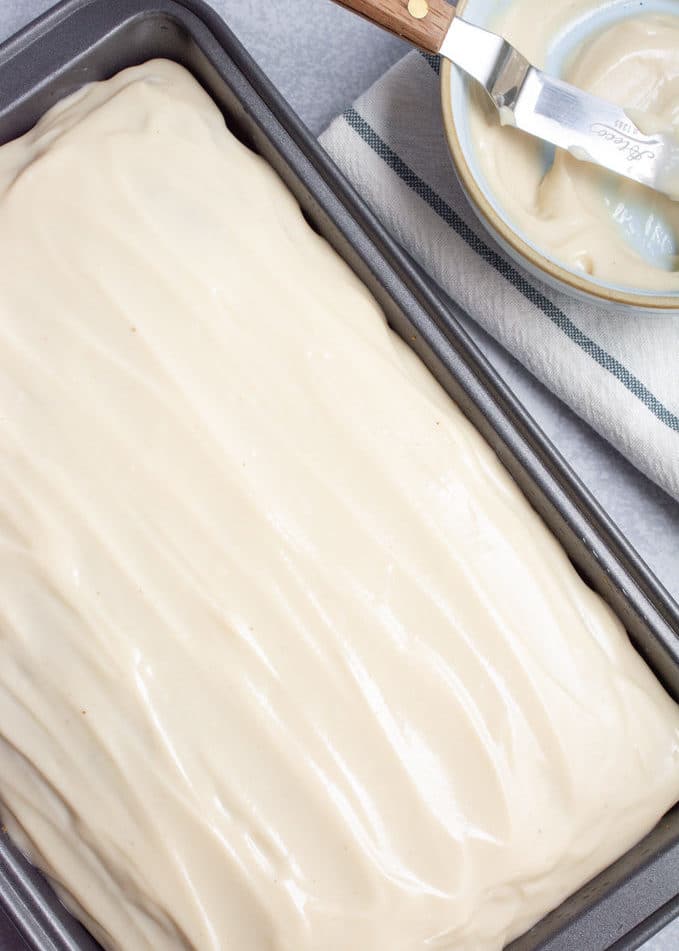 Can I make cashew frosting into dairy-free icing?
Absolutely!
To make a dairy-free icing, replace half of the powdered sugar with agave nectar.
As for blending, remember when I mentioned that over-processing the nuts will cause them to release excess oil? Well, for icing that is a good thing. Run the blender another cycle or two until the icing can easily be poured out of your blender. If it's still a tad too thick, add a bit of water or non-dairy milk to thin it out.
To make icing with leftover cashew frosting, simply whisk in a few Tablespoons of water or non-dairy milk to thin it out.
Use dairy-free icing on cinnamon rolls, donuts, quick bread, or your favorite baked dessert.
Kids will go crazy for dipable mini cinnamon rolls with CASHEW ICING!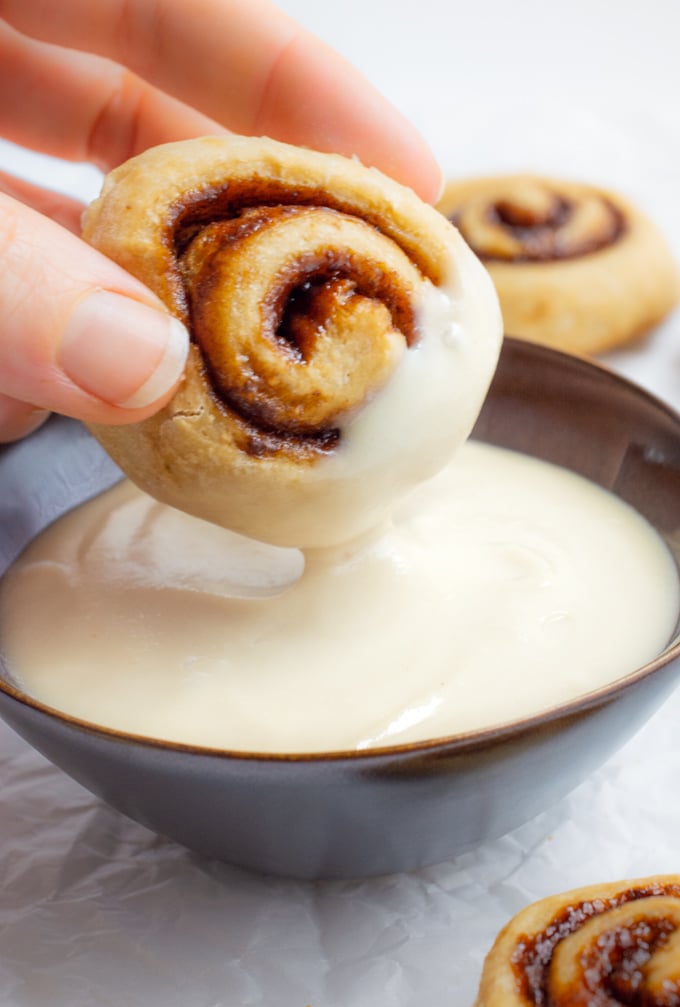 Enjoy these little bite-sized treats for breakfast, snack time, or dessert. To make the above 'cini minis', check out my cinnamon roll recipe.
Tips for Success
Soak the cashews: This is important to soften them up for blending. Drain, rinse, and pat the softened cashews dry.
Use a powerful blender: A Blendtec, Vitamix, Nutri-Bullet, or equivalent will yield the best consistency. I get a smooth consistency every time blending the cashews in my Blendtec.
It will thicken: Remember the frosting will thicken up in the fridge as it cools.
If your blender is having a hard time blending the cashews: Add a Tablespoon at a time of water or more liquid sweetener to help it along. But, don't add too much or it will become too thin for frosting.
Periodically whisk the frosting: Doing this while it cools will keep it from clumping up.
Clumpy frosting: If your frosting becomes clumpy, toss it back in the blender to smooth it out.
To replace agave nectar: The agave nectar can be replaced with an equal amount of maple syrup. However, the frosting color will be darker.
Cream chees frosting: Turn the vanilla frosting into a tangy cashew cream cheese frosting by increasing the lemon juice.
For a sweeter frosting: Add more powdered sugar or liquid sweetener, depending on the consistency you're after.
Frosted desserts should be kept in the fridge: Since the frosting is made with cashews and coconut oil it can soften in warmer conditions.
We'd love to hear from you!
If you enjoyed this vegan recipe, please leave a 5-star rating in the recipe card and share your thoughts in the comments below.
Also, if you snap a photo be sure to share it with us! We love to see your creations!! You can find us on Pinterest, Facebook, and Instagram.
Or, get the links to new recipes delivered straight to your inbox by signing up for our newsletter. See ya there!
Recipe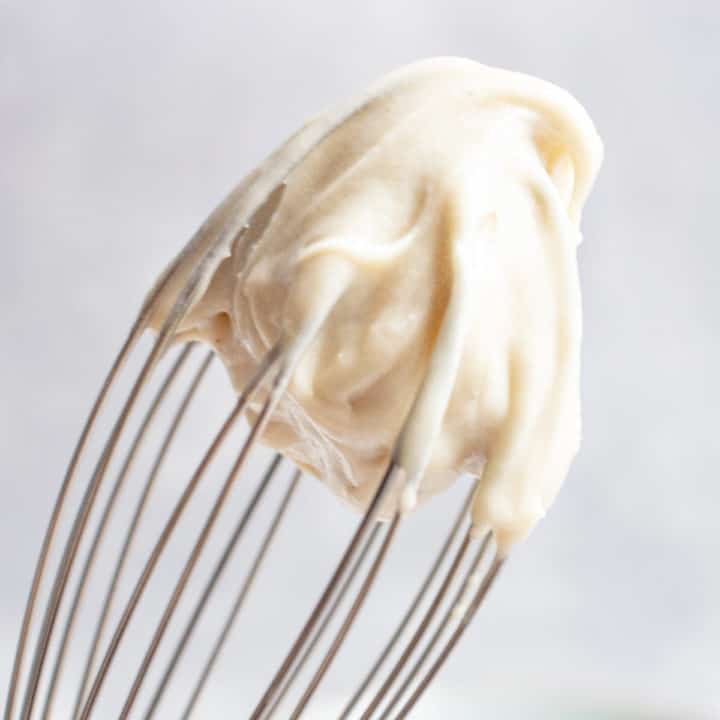 Cashew Frosting (dairy-free)
Yield:
3-4 cups of frosting
This vegan frosting is made with cashews for a rich and creamy dairy-free frosting!  The vanilla and cream cheese variations are perfect on cupcakes, cake, cinnamon rolls, donuts, and more! 
Ingredients
1 and ½ cups raw cashews, soaked, rinsed, and drained
½ cup powdered sugar, sifted
⅓ cup agave nectar (or maple syrup)
4 Tablespoons refined coconut oil, melted
1-2 Tablespoon freshly squeezed lemon juice
3 teaspoon vanilla extract
pinch of Himalayan pink salt
Instructions
Add everything to a high-speed blender. Blend for about a minute at a time until the frosting is super smooth and creamy.
Periodically stop the blender and scrape down the sides as needed. Add water, if needed, to help along the blending process.
The frosting will need to chill in the fridge for at least 2 hours. Stir/whisk it often to keep it smooth. (You can also chill it in the freezer for an hour stirring every 15-20 minutes. Move the chilled frosting to the fridge.)
Store the cashew frosting in a covered container in the fridge until you're ready to use it. Keeps for about a week in there.
For cream cheese style frosting, add a total of 3-4 Tablespoons lemon juice to the blender in step 1. Taste and add more if needed.

ENJOY!
Notes
For a single-layered cake, simply cut the recipe in half.
Prep time does not include time for soaking cashews.
Refined coconut oil has a neutral taste.
Using maple syrup will darken the frosting.
Warmer conditions may soften the coconut oil causing the frosting to soften as well, so it's best to keep frosted desserts in the fridge until you're ready to serve.
Nutrition Information:
Yield:

2 cakes
Serving Size:

1
Amount Per Serving:
Calories:

763
Total Fat:

55g
Saturated Fat:

36g
Trans Fat:

0g
Unsaturated Fat:

14g
Cholesterol:

0mg
Sodium:

11mg
Carbohydrates:

62g
Fiber:

1g
Sugar:

50g
Protein:

6g
**Nutritional info is provided as an estimate based on the ingredients I used and for convenience and as a courtesy only.**
More delicious vegan sweets
Where You Get Your Protein is a participant in the Amazon Services LLC Associates Program, an affiliate advertising program designed to provide a means for sites to earn advertising fees by advertising and linking to Amazon.com. This site may contain some of these links to Amazon.com. If you make a purchase through one of those links, Where You Get Your Protein will receive a small commission from the purchase at no additional cost to you.