Vegan pumpkin cake is soft, moist, fluffy, and made in 1-bowl! This easy-to-make recipe is filled with real pumpkin puree and warming pumpkin spice for an abundance of fall flavor! Top this spiced pumpkin cake with my cashew cream cheese frosting for a decadent vegan holiday dessert.
Since this is a vegan recipe, it's made without eggs or dairy, of course.
But don't let that fool you! This pumpkin cake is perfectly soft, super moist, and packed with pumpkin flavor. No one would ever know it was vegan.
And the cream cheese frosting adds just the right amount of sweet and tangy flavor to the top of the cake.
This truly is the best vegan pumpkin cake out there!
---
Ingredients
Vegan pumpkin cake is made with common pantry staples. No weird ingredients!
Notes and Substitutes
Pumpkin Puree. Any brand of pumpkin puree will work as long as the contents are thick, and not runny. If your pumpkin puree is watery, place it in a sieve to strain out the excess liquid, then measure.
Cane sugar can be replaced with any granulated sugar or even coconut sugar. Keep in mind, the coconut sugar will darken the color though. Also, for an ideal soft cake texture, I recommend powdering the sugar in a blender or equivalent, but it's not required.
Refined coconut oil has a neutral flavor so there is no worry about the cake tasting like coconut. But if you don't mind a slight coconut flavor, you can use unrefined coconut oil. You can also use any neutral oil of your choice.
Instructions
Vegan pumpkin cake is made with simple ingredients and can be whipped up in ONE bowl. It doesn't get much easier than that!
Step 1. Add the dry ingredients to a large bowl. Mix until combined.
Step 2. Add the wet ingredients to the bowl.
Step 3. Using a wooden spoon or rubber spatula, gently mix/fold the ingredients together just until the batter is well combined. The batter will be thick and airy after mixing.
Step 4. Spread the batter into your prepared baking dish and bake!
---
Baker's Tips
Baking the Cake
Bake this cake low and slow for the softest, most moist vegan spiced pumpkin cake.
Low and slow baking is when you lower the oven temperature and slow down the baking time. That means the cake will need to bake slightly longer (25-30 minutes) at a lower temperature (325ºF).
This method also produces an ideal taste and texture and helps prevent an unwanted domed top.
Cream Cheese Frosting
My cashew-based cream cheese frosting is my favorite topping to slather over this vegan pumpkin cake. It's rich and creamy with a subtle sweetness and slight tang.
This frosting has been my go-to for cakes and cupcakes. And because this recipe is made with cashews, it uses a lot less sugar than traditional cream cheese frostings.
The linked frosting recipe also includes a vanilla-flavored option. So, if you're not a fan of tangy cream cheese frosting, you can still enjoy my cashew frosting.
Note --The linked cashew frosting recipe is made for a two-layered cake. You can cut the recipe in half or use it to frost 2 cakes.
Enjoy this spiced pumpkin cake as a simple fall-flavored evening dessert. Or, bring it to your next Thanksgiving dinner. It's perfect for holiday parties too!
Everyone will be raving about this cake and asking for the recipe.
FAQ's
Can pumpkin cake be made ahead of time?
Absolutely! Make the cake in advance and store it covered on the counter for up to 1 day or in the fridge for up to 3-5 days. I recommend waiting until the day of the event to frost the cake.
Is there a nut-free frosting option?
Yes! The cream cheese frosting from my carrot cake uses store-bought vegan cream cheese instead of cashews. Just choose a brand that's nut-free. Or, you can always purchase a ready-made vegan frosting.
Is this cake soft and moist even without eggs?
Yes! The pumpkin puree is actually a great egg replacement. It adds moisture to the pumpkin cake and binds the ingredients together. So, there's no need for eggs in this cake!
We'd love to hear from you!
If you enjoyed this vegan recipe, please leave a 5-star rating in the recipe card and share your thoughts in the comments below.
Also, if you snap a photo be sure to share it with us! We love to see your creations!! You can find us on Pinterest, Facebook, and Instagram.
Or, get the link to new recipes delivered straight to your inbox by signing up for our newsletter. See ya there!
Recipe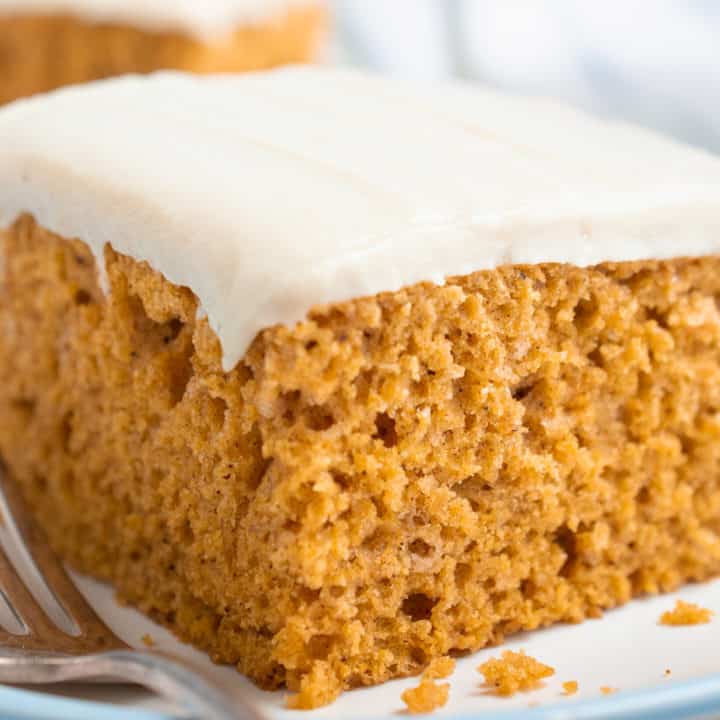 Vegan Pumpkin Cake
Vegan pumpkin cake is soft, moist, fluffy and easy to make! It's filled with real pumpkin puree, pumpkin spice, warm cinnamon and topped with my homemade cream cheese frosting. for an abundance of fall flavor!
Ingredients
Dry Ingredients
2 cups all-purpose flour, sifted
⅔ cup cane sugar (or coconut sugar)
2 teaspoons baking powder
½ teaspoon baking soda
½ teaspoon Himalayan pink salt
2 teaspoon pumpkin spice
1 teaspoon ground cinnamon
Wet Ingredients
Optional Ingredients
Instructions
Preheat your oven to 325ºF and oil an 11x7-inch or 9x9-inch baking dish.
In a large bowl, mix together the dry ingredients -sifted flour, powdered sugar, baking powder, baking soda, salt, pumpkin spice, and cinnamon.
Pour the wet ingredients into the bowl of dry.
Gently mix until the batter starts to come together. Then use a spatula to finish gently folding the ingredients together until the batter is just combined. The batter will be thick.
Spread the batter into the prepared baking dish.
Bake low and slow at 325ºF for 25-30 minutes, or until a toothpick inserted into the center of the cake comes out clean.
Allow the cake to cool completely before frosting.
Store frosted cakes in the fridge. Unfrosted cakes can be left at room temperature or placed in the fridge. Keeps for up to 5 days in there.
Notes
The cane sugar can be replaced with any granulated sugar or even coconut sugar. Keep in mind the coconut sugar will darken the color of the cake. Also, the sugar can be powdered in a blender or equivalent for a softer cake texture, but it's not required.
The batter will be thick and airy after mixing. If it seems too thick add up to 1 Tablespoon more non-dairy milk.
For a watery pumpkin puree, place it in a sieve to strain out the excess liquid, then measure.
Nutrition Information:
Yield:

9 cake slices
Serving Size:

1 slice
Amount Per Serving:
Calories:

179
Total Fat:

1g
Saturated Fat:

1g
Trans Fat:

0g
Unsaturated Fat:

0g
Cholesterol:

1mg
Sodium:

192mg
Carbohydrates:

39g
Fiber:

1g
Sugar:

17g
Protein:

3g
**Nutritional info is provided as an estimate based on the ingredients I used and for convenience and as a courtesy only.**
More Vegan Sweets
Where You Get Your Protein is a participant in the Amazon Services LLC Associates Program, an affiliate advertising program designed to provide a means for sites to earn advertising fees by advertising and linking to Amazon.com. This site may contain some of these links to Amazon.com. If you make a purchase through one of those links, Where You Get Your Protein will receive a small commission from the purchase at no additional cost to you.