A layered vegan carrot cake that's easy to make, perfectly moist and has just the right amount of sweetness. This baked dessert is loaded with grated carrots and topped with a simple cream cheese frosting for a classic taste everyone will enjoy. Celebrate your next holiday or special occasion with this warmly spiced, carrot cake recipe.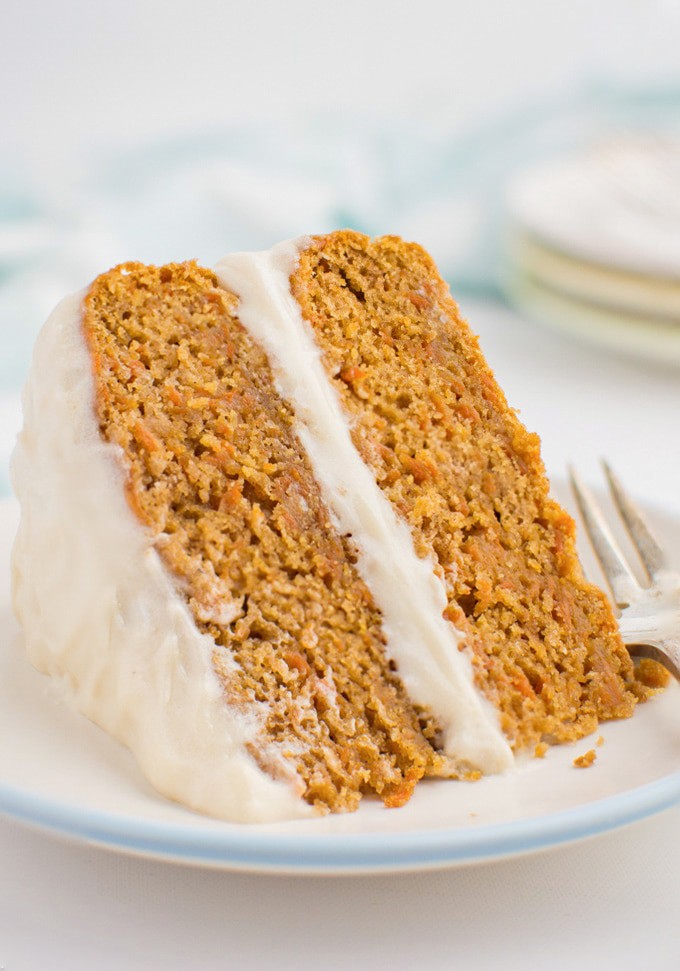 Carrot cake is a classic Easter dessert. It definitely was NOT one of my favorite cakes growing up! But, I blame that on all the Easter candy I would much rather fill up on!
As I got older, my love for candy dwindled and my appetite for carrot cake grew! So, when Easter came around I was excited for dessert because I wanted to devour the carrot cake. The cream cheese frosting paired with the soft, moist, warmly spiced cake had me craving it.
I couldn't get enough cake!
With the 'carrot cake holiday' soon upon us, I knew I had to create an amazing vegan cake recipe to rival the original. So this may not be one of the healthiest recipes on the blog, but it's a holiday cake so I say indulge!
So here it is, THE BEST VEGAN CARROT CAKE!
This easy recipe is loaded with shredded carrots, optional mix-ins and baked at a lower temp to keep it moist. The cake is then topped with a butter-free cream cheese frosting creating a soft, perfectly sweet confection.
• • •
How to make vegan carrot cake
Step 1: In a large bowl, mix the wet ingredients.
Step 2: Pour in the dry ingredients into the bowl and mix.
Step 3: Add in the carrots.
Step 4: Then, gently fold them into the batter.
Step 5: Evenly divide the batter into 2 prepared 8-inch round cake pans.
Step 6: Bake at 325ºF for 40-50 minutes.
Frosting a 2 layer carrot cake
Place your vegan cake on a cake stand or plate.
To protect the cake stand from frosting drips, arrange strips of parchment paper around the stand before setting the first layer of cake down. This step is optional for this frosting method, but if you're going to frost the sides I highly suggest adding the parchment paper.
1. Evenly spread 1/2 of the cream cheese frosting onto the bottom layer of cake.
2. Carefully place the top cake layer onto the frosted bottom layer. If the middle layer of frosting begins to soften just pop the cake in the fridge for about 15 minutes. Then proceed with frosting the top.
3. Add the remaining cream cheese frosting to the top cake layer.
4. Evenly spread the frosting out across the top of the cake. Use an icing spatula to either smooth out the frosting or gently 'whip up' the top in a circular motion as I did. You can also sprinkle the top with chopped walnuts.
• • •
How to keep carrot cake fresh
A cake carrier or cake stand with a dome is the best method for storing this vegan cake.
Because of the delicate frosting, the cake should be covered and kept in the fridge. It will stay moist and fresh for up to 5 days in there.
The carrots
For a soft, moist cake I used 2 packed cups of grated carrot in this recipe. Depending on size, it's usually about 3-4 carrots. I prefer grating them with a box grater buy you can use a food processor.
To use a box grater, start by peeling the carrots, then grate them on the larger side of the grater. You'll want to hold the carrot straight out to make smaller shreds. Holding it at an angle will result in long shreds of carrot that are less desirable in the cake.
To use a food processor, start by peeling the carrots. If you have a disc grater attachment I suggest using it. Otherwise, chop the carrots into about 2-3-inch sections. Toss the carrot pieces into your processor and pulse until the carrots are finely chopped. Be sure not to over-process or you will be left with carrot pulp.
I recommend avoiding store-bought matchstick carrots. They add little moisture to the cake and don't cook well. Fresh, whole carrots are definitely the way to go!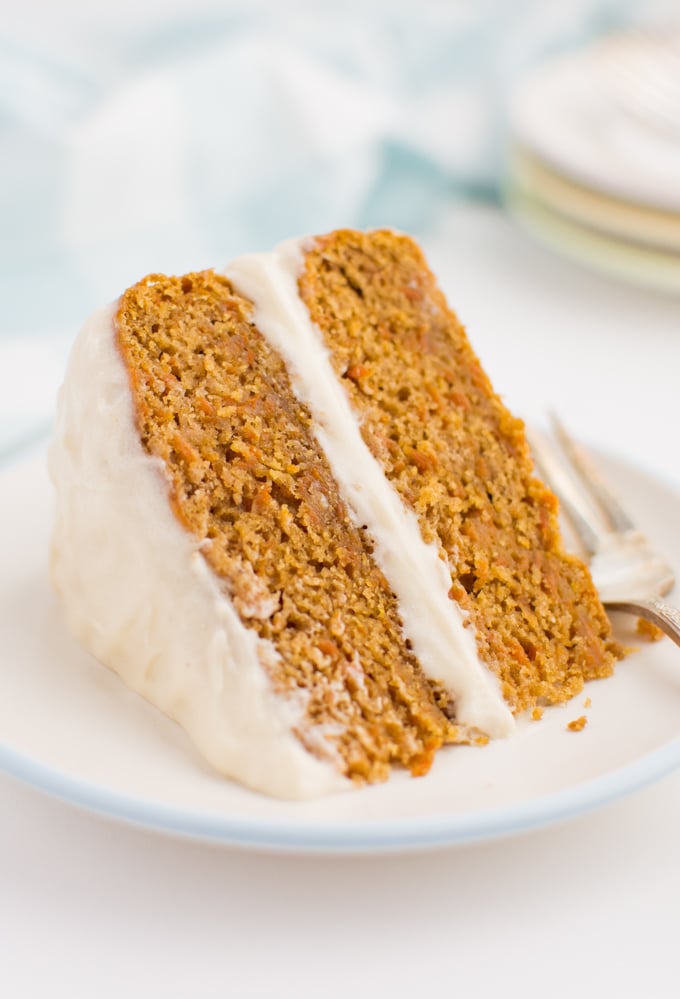 To achieve a perfectly soft, moist cake
I've found the "low and slow" baking method to yield the best vegan carrot cake! Instead of baking it at 350ºF, lower the oven temperature to 325ºF. And since we've lowered the heat, the bake time will be slower, baking about 10-15 minutes longer.
This method will create a soft, moist cake that won't dry out as quickly. In fact, the first night I made the cake I left a slice uncovered in the fridge overnight. The next day I realized the slice was left uncovered and assumed it would be dry. To my surprise, it was just as soft and moist like a fresh cut piece! (However, I don't suggest storing it uncovered.)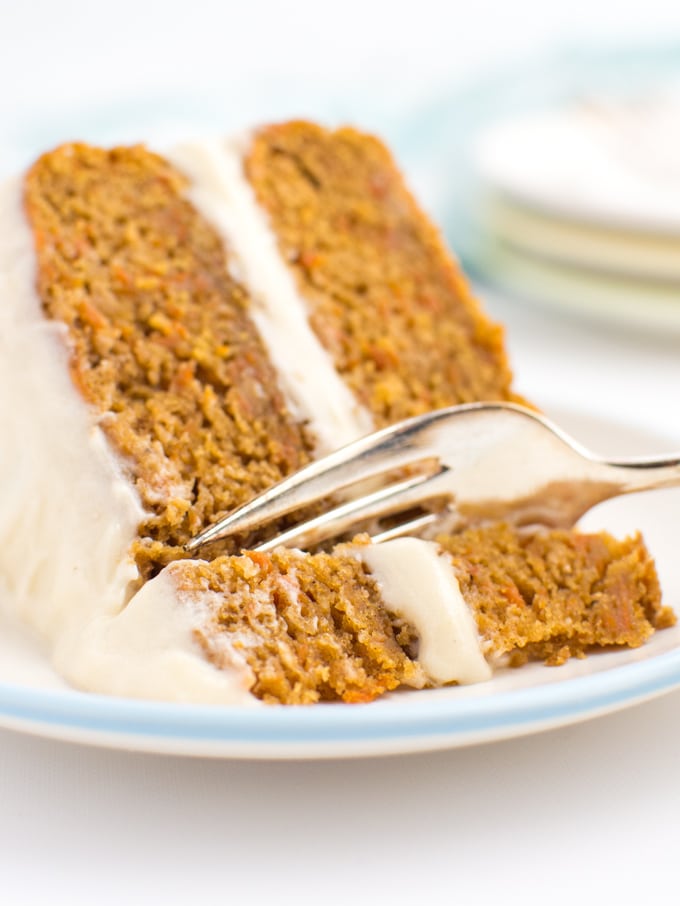 Optional batter mix-ins
You can easily fold any of these options into the batter along with the shredded carrots.
crushed pineapple (about 3 Tablespoons)
shredded coconut
chopped walnuts or pecans
raisins
If you enjoyed this recipe you may also enjoy one of these:
We'd love to hear from you!
If you loved this recipe, please leave a 5-star rating in the recipe card and share your thoughts in the comments below. Also, if you snap a photo be sure to share it with us! We love to see your creations! You can find us on Pinterest, Facebook, and Instagram.
Vegan Carrot Cake with Cream Cheese Frosting
Total Time:
1 hour
10 minutes
A perfectly moist vegan carrot cake that has just the right amount of sweetness. It's loaded with grated carrots and topped with a simple cream cheese frosting for a classic taste everyone will enjoy.
Ingredients
Dry
Wet
2 cups grated carrots, well packed (about 3-4 carrots)
1 cup non-dairy milk, warm
3/4 cup powdered turbinado sugar, or granulated sugar (see note)
1/3 cup coconut sugar, or brown sugar
1/3 cup refined coconut oil, melted
1 teaspoon vanilla extract
Cream Cheese Frosting
8 oz. vegan cream cheese, room temp
1/3 cup thick coconut cream (see note)
1 cup organic powdered sugar
1 teaspoon vanilla extract
Instructions
For the cake
Brush two 8-inch round cake pans with oil. Dust with flour, then turn the pans upside down and knock out any extra flour.
In a medium bowl sift the dry ingredients.
In a larger bowl mix the oil and sugar together. Then mix in the warm non-dairy milk and vanilla.
Add the dry ingredients into the bowl of wet and gently mix just until the batter comes together. Careful not to over mix!
Gently fold in the carrots and any optional mix-ins. 
Evenly divide the batter into the two prepared cake pans.
Bake at 325ºF for 40-50 minutes, or until a toothpick/tester comes out of the cake center clean. The cakes will also pull away from the sides of the pan when done.
When the cakes are cool to the touch, remove them from the pans. Place on a cooling rack until fully cooled.
For the frosting
Beat together the softened cream cheese, coconut cream, and vanilla extract using an electric mixer. 
Pour in 1/2 cup of powdered sugar. Mix on low until completely smooth.
Mix in the remaining 1/2 cup powdered sugar. Turn the speed up to medium and whip the frosting for 30-60 seconds until smooth.
Store in the refrigerator for at least 30 minutes before frosting the cake. Give the frosting a stir after you remove it from the fridge.
Tip: For a sweeter frosting, add more powdered sugar until you reach your desired level of sweetness. This will also yield a thicker frosting.
To frost the cake
Add half of the frosting to the bottom layer of cake. Evenly spread the frosting to the edges of the cake. If the frosting seems "soft" place the cake in the fridge for 15-20 minutes before adding the top layer.
Carefully place the top cake layer onto the frosted bottom layer. 
Evenly spread the remaining frosting on the top cake layer. Using an icing spatula, you can either smooth out the top frosting or gently whip it up in a circular motion like I did.
Store the finished cake covered in the fridge for up to 5 days.
Notes
Powder the sugar if you are using turbinado or another granulated sugar. This will yield a softer cake. To powder the sugar, first measure it, then blend it in a blender until powdered. In a pinch, you can substitute with powdered sugar, but I find it's best to powder your own.
I like a mildly sweet frosting so I only add 1 cup of powdered sugar. Depending on your preference add another 1-2 cups of powdered sugar for a sweeter frosting. Adding more powdered sugar will also create a thicker frosting.
Coconut cream can be harvested from the top of a chilled can of coconut milk or cream. To chill, place the can in the fridge overnight. I find the best cream comes from Whole Foods and Sprouts brand, canned organic coconut milk.
This cake can also be made single layer in a 7x11-inch or 9x9-inch baking dish. Also, you may want to cut the frosting in half since the cake will be single layer.
To make an oil free carrot cake replace the coconut oil with a 1:1 ratio of applesauce.
Recommended Products
As an Amazon Associate and member of other affiliate programs, I earn from qualifying purchases.
Nutrition Information:
Yield:

8 slices of cake
Serving Size:

1 slice of cake
Amount Per Serving:
Calories:

355
Total Fat:

14g
Saturated Fat:

10g
Trans Fat:

0g
Unsaturated Fat:

4g
Cholesterol:

36mg
Sodium:

258mg
Carbohydrates:

55g
Fiber:

1g
Sugar:

52g
Protein:

2g
**Nutritional info is provided as an estimate based on the ingredients I used and for convenience and as a courtesy only.**