Vegan Banana Bread Recipe with Walnuts –super moist, egg & dairy free.   A few simple ingredients bring this recipe together!
Vegan banana bread with walnuts is the perfect breakfast.
It's quick, easy to make and the kids will love to help out.  My daughter is always eager to smash the bananas and add the ingredients to the bowl.  And once the sweet aroma of vegan banana bread fills the house, she is just as eager to enjoy a slice, or 2.  And that means….
This super moist, vegan banana bread doesn't last in our house!
When I make vegan banana bread in advance (such as the night before) I love to use these mini loaf pans.  This banana bread recipe makes 3 mini loaves which allows me to enjoy a fresh warm loaf that night while keeping the other 2 loaves untouched for a quick breakfast the next morning. Win-win!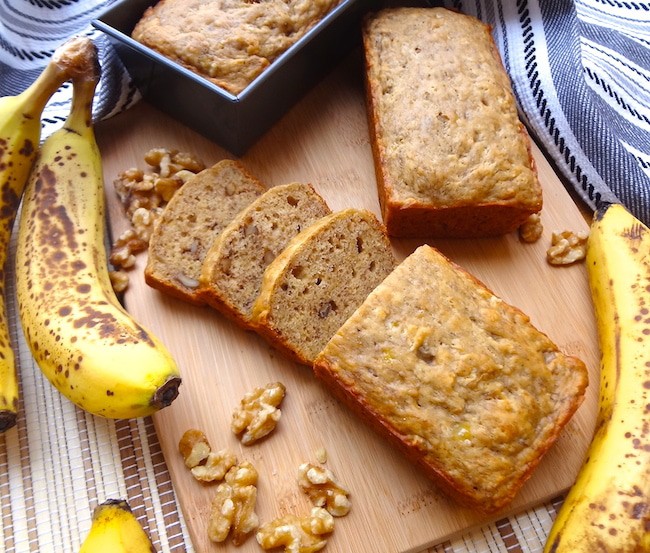 Vegan Banana Bread Recipe with Walnuts
To achieve ideal vegan banana bread consistency, mash the ripe bananas just enough so there are no big chunks.  If the bananas are mashed too much they can become too liquefied and the bread is likely to have an undercooked, extra moist bottom.  If that's your thing, I won't judge… mash away!  It's also best to use very spotted, ripe bananas.  This will create a perfectly sweet bread.
The walnuts can always be replaced with your favorite nut, seed, berry, or fruit pieces.  Try adding pecans, pumpkin seeds, strawberries, chocolate chips, or maybe dried cranberries.  Feel free to play around with the additions.  But, if you're looking for a more classic style vegan banana bread, it's also delicious plain.
So don't let those ripe banana's go to waste!
Looking for more ways to use up your ripe bananas?  Try these Vegan Banana Milk Pancakes.  They're soft, fluffy and loaded with a sweet banana flavor reminiscent of my banana bread. 
For another fun kid friendly breakfast try my pop-able Chocolate Chip Mini Muffins.  They're bursting with chocolate chip cookie flavor and ready in about 20 minutes!
Or make a batch of warm Vegan Cinnamon Pancakes, they're always a hit and easily freezable!
---
Vegan Banana Bread with Walnuts
Super moist Vegan Banana Bread recipe - egg and dairy free. A few simple ingredients bring this recipe together. Don't let those ripe bananas go to waste!
15 minPrep Time
30 minCook Time
45 minTotal Time
Yields 1 loaf or 3 mini loaves
4.8 based on 16 review(s)
Ingredients
4 ripe organic bananas (about 14-15oz or 390g peeled)
1 and 1/2 cups organic all purpose flour
1 and 1/2 teaspoon baking powder
1/2 teaspoon baking soda
a pinch of nutmeg
a pinch of salt
1/3 cup coconut sugar, or organic brown sugar
1/4 cup refined coconut oil, melted
3 Tablespoons chopped walnut pieces
Instructions
Start by preheating your oven to 350ºF, greasing your bread pan (or line with parchment paper) and chopping your walnuts into smaller pieces.
In a medium bowl, sift together your flour, baking powder, baking soda, nutmeg and salt and set aside.
In a separate bowl, mash the bananas. Make sure not to leave any big chunks. Small chunks are fine though.
Add the sugar and oil to the bananas and mix until evenly combined.
Once the oil and sugar are incorporated, gently fold in the dry ingredients just enough for everything to come together.
Now, gently fold in your walnut pieces or other additives
Pour the batter into your prepared bread pan.
Bake at 350ºF for 30-40 minutes, then test the bread with a toothpick for doneness.

(it should come out clean)

If the bread is still too moist bake at 5 minute intervals until done.
Store in an air tight container to keep fresh.
Notes
I suggest weighing the bananas for best results. However, If your batter is dry slowly incorporate 1/4 cup non-dairy milk. You can also add the non-dairy milk to the wet ingredients if your bananas seem dry after mashing. Also, when measuring the flour, use a spoon to scoop it into the measuring cup. Scooping the flour with the measuring cup can cause too much flour to be added.
7.6.7
5
https://www.whereyougetyourprotein.com/vegan-banana-bread/
Where You Get Your Protein - whereyougetyourprotein.com
---
*Disclosure: This post contains affiliate links.