Complete tonight's family meal with this delicious vegan lentil loaf. The perfectly browned edges and caramelized glaze topping will definitely make it the star dinner entrée. This recipe is easy to make, packed with vegetables, and loaded with protein.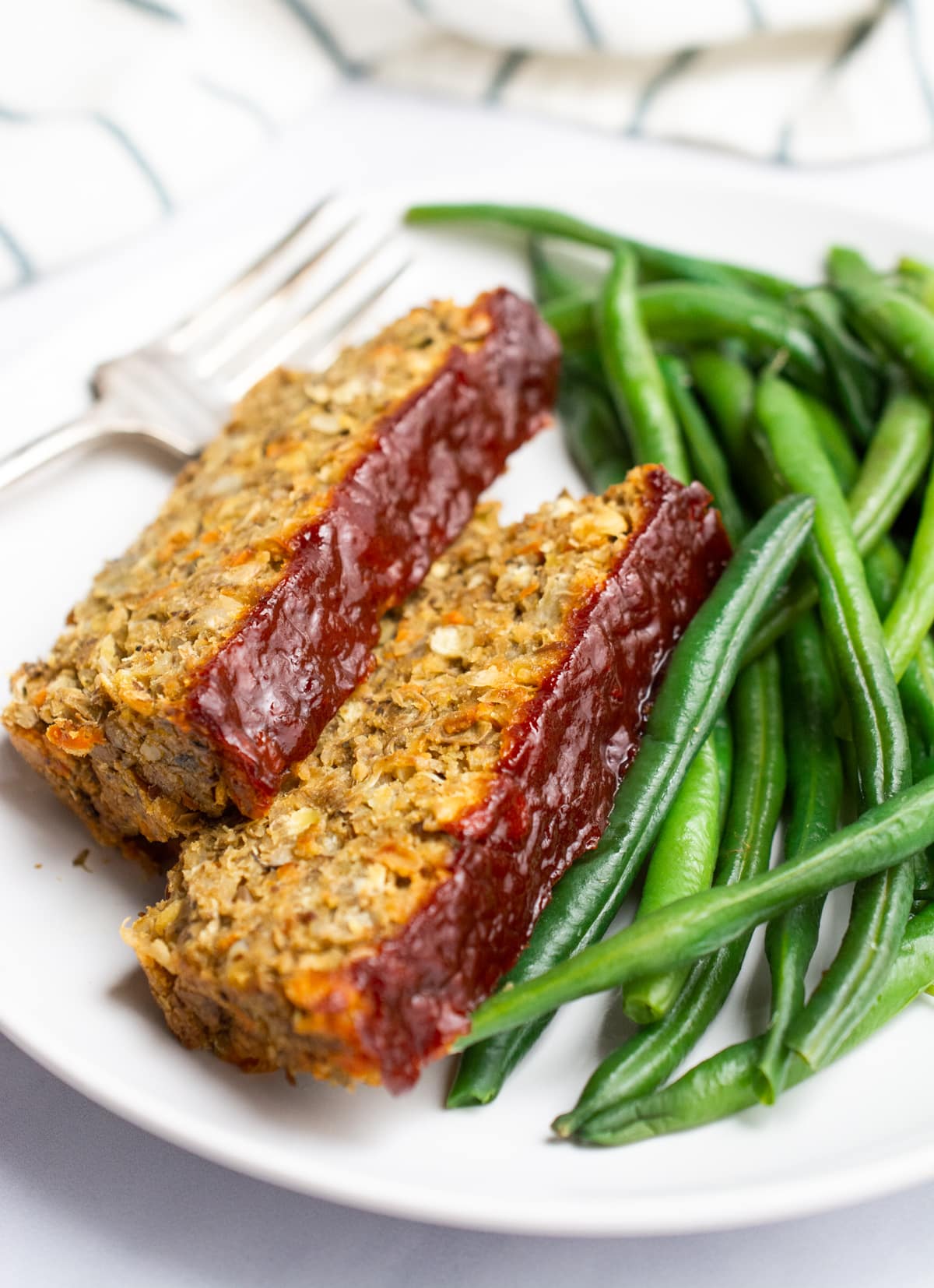 This lentil loaf is the vegan meatloaf you've been looking for! It's packed with cooked lentils, quinoa, and a variety of vegetables for a hearty texture.
And don't worry this vegan "meatloaf" is just as filling and flavorful as mom's meatloaf. It's also topped with a sweet and tangy glaze for extra flavor, just like moms.
Ingredients You'll need
Gather the ingredients below to quickly and easily make this recipe.
Ingredient notes and substitutes
Lentils – Use green or brown lentils for the best texture. Red lentils are a bit too soft.
Quinoa – Any type of quinoa will work. I suggest white quinoa, tricolored quinoa, or red quinoa.
Breadcrumbs – Plain or herbed-flavored breadcrumbs are best. For a gluten-free option use GF breadcrumbs or oat flour instead.
Ground flaxseed – In place of eggs, ground flaxseed is used to bind the lentil loaf ingredients together. Ground chia seeds can be used as a flax egg substitute.
Tahini – If you don't have tahini on hand, no problem. Omit it without too much change in flavor.
Coconut Aminos – This adds a savory element to the lentil loaf recipe. To replace the coconut aminos use low-sodium soy sauce or tamari.
How to make lentil loaf
Start by cooking the lentils and quinoa together in a pot. While they cook, sauté the vegetables until softened.
Now, use the easy-to-follow steps below to bring this recipe together.
Step 1: Add the cooked lentils and quinoa to a large mixing bowl.
Step 2: Use a potato masher, or fork, to mash about half of the lentils.
Step 3: Add the remaining ingredients to the bowl.
Step 4: Mix everything together until well combined.
Step 5: Add a sheet of parchment paper to the bottom of your loaf pan as pictured above. Then, firmly press the lentil mixture into the pan.
Step 6: In a small bowl, mix together ketchup, barbecue sauce, and maple syrup to make a glaze. Brush the glaze over the top of the mixture.
Step 7: Bake the loaf in the oven at 350ºF for about 30 minutes.
To serve
Enjoy this vegan lentil loaf at your next Thanksgiving, Christmas, or Easter dinner.
Serve it alongside mashed potatoes, green bean casserole, wild rice stuffing, and pumpkin dinner rolls to complete the table.
Your holiday dinner guests will be raving about the delicious flavor of this vegan meatloaf and asking for the recipe.
Or make this vegan lentil loaf for dinner any night of the week. It's hearty, delicious, and uses simple pantry staples.
And, the leftovers are great for a quick and easy lunch. You can even use a few slices on a sandwich.
To store leftovers
Cover any leftovers with plastic wrap or foil. Store in the refrigerator for up to 4 days.
To freeze: Allow the vegan meatloaf to cool completely then cut it into slices. Place a piece of parchment paper between each slice. Store them in an airtight container or ziplock bag in the freezer for up to 2-3 months.
To reheat: This recipe is best reheated in the toaster oven or conventional oven at 300ºF for 5-8 minutes (15-25 minutes if frozen) or until heated through. You can reheat the remaining loaf or just a few slices. It can also be microwaved.
Recipe FAQ's
Will canned lentils work?
Sure! You will use about 1 and ⅓ cups of canned lentils. Don't forget to drain and rinse them. And remember to make sure the lentils are drained well. You want to avoid extra moisture/liquid.
Can this recipe be made ahead of time?
Yes! Make the loaf up to step 5 in the instructions above. The lentil mixture should be firmly packed into the baking dish.
Now cover the loaf with plastic wrap so it is completely touching the mixture. Then place a piece of foil over the dish and store it in the fridge until you're ready to heat.
When you're ready, add the glaze to the top and cook per the instructions in the recipe card. It may need to cook a little longer if it is being heated up cold from the fridge.
Expert Tips
An 8x4-inch loaf pan is a perfect size for this recipe.
If you like a little extra glaze for dipping, simply double the recipe. Serve the extra glaze on the side or slather it on top of the vegan loaf after cooking.
When cooking the lentils, be sure to cook down the liquid all the way. Any excess moisture can cause a mushy loaf.
Don't over-mash the lentils. You want some whole lentils for texture.
Lay a sheet of parchment paper across the bottom and over the sides of the loaf pan. The lentil loaf can easily be removed from the pan by lifting it out with the side flaps. (see the flaps in steps 5-6 above)
We'd love to hear from you!
If you enjoyed this vegan recipe, please leave a 5-star rating in the recipe card and share your thoughts in the comments below.
Also, if you snap a photo be sure to share it with us! We love to see your creations!! You can find us on Pinterest, Facebook, and Instagram.
Or, get the links to new recipes delivered straight to your inbox by signing up for our newsletter. See ya there!
Recipe
Vegan Lentil Loaf
Total Time:
1 hour
20 minutes
This hearty vegan lentil loaf is easy to make, packed with vegetables, and loaded with protein. It will definitely be the star entrée of any Holiday dinner table.
Ingredients
For the lentils
⅔ cup green or brown lentils, uncooked
¼ cup quinoa, uncooked
1 cup low sodium vegetable broth
¾ cup water
Remaining ingredients
Glaze Topping
3 Tablespoons ketchup
1 Tablespoon BBQ sauce
2 teaspoons maple syrup or agave nectar
Instructions
Prepare and cook the lentils & quinoa: Start by rinsing the lentils and quinoa. Drain them well and discard the water. Pour the broth and fresh water into a large saucepan. Add the lentils and quinoa to the pot and simmer for 20-30 minutes or until both are tender and fully cooked.
Sautéing veggies: In a separate pan, sauté the onion and celery for about 5 minutes to slightly soften. Add the grated carrots and cook another 5 minutes.
Mashing lentils: Mash the lentils until about ½ of them are well mashed. They can be mashed in the saucepan they were cooked in or in a large mixing bowl.
Mixing ingredients: Add the cooked veggies and remaining ingredients to the lentils. Mix until everything is well combined.
Assemble lentil loaf: Lay a piece of parchment paper across your loaf pan so the edges hang over the sides of the pan. This keeps the lentil loaf from sticking to the bottom of the pan and makes it easier to remove it after cooking. Transfer the lentil mixture to your prepared loaf pan and evenly spread it out pressing it into the pan. This step is easiest done by hand, but a spatula will work too.
Glaze: In a small bowl, mix together the glaze ingredients. Top the lentil loaf with the glaze.
Bake: Cover and bake at 375ºF for 30 minutes. Uncover and bake for another 10 minutes.
Enjoy!

Store any leftovers covered in the refrigerator for 3-4 days.

Notes
Pan size: An 8x4-inch loaf pan is the perfect size for this recipe.
Salt: The added salt is based on the low sodium vegetable broth and the coconut aminos from Trader Joe's (which is sweet rather than salty).  Adjust the salt to taste according to your broth and coconut aminos (soy sauce or tamari). Use less if your aminos and broth are salty already. You can always mix in more salt if needed.
Gluten-Free: Use gluten-free bread crumbs for a GF lentil loaf.
Cooking lentils: Be sure to cook down the liquid all the way. Any excess moisture can cause a mushy lentil loaf.
Mashing the lentils: Don't over-mash the lentils. You want some chunks for texture.
To prepare the pan: Lay a sheet of parchment paper across the bottom and over the sides of the loaf pan. The lentil loaf can easily be removed from the pan by lifting it out with the side flaps.
Nutrition Information:
Yield:

6 servings
Serving Size:

2 slices
Amount Per Serving:
Calories:

190
Total Fat:

1g
Saturated Fat:

0g
Trans Fat:

0g
Unsaturated Fat:

1g
Cholesterol:

0mg
Sodium:

261mg
Carbohydrates:

37g
Fiber:

5g
Sugar:

8g
Protein:

10g
**Nutritional info is provided as an estimate based on the ingredients I used and for convenience and as a courtesy only.**
Hungry for more?
Where You Get Your Protein is a participant in the Amazon Services LLC Associates Program, an affiliate advertising program designed to provide a means for sites to earn advertising fees by advertising and linking to Amazon.com. This site may contain some of these links to Amazon.com. If you make a purchase through one of those links, Where You Get Your Protein will receive a small commission from the purchase at no additional cost to you.