Cauliflower Leek Soup is a creamy, oil free, dairy free AND nut free recipe. This easy, one-pot soup is ready in about 30 minutes making it great for those busy weeknights! Top with vegan bacon, green onions and fresh ground pepper for the perfect comforting soup. It'll keep you warm all winter long!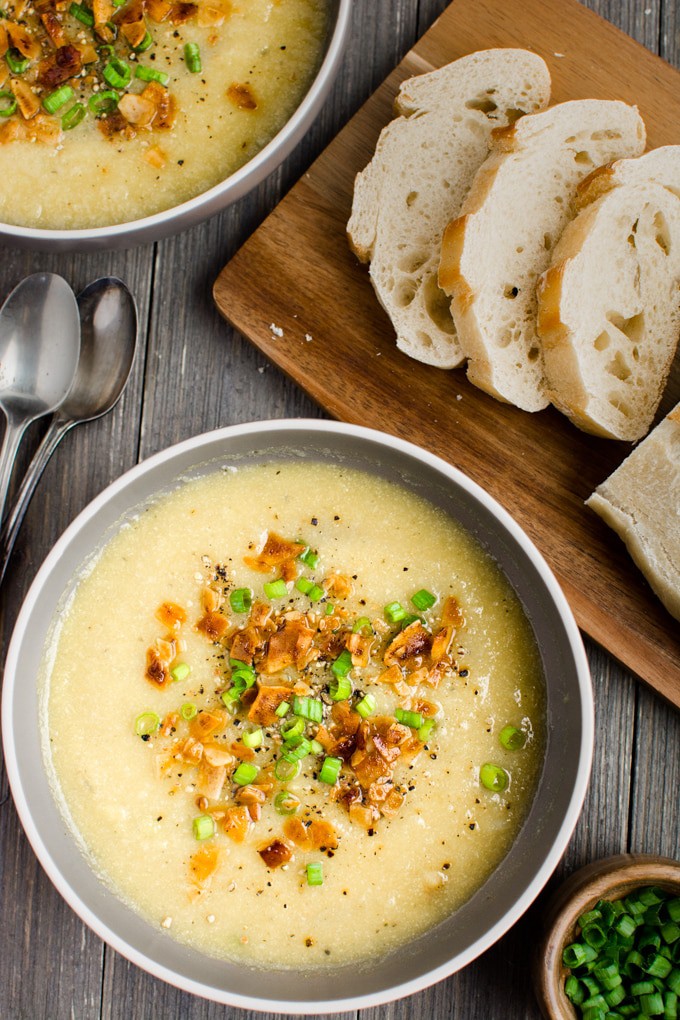 Cauliflower Instead of Potato?
Most leek soups are cooked and blended with potatoes. For this recipe, I left out the potatoes and chose to use a large cauliflower instead. Cauliflower seemed more fitting to achieve the rich and creamy soup I was looking for.
But don't let me rain on your potato parade. If you're looking for a potato soup recipe to make (ya know, after you try this one) check out my potato corn chowder. It's a creamy yet hearty soup loaded with chunks of potato. And just like this cauliflower leek soup it takes only one pot.
Don't you just love those one-pot meals?
I sure do!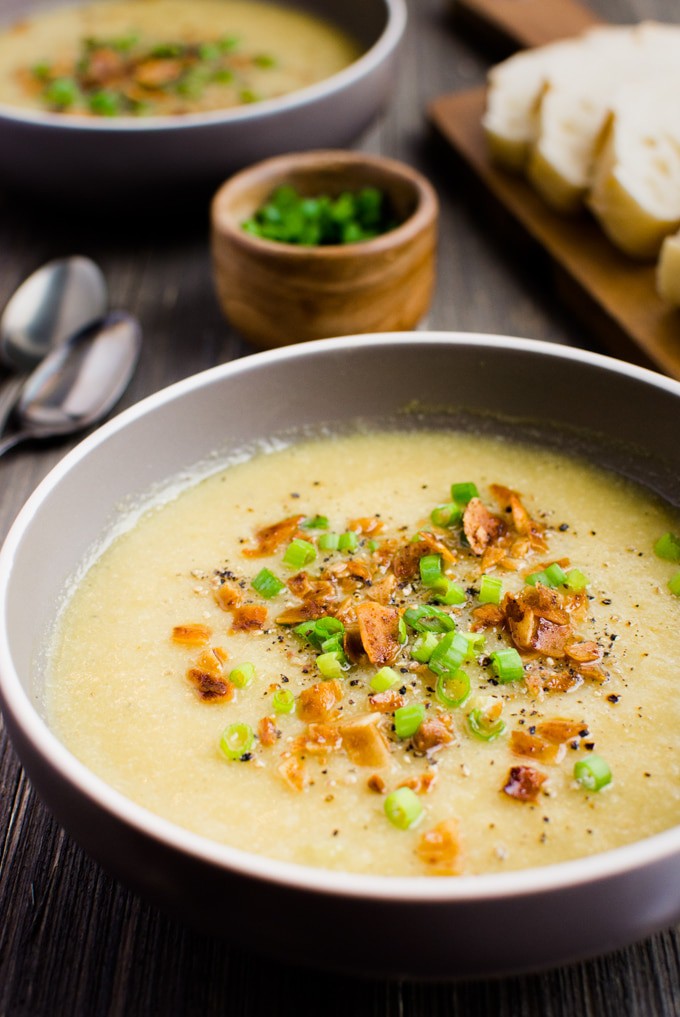 An easy one-pot soup
Talking about one-pot meals, this cauliflower leek soup is a chop and toss soup (toss in the pot that is). And the best part is, there are only 2 vegetables to chop: the large cauliflower head and the leek stalks.
After you chop 'em, toss 'em in the pot.
Simmer all that goodness together for 20-25 minutes then blend until smooth and creamy. Serve with your favorite toppings.
It doesn't get much easier than that!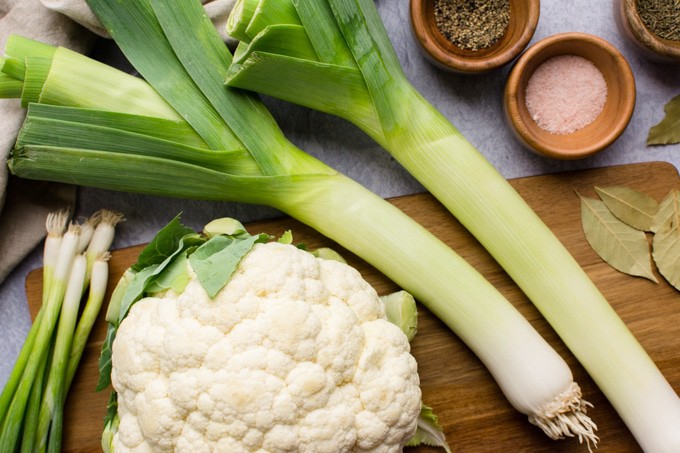 What are leeks?
I've always thought they looked like an oversized green onion. Which isn't too far off since they are related to onions, scallions, and shallots.
The leek is a vegetable with a crunchy, firm texture in its raw state. The edible portion of the leek is the stalk (the portion between the root and green fan leaves).
Do leeks taste like an onion?
Leeks are milder and sweeter actually than onions. This means they are able to add a subtle onion touch to this cauliflower leek soup without overpowering the other flavors.
In other words, using 2 big stalks in this recipe yields the perfect flavor combination.
• • •
How to make Cauliflower Leek Soup
Step 1 - Prep
Start by chopping the veggies. Add them along with the broth and seasonings to your soup pot. Then give it all a good stir.
Step 2 - Cook
Simmer everything until the cauliflower has softened. When it's done it should look something like the image above.
Step 3 - Blend
Now that the soup is cooked it's time to blend. Grab your immersion blender and blend the cauliflower and leeks into a creamy soup. If you don't own an immersion blender, you can carefully blend the soup in batches in a regular blender.
Serving this creamy, family favorite soup is all that's left!
ENJOY!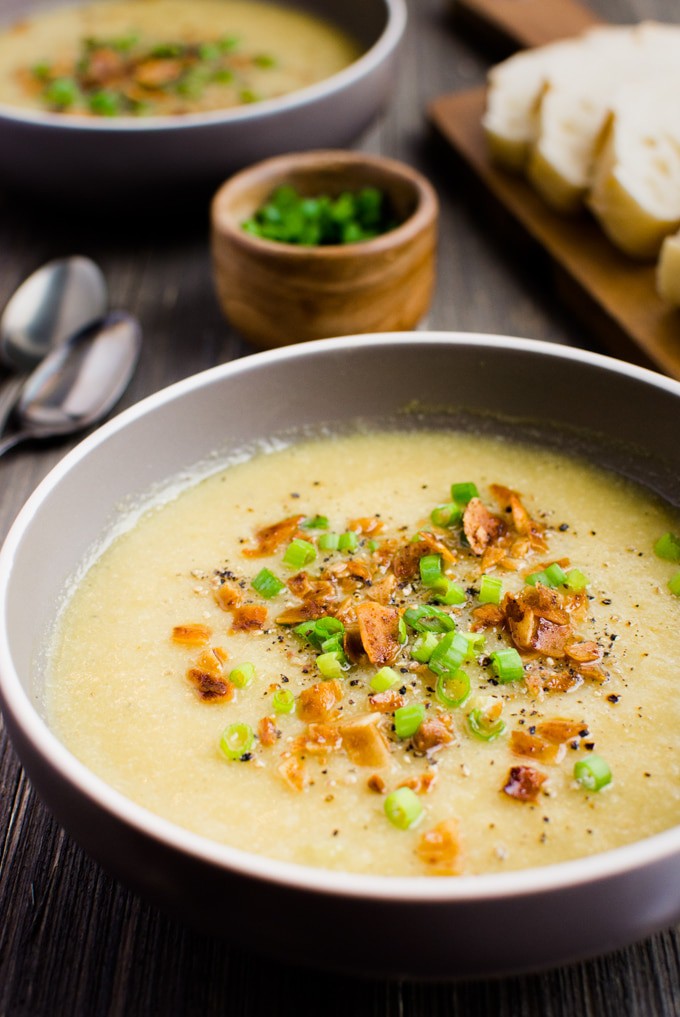 For more warming winter soups check out one of these:
We'd love to hear from you!
If you loved this recipe, please leave a 5-star rating in the recipe card and share your thoughts in the comments below. Also, if you snap a photo be sure to share it with us! We love to see your creations! You can find us on Pinterest, Facebook, and Instagram.
Recipe
Cauliflower Leek Soup - vegan
Cauliflower Leek Soup is an easy one-pot soup that can be ready in about 30 minutes. Top with vegan bacon, green onions and fresh ground pepper for the perfect winter meal. It'll keep you warm all season long!
Ingredients
For the soup
1 large head of cauliflower, roughly chopped
2 leeks, 1 bunch
6 cups vegetable broth
2 Tablespoons nutritional yeast
1 and ½ teaspoon onion powder
1 and ½ teaspoon garlic powder
1 teaspoon dried thyme
1 bay leaf
Himalayan pink salt to taste (I use about 1 and ½ teaspoon with a low sodium broth)
pepper to taste
Optional Toppings
Instructions
Prep the leeks
Cut the green tops off of the leeks.
Then slice the stalks lengthwise through the center.
With the roots still attached wash the centers to remove any grit.
Now cut off and discard the roots, then roughly chop the cleaned stocks.
For the soup
Add the chopped leeks, cauliflower, and remaining ingredients to a large dutch oven or soup pot.
Place over medium-high heat and bring to a simmer.
Lower the heat, cover, and simmer for 20-25 minutes, or until the cauliflower has softened.
Once the cauliflower is soft, use an immersion blender to blend the soup until it's smooth and creamy. You can also transfer the soup to a regular blender and blend it in batches.
Taste and adjust seasonings if needed.
Serve immediately with optional toppings
ENJOY!
Nutrition Information:
Yield:

6 bowls
Serving Size:

1 bowl
Amount Per Serving:
Calories:

83
Total Fat:

2g
Unsaturated Fat:

1g
Carbohydrates:

14g
Fiber:

5g
Sugar:

6g
Protein:

5g
**Nutritional info is provided as an estimate based on the ingredients I used and for convenience and as a courtesy only.**