Go meatless with these authentic tasting vegan jackfruit tacos! They're filled with shredded jackfruit that's been seasoned to perfection. Top them with diced onion and fresh cilantro for an American-style street taco. Make the filling ahead of time for an even easier "reheat meal".
In So. Cal. street tacos are everywhere. You can get them from street vendors, the local taco shack, or pretty much any Mexcian eatery. Traditional street tacos are served with seasoned meat and optional onion, salsa, and cilantro.
Since meat is not food in this house, I used seasoned jackfruit. Jackfruit has a neutral flavor so it can take on a Mexican flavor with the right seasonings.
I've always thought jackfruit was a bit tricky to cook with. I would cook the young jackfruit triangles without breaking them up first. I tossed the jackfruit and seasonings right into the pan thinking it would turn into "shredded jackfruit" (maybe you've tried this too).
But I was wrong! It was hard to break up and stuck to the bottom of the pan.
Talk about a recipe fail!
Fortunately, I found a solution making these vegan jackfruit tacos a RECIPE WIN!
how to create the best jackfruit texture
Not too long ago I created a
vegan jackfruit tamale
recipe
. I used a
food processor
to shred the jackfruit creating the best
'flaky'
jackfruit texture! The filling was so real looking and tasting it inspired me to create jackfruit tacos.
It's the only way I will prepare jackfruit now.
What is jackfruit?
Jackfruit trees are in the fig, mulberry and breadfruit family. They typically grow in tropical regions. The large trees produce massive green fruits called jackfruit.
Jackfruit can be purchased 2 ways
Fresh jackfruit is best enjoyed as a raw fruit. It has an initial unpleasant odor, but once opened, the center fruit has a sweet "juicy fruit" smell and taste.
Canned jackfruit is what you will need. The unripe/young jackfruit is usually sold in brine or water. Instead of being sweet it has a neutral flavor that works well in savory dishes. So it's the perfect meatless alternative to these vegan jackfruit tacos.
What kind of tortillas can I use?
Authentic street tacos use small corn tortillas.
I went with these corn tortilla sliders for my American-style vegan street tacos. Their smaller size makes them perfect for these grab-able tacos.
Feel free to use yellow corn, white corn, flour, or even homemade tortillas. The choice is yours.
vegan street taco toppings
Top your vegan tacos with diced onion and fresh cilantro for an authentic street taco. Or be adventurous and try adding:
salsa
freshly squeezed lime juice
jalapeno peppers
sliced avocado
tomatillo sauce
or even guacamole
Can you really have too many taco toppings?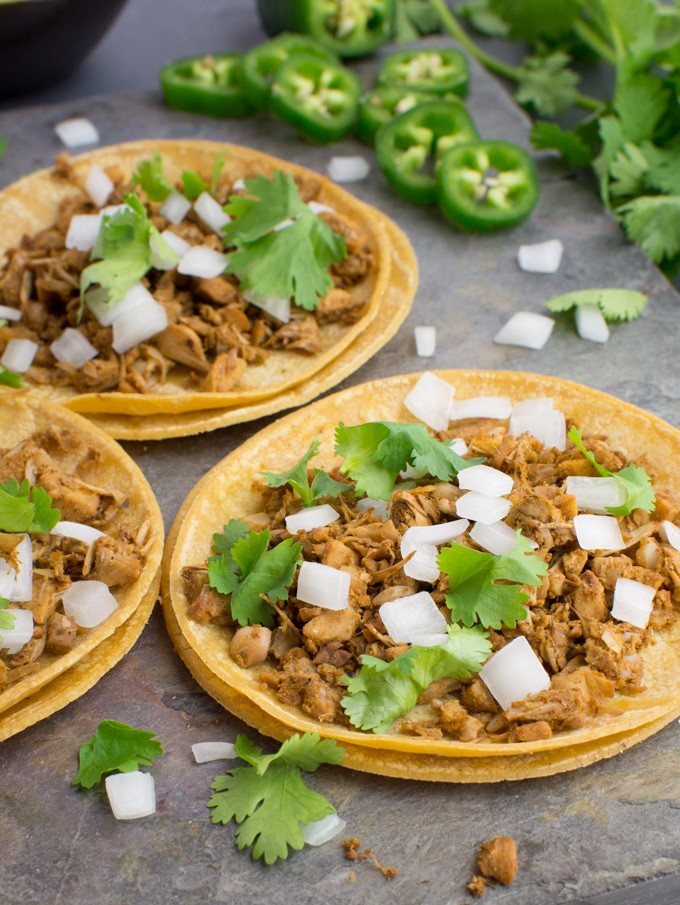 If you enjoyed this recipe, you may also enjoy one of these:
We'd love to hear from you!
If you loved this recipe, please leave a 5-star rating in the recipe card and share your thoughts in the comments below. Also, if you snap a photo be sure to share it with us! We love to see your creations! You can find us on Pinterest, Facebook, and Instagram.
Vegan Street Tacos
Go meatless with these authentic tasting vegan street tacos! They're filled with shredded jackfruit that's been seasoned to perfection. Top them with diced onion and fresh cilantro for an American-style street taco. Make the filling ahead of time for an even easier "reheat" meal.
Ingredients
Tacos
16 corn tortillas, slider size
2 (20oz) cans of jackfruit
2 Tablespoons neutral oil for sautéing
1 and 1/2 Tablespoons cumin
1 and 1/2 Tablespoon chili powder
3 teaspoons onion powder
2 teaspoon paprika
1 and 3/4 teaspoon garlic powder
1 teaspoon oregano
Himalayan pink salt to taste (I use about 1 and 1/2 teaspoon)
optional: 1-2 tablespoon nutritional yeast
Toppings
Diced onion
Fresh cilantro
Jalapeño slices
Instructions
Jackfruit Filling
Drain and rinse the canned jackfruit, then pat it dry.
Now pulse the jackfruit in a food processor to shred it. You may need to do this step in a few batches. It should look like this.
In a large fry pan mix the oil, jackfruit and spices. Allow the jackfruit to sit/marinate in the seasonings for about 5 minutes. The moisture in the jackfruit will help absorb all the flavor from the seasonings.
Once the jackfruit has 'marinated', heat it over medium heat to cook. (about 15-20 minutes) You're looking to create a drier texture.
Taste and adjust seasonings if needed.
Assemble the tacos
Add a heaping spoonful of jackfruit to a warmed corn tortilla.
Top with diced onion, fresh cilantro and any other toppings you'd like.
Enjoy!
Nutrition Information:
Yield:

8 taco sliders
Serving Size:

2 taco sliders
Amount Per Serving:
Calories:

172
**Nutritional info is provided as an estimate based on the ingredients I used and for convenience and as a courtesy only.**