This classic recipe is The Best Vegan Chili Ever! It's easy to make, uses basic pantry ingredients, and it's gluten-free. This hearty one-pot vegan chili can be made on the stovetop, in the slow cooker, or Instant Pot.
If you haven't noticed, my most recent recipes have all been sweets (vegan French toast casserole, pumpkin oatmeal cookies, and pumpkin cake just to name a few).
Well, I'm breaking that streak today with the best vegan chili EVER! And that's no exaggeration either!
This chili recipe has been in the works since last year and I'm finally ready to share it with you guys. It's a meatless recipe with a hearty, classic flavor everyone will enjoy.
Ingredients
I kept the base simple by using canned kidney beans, black beans, pinto beans, and refried beans. but you can easily swap out the whole beans for any variety you have on hand. You can even replace a can with tofu ground beef for a meatier texture.
To flavor the chili, I added 2 cans of tomatoes (diced and fire-roasted with medium green chilies), chopped onion, green and red bell pepper, and a few simple seasonings o bring it all together (chili powder, cumin, garlic powder, and salt).
For the heat, you can dice up a jalapeño (or two) and simmer it in the pot with everything else. I left them out for my daughter and opted for the canned tomatoes with added green chilies. The spicy tomatoes kept this chili mild enough for the whole family to enjoy.
Instructions for Vegan Chili
It only takes 3 easy steps to make the best vegan chili recipe.
Step 1. Chop the onion and bell peppers.
Step 2. Sauté the onion and bell peppers until they begin to soften. They don't need to be fully cooked since they will simmer for quite a bit with the other ingredients.
Step 3. Add the remaining ingredients to the pot and mix everything together. Cover the pot and bring it to a boil. Lower the heat and simmer the chili for at least 30 minutes.
That only leaves one last step...Eating it!
The best ways to enjoy chili?
Enjoy vegan chili topped with diced avocado, chopped cilantro, vegan cheese, sliced jalapeño peppers, and/or vegan sour cream!
Serve with sweet potato biscuits or pumpkin dinner rolls.
Or use this recipe to create homemade vegan chili cheese fries, chili-filled baked potatoes, chili carrot dogs, or chili and rice.
Vegan chili can be stored in the fridge for up to 5 days.
How do you thicken vegan chili?
Chili isn't chili unless it's thick!
So, to thicken this recipe I went with canned refried beans. I tested a few other thickening ingredients with results I didn't find to enhance the flavors.
I had tried flour, quinoa, and tomato paste, but the refried beans kept the taste classic and the ingredients cheap and simple.
Not to mention, using refried beans as a thickener also allows this recipe to remain gluten-free.
Can I freeze vegan chili?
YES!
Allow the chili to completely cool to room temperature. Then, transfer it to a lidded freezer-safe container and store it in the freezer for up to 3 months.
To reheat the frozen chili, fully defrost it in the fridge or on the counter. Transfer it to a cooking pot and reheat on the stovetop.
How to make vegan chili
The recipe instructions below are written for the stovetop, but this chili can be made in the slow cooker or Instant Pot.
In the slow cooker
Add all the ingredients to the inner pot and stir everything together. Set to low and cook until the onion and bell peppers are tender, about 3-4 hours.
If the chili is thick add more vegetable broth. Taste and adjust the seasonings accordingly.
Tip: For easier cleanup use a slow cooker liner. And, for more depth in flavor, sauté the onion and bell pepper before adding them to the slow cooker.
In the Instant Pot
This chili can be made in the Instant Pot, but there is no need to pressure cook it since we are using canned beans.
Instead, you'll want to follow the below stovetop instructions while using the Instant Pot's sauté feature.
To cover the Instant Pot while the chili cooks, use the glass lid designed for the IP or a simple sheet of foil across the top will work too.
We'd love to hear from you!
If you enjoyed this vegan recipe, please leave a 5-star rating in the recipe card and share your thoughts in the comments below.
Also, if you snap a photo be sure to share it with us! We love to see your creations!! You can find us on Pinterest, Facebook, and Instagram.
Or, get the links to new recipes delivered straight to your inbox by signing up for our newsletter. See ya there!
Recipe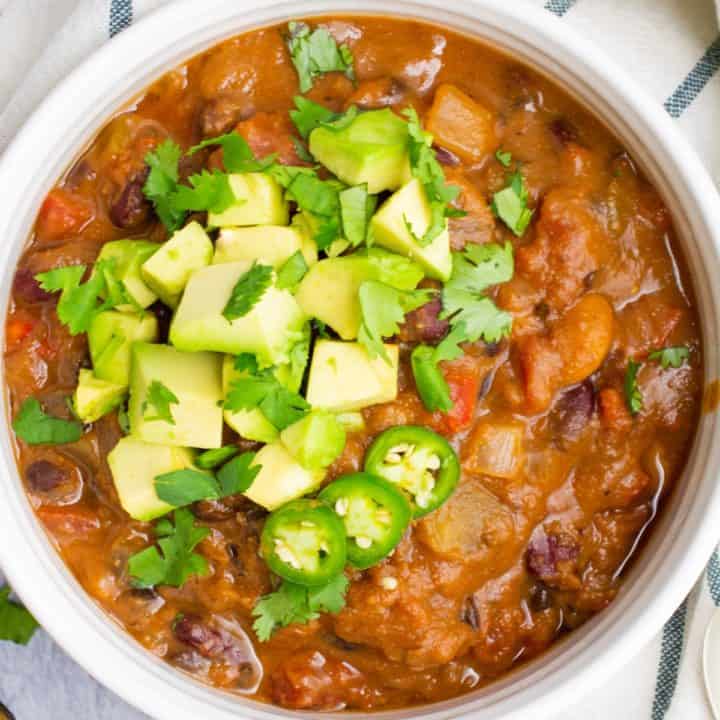 The Best Vegan Chili
This is the best vegan chili ever!  It's made with simple pantry ingredients, gluten-free, and easily ready in under an hour.  
Ingredients
1 (16-ounce) can refried beans
1 (15-ounce) can black beans
1 (15-ounce) can kidney beans
1 (15-ounce) can pinto beans
1 (14-ounce) can diced tomatoes
1 (14-ounce) can fire-roasted tomatoes (with green chilies if possible)
1 medium yellow onion, diced
1 small green bell pepper, diced
1 small red bell pepper, diced
1 and ½ cups vegetable broth
1 Tablespoon neutral oil for sautéing
1 heaping Tablespoon chili powder blend
2 and ½ teaspoons garlic powder
1 teaspoon ground cumin
Himalayan pink salt to taste, (I use 1 and ½ teaspoons for low sodium broth)
1 teaspoon onion powder
1-2 jalapeño peppers, seeds removed and diced (optional)
Instructions
Start by draining and rinsing the canned beans (not the refried beans).
Now, add the oil, onion, and bell pepper to a large dutch oven or large pot. Sauté until they begin to soften, about 8 minutes.
Toss the remaining ingredients into the pot. Give everything a good mix until all the ingredients are well combined and the refried beans are fully dispersed.
Heat the chili over medium heat until it begins to come to a boil. Lower the heat to a simmer. Cover and simmer for about 20-30 minutes or until the peppers and onions are cooked. Periodically stir the chili to keep it from scorching the bottom of the pot.
Allow the chili to rest for 10-15 minutes before serving.
Serve this hearty vegan chili topped with diced avocado, fresh cilantro, and optional jalapeño slices.
ENJOY!
Notes
This vegan chili recipe can be made ahead.  In fact, it's even better the next day, given it has had a chance to fully rest. Simply reheat it on the stovetop.
Nutrition Information:
Yield:

8
Serving Size:

1
Amount Per Serving:
Calories:

179
Total Fat:

4g
Saturated Fat:

1g
Unsaturated Fat:

3g
Sodium:

304mg
Carbohydrates:

29g
Fiber:

9g
Sugar:

4g
Protein:

10g
**Nutritional info is provided as an estimate based on the ingredients I used and for convenience and as a courtesy only.**
Where You Get Your Protein is a participant in the Amazon Services LLC Associates Program, an affiliate advertising program designed to provide a means for sites to earn advertising fees by advertising and linking to Amazon.com. This site may contain some of these links to Amazon.com. If you make a purchase through one of those links, Where You Get Your Protein will receive a small commission from the purchase at no additional cost to you.