Vegan Carrot Hot Dogs can be topped any way you like. Plus, they're grillable which makes them a great vegan option for summer BBQ's! Leave the unhealthy mock meats at the store and slide a carrot between those buns instead! Grilling, stovetop, and oven directions included!
I gave up mock meats long ago so it's been years since I've had a vegan hot dog. Recently, I was introduced to carrot hot dogs! But had my doubts-
...how's it going to taste?
...is the texture okay?
…IT'S A CARROT!?!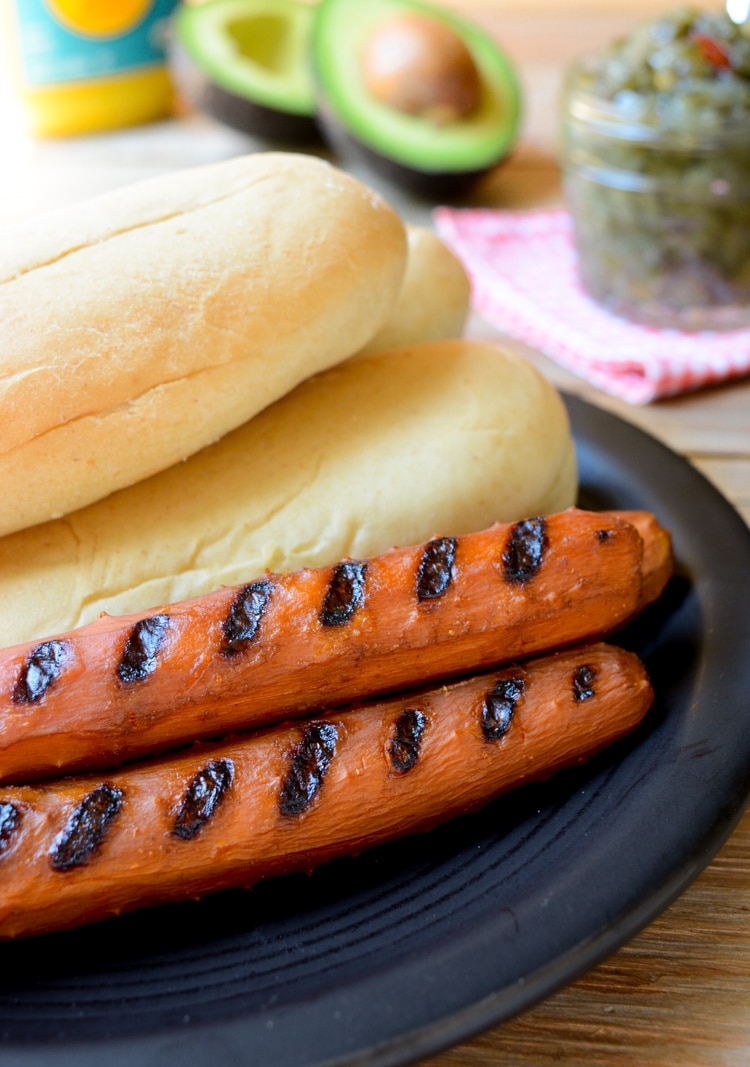 When I got around to trying this meatless alternative, I was amazed at how good it was! It actually taste like what I remembered of a hotdog––smoky, salty and delicious because this one's vegan!!
Needless to say, my family was impressed as well. My daughter devoured hers with ketchup and mustard. It's been her favorite meal this summer.
They're also great for parties and summer BBQ's!
Bring these carrot dogs along with my BBQ black bean burgers to your next party! Pair them with my pineapple salad and a batch of cookies for the perfect party spread!
How to make the perfect carrot hot dog!
Start by picking out large carrots. Keep in mind, the thicker the carrot the more it will fill out the bun.
Once you've selected some "hotdog-sized" carrots cut them to bun length, leaving an extra 1/2'' on each end of the carrot.
Now, like a sculptor to a blank marble, get your peeler out and chisel some perfect looking carrot dogs. Peel them shaping and rounding the edges for a more uniform "hotdog" appearance.
Now you have some perfect looking vegan hotdogs!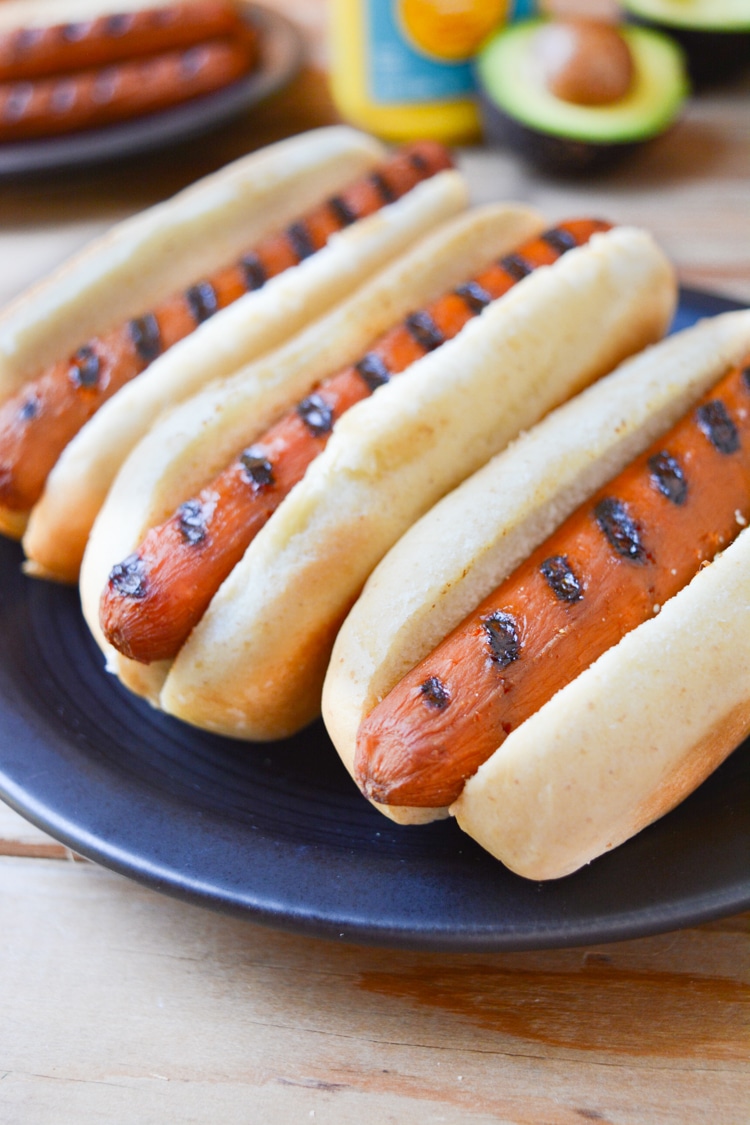 Choose your favorite toppings
Go for the classic --mustard and ketchup, load 'em with avocado for an avo-dog, or try any of these toppings:
relish
diced onion
sauerkraut
pickles
chili
pepperoncini
tomatoes
The possibilities are endless!
We'd love to hear from you!
If you loved this recipe, please leave a 5 star rating in the recipe card and share your thoughts in the comments below. Also, if you snap a photo be sure to share it with us! We love to see your creations! You can find us on Pinterest, Facebook, and Instagram.
Carrot Hot Dogs - Vegan
Yield:
8-10 Carrot Hot Dogs
Vegan Carrot Hot Dogs are a grill-able healthier alternative to mock meats. Top them any way you like! Grilling, stovetop and oven directions below!
Ingredients
8-10 large carrots, peeled and cut to bun size
Marinade
1/4 cup water
1/4 cup tamari (or soy sauce)
3 teaspoons liquid smoke
2 teaspoons maple syrup
1 teaspoons paprika
1/4 teaspoon mustard powder
1/2 teaspoon garlic powder
Instructions
Prep the carrots and marinade
Boil the prepped carrots for about 10 min to soften them until they are just fork tender. You don't want to fully cook the carrots, but the fork shouldn't have too much resistance going in. Think hot dog tender. I test the carrots by poking one with a fork. Once the fork pierces the center of the carrot without too much force they're done.
While the carrots boil, prep the marinade. Mix all the ingredients in a shallow glass dish.
Remove the carrots from the hot water and poke them a few times with a fork. This will allow them to absorb more marinade. Now add the carrots to the marinade.
Marinate them in the fridge for at least 2 hours, but overnight is best for more flavor. Rotate the carrots a few times for an even coating.
Grilling Directions
Grill the carrots on a gas or charcoal grill until heated throughout and grill marks have formed. (about 5-8 minutes)
Flip and heat for another 2-3 minutes to add grill marks to the other side. Brush the carrots with the extra marinade throughout the grilling process.
Oven Directions
Preheat oven to 415ºF.
Place carrot dogs on a cast iron grill or parchment lined baking sheet. Brush the carrots with a bit of extra marinade.
Bake for 15 min, then flip each carrot dog, brush with more marinade and bake for another 10 minutes.
Stovetop Directions
Heat 1 tablespoon of oil in a skillet over medium heat.
Carefully place the carrots in your skillet.
Heat on each side for about 5 minutes or until heated throughout. While the carrots cook, brush them with the extra marinade.
Now, dress those carrot dogs anyway you like!
Nutrition Information:
Yield:

10 carrot hot dogs
Serving Size:

1 carrot hot dog
Amount Per Serving:
Calories:

21
Total Fat:

0g
Saturated Fat:

0g
Trans Fat:

0g
Unsaturated Fat:

0g
Cholesterol:

0mg
Sodium:

27mg
Carbohydrates:

5g
Fiber:

1g
Sugar:

2g
Protein:

0g
**Nutritional info is provided as an estimate based on the ingredients I used and for convenience and as a courtesy only.**
*Disclosure: This post contains / may contain affiliate links.