Vegan chicken salad is one of my favorite fridge staples. This cooling summer salad is loaded with shredded jackfruit, protein-packed chickpeas, fresh veggies, and my homemade seasoned mayo. For a quick vegan snack or easy lunch, enjoy it on a sandwich, spread on crackers, wrapped in lettuce leaves, or straight out of the bowl! Vegan chicken salad is obsession-worthy!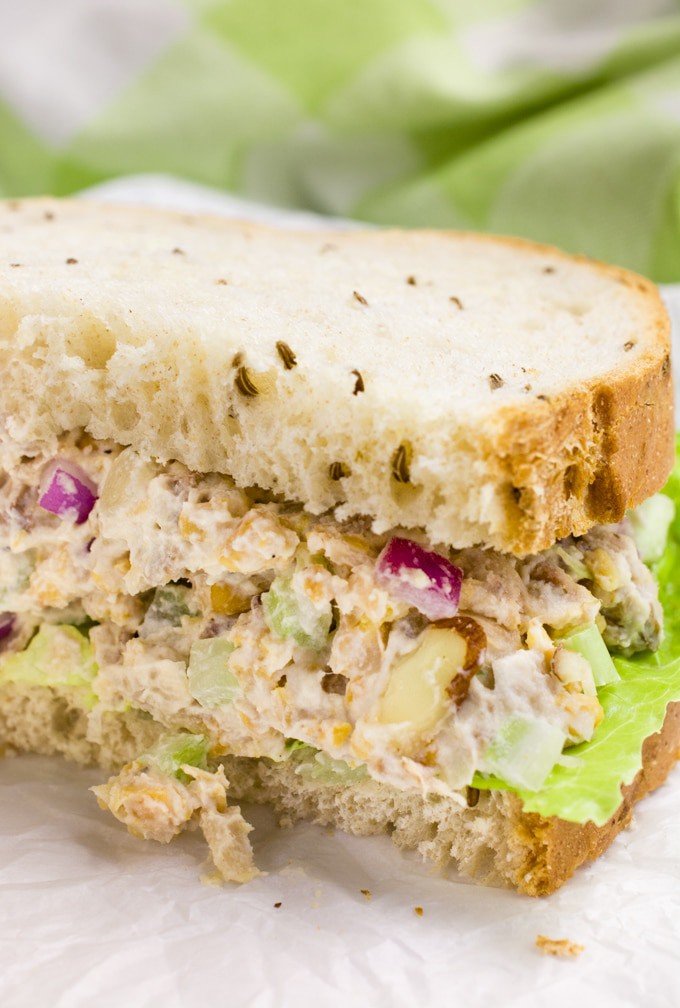 You may not know this about me but, my first job as a teenager was at a small-chain sandwich shop —Togo's.
This was of course, in my pre-vegan days and where I fell in love with chicken salad sandwiches.
In fact, it was my ONLY experience with chicken salad. But at the time it was the best!
Needless to say, I haven't had one in years.
A few weeks ago I made a batch of apple walnut chickpea salad and it rekindled my old love for chicken salad. I immediately knew I had to recreate a vegan version to satisfy my newly-growing craving.
So, here you have it ––Vegan Chicken Salad just as delicious as I remember.
Actually, I think this recipe is even BETTER than I remember!
What goes in vegan chicken salad?
This vegan twist on a classic cold salad is made with shredded jackfruit for a 'chicken-like' texture and chickpeas for added protein.
Diced onion, celery, dill relish, and almond slivers round out the salad and give it a pleasant crunch.
Combine everything together with my oil-free homemade vegan mayo for an amazing flavor combination. (Of course, you can use your favorite store-bought mayo.)
How to prepare the jackfruit and chickpeas
Shredding, then baking the jackfruit and chickpeas will produce the most authentic shredded chicken texture. I use a food processor to pulse the jackfruit and chickpeas.
First, pulse the chickpeas by themselves so as to not overprocess.
Then pulse the jackfruit. This will ensure the best consistency.
Spread the vegan "chicken" filling onto a baking sheet. Sprinkle with a bit of onion powder, salt, and pepper, then slide it into the oven.
Bake until the mixture has a dry appearance, about 20 minutes.
Now it's time to mix all the ingredients together and make some vegan chicken salad.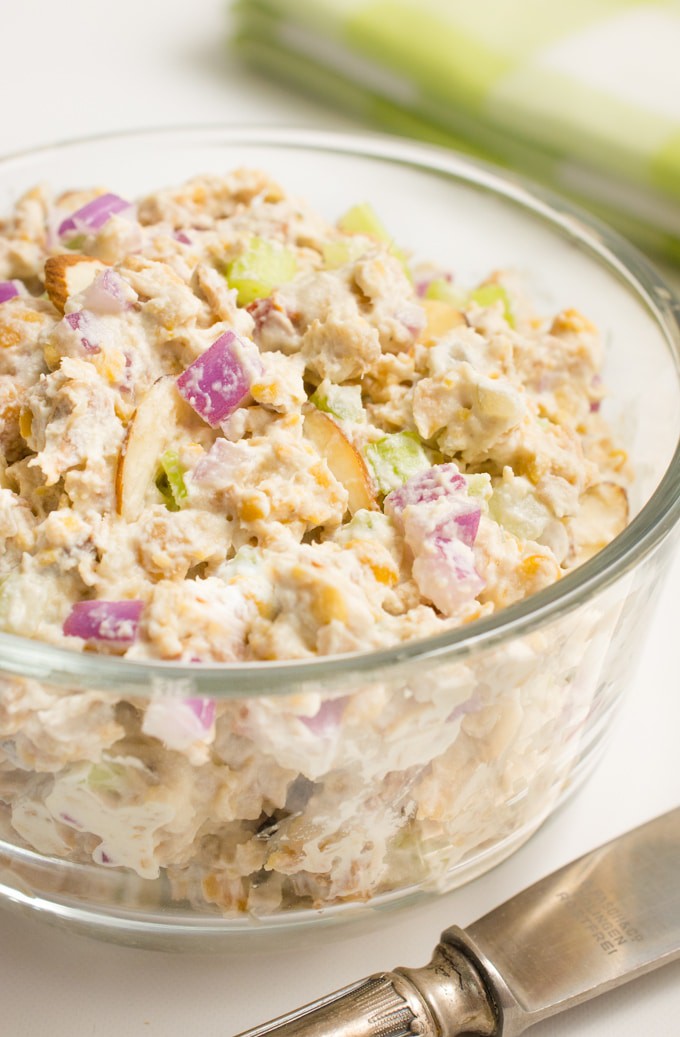 How easy is it to make vegan chicken salad?
This creamy salad comes together in 3 easy steps.
Shred the chickpeas and jackfruit.
Bake the vegan "chicken" mix for the best texture.
Add all the ingredients to a large bowl and mix.
And if you have the patience, chill for at least an hour before enjoying.
That's it!
Enjoy this cold vegan salad...
as a sandwich
with crackers
on lettuce leaves
in a wrap
as a salad topping
on a croissant
in a pita pocket
The choice is yours!
We'd love to hear from you!
If you enjoyed this vegan recipe, please leave a 5-star rating in the recipe card and share your thoughts in the comments below.
Also, if you snap a photo be sure to share it with us! We love to see your creations!! You can find us on Pinterest, Facebook, and Instagram.
Or, get the links to new recipes delivered straight to your inbox by signing up for our newsletter. See ya there!
Recipe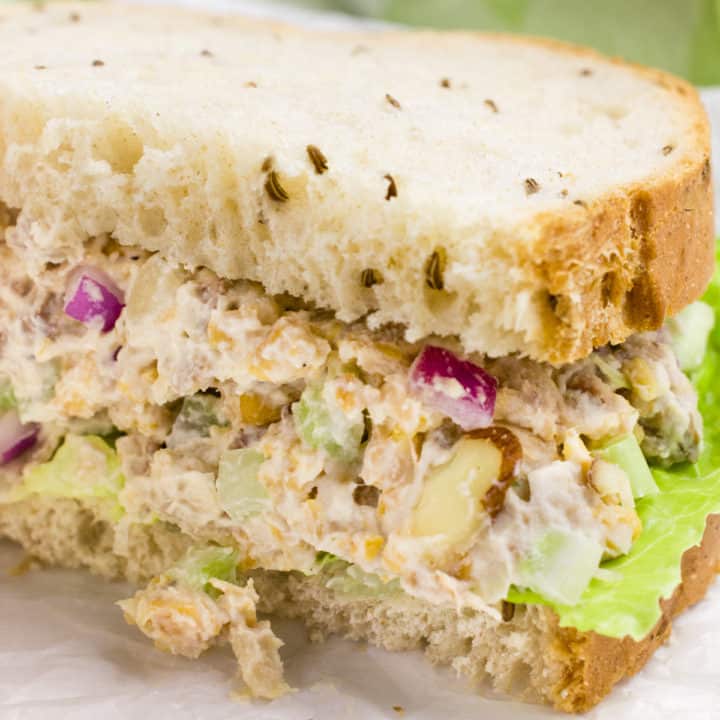 Vegan Chicken Salad
Vegan chicken salad is loaded with shredded jackfruit, protein-packed chickpeas, fresh veggies, and homemade seasoned mayo. It's a quick and easy vegan snack or lunch. Enjoy this jackfruit chicken salad as a sandwich, spread on crackers, wrapped in a lettuce leaf, or straight out of the bowl!
Ingredients
1 (20oz) can of young green jackfruit in water, drained and rinsed
1 (15oz) can of chickpeas, drained and rinsed
2 celery stalks, finely diced
¼ cup red onion, finely diced
1 cup homemade vegan mayo (or store-bought)
3 Tablespoons dill relish
2-3 teaspoons maple syrup
¼ cup sliced almonds
Salt and pepper to taste
'Chicken' seasoning
Instructions
Preheat your oven to 400ºF and line a baking sheet with parchment paper. Now, drain, rinse, and squeeze dry the jackfruit. Then drain, rinse, and pat dry the chickpeas.
In a food processor, pulse the chickpeas a few times to break them up a bit. Careful not to over-process or you'll end up with mush.
Add the chickpeas to the baking sheet lined with parchment paper, and set aside.
Now, add the jackfruit to the emptied food processor (no need to wipe it out). Pulse a few times to break up and roughly shred the jackfruit. Add the shredded jackfruit to the baking sheet with the chickpeas. Season the mix with the above 'chicken' seasoning: salt, onion powder, and pepper.
Bake the jackfruit mix at 400ºF for 15-20 minutes, or until your preferred texture. Keep an eye on the jackfruit as it cooks. You may need to mix it a few times during baking if the top starts looking too dry.
In the meantime, chop the veggies.
Remove the baked jackfruit and chickpeas from the oven. Let cool for 10-15 minutes, then transfer to a large bowl.
To the bowl, add in the remaining ingredients: celery, onion, mayo, relish, and maple syrup.
Mix everything together until well combined. Season to taste with salt and pepper.
Lastly, mix in the almond slices.
Chill before serving if desired. Store any leftovers in an airtight container in the fridge for up to 5 days.

Enjoy!
Notes
I use and prefer Trader Joe's canned jackfruit.
If you're using store-bought mayo, you may want to add extra onion and garlic powder to the mix for more flavor.
Add up to an extra ½ cup vegan mayo to achieve desired consistency.  
If you're using my homemade vegan mayo I suggest making a double batch.  I've noticed the salad can absorb the moisture in the mayo after sitting in the fridge overnight.  This can make the whole salad appear dry.  If that happens simply add more mayo, then season with salt, pepper, and sweetener to taste.
Leftover homemade vegan mayo can be used in potato salad, as a sandwich spread, or ranch dip.
To avoid turning on the oven, you can gather the jackfruit up in cheesecloth, a nut bag, or a thin kitchen towel and squeeze out the extra moisture.  For the chickpeas, they should be carefully towel-dried while they're still whole and before adding to the food processor.  However, this will produce a slightly different texture and taste. I definitely recommend the baking method for best results.
Nutrition Information:
Yield:

4 servings
Serving Size:

1
Amount Per Serving:
Calories:

182
Total Fat:

2g
Saturated Fat:

0g
Trans Fat:

0g
Unsaturated Fat:

1g
Cholesterol:

0mg
Sodium:

414mg
Carbohydrates:

36g
Fiber:

7g
Sugar:

16g
Protein:

8g
**Nutritional info is provided as an estimate based on the ingredients I used and for convenience and as a courtesy only.**