The taste of this vegan tuna salad is surprisingly close to classic tuna. Mashed chickpeas, shredded hearts of palm, vegan mayo, diced celery, and red onion bring this plant-based version together. Enjoy this easy-to-make vegan tuna in a sandwich, on crackers, in a wrap, or on its own.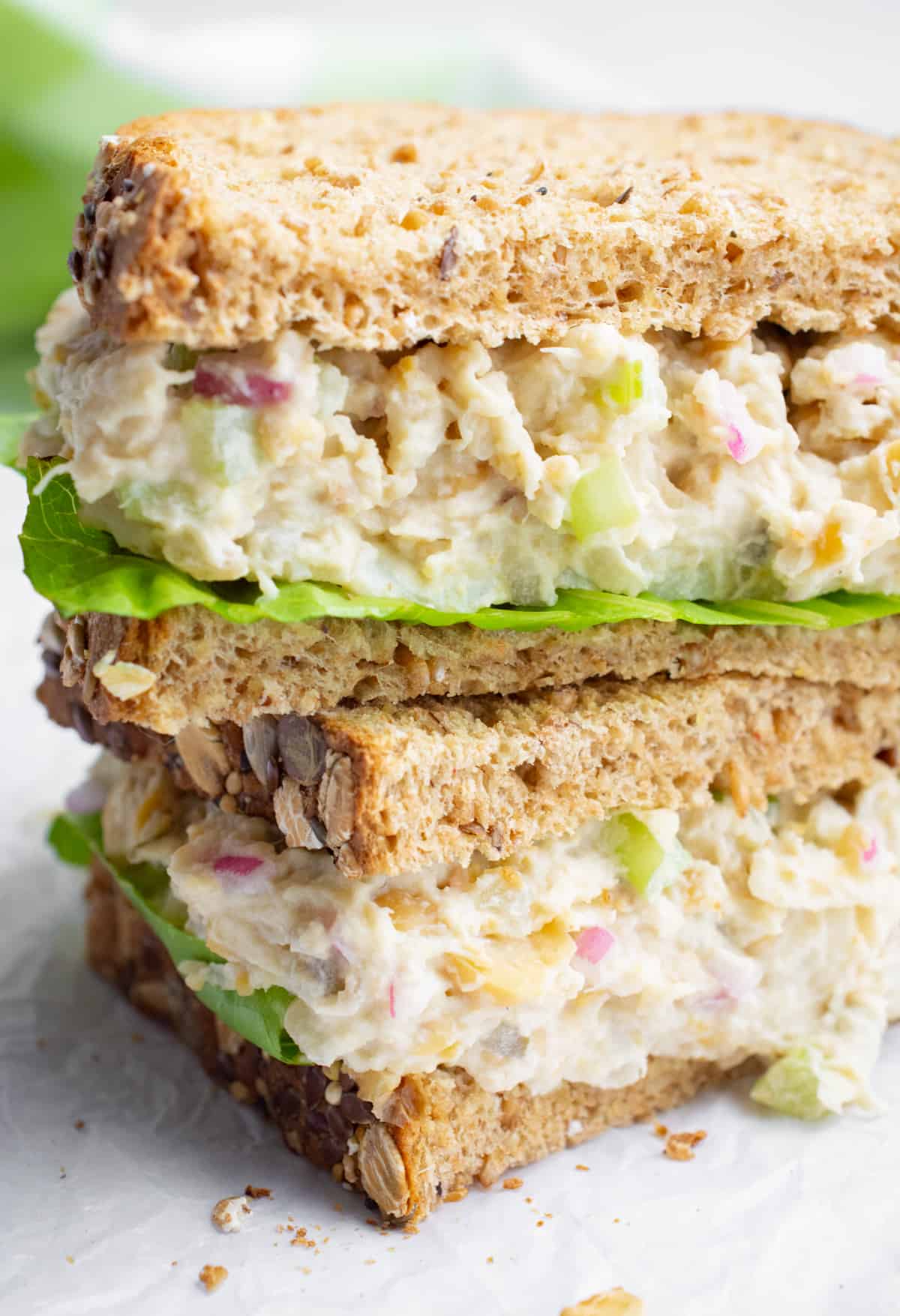 During last year's warm season, I kept my vegan chicken salad stocked in the fridge. It made summer lunches for the family easy and kept us cool.
This year's lunch has changed a bit and we've been devouring this new vegan tuna salad recipe. It's flavor-packed and can be customized to the ingredients you have on hand.
I used celery seed when I was out of celery without any noticeable lack in flavor.
And, when I was out of sweet relish I improvised by finely-chopping baby gherkin dill pickles. I also added extra agave nectar for sweetness.
The results were scrumptious each time!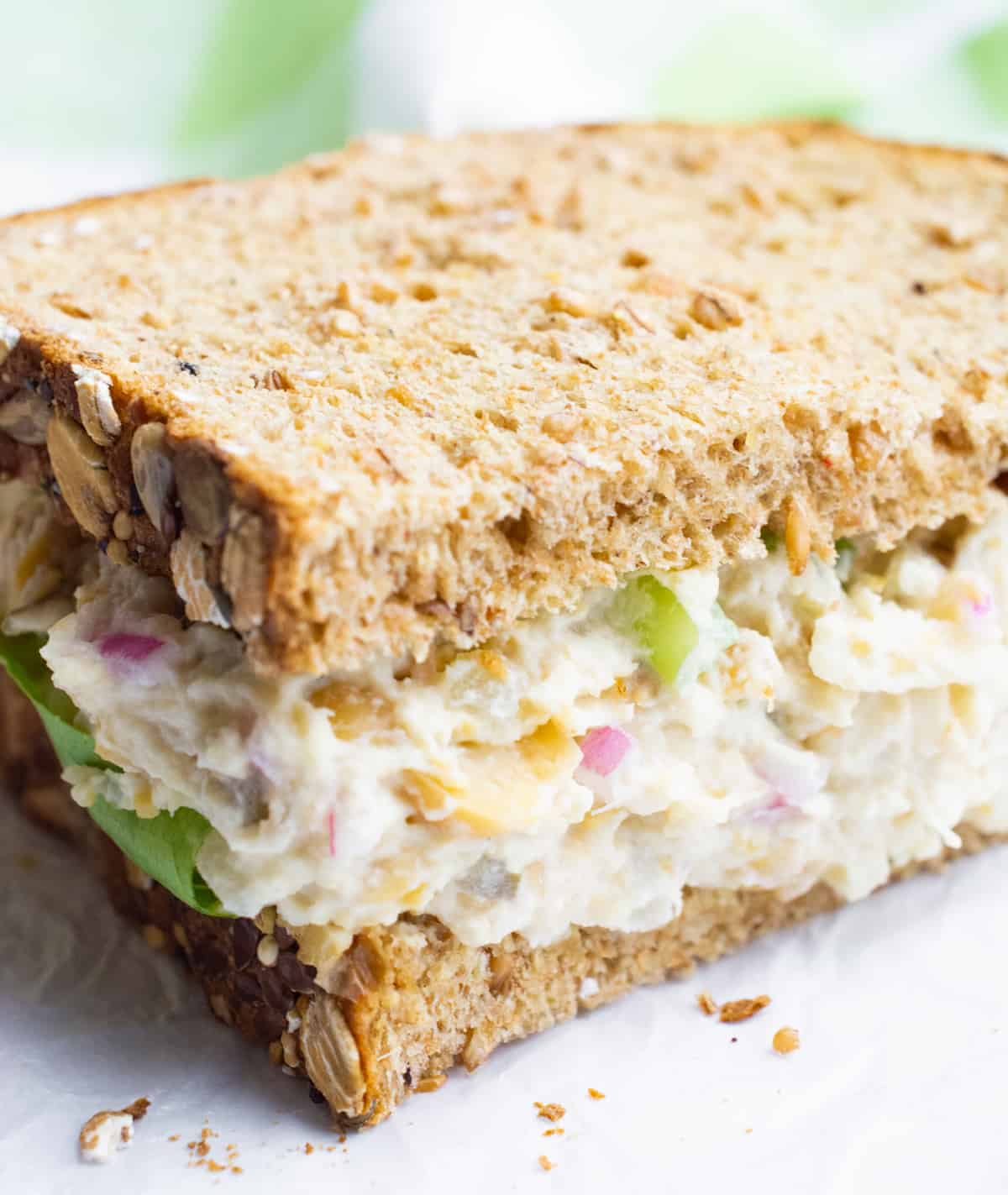 Does it taste like tuna?
YES! I love this recipe as is and make it all the time. I find the flavors are right on and I don't miss the tuna-fish taste at all.
However, for those of you that still want the extra flavor in your tuna salad, I have included a few vegan options:
Kelp granules
dulse flakes
crushed nori sheets
Any one of these ingredients will give your salad that authentic tuna flavor you're looking for.
Ingredients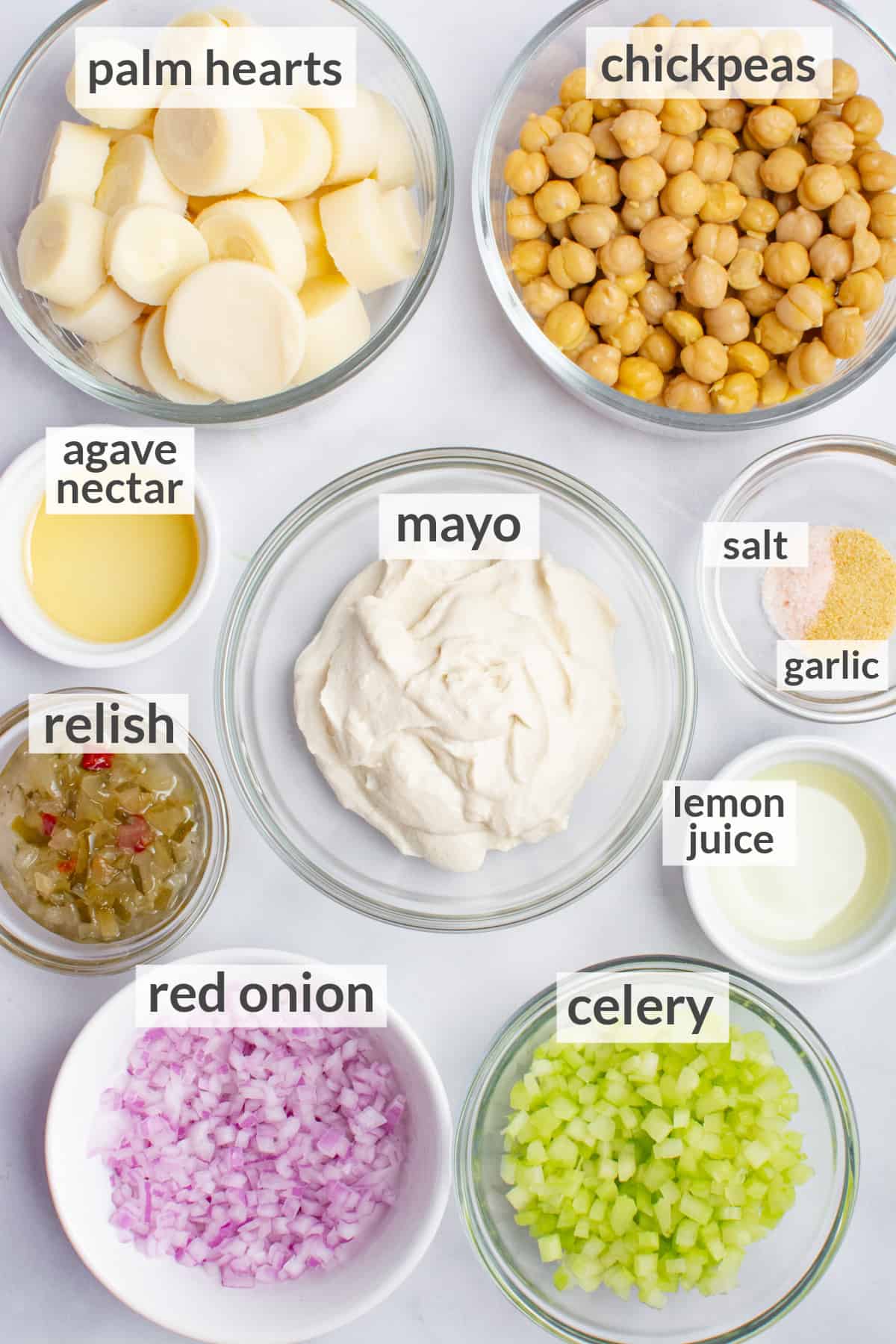 Hearts of palm are a flavorful and visually appealing replacement for tuna.
Chickpeas (garbanzo beans) add texture and protein to the meal.
Onion and celery are a must-have classic crunch in any tuna salad.

Homemade vegan mayo

is made with cashews for a light and oil-free recipe.
Sweet relish gives it a pleasant sweetness.
Lemon juice adds a bit of tartness and brings out the flavors.
Agave nectar (or maple syrup) balances everything out.
Garlic powder is added for a little pizzaz.
How to make vegan tuna salad
To start, dice the onion and celery and set them aside.
Then, drain and rinse the chickpeas and palm hearts. Slice the hearts of palm and add them to a mixing bowl.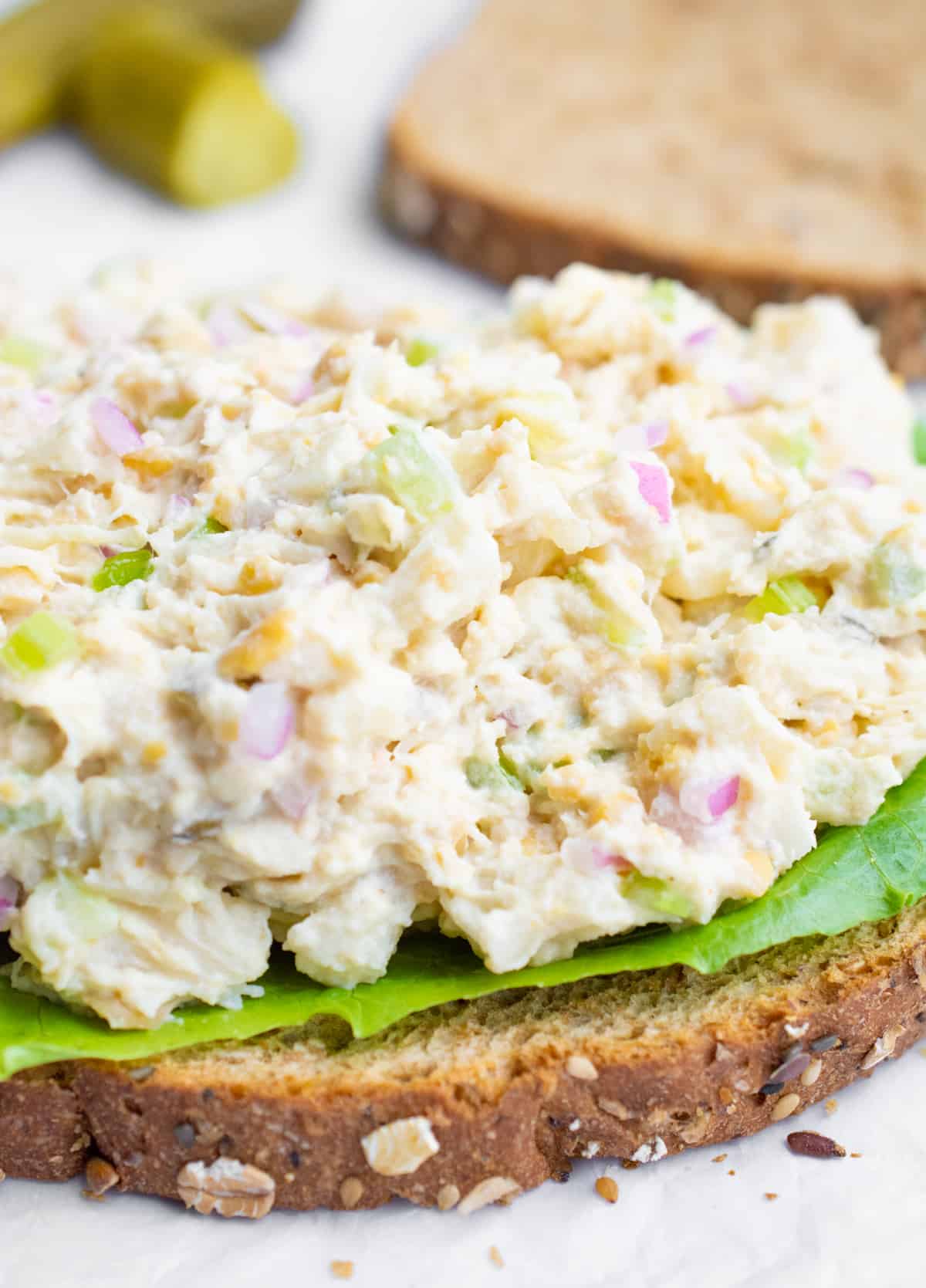 Turn it into a sandwich
Spread the vegan tuna salad onto your favorite sandwich bread, baguette, seeded bread, ciabatta, etc. Add some lettuce, tomato slice, sprouts, pickles, or a few slices of vegan bacon.
I'm a simple girl and love it on toasted whole wheat bread with lettuce and a light spread of mayo on the top slice of bread.
It's an easy and super tasty meal!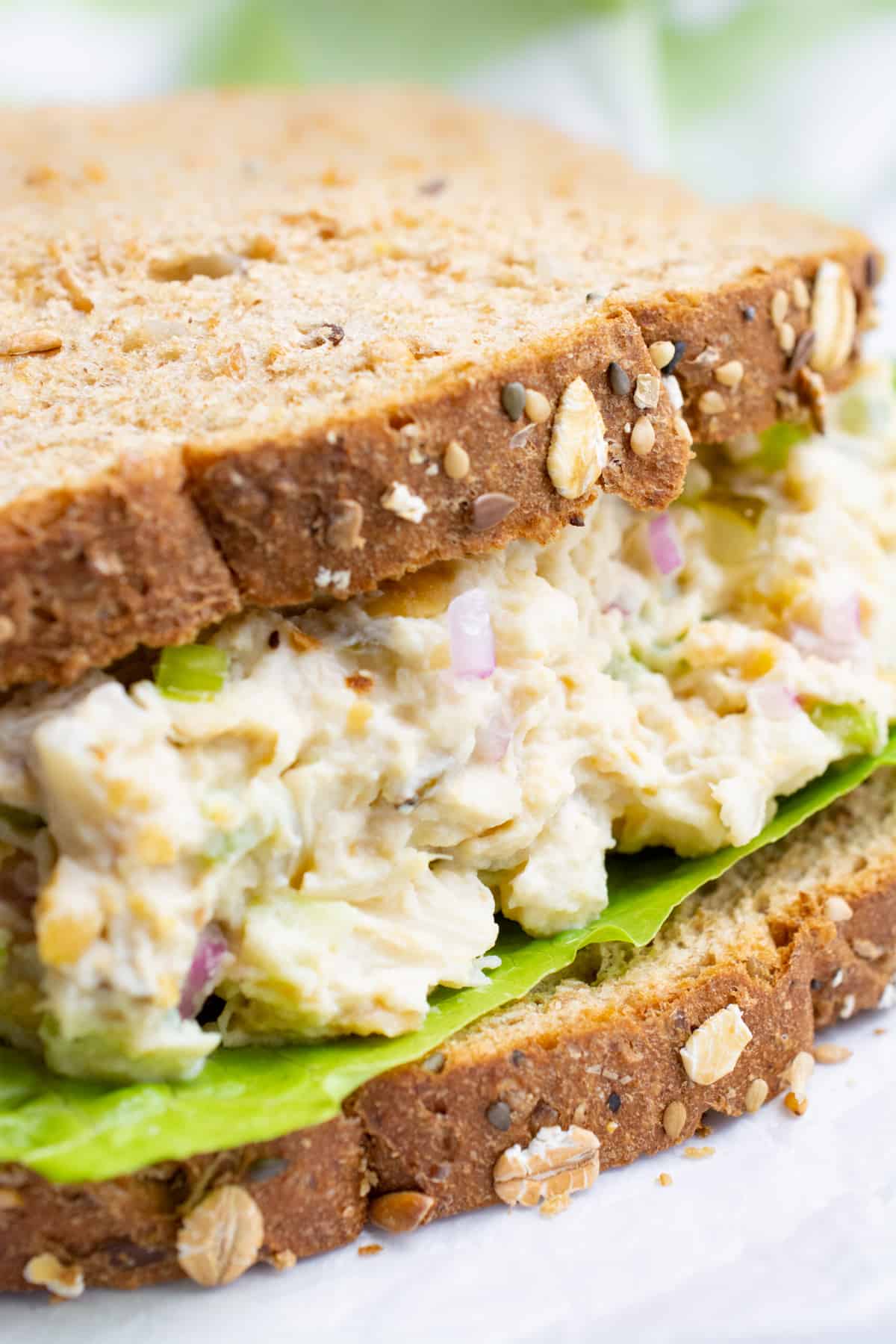 Make it a vegan tuna melt
If you're ready to take your vegan sandwich to the next level, you've gotta try this vegan tuna as a melt. It's as simple as adding vegan tuna to grilled cheese.
Grab 2 slices of your favorite bread. Add coconut oil —or vegan butter— to the tops of each slice of bread.
Heat a skillet over medium heat. Once it is hot, place one slice of bread, butter-side down, onto the pan.
Place a slice or two of vegan cheese on top of the bread, top with a few scoops of the tuna salad. Finish it off with the other slice of bread (buttered side up).
When the bottom slice of bread is golden brown, carefully flip the sandwich with a spatula and brown the other side.
Remove the sandwich from the pan and allow it to cool a bit before enjoying!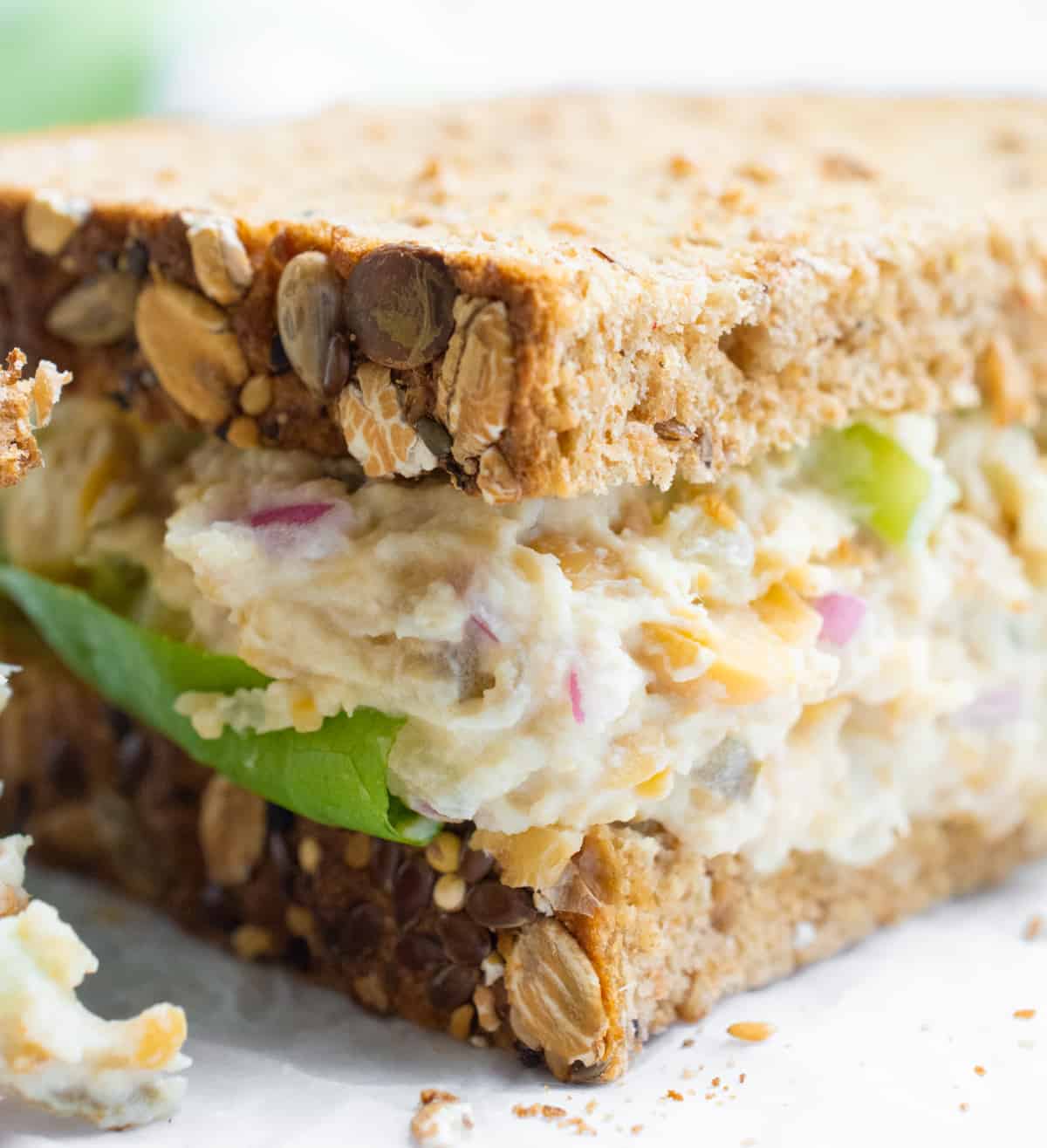 Variations
Use store-bought mayo instead of homemade mayo.
Substitute the sweet relish with dill relish or finely diced dill pickles.
Can't find hearts of palm? Use another can of chickpeas instead.
Replace the fresh celery with celery seed, or add it along with the celery for extra flavor.
Add a squirt of yellow mustard or dijon mustard, if you'd like more tang.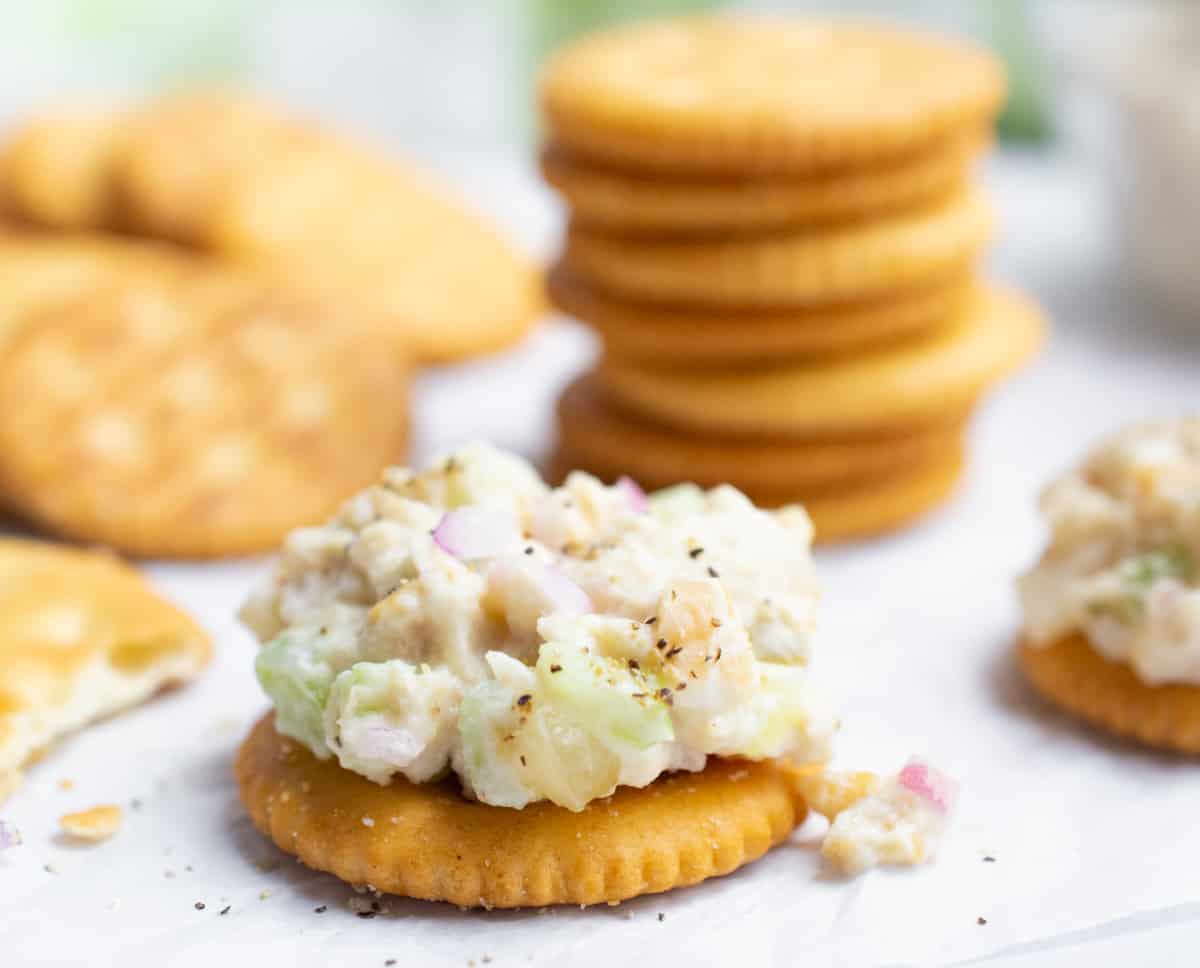 We'd love to hear from you!
If you enjoyed this vegan lentil loaf recipe, please leave a 5-star rating in the recipe card and share your thoughts in the comments below.
Also, if you snap a photo be sure to share it with us! We love to see your creations!! You can find us on Pinterest, Facebook, and Instagram.
Recipe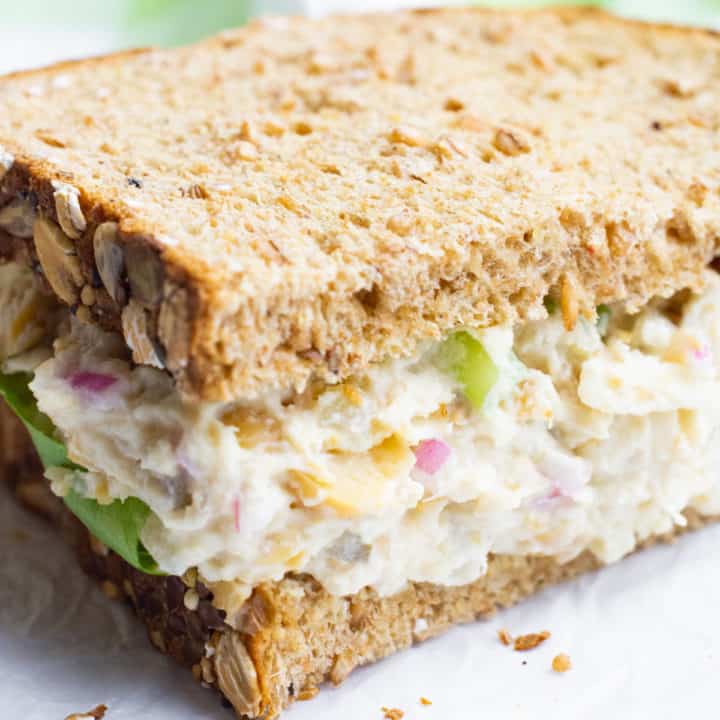 Vegan Tuna Salad
Mashed chickpeas, shredded hearts of palm, vegan mayo, diced celery, and red onion bring this vegan tuna salad together for a traditional taste. This plant-based classic is easy-to-make and can be enjoyed in a sandwich, on crackers, in a wrap, or on its own.
Ingredients
1 (14oz) can hearts of palm, drained and rinsed
1 (15oz) can chickpeas, drained and rinsed
½ cup vegan mayo
1 celery stalk, diced
2 Tablespoons red onion, diced
2-3 Tablespoons sweet relish
2 teaspoons freshly squeezed lemon juice
1-2 teaspoon agave nectar or maple syrup
½ teaspoon garlic powder
¼ teaspoon Himalayan pink salt
Pepper to taste
Optional "tuna" flavor to taste
Instructions
Slice the hearts of palm into ½-inch pieces and add them to a mixing bowl.
Break them up using a fork, or by hand if they are tough.
Add in the chickpeas and mash them up while mixing them with the hearts of palm.
Add in the remaining ingredients: mayo, celery, onion, relish, lemon juice, agave, garlic, salt, and pepper. If you are using, dulse, nori, or kelp add that in as well.
Mix the ingredients together until everything is well combined.
Taste and adjust seasonings if needed.
Chill in the fridge for at least an hour, but overnight is best for flavor.
Notes
Adjust the seasonings by adding extra sweetener, salt, garlic, and/or lemon juice to taste. 
The above optional tuna flavor suggestions will add more "tuna fish flavor" to the vegan tuna. If you are unsure of the amount to use, add a little in at a time to taste.
Add a few squirts of yellow mustard for some tang.
Nutrition Information:
Yield:

4 sandwiches
Serving Size:

1 sandwich
Amount Per Serving:
Calories:

144
Total Fat:

2g
Saturated Fat:

0g
Trans Fat:

0g
Unsaturated Fat:

1g
Cholesterol:

0mg
Sodium:

403mg
Carbohydrates:

27g
Fiber:

6g
Sugar:

8g
Protein:

7g
**Nutritional info is provided as an estimate based on the ingredients I used and for convenience and as a courtesy only.**
More Vegan Lunch Ideas
Where You Get Your Protein is a participant in the Amazon Services LLC Associates Program, an affiliate advertising program designed to provide a means for sites to earn advertising fees by advertising and linking to Amazon.com. This site may contain some of these links to Amazon.com. If you make a purchase through one of those links, Where You Get Your Protein will receive a small commission from the purchase at no additional cost to you.