Vegan cherry almond coffee cake is a delicious way to enjoy the cherry season. The cake is swirled with cherry preserves and topped with fresh cherries, a crumb topping, and toasted almond slivers. Enjoy this decadent vegan breakfast this weekend.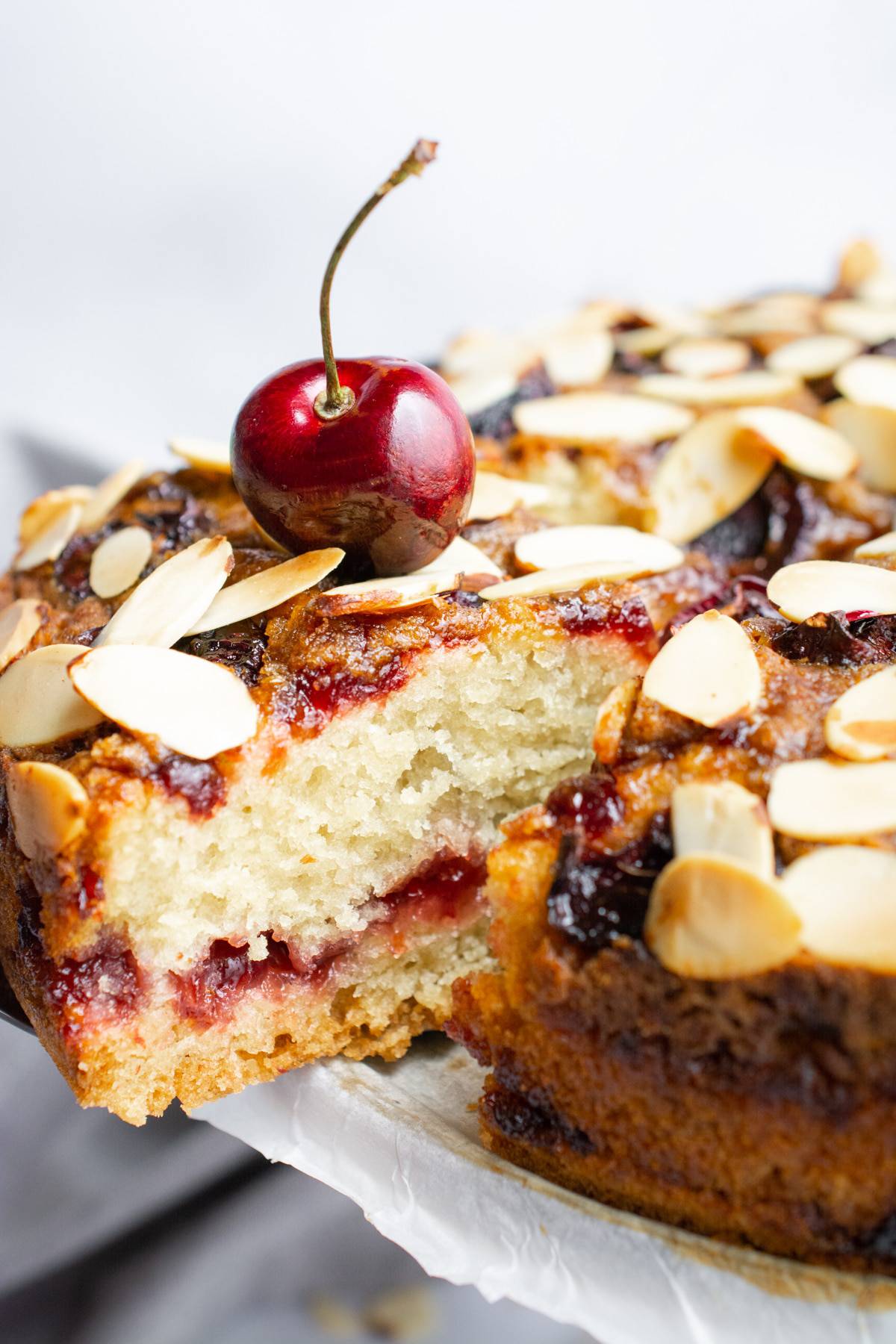 I was originally going to top this vegan cherry coffee cake with a baked-in cream cheese layer. But I worried it would melt during the cooking process.
So I switched directions by altering my blueberry breakfast cake recipe and adding a layer of jam to the center.
It was definitely a save for this decadent vegan dessert!
Ingredients
There are quite a few ingredients in this recipe but don't let that discourage you. The final product is totally worth it!
I've listed the main ingredients below along with substitutions for a few of them.
*Full amounts are in the recipe card below.
All-purpose flour is the base of this cake. A 1:1 ratio of gluten-free flour can be used as a substitute.
Non-dairy milk binds everything together. I use almond milk but you can use soy, rice, oat, etc.
Cane sugar perfectly sweetens the cake. Coconut sugar or powdered turbinado sugar can be used as a substitute.
Cherry preserves are swirled throughout every bite. Any brand will do.
Fresh cherries give this vegan coffee cake a combination of sweet and tart flavor. I use sweet dark cherries, but any type can be used.
Slivered almonds become nice and toasty in the oven for an ideal nutty crunch. Swap them out for chocolate chips.
Non-dairy yogurt gives this cake a soft, moist texture. Substitute ti with an extra 1/4 cup non-dairy milk mixed with 1 Tablespoon lemon juice.
Coconut oil also adds to the softness and moisture of the coffee cake.
Baking powder and baking soda are what make this cake rise beautifully.
Almond extract adds a subtle hint of almond flavor.
How to make Cherry Almond Cake
As I mentioned above, this recipe is super easy to make.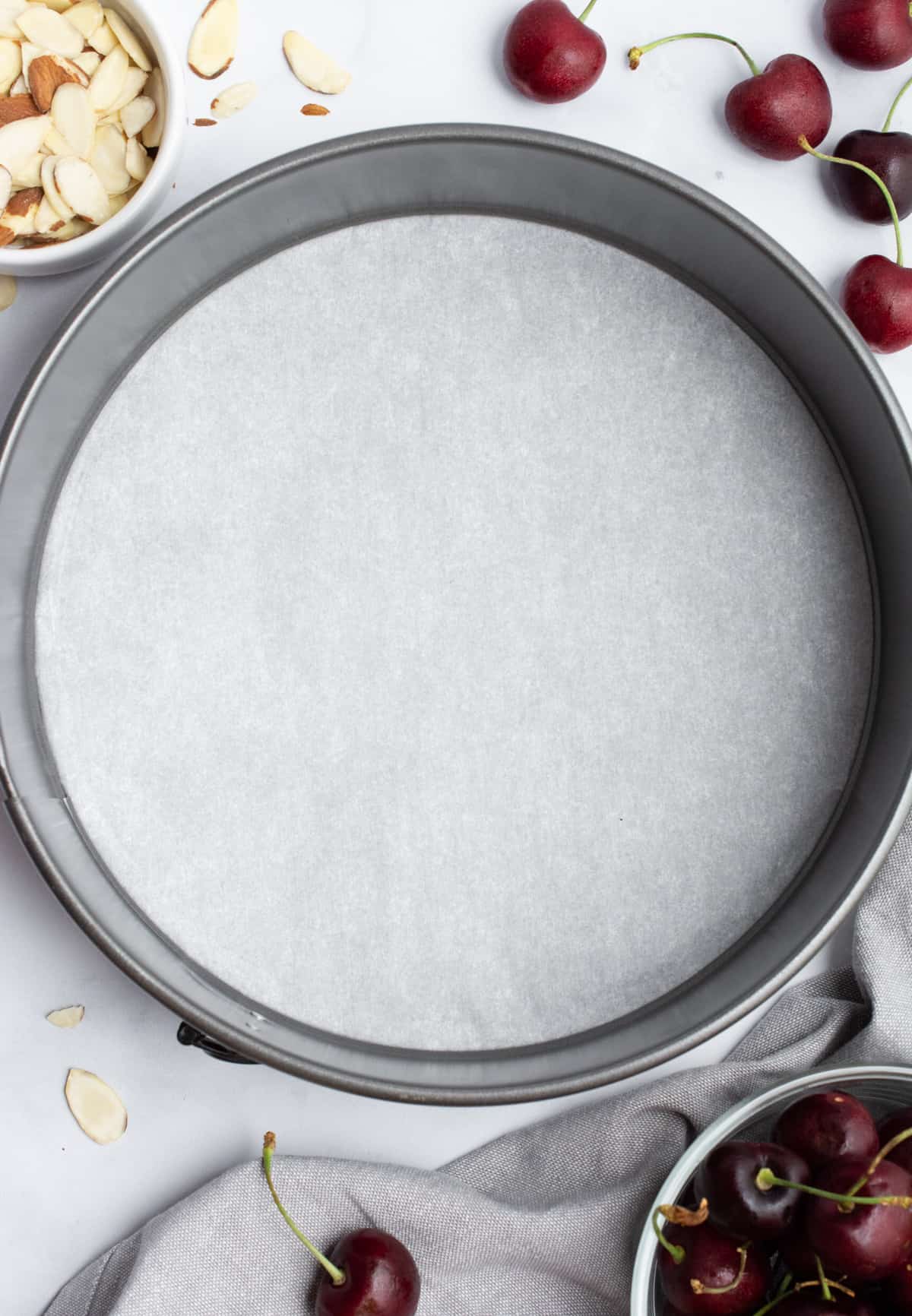 Start by folding a sheet of parchment paper around the bottom of a 9-inch springform pan. Lock the pan so it holds the parchment paper in place. Flip the pan over and cut off any excess parchment from the outside bottom. Then, oil the sides.
In a large bowl mix together the oil and sugar.
Then, mix in the non-dairy milk, yogurt, and almond extract.
Sift in the dry ingredients.
Mix/fold everything together to create a batter.
Add half of the batter to the prepared springform pan and top with half of the cherry preserves.
Top with the remaining batter and cherry preserves.
Evenly sprinkle the crumb topping across the cake.
Top with fresh cherry halves.
This cherry almond coffee cake recipe is so good I've made it numerous times.
It's got all the right flavors. It's perfectly sweet. It's super easy to make. And, it's a great companion to your morning, afternoon, or evening cup of coffee.
Bring this cherry coffee cake to family gatherings, brunch get-togethers, or enjoy it as a simple evening dessert.
This fruit-infused coffee cake is always a hit with guests!
Tips
The crumb topping is best kept uncovered and at room temperature. It is ideal to serve the cake the same day once it has fully cooled or at least an hour or 2 after baking.
Measure the flour using the scoop and level method. Scoop the flour into the measuring cup with a spoon then, use the flat edge of a knife to level off the flour.
Cut larger cherries into quarter sections.
A 10oz jar of cherry preserves yields just enough for both layers of the cake.
Use as much or as little slivered almonds as you'd like.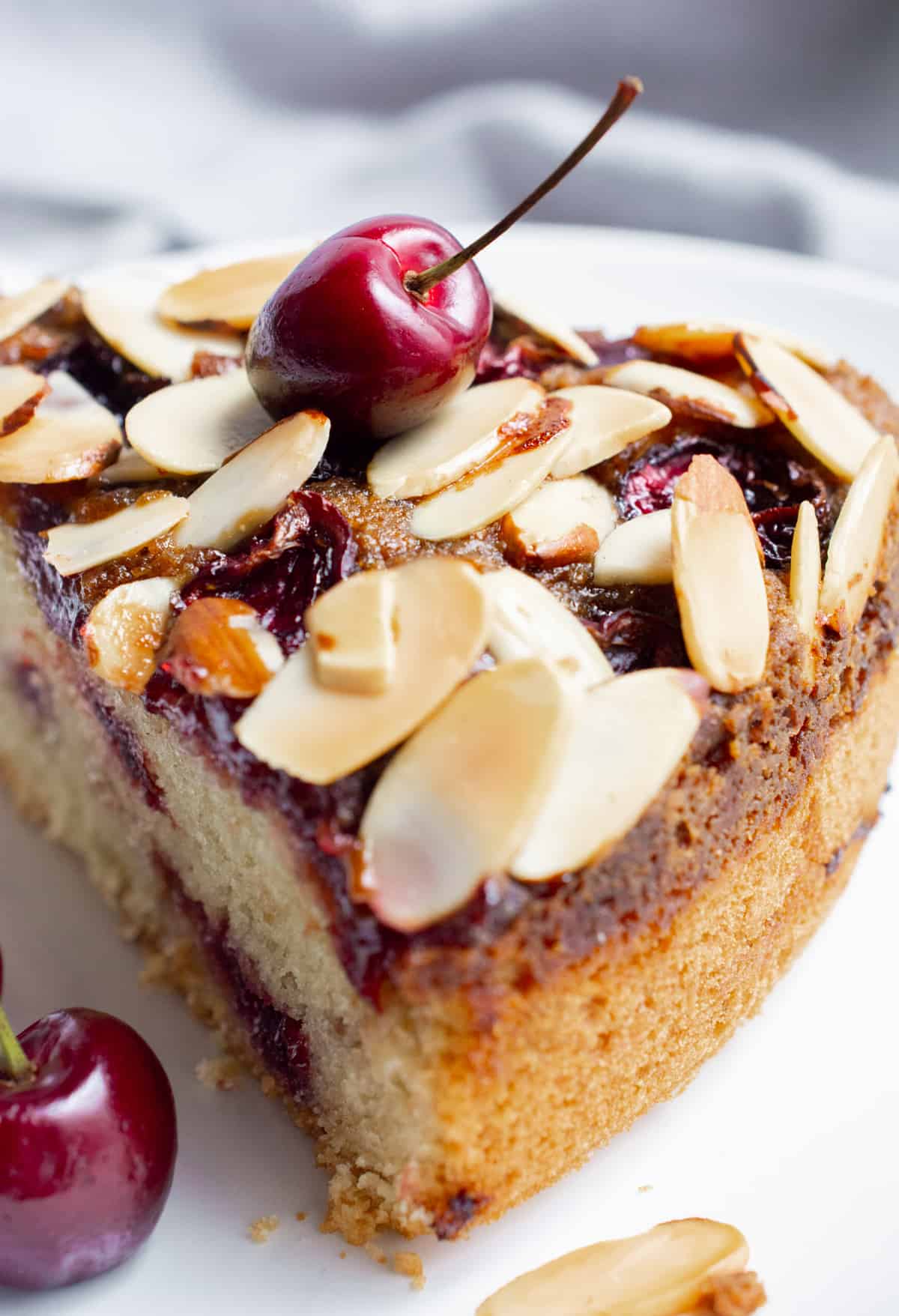 We'd love to hear from you!
If you enjoyed this vegan lentil loaf recipe, please leave a 5-star rating in the recipe card and share your thoughts in the comments below.
Also, if you snap a photo be sure to share it with us! We love to see your creations!! You can find us on Pinterest, Facebook, and Instagram.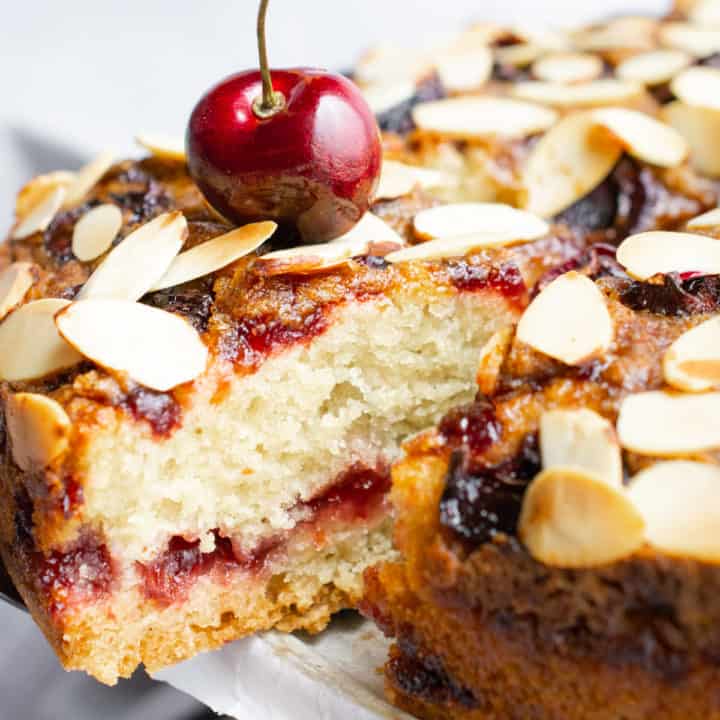 Vegan Cherry almond coffee cake
This light, moist vegan cherry coffee cake is rich in flavor. Cherry preserves are swirled throughout and fresh cherry halves, a crumb topping, and almond slivers top it off.  
Ingredients
Wet Cake Ingredients
1 cup non-dairy milk
3/4 cup cane sugar
1/2 cup non-dairy yogurt, plain or vanilla
1/3 cup refined coconut oil, melted
1 teaspoon almond extract
Dry Cake Ingredients
2 and 1/2 cups all-purpose flour, sifted
2 teaspoons baking powder
1/2 teaspoon baking soda
1/2 teaspoon Himalayan pink salt
Crumb Top
1/2 cup all-purpose flour
1/3 cup coconut sugar, packed
2 Tablespoons coconut oil, solid but scoop-able
All Toppings
1 and 1/4 cups cherry preserves (about a 10oz jar)
Crumble top recipe from above
15-20 fresh cherries, sliced in half and pitted
1/4 cup slivered almonds
Instructions
To make the Crumb Topping
In a medium bowl mix together the sugar and flour.
Cut-in the coconut oil with a fork until there are no large chunks of oil. Set aside.
To make the Cake
Preheat the oven to 375ºF.
Fold a sheet of parchment paper around the bottom of a 9-inch springform pan. Lock the pan so it holds the parchment paper in place. Cut any excess parchment from the bottom of the pan. Then, oil the sides.
In a medium bowl, sift together the dry ingredients and set aside.
In a large bowl, whisk together the oil and sugar until combined. Then, whisk in the remaining wet ingredients.
Add the dry ingredients into the bowl of wet. Gently mix/fold them together just enough for the thick batter to come together. Avoid over mixing.
Add half of the batter to the bottom of the prepared springform pan and evenly spread it out.
Dollop half of the cherry preserves on top and roughly swirl them in.
Pour the remaining batter on top and evenly spread it out.
Dollop the remaining cherry preserves on top of the batter and roughly swirl it in as well.
Top with the above crumb topping recipe, halved cherries, then slivered almonds.
Bake at 375ºF for 35-45 minutes or until a poker inserted into the center of the cake comes out clean. If it comes out covered in batter, bake the cake an extra 5-10 minutes longer, or until the poker comes out clean.

For best taste and texture, allow the cake to completely cool uncovered. Serve the same day.
Notes
Use all of the toppings or just a few.
Cane sugar can be replaced with coconut sugar or powder turbinado sugar.  To powder the sugar, blend it in a NutriBullet or equivalent, then measure.
I rarely measure out the cherry preserves. I just dollop them on straight from the jar. 
Nutrition Information:
Yield:

8 slices
Serving Size:

1 slice
Amount Per Serving:
Calories:

385
Total Fat:

15g
Saturated Fat:

11g
Trans Fat:

0g
Unsaturated Fat:

3g
Cholesterol:

3mg
Sodium:

326mg
Carbohydrates:

58g
Fiber:

2g
Sugar:

37g
Protein:

5g
**Nutritional info is provided as an estimate based on the ingredients I used and for convenience and as a courtesy only.**