For an easy weekend morning treat, grab a slice of this soft vegan blueberry breakfast cake. It's packed with fresh blueberries and covered with a simple crumb topping. This cake is an absolute must for any brunch gathering.
Usually, for morning get-togethers I'm quick to reach for my vegan banana bread or vegan lemon loaf. But lately, this blueberry breakfast cake has become everyone's favorite.
It's great for breakfast, brunch, family gatherings, holidays, potlucks, or as a sweet dessert with your evening cup of coffee.
Everyone will be raving about this breakfast cake!
So move over ordinary coffee cake, this crumb-topped vegan blueberry coffee cake is taking over brunch!
Ingredients
This coffee cake is made with the 9 simple vegan ingredients below.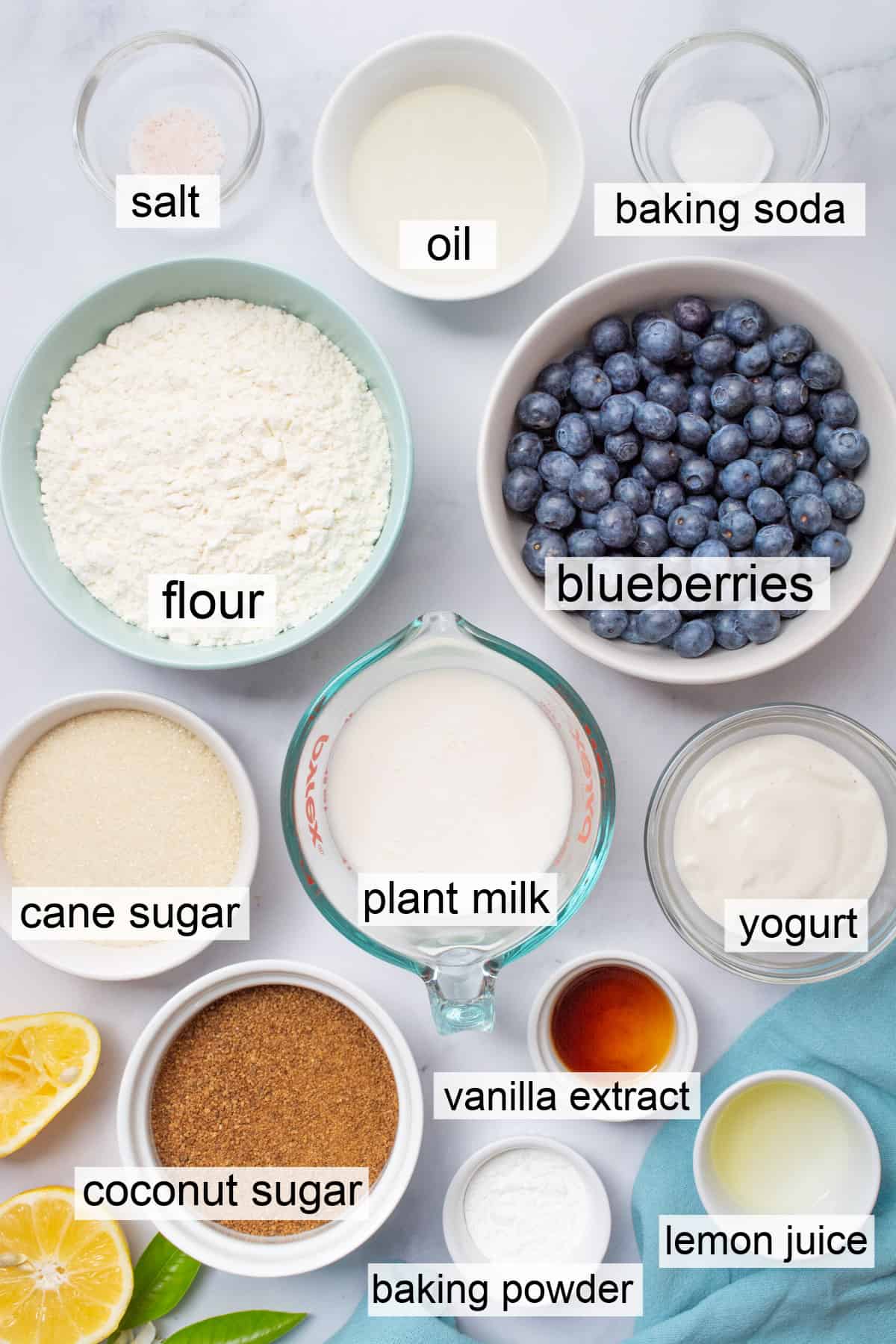 Ingredients notes and substitutes
Flour – Use all-purpose flour for the best results. For a gluten-free breakfast cake, substitute with a 1:1 ratio gluten-free flour.
Cane Sugar – This can be replaced with any granulated sugar if needed.
Coconut sugar – If you don't have coconut sugar, use brown sugar instead.
Coconut oil – The cake batter requires melted coconut oil and the crumb topping requires the oil to be solid. If you need to substitute them, use neutral vegetable oil for the batter and vegan butter for the topping.
Yogurt – Any brand of plant-based yogurt will do. Use plain or vanilla-flavored vegan yogurt. See below to replace the yogurt.
Blueberries – Fresh berries are best but frozen can be used as a substitute. For a variation of this breakfast cake, use one of the suggestions I've listed below to replace the blueberries.
Can I make this cake without yogurt?
Sure!
Simply replace the yogurt with ¼ cup non-dairy milk mixed with 1 Tablespoon lemon juice. Set aside for 3-5 minutes to create "buttermilk". Use in place of the yogurt.
However, I recommend using yogurt if you can. It helps to keep the cake soft and moist.
Instructions
This vegan blueberry breakfast cake comes together in a few easy steps.
Blueberries
This recipe uses fresh blueberries, but you can always replace them with frozen blueberries.
Blueberry Substitutes
For a variation of this blueberry breakfast cake, try one of these fruit replacements.
frozen cherries
raspberries
blackberries
cranberries
dried pineapple bits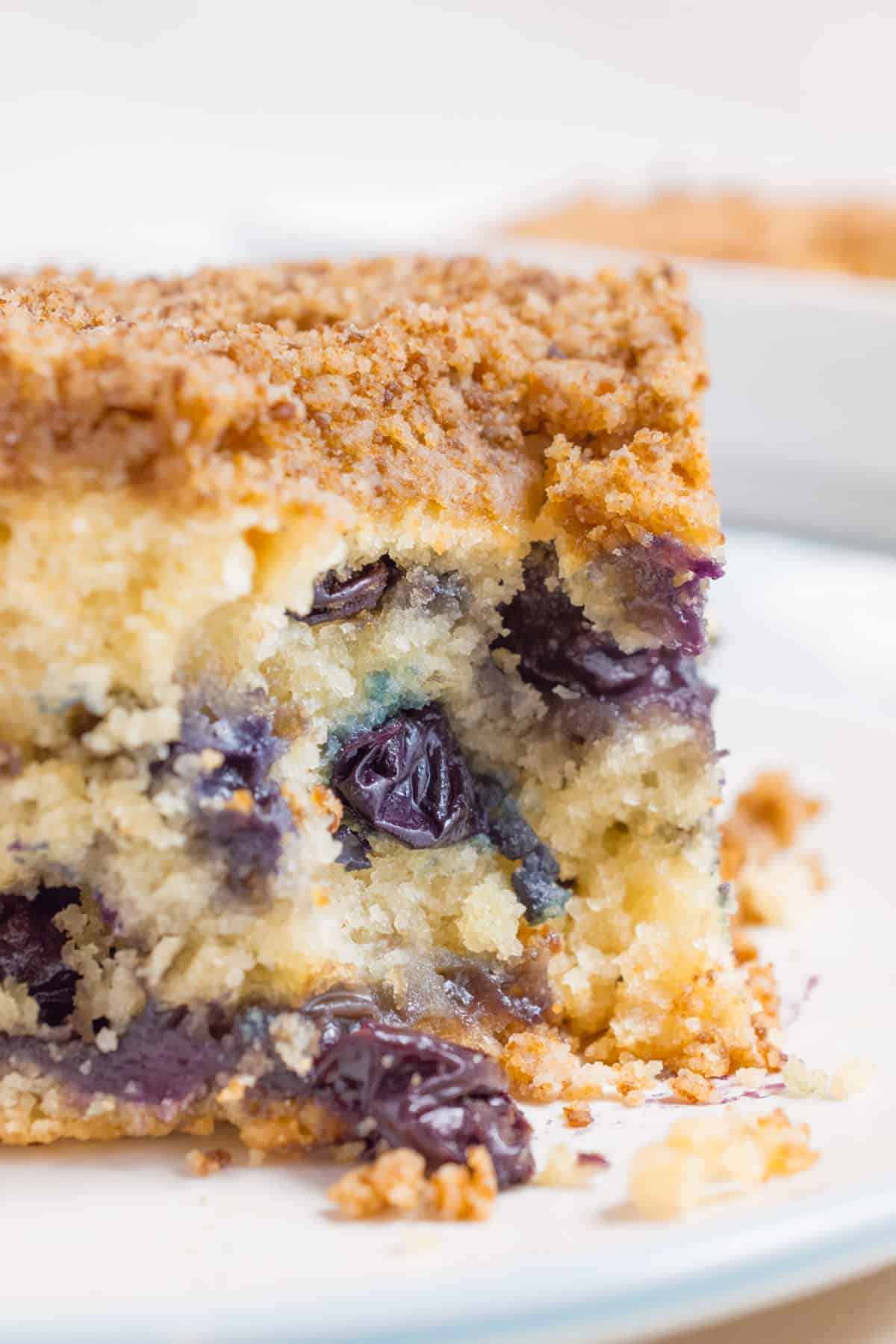 How to correctly measure the flour
Correctly measuring the flour is important for the texture of the coffee cake. If you add too much flour the cake will be dry and dense. Not enough flour will yield a sticky cake.
So to accurately measure the flour, use the "scoop and level" method.
First, fluff the flour in the canister with a spoon.
Then, spoon the flour into the measuring cup.
Finally, use the flat back of a knife to level off the flour.
Using this technique will yield the best batter and cake consistency. The batter should be slightly thick, yet "airy" when mixing.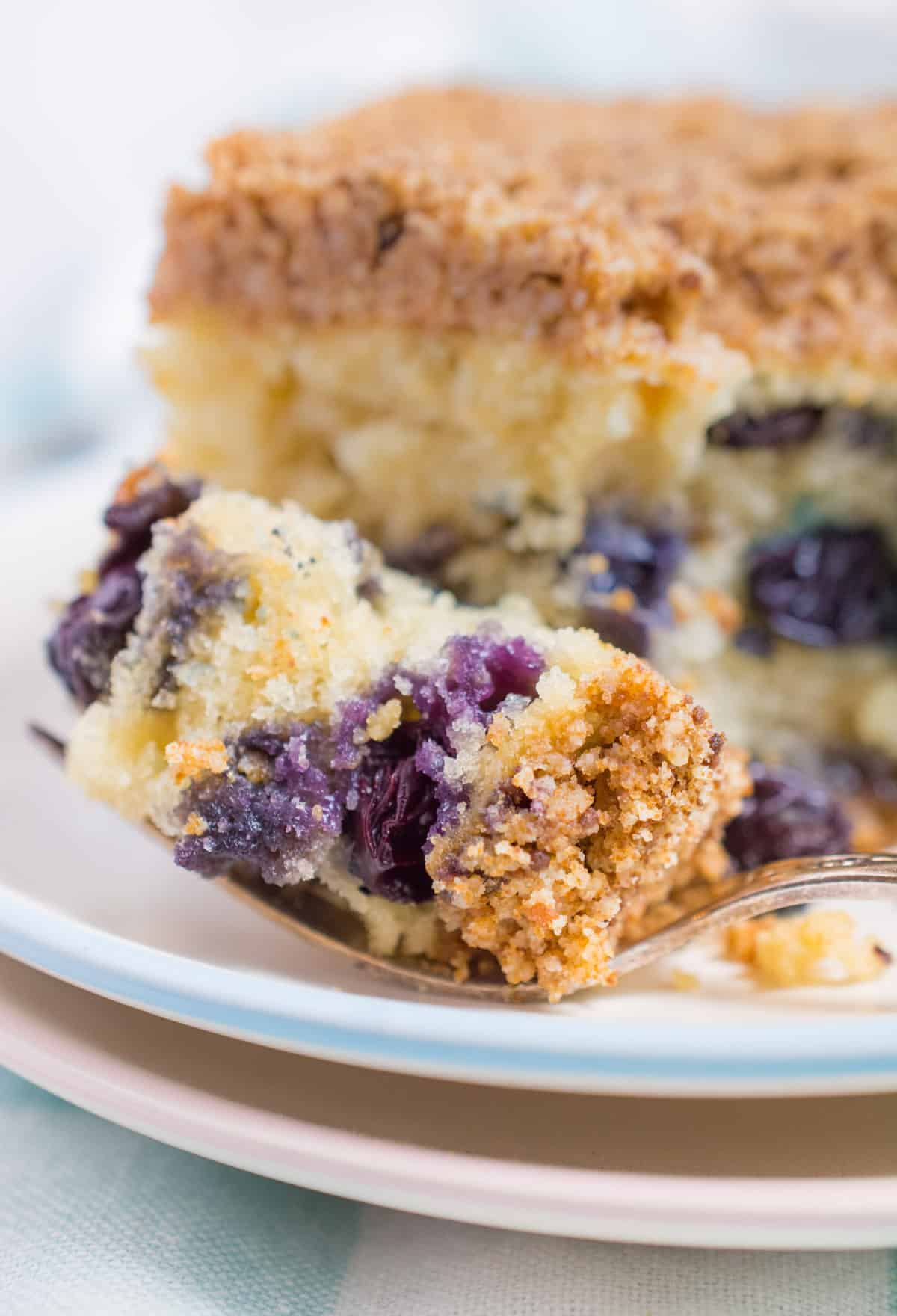 We'd love to hear from you!
If you enjoyed this vegan recipe, please leave a 5-star rating in the recipe card and share your thoughts in the comments below.
Also, if you snap a photo be sure to share it with us! We love to see your creations!! You can find us on Pinterest, Facebook, and Instagram.
Or, get the links to new recipes delivered straight to your inbox by signing up for our newsletter. See ya there!
Recipe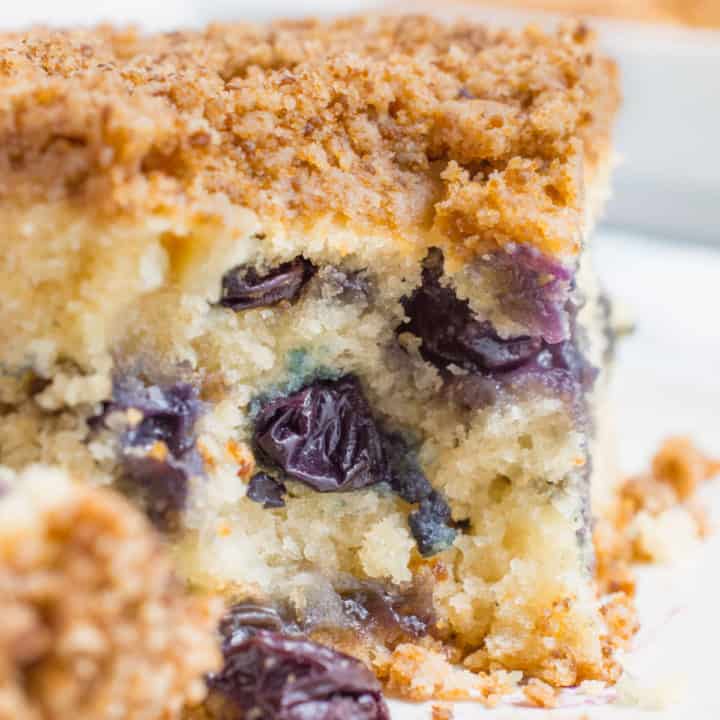 Blueberry Breakfast Cake (vegan)
Vegan blueberry breakfast cake is packed with fresh blueberries and covered with a sweet crumb topping. It's an absolute must for brunch gatherings or a simple morning cup of coffee.
Ingredients
Crumb Topping
Dry
2 and ½ cups all-purpose flour, sifted
2 teaspoons baking powder
½ teaspoon baking soda
½ teaspoon Himalayan pink salt
1 and ½ cups fresh blueberries
Wet
1 cup non-dairy milk
⅓ cup plain non-dairy yogurt, vanilla flavor is okay too
⅓ cup refined coconut oil, melted
1 Tablespoon fresh lemon juice
2 teaspoons vanilla extract
Instructions
Crumb Topping
In a medium bowl, mix together the flour and sugar.
Using a pastry cutter, or fork, cut in the solid oil until there are no large oil chunks. It should be similar to a 'sand' consistency.
Breakfast Cake
Preheat your oven to 375ºF and oil a 9x9-inch baking dish.
In a medium bowl, sift the dry ingredients together (except the blueberries) and set aside.
In a larger bowl whisk together the oil and powdered cane sugar. Then whisk in the remaining wet ingredients.
Pour the dry ingredients into the bowl of wet ingredients. Using a spatula, gently fold the ingredients together just until they are combined. Tip: Be sure not to overmix the batter or your cake may come out dense and chewy instead of soft and fluffy.
Now, gently fold the blueberries into the batter folding only about 3 times so as to not overmix. Then, pour the batter into your prepared baking dish.
Top the batter with the crumb topping.
Bake at 375ºF for 30-40 minutes. The top should be browned and a toothpick inserted into the center of the cake should come out clean.
Allow the cake to cool for at least 30 minutes before slicing.
Notes
For the crumb topping, the coconut oil can be replaced with vegan butter or shortening.
To substitute the yogurt, use ¼ cup non-dairy milk mixed with 1 Tablespoon lemon juice. Set aside for about 5 minutes to create a "buttermilk". 
To powder the sugar, measure it first then blend it in a nutri-bullet or high-speed blender until the sugar becomes a powder. Powdering the sugar creates a smoother cake.
Store the cake in an airtight container on the counter for up to 2 days or in the refrigerator for up to 7 days. To freeze, wrap the cake in plastic wrap and store it in an airtight container or freezer bag for up to 3 months.
To enhance the flavors add a bit of lemon zest to the wet ingredients.
Nutrition Information:
Yield:

9
Serving Size:

1 slice
Amount Per Serving:
Calories:

276
Total Fat:

2g
Sodium:

228mg
Carbohydrates:

60g
Fiber:

1g
Sugar:

42g
Protein:

5g
**Nutritional info is provided as an estimate based on the ingredients I used and for convenience and as a courtesy only.**
Vegan Morning Favorites
Where You Get Your Protein is a participant in the Amazon Services LLC Associates Program, an affiliate advertising program designed to provide a means for sites to earn advertising fees by advertising and linking to Amazon.com. This site may contain some of these links to Amazon.com. If you make a purchase through one of those links, Where You Get Your Protein will receive a small commission from the purchase at no additional cost to you.