Vegan blueberry muffins are loaded with fresh blueberries! They're an easy homemade breakfast for busy mornings or the perfect on-the-go snack. Their classic flavor and soft texture definitely make these THE BEST vegan blueberry muffins!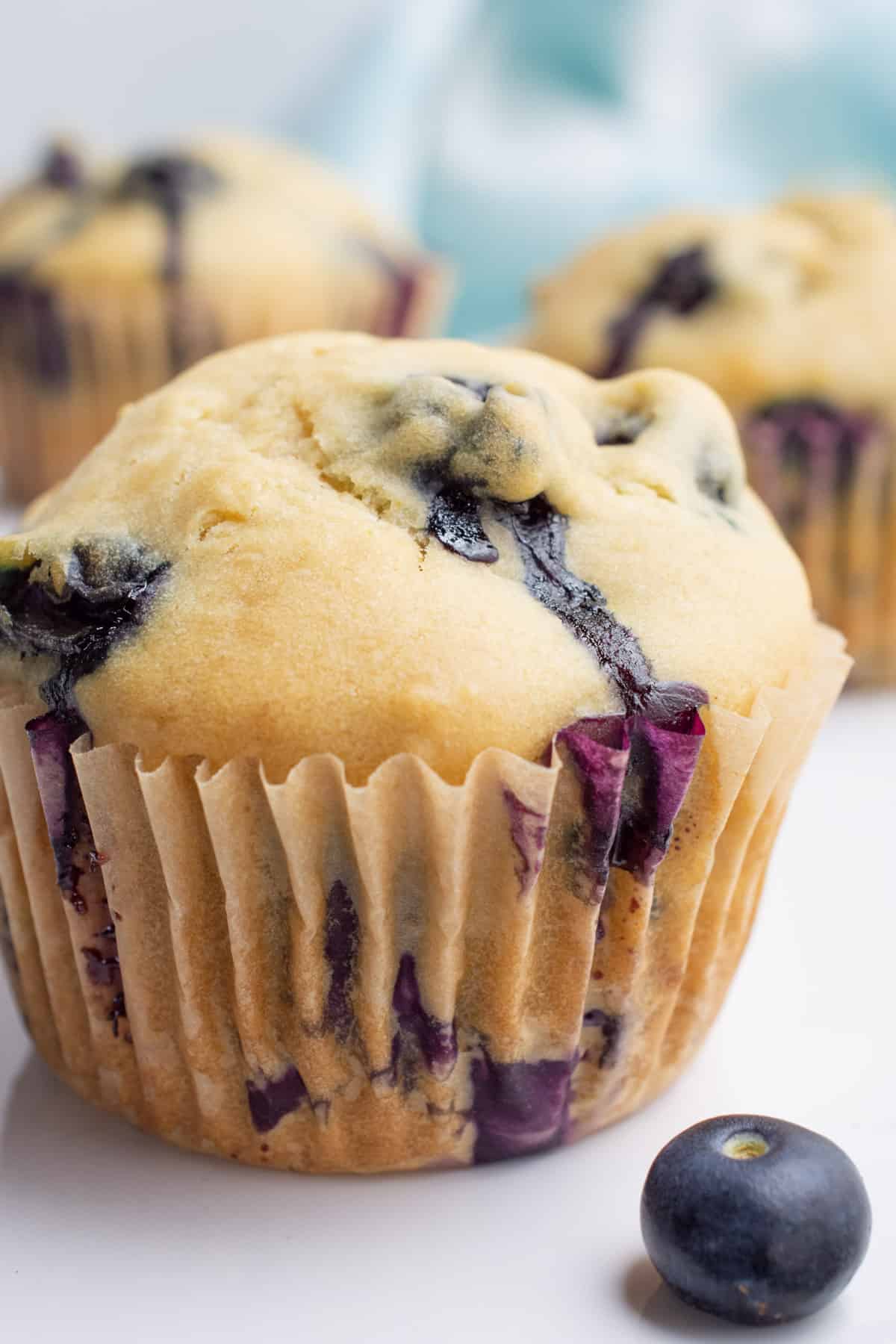 If you're a fan of my banana bread and cinnamon pancakes, you can add these vegan blueberry muffins to that list too.
They're soft, tender, moist, and fluffy without any eggs, dairy, or hard-to-find vegan ingredients.
Ingredients
As with most of my recipes, the 12 ingredients for these blueberry muffins are pantry staples. And they can easily be swapped out for the brands/varieties you like or have on hand.
Ingredients Notes and Substitutes
All-purpose flour. Use any brand of all-purpose flour. For a gluten-free option use a 1:1 ratio GF flour.
Granulated sugar. I used cane sugar, but any granulated sugar will do.
Blueberries. Use fresh or frozen blueberries. See below for tips!
Corn starch. This helps create light, tender vegan muffins. If you're out of corn starch, simply omit it.
Lemon zest. This brings a hint of fresh lemon flavor to the muffins.
Salt. Use any salt you'd like. I used pink Himalayan salt.
Non-dairy milk. Unsweetened, plain almond milk is my go-to, but you can use any variety –soy, oat, cashew, etc.
Dairy-free yogurt. Vanilla-flavored almond milk yogurt was my choice for these muffins, but plain unsweetened yogurt is also another great option. Use your choice of almond, soy, cashew, etc.
Coconut oil. If using coconut oil, be sure to use refined for a neutral flavor. Or substitute with any neutral vegetable oil.
And those are all the ingredients needed to make these soft and fluffy vegan blueberry muffins!
Step-by-Step Instructions
Whip up these vegan blueberry muffins in a few easy steps.
Step 1. Mix together the dry ingredients in a large mixing bowl.
Step 2. Add the wet ingredients to the bowl.
Step 3. Gently fold the wet and dry ingredients together with a firm spatula.
Step 4. Then, carefully fold in the blueberries.
Step 5. Once the blueberries are folded in the batter should look like the above image.
Step 6. Next, use a large spoon to evenly divide the batter between 12 muffin cups.
Step 7. Bake at 375ºF for 20-25 minutes. The muffins should be golden brown with a nicely risen top.
Step 8. Allow the muffins to cool in the pan for about 10 minutes, then transfer them to a cooling rack to fully cool.
The final step, and the hardest one, is to not eat all the muffins in one day!
Blueberry Tips
Use fresh or frozen blueberries for these vegan blueberry muffins. I find nothing beats fresh blueberries, but when I'm in a pinch, frozen blueberries come to the rescue.
Fresh Blueberries
For fresh blueberries, rinse and completely dry them. Then toss them right into the batter and fold them in. No need to worry about the blueberries releasing their color into the batter while mixing.
Frozen Blueberries
Frozen blueberries are perfect when fresh ones are not available. However, the blueberry color will bleed into the batter. To lessen this, follow these simple tips:
Don't remove the blueberries from the freezer until you're ready to add them to the batter.  The more they thaw the more color they release. 
After measuring the blueberries, transfer them to a bowl and toss them with a bit of flour before folding them 9into the batter.  
The above tips will help the frozen blueberries retain their color and keep the batter from looking like a smurf.
Storing blueberry muffins
Store the muffins in an airtight container at room temperature for up to 3 days or in the refrigerator for up to a week. For any longer than that I suggest freezing them.
To freeze blueberry muffins place them in a single layer on a baking sheet in the freezer for about an hour, or until they are solid. Transfer the muffins to an airtight container and store them in the freezer for up to 3 months.
We'd love to hear from you!
If you enjoyed this vegan recipe, please leave a 5-star rating in the recipe card and share your thoughts in the comments below.
Also, if you snap a photo be sure to share it with us! We love to see your creations!! You can find us on Pinterest, Facebook, and Instagram.
Or, get the links to new recipes delivered straight to your inbox by signing up for our newsletter. See ya there!
Vegan Blueberry muffins
The best vegan blueberry muffins are loaded with fresh blueberries and easy to make!  This one-bowl breakfast recipe has a classic flavor and soft texture you'd never know they're egg and dairy-free.
Ingredients
Dry
2 cups all-purpose flour, sifted
⅔ cup cane sugar, powdered (see notes)
1 Tablespoon cornstarch
1 and ½ teaspoons baking powder
1 teaspoon lemon zest
½ teaspoon baking soda
½ teaspoon Himalayan pink salt
Wet
1 cup non-dairy milk
½ cup dairy-free yogurt
¼ cup coconut oil, melted
1 and ½ teaspoon vanilla extract
2 cups (about 12oz) fresh blueberries, or frozen
Instructions
Preheat your oven to 375ºF and line a muffin tin with cupcake papers.
In a large bowl, combine the dry ingredients.
In a large glass measuring cup measure out the non-dairy milk. Add the remaining wet ingredients to the measuring cup. Pour the wet ingredients into the bowl of dry. (If your measuring cup isn't large enough, add the wet ingredients one at a time to the bowl.)
Gently fold the wet and dry ingredients together by using the side of a spatula to cut into the center of the ingredients. Turn the spatula flat scooping up the ingredients from the bottom and bringing them to the top. Turn the bowl and repeat until the batter comes together with no dry flour visible.
Then, gently fold in the blueberries.
Evenly divide the batter between the 12 muffin cups filling them over ¾ of the way up.
Bake for 20-25 minutes or until a toothpick inserted into the middle of a muffin comes out clean, or with a few dry crumbs.
Enjoy!
Notes
Store the baked muffins on the counter for up to 3 days, in the fridge for up to a week, or in the freezer for up to 3 months.
Powdering the sugar yields a smooth muffin top as pictured. It is not necessary and does not change the taste. But it does make the muffins look nice.
Yogurt can be replaced with ¼ cup non-dairy milk plus 1 Tablespoon lemon juice.
Coat frozen blueberries in flour to keep their color from bleeding into the batter.
Cane sugar can be replaced with any granulated sugar such as coconut sugar, or cane sugar without needing to be powdered.
Nutrition Information:
Yield:

12 muffins
Serving Size:

1 muffin
Amount Per Serving:
Calories:

92
Total Fat:

1g
Sodium:

89mg
Carbohydrates:

18g
Fiber:

1g
Sugar:

2g
Protein:

3g
**Nutritional info is provided as an estimate based on the ingredients I used and for convenience and as a courtesy only.**
More Vegan Baking Recipes
Where You Get Your Protein is a participant in the Amazon Services LLC Associates Program, an affiliate advertising program designed to provide a means for sites to earn advertising fees by advertising and linking to Amazon.com. This site may contain some of these links to Amazon.com. If you make a purchase through one of those links, Where You Get Your Protein will receive a small commission from the purchase at no additional cost to you.