Vegan Potato Corn Chowder is a thick and hearty, dairy-free recipe.  It takes only one pot and a few simple ingredients you have in your kitchen.  This rich and chunky soup will keep you warm all winter long!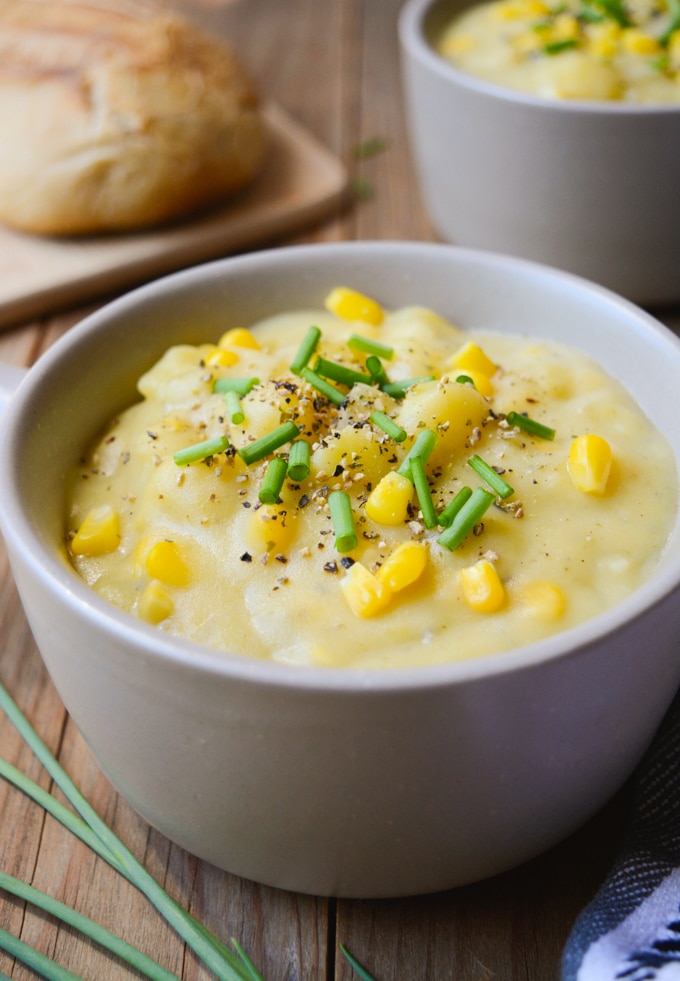 If you're a fan of my potato cauliflower soup, you'll love this Hearty Vegan Potato Corn Chowder just a much, or maybe even more!
The best part about this chowder is how easily it comes together.
Chop the veggies.
Toss the ingredients in the pot.
Cook for about 20 minutes.
Now devour this hearty chowder.
It's that simple! (especially the devouring part!)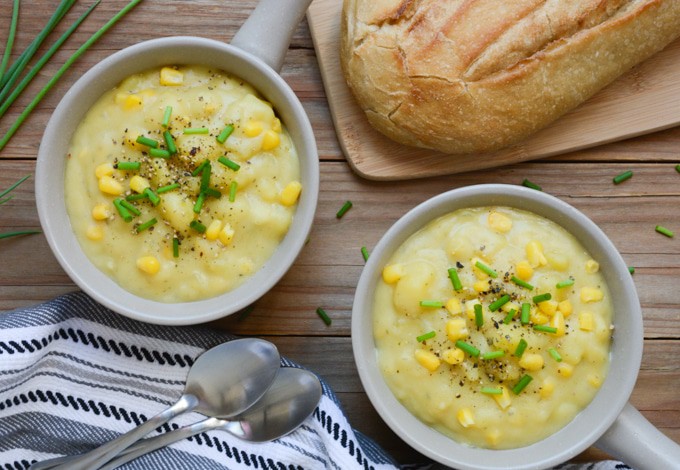 I always have onions, carrots, potatoes and corn on hand making this chowder a cinch to bring together. For this recipe I used white carrots to keep the soup color more neutral, but you can use any color carrots you have available.
Vegan Potato Corn Chowder
Pair this chowder with a loaf of sourdough bread for an extra filling meal!
Then, top the bowl with green onions and fresh ground pepper.
Now grab a spoon and dig in!
For another one-pot soup check out my veggie and wild rice soup.  Or you can find more warming soup ideas here.
---
Hearty Vegan Potato Corn Chowder
Vegan Potato Corn Chowder is a thick & hearty, dairy-free recipe. Keep warm all winter w/ this one-pot, rich & chunky soup.
15 minPrep Time
20 minCook Time
35 minTotal Time
Yields 4 bowls
Ingredients
4 large yukon gold potatoes, cubed (roughly 2 lbs.)
2-3 white carrots, diced
1 medium onion, chopped
3 garlic cloves, minced (or 1 and 1/4 teaspoon garlic powder)
4 cups vegetable broth
1/2 teaspoon dried thyme
1 teaspoon dried parsley , or 1 Tablespoon fresh
1 and 1/4 teaspoon Himalayan salt , or to taste
1 bay leaf
1 and 1/2 cups organic corn, frozen
1 cup non-dairy milk, divided
3 Tablespoons all-purpose flour, (use gf if needed)
Optional 1-2 Tablespoons nutritional yeast
Instructions
Add everything,

except the corn, non-dairy milk and flour,

to a large soup pot
Cover and bring to a low boil. Cook until potatoes and carrots have softened,

about 15 minutes.

Remove the bay leaf then blend (*see note) about 1/4 of the soup using an immersion blender or standard blender.
Whisk the flour into 1/4 cup non-dairy milk.
Add the flour/milk mix, remaining 3/4 cup non-dairy milk and corn to the soup.
Return to a low boil for another 5 minutes to thicken. Stir occasionally to keep the potatoes from sticking. Taste, and adjust seasonings if needed.
Serve topped with fresh green onions and fresh ground pepper.

Enjoy!
7.6.8
61
https://www.whereyougetyourprotein.com/vegan-potato-corn-chowder/
Where You Get Your Protein - whereyougetyourprotein.com
* Vegan Potato Corn Chowder Notes *
Blending- You can skip this step but it does help create a thicker chowder.
Leftovers- save well in the fridge for up to 4 days.  Reheat any leftover chowder on the stove in a saucepan.  Since refrigerating further thickens the chowder, you may need to add more veggie broth to help thin it out.
---