Vegan blueberry scones are best when loaded with fresh blueberries and topped with lemon icing! This homemade scones recipe is quick and easy to make and requires only 7 ingredients. Whip up a batch for a weekend breakfast, a holiday gathering, or keep it simple and enjoy them with a morning cup of coffee.
The soft moist centers and crisp golden-brown tops are what freshly baked scones are known for. And these vegan blueberry scones definitely deliver both!
I tested multiple batches with different ingredients including flaxseed and yogurt. However, I felt they were unnecessary and over-complicated the recipe.
This winning recipe is easy to bring together and made with pantry staples while still delivering on that perfect scone taste and texture.
What ingredients go into vegan blueberry scones?
7 easy-to-find ingredients make up these delicious vegan scones.
All-purpose flour is used as the base. You can switch it up and use 1/2 whole wheat flour or a 1:1 ratio gluten-free flour for GF scones.
Turbinado sugar is the sweetener I use because it's raw. Since it is raw sugar, it has a coarse texture that needs to be powdered for baked goods. Don't have turbinado sugar? Use an equal amount of coconut sugar or any granulated sugar of choice with no need to powder them.
Baking powder causes the pastry to rise during baking.
Himalayan pink salt gives the scones a buttery flavor.
Coconut oil is cut into the flour giving the scones their perfect texture.
Non-dairy milk binds the dry ingredients together to create a dough.
Blueberries are the center of this recipe. Use fresh or frozen.
For a decadent bakery-style treat, top the blueberry scones with lemon icing (recipe below) and fresh lemon zest.
What to serve with scones
I definitely suggest serving them topped with the included lemon icing. It's sweet, tart and perfectly compliments the blueberry scones.
For slightly less-sweet scones enjoy them plain, add fruit-sweetened jam or a slight dusting of powdered sugar. Agave nectar is another delicious topping to drizzle over the scones.
For a light morning treat or evening dessert, enjoy these scones with a warm cup of coffee or tea. Or, pair them with a side of breakfast potatoes or tofu scramble for a heartier meal.
• • •
How to make vegan blueberry scones
This recipe can be mixed up in 1-bowl and in the oven baking in less than 15 minutes. In other words, they're super easy to make.
Add the dry ingredients to a large bowl and mix them together.
Carefully dollop the oil into the bowl.
Use a pastry cutter or fork to cut the oil into the dry ingredients.
Once the oil is well incorporated, slowly add in a bit of non-dairy milk. Mix until fully incorporated. Continue adding the milk in a little bit at a time just until the dough comes together and there are no dry crumbles at the bottom of the bowl.
Don't add all the milk at once. It will most likely be too much. Instead, add just enough to bring the dry ingredients together creating a dough that is biscuit-consistency and slightly sticky.
Add the blueberries to the bowl and mix them in carefully as to not smash them. It may be easier to fold the blueberries in by hand.
Form the dough into a ball.
Transfer the dough ball to a baking sheet lined with parchment paper. Shape and flatten the dough into a 2-inch thick disc using your hands.
Use a pastry scraper or sharp knife to cut the dough into 8 pie-shaped slices.
Pull the cut scones apart and space them out on the baking sheet.
Bake at 400ºF for 22-28 minutes. Allow the scones to cool for 5-10 minutes.
Drizzle the tops with lemon icing and sprinkle with fresh lemon zest. Enjoy them with a warm cup of coffee for breakfast, brunch or dessert!
Vegan Blueberry Scone Tips
Roll the dough out to a 2-inch thick disc for perfectly sized scones.
Add the non-dairy milk to the dry ingredients in small amounts at a time. Add only enough to bring the dough together. Once there are no dry crumbles at the bottom of the bowl stop adding the liquid. I never use the whole amount of milk.
Sometimes the blueberries can be a bit tricky to mix into the finished dough. I found they can be mixed into the bowl of dry ingredients for easier distribution. Just be careful not to smash them while mixing in the wet ingredients.
If you notice the tops of the scones aren't browning but they are done, switch the oven to broil for about 1-2 minutes. This will brown the tops. But keep a close eye on them because the tops can turn from brown to burnt very quickly!
Vegan breakfast recipes
I've been on a breakfast kick lately so I thought it would be fun to do "3 weeks of vegan breakfast recipes".
That means I've dedicated 4 consecutive posts to delicious vegan breakfast recipes. Some are classics like last week's blueberry muffins, while other recipes are new like sheet pan pancakes.
Get the link to new recipes delivered straight to your inbox by signing up for our newsletter. See ya there!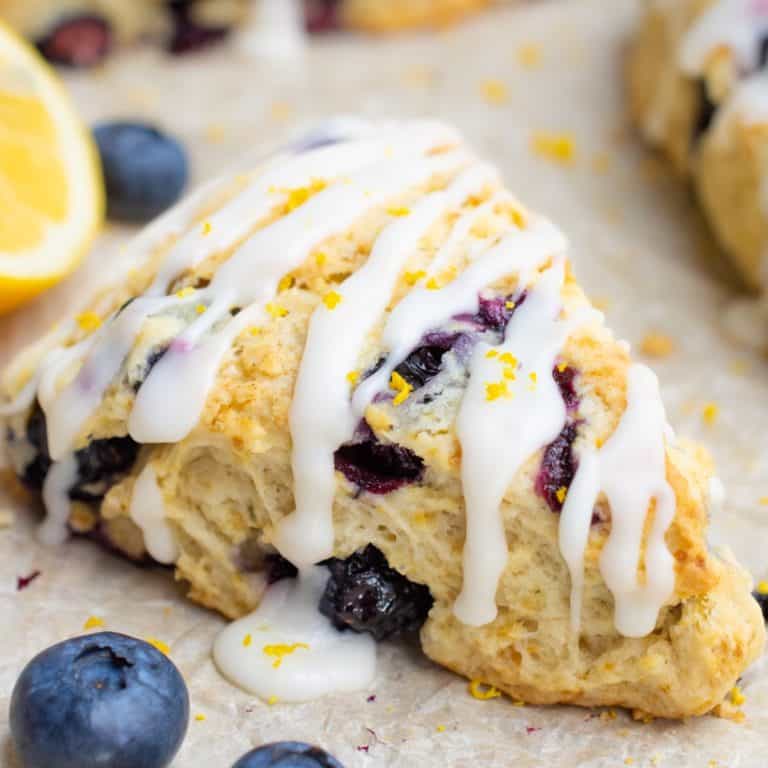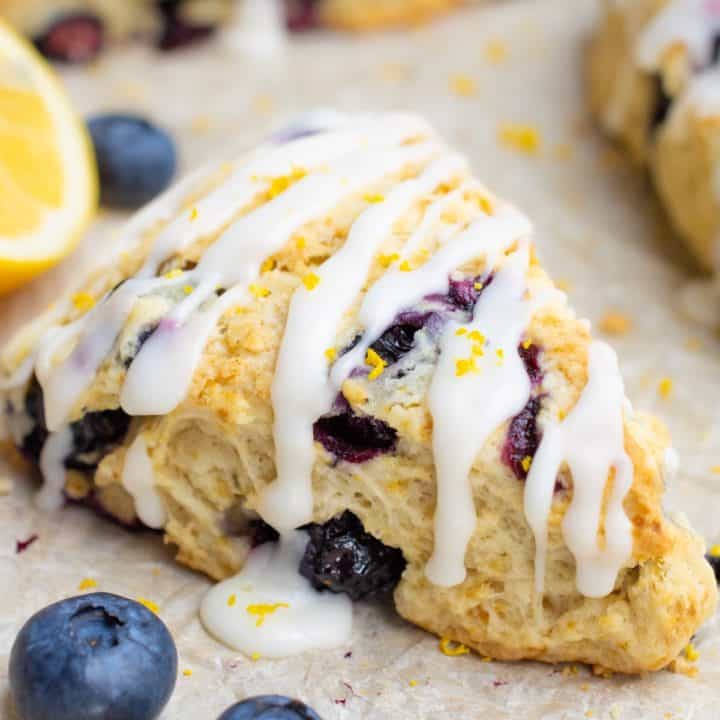 Vegan Blueberry Scones
The best vegan blueberry scones are loaded with fresh blueberries and topped with a sweet/tart lemon icing!  Enjoy these homemade scones with a cup of coffee for a delicious and easy morning breakfast.  
Ingredients
Dry
Wet
3/4 cups non-dairy milk
1/3 cup coconut oil, scoop-able (use refined for a neutral flavor)
1 cup blueberries, fresh or frozen
Lemon drizzle
Instructions
Scones
Preheat oven to 400ºF and line a baking sheet with parchment paper.
In a larger bowl combine the dry ingredients (flour, sugar, baking powder, and salt).
Cut-in the coconut oil using a pastry cutter or fork.
Mix in about half of the non-dairy milk. Slowly add the remaining non-dairy milk to the mixture a little at a time. Add just enough milk to create a dough with no flour crumbs at the bottom of the bowl (you may not need all the milk). Be sure not to add too much liquid or the dough will become too sticky. It should be slightly sticky like biscuit dough.
Gently fold in the blueberries. If the blueberries aren't cooperating, use your hands to evenly mixed them in.
Shape the dough into a ball and transfer it to the baking sheet lined with parchment paper. Using your hands, shape and flatten the dough ball into a round disc about 2-inches thick.
Cut the dough into 8 pie-shaped pieces using a pastry scraper or sharp knife.
Carefully pull apart the scones and space them out on the baking sheet.
Bake at 400ºF for 22-28 minutes. Allow them to cool for 5-10 minutes before icing.
Lemon Icing
Add the powdered sugar to a small bowl.
Mix in 1 Tablespoon lemon juice. Add the second Tablespoon as needed to reach a drizzle consistency.
Drizzle the lemon icing over the scones using a spoon.
ENJOY!
Notes
Powdered turbinado sugar can be replaced with cane sugar or coconut sugar as-is (no need to powder them). 
Coat frozen blueberries in flour to keep their color from bleeding into the dough.
If the tops aren't browning, broil the scones on the middle rack for 1-2 minutes.  Watch them closely while they broil because the tops will brown/burn quickly.
Nutrition Information:
Yield:

8 scones
Serving Size:

1 scone
Amount Per Serving:
Calories:

287
Total Fat:

10g
Saturated Fat:

8g
Trans Fat:

0g
Unsaturated Fat:

1g
Cholesterol:

2mg
Sodium:

293mg
Carbohydrates:

46g
Fiber:

1g
Sugar:

20g
Protein:

4g
**Nutritional info is provided as an estimate based on the ingredients I used and for convenience and as a courtesy only.**