BBQ Cauliflower wings are an excellent vegan appetizer for any occasion. They're perfectly crispy, baked (not fried), easy to make, and pair great with a cold beverage.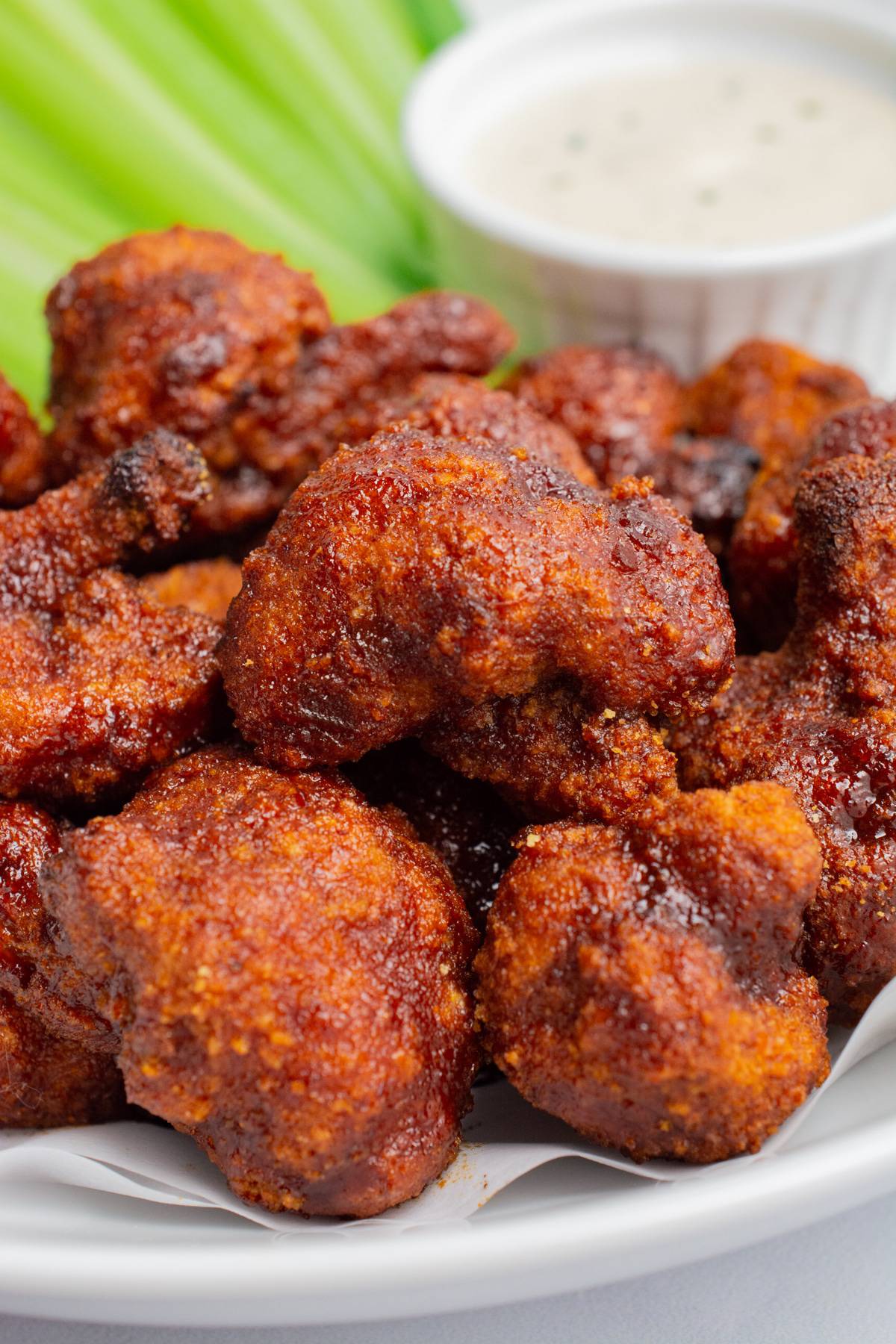 These aren't your average BBQ cauliflower wings. They're finger-licking-good, party-worthy vegan wings!
Cauliflower florets are dipped in a lightly seasoned batter, coated in breadcrumbs, then brushed with BBQ sauce. The outside bakes up sweet and sticky with a desirable crispy crunch. Even your littlest sports fans will enjoy them on game day.
Ingredients Notes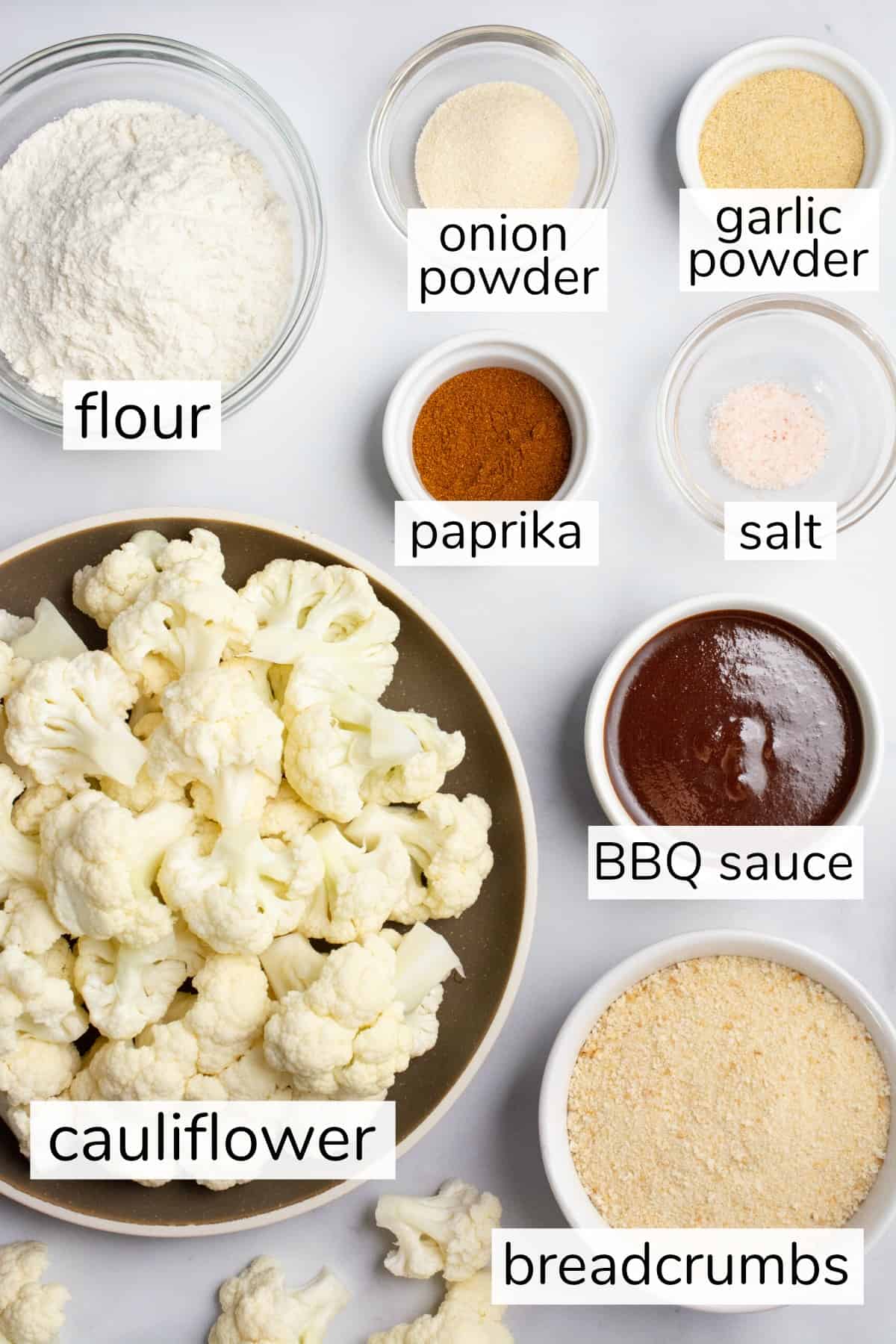 Cauliflower. The batter will accommodate a rather large cauliflower head so don't be shy when picking one out.
Breadcrumbs. I use plain breadcrumbs, but seasoned or even panko breadcrumbs are also an option.
BBQ Sauce. Use your favorite store-bought or homemade BBQ sauce. It can be sweet, spicy, smoky, etc. There is no right or wrong BBQ sauce to use. Any brand and any flavor will do!
Step by Step Instructions
Making this recipe is simple and straight forward.
Step 1. Whisk together the batter ingredients in a bowl large enough to fit all the cauliflower.
Step 2. Add all the cauliflower florets to the bowl of batter.
Step 3. Use a spatula, wooden spoon, or your hands to toss the batter and cauliflower florets together until coated.
Step 4. Now it's time to cover the battered wings in breadcrumbs for a desired crispy texture. Use one hand to handle the battered cauliflower and the other hand to toss it in breadcrumbs.
Step 5. As you finish breading the wings, transfer them to a baking sheet lined with parchment paper.
Step 6. Bake until outside becomes browned and crispy.
Step 7. Remove the baking sheet from the oven and brush all sides of each wing with BBQ sauce.
Step 8. Bake them once more so they crisp back up and the BBQ sauce caramelizes.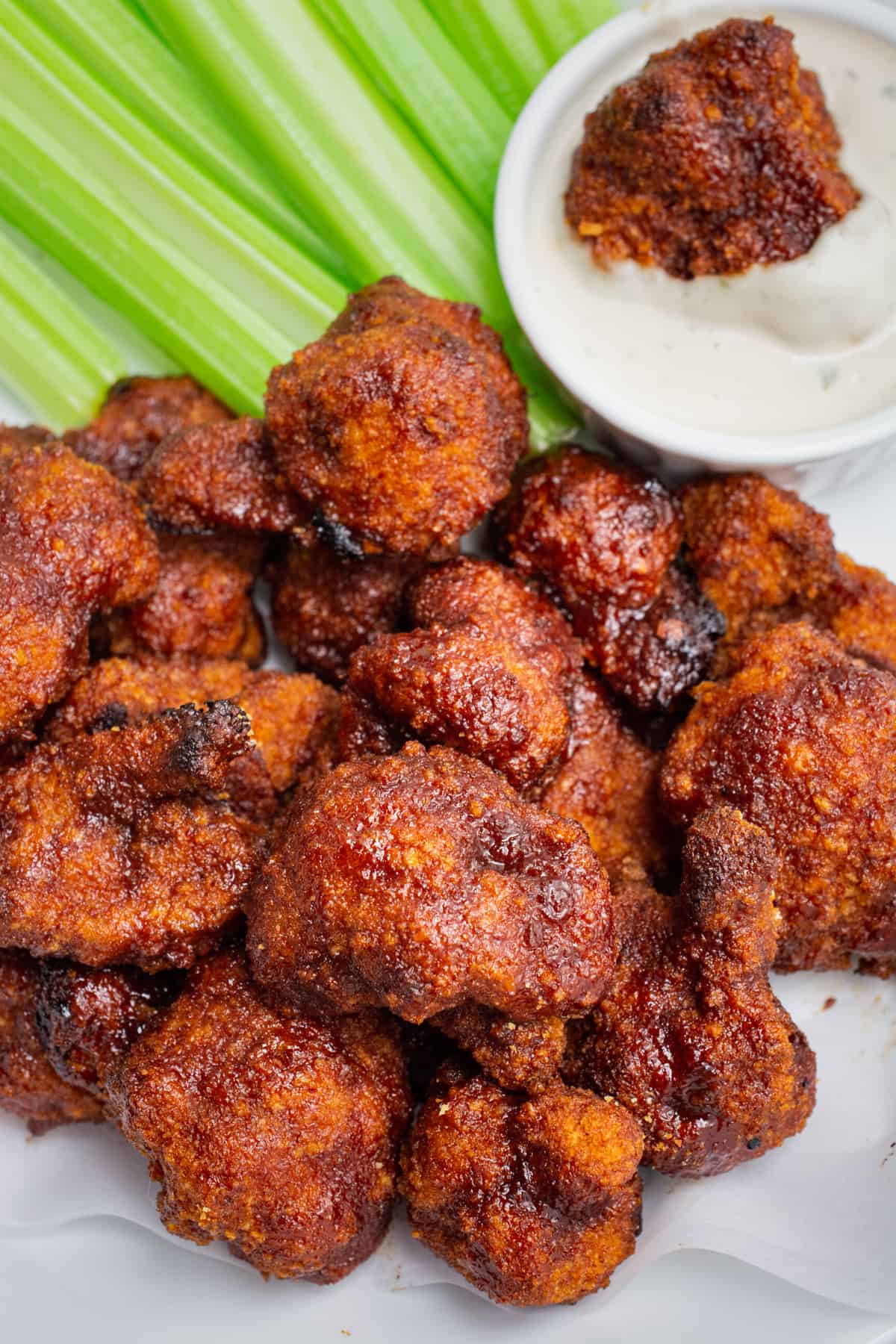 Serve this classic party snack with your favorite dipping sauce.
Or, try these BBQ cauliflower wings with the cheesy ranch dressing from my chickpea taco recipe. It's made from soaked cashews and it's my go-to dip for these cauliflower wings.
You won't regret it, I promise!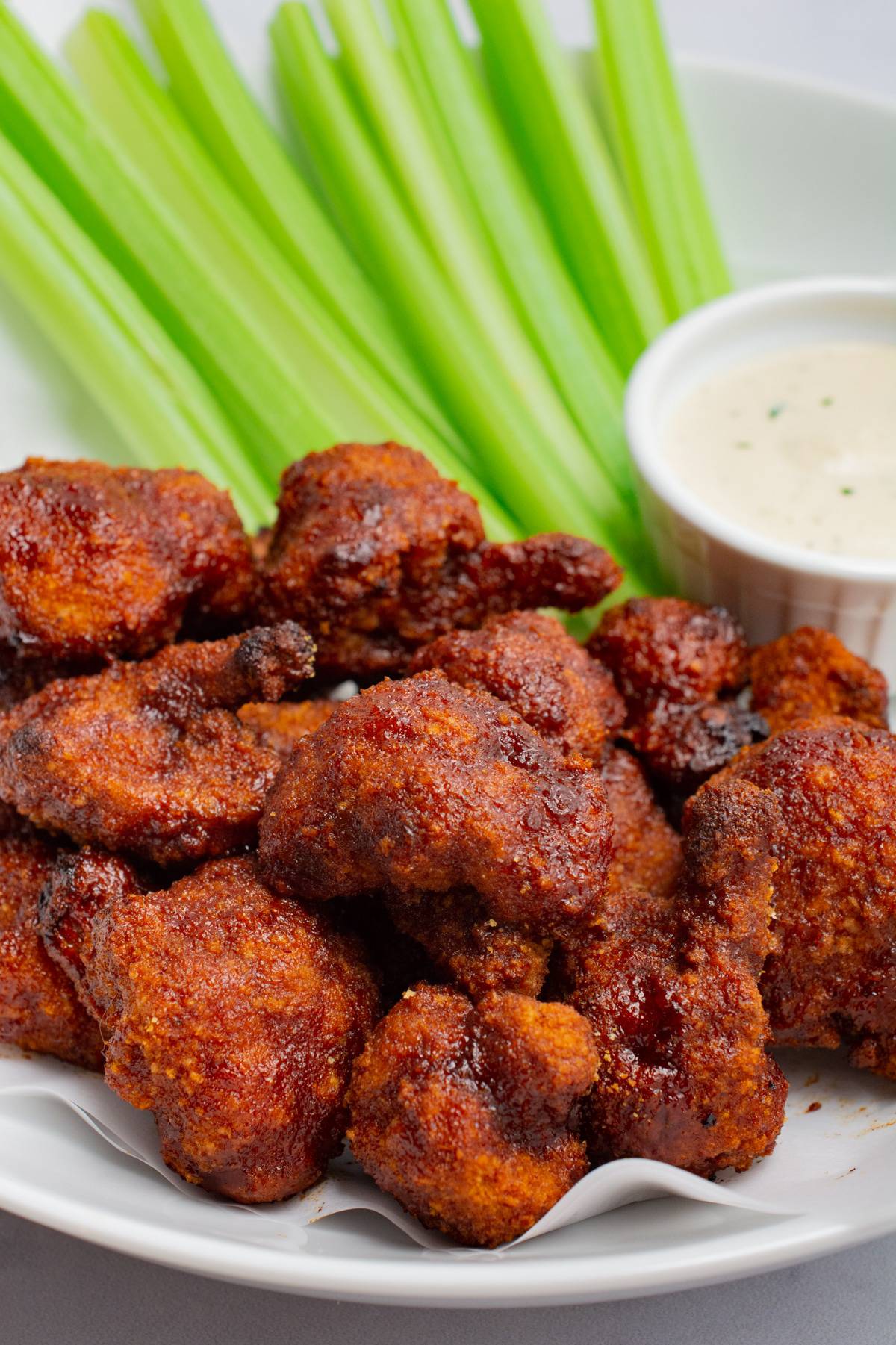 Recipe FAQ's
What keeps the wings crispy?
The breadcrumbs give the BBQ cauliflower wings a crispy coating. And baking them twice keeps the outside crispy.
Can I make these in the air fryer?
Sure! Place them single layer and spaced apart. Cook in multiple batches, if needed.
Why are my cauliflower wings soggy?
Adding too much batter or too much bbq sauce can cause soggy wings. Always tap off any excess batter or sauce.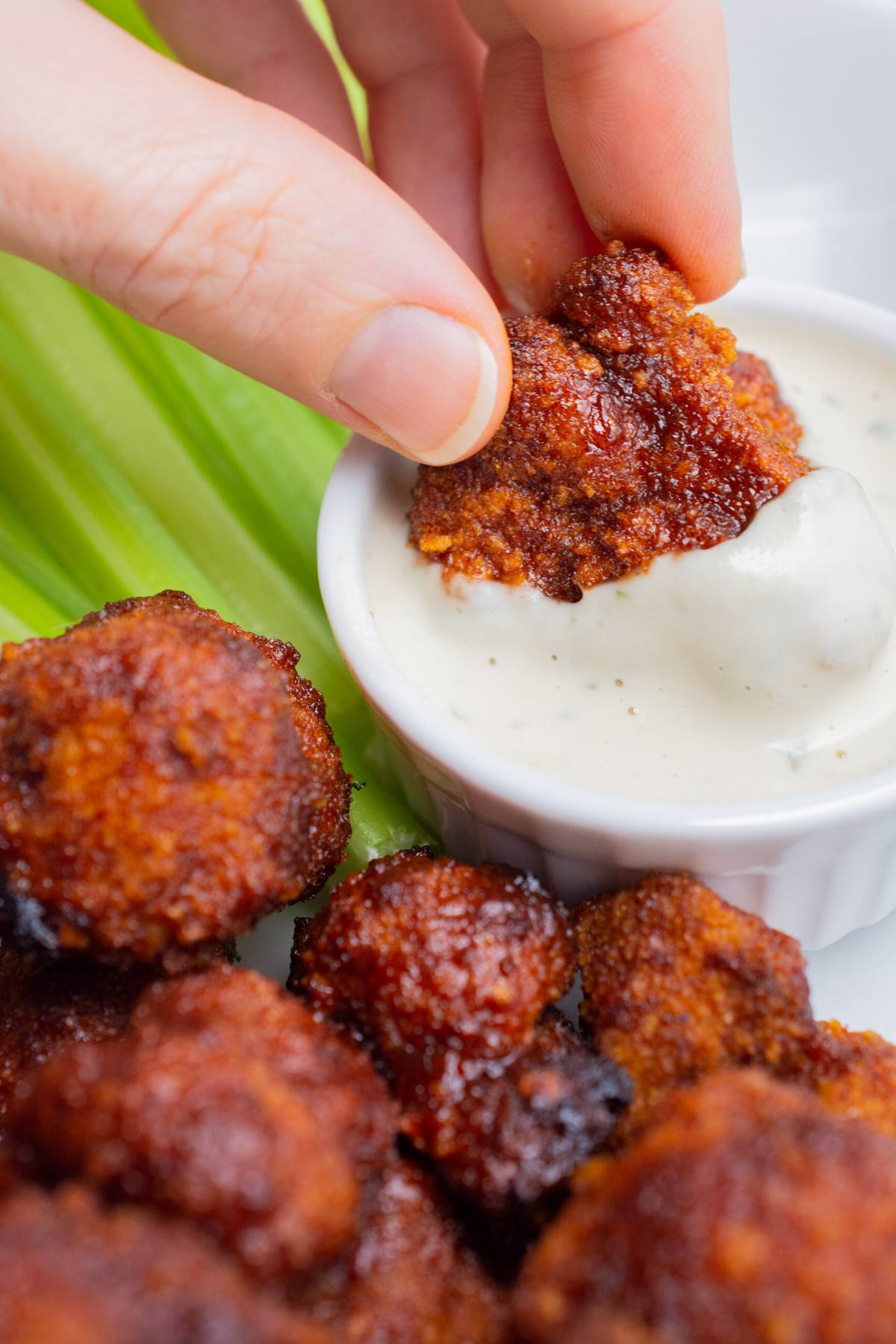 Expert Tips
Tap off any excess batter before rolling the cauliflower wings in the breadcrumbs. A light coating of batter on the cauliflower florets is best.
Brush on the BBQ sauce —rather than submerging the wings in it— will allow them to cook up crispy rather than soggy.
For spicy wings, add a few dashes of hot sauce to the batter. or use a spicy BBQ sauce.
Save leftover wings in the fridge for up to 4 days. Simply reheat them in the toaster oven, or conventional oven, at 350ºF for 10 minutes or until crispy.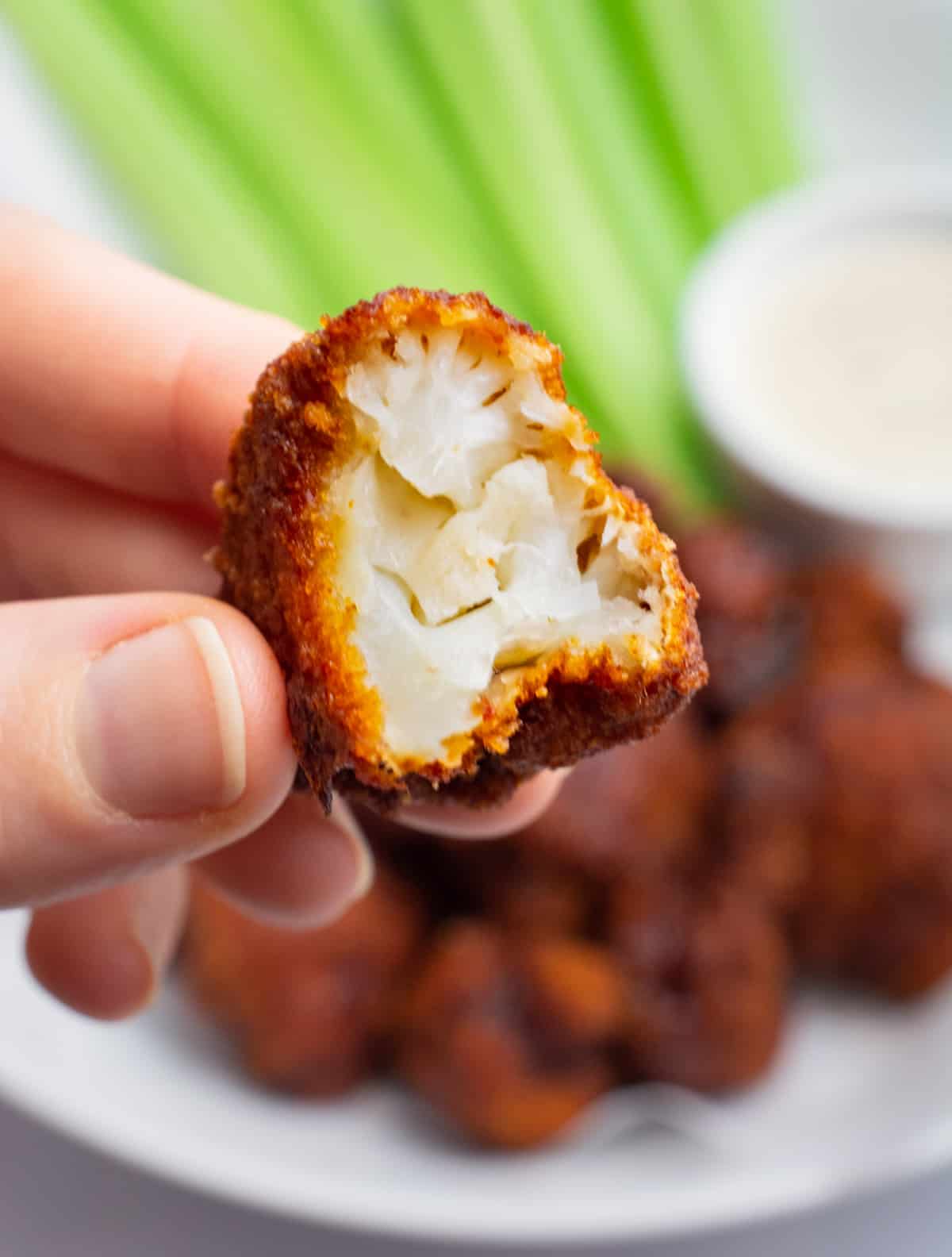 We'd love to hear from you!
If you enjoyed this vegan lentil loaf recipe, please leave a 5-star rating in the recipe card and share your thoughts in the comments below.
Also, if you snap a photo be sure to share it with us! We love to see your creations!! You can find us on Pinterest, Facebook, and Instagram.
Or, get the links to new recipes delivered straight to your inbox by signing up for our newsletter. See ya there!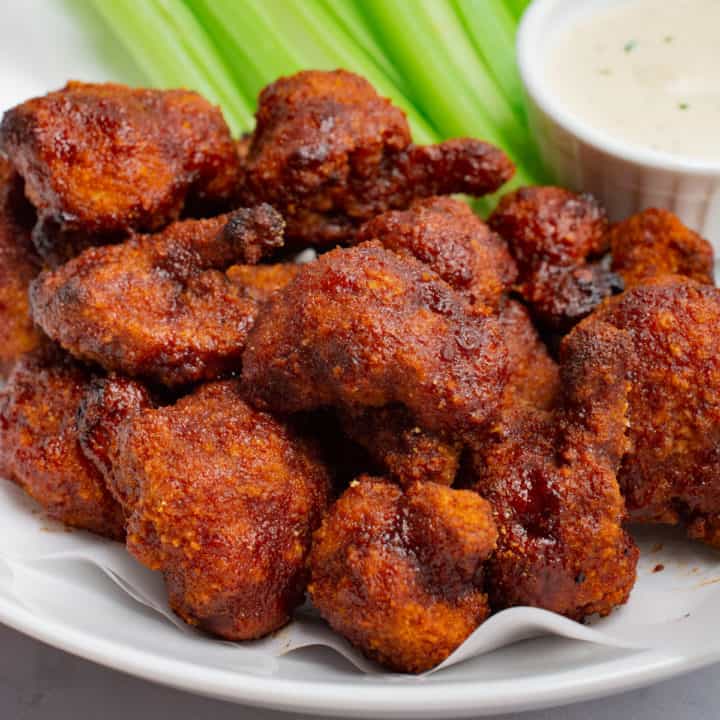 BBQ Cauliflower Wings
BBQ Cauliflower wings are an excellent party appetizer. They're perfectly crispy, baked (not fried), easy to make, and pair great with a cold beverage. 
Ingredients
Wings
1 large cauliflower head, cut into florets
1 and 1/2 cups plain breadcrumbs
1 and 1/2 cups BBQ sauce
Batter
1 cup water
3/4 cup all-purpose flour
3 teaspoons garlic powder
3 teaspoons onion powder
1 teaspoon paprika
1/3 teaspoon Himalayan pink salt
Instructions
Preheat the oven to 450ºF and line a baking sheet with parchment paper. Then, add the breadcrumbs to a deep plate
In a large bowl, mix together the dry batter ingredients --flour, garlic powder, onion powder, paprika, and salt. Pour in the water and whisk until well combined. The batter should be thick yet still pourable. If it seems too thick, add a bit more water.
Add the cauliflower florets to the bowl of batter. Gently fold them in until they are lightly covered in batter.
Working with 1-2 florets at a time, tap off any excess batter. Place in the breadcrumbs and roll around until coated.
Transfer the breaded wings to the prepared baking sheet.
Bake at 450ºF for 20-25 minutes or until they begin to brown.
Remove the pan from the oven and brush each wing with BBQ sauce covering all sides.
Bake for an additional 8-10 minutes to crisp the wings back up.
Serve with homemade ranch or your favorite dipping sauce.
Notes
Any kind of breadcrumb will work.
Store any leftovers in an airtight container in the fridge for 3-5 days.
Nutrition Information:
Yield:

5
Serving Size:

1 serving
Amount Per Serving:
Calories:

211
Total Fat:

2g
Saturated Fat:

0g
Trans Fat:

0g
Unsaturated Fat:

1g
Cholesterol:

0mg
Sodium:

399mg
Carbohydrates:

43g
Fiber:

6g
Sugar:

14g
Protein:

7g
**Nutritional info is provided as an estimate based on the ingredients I used and for convenience and as a courtesy only.**
More finger-licking good recipes