Need a quick and easy dinner the whole family will love? Try this Baked BBQ Tofu with Caramelized Onions recipe – it won't disappoint! Add avocado to really enhance the taste!
With fall in full swing and the nights becoming shorter and colder, BBQ Tofu sounded like a simple, warm and filling dinner. This Baked BBQ Tofu with Caramelized Onions recipe has become a weekly request for the family.
My daughter loves it with an extra side of BBQ sauce for dipping. And if there are any leftovers, I store them in an airtight container. The tofu and rice save well so my daughter has lunch the next day.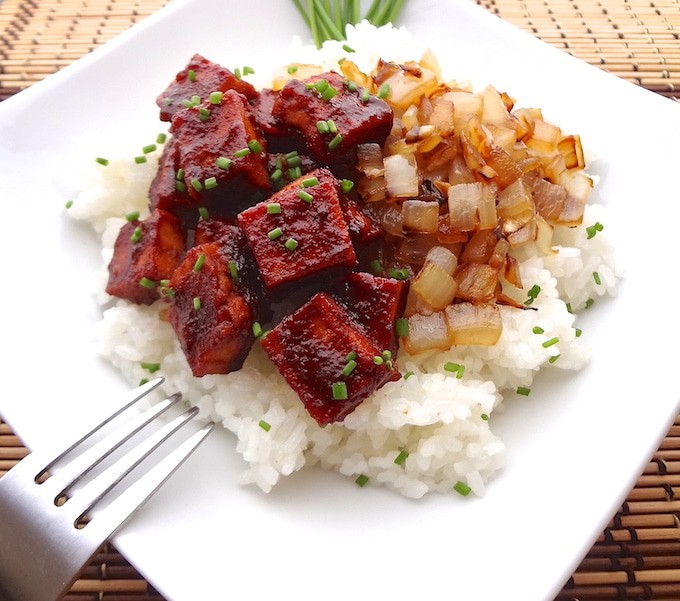 Baked BBQ Tofu
This 'ready in under an hour' recipe can be topped with– green onions, avocado, cilantro. Then drizzle with extra barbecue sauce! Serve with a side of your favorite vegetable.
YUM!
I enjoy this baked BBQ tofu topped with a whole avocado, diced, (I'm a total avocado lover!) and fresh green onions.
Adding diced avocado really kicks this bbq tofu up a notch
The rich, buttery avocado enhances the flavors of the smoky BBQ sauce and sweet caramelized onions. With such a flavor combinations, this dish becomes a scrumptious plant-based meal to rival any BBQ tofu recipe!
I hope you try this easy recipe! Enjoy!
More great tofu recipes the whole family will love
Simple Teriyaki Tofu with Avocado
If you make this recipe don't forget to take a photo and tag me on IG @whereyougetyourprotein #WYGYP! I love seeing your creations!
---
BBQ Tofu with Caramelized Onions

20 minPrep Time

25 minCook Time

45 minTotal Time

Ingredients

1 block firm or extra firm organic tofu

1/2 cup of your favorite BBQ Sauce or see note

1 large organic onion

2 organic garlic cloves

2 cups organic rice of your choice, (I love using white basmati or sushi rice )

Optional Organic Toppings

Avocado

Green onions

Chives

Cilantro

Instructions
Drain and press the tofu.

(This is where a tofu press really comes in handy!) Otherwise, wrap the tofu in a clean kitchen towel or a few paper towels. Place the wrapped tofu on a plate or shallow dish and add a heavy book or pan on top. (Careful not to place too heavy of an object on the tofu or it may crack.) Leave for 5-10 min to press the excess water out of the tofu.
Cut into roughly 1 1/2" pieces with about 3/4" thickness.

Prep the BBQ Tofu

Preheat oven to 375º
Add half of the BBQ sauce to an 8x8 baking dish and spread evenly across the bottom of the dish. Place your tofu pieces in a single layer on the BBQ sauce and pour the other half over the tofu. Let marinate for about 5-10 min while you prep the rice.
Cook your rice according to the package.

Bake the BBQ Tofu

Line a baking sheet with parchment paper. Place the tofu on the parchment paper. You can do this by hand or using a fork.
Using a rubber spatula, gather the remaining BBQ sauce. Top each tofu piece with a small amount of the remaining sauce.
Bake the tofu in the oven at 375º for 20-25 min. _If the tofu is too wet after 25 minutes, bake for another 5-10 minutes or until dried to your liking.

While the tofu is baking, prep the onion and garlic.

In a large pan add about a teaspoon of oil and place over medium-low heat.
Add the chopped onion and garlic and stir to coat with oil. Spread the onions across the pan and allow them to cook for about 1-2 minutes before stirring.
Cook for another15-20 min or until the onions are golden brown and caramelized. Stir just enough to keep the onions from burning.

To serve

Serve Immediately.
Top with green onions, avocado, and a drizzle of BBQ sauce.
Serve with a side of your favorite vegetable.
Notes

Baking Tofu Note: Pre-bake the tofu (before adding BBQ sauce) for 10-15 minutes for a drier texture. I've also found the tofu cooks best in the oven on a cast iron griddle .

7.8.1.2

17

https://www.whereyougetyourprotein.com/bbq-tofu-with-caramelized-onions/

Where You Get Your Protein - whereyougetyourprotein.com
*Tofu Note: If the tofu is still too moist after pressing and slicing, pre-bake it in the oven for 5-10 minutes. This will help dry it out a bit more. Let the tofu cool a few minutes before covering in BBQ sauce and fully baking.
*BBQ Sauce Note: I use 1/4 cup Organicville brand BBQ Sauce and 1/4 cup of my homemade BBQ Sauce, recipe below. ↓
BBQ Sauce Recipe:
1 garlic clove, minced
3/4 cup ketchup
1/4 cup water
3 Tbsp. coconut sugar
2 Tbsp. molasses
1 tsp. apple cider vinegar
1-2 Tbsp. vegan Worcestershire sauce
1/2 to 1 teaspoon liquid smoke
3/4 tsp. onion powder
1/4 tsp. chili powder
1/2 tsp. paprika
Add garlic to a saucepan and sauté with a drop of oil for a few minutes. Then add in the rest of your ingredients and whisk to combine. Adjust seasonings to taste. Cook on medium heat until sauce begins to simmer, whisking occasionally. Once simmering, turn the heat down so the sauce stays at a low simmer; continue whisking occasionally. Simmer for about 30 min or until the sauce is desired thickness and the flavors have come together. Adjust seasonings as needed.
---