Classic vegan potato salad is creamy, flavorful, and always a crowd pleaser. Wow everyone at your next summer event with this party favorite recipe! Use the included oil-free, homemade mayo or your preferred vegan store-bought brand. Either way, It's sure to disappear fast!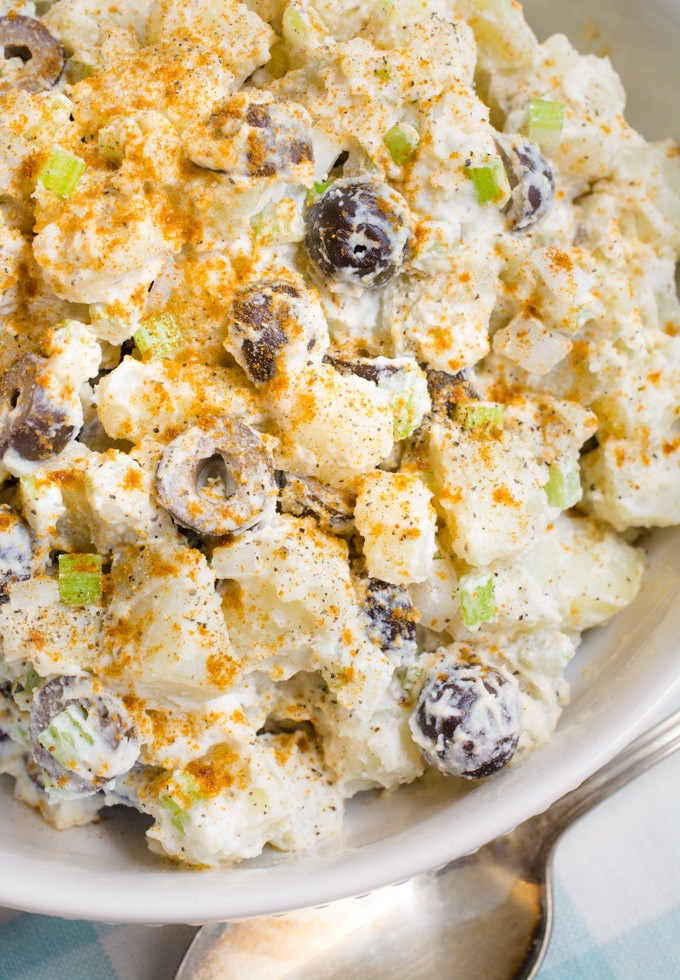 This recipe is similar to the classic potato salad I grew up on. It was served alongside the burgers and hot dogs at nearly every barbecue, picnic, summer dinner, and 4th of July party!
Of course, the original potato salad recipe called for traditional mayonnaise and hard-boiled eggs, but I've replaced those ingredients with better-for-you vegan options.
What's in this vegan potato salad?
This vegan potato salad is made with my oil-free, homemade vegan mayo, which I find more flavorful than ANY store-bought vegan mayo.
But don't let me discourage you from using store-bought. Just include the seasonings I added to the recipe notes and you'll be good to go.
To give this summer salad recipe a classic subtle crunch I've loaded it with freshly diced celery and onion. Then I added halved black olives for an extra bite of salty goodness. The flavor combination of this recipe always has the party-goers coming back for more!
Not a fan of olives?
Leave the olives out, or replace them with one of these alternatives:
vegan bacon
diced pickles
relish
You can also add a Tablespoon of mustard if you prefer a bit of tang to your vegan potato salad.
I say potato you say potahto
What kind of potatoes do I use?
My family always used russet potatoes so that's what I went with for this recipe. But any variety of potato will work. I find the 3 best varieties to use are russet, Yukon gold, and red potatoes.
Potato Tips
Boiling the potatoes - The potatoes should be boiled with their skins on and medium to large potatoes should be cut in half.
Add the potatoes to a large pot then fill the pot with enough water to fully submerge the potatoes. Boil until they are just fork tender. To check if they are done, poke each one with a fork after 5-10 minutes of boiling. If the fork easily slides into the center of the potato it's done.
To avoid overcooking, remove each potato from the water as it's done and place in a colander to cool.
Peeling potatoes - Russets can easily be hand peeled after they are fully cooled. Simply pinch the skin between your fingers and it should slip right off. If desired, the skin can be left on Yukon gold and red potatoes.
Chopping the potatoes - To get a consistent flavor throughout the dish, I suggest chopping the potatoes into small bite-sized pieces. This will ensure an even taste and not too much potato per bite.
Salt the potatoes - Potatoes are bland and always in need of some extra flavor. Be sure to salt the water they boil in and again once they are chopped. I suggest adding 1-2 teaspoons of salt to the potatoes just as they begin to boil. (Adding salt to the water once begins to boil will keep the salt from sitting at the bottom of the pot.)
After chopping the potatoes, toss them with another ⅓-1/2 teaspoon of salt. Then, give the mixed salad a final taste and add a bit more salt until the flavors are balanced. (I always use Himalayan pink salt because it has added minerals and less sodium than regular table salt.)
• • •
How to make classic vegan potato salad
Once your potatoes have been boiled, peeled and chopped, add them to a large mixing bowl.
Toss in the remaining ingredient and mix everything together.
Chill in the refrigerator for at least an hour, then sprinkle with paprika before serving.
• • •
More summer favorite recipes:
We'd love to hear from you!
If you loved this recipe, please leave a 5-star rating in the recipe card and share your thoughts in the comments below. Also, if you snap a photo be sure to share it with us! We love to see your creations! You can find us on Pinterest, Facebook, and Instagram.
Recipe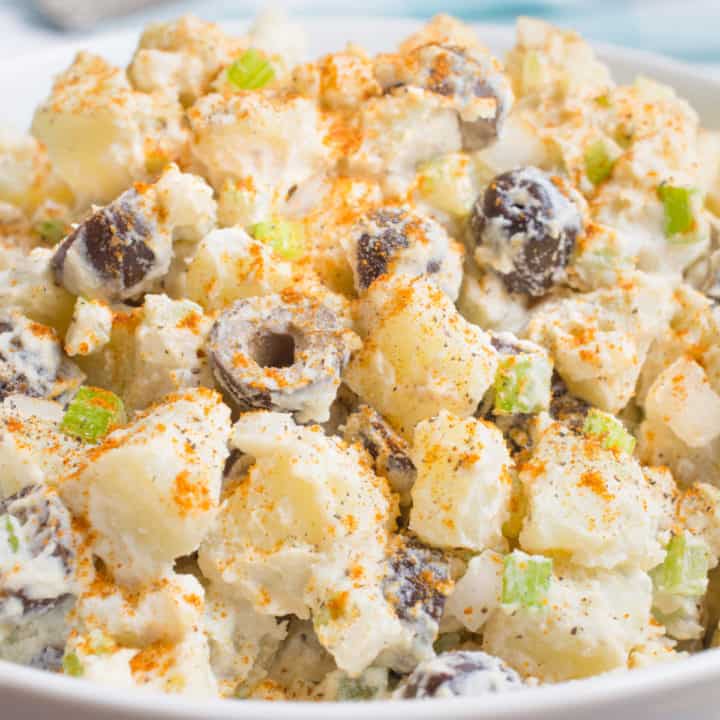 Classic Vegan Potato Salad
Classic vegan potato salad is creamy, flavorful, and always a crowd pleaser. Wow everyone at your next summer event with this party favorite recipe!
Ingredients
2.5 lbs russet potatoes (about 5-6 potatoes)
1 (6oz) can of black olives, drained and cut in half
½ cup onion, finely chopped
¾ cup celery, finely chopped (about 2-3 stalks)
1 and ½ cups vegan mayo (see note)
½ teaspoon Himalayan pink salt
⅓ teaspoon paprika
¼ teaspoon celery seed
Salt and pepper to taste
Instructions
Prep the potatoes: Wash the outside of the potatoes to remove any dirt. Chop each potato in half leaving the skins on. Leave smaller potatoes whole. Add the potatoes to a large stock pot and pour in enough water to cover them. Bring to a boil then add 1-2 teaspoons of salt to the boiling pot. Boil the potatoes until they are fork tender, about 8-10 minutes. Remove them from the water as they are done and set aside until fully cooled.
Once the potatoes have cooled, pinch the skin between you fingers to easily remove it. If you're using Yukon gold or red potatoes you can leave the skins on.
Chop the potatoes into bite-sized pieces and add them to a large mixing bowl.
Toss the potatoes with ⅓-1/2 teaspoon salt.
Add the remaining ingredients to the bowl and mix until everything is well combined.
Taste and add more salt and pepper if needed. (I'll usually add an additional ¼-1/2 teaspoon salt)
Chill the potato salad for at least an hour.
Top with paprika before serving.
Enjoy!
Notes
Homemade Mayo: I suggest using my homemade mayo recipe for full flavor. You will need about a batch and a half, but you can always make a double batch. I always double it and use it on my BLT sandwiches.
Store-bought Mayo: If you're using your favorite store-bought brand vegan mayo I suggest adding at least ⅓ teaspoon onion powder and garlic powder to the salad for more flavor.
The potatoes can be made ahead of time and stored in the refrigerator. When you're ready to make the potato salad, simply peel and chop them.
For best taste make this vegan potato salad the night before. The salad will have plenty of time for the flavors to come together. The next day, give it a final mix and top it with a sprinkle of paprika prior to serving.
Nutrition Information:
Yield:

8 servings
Serving Size:

1 serving
Amount Per Serving:
Calories:

147
Total Fat:

0g
Saturated Fat:

0g
Trans Fat:

0g
Unsaturated Fat:

0g
Cholesterol:

0mg
Sodium:

74mg
Carbohydrates:

32g
Fiber:

4g
Sugar:

3g
Protein:

4g
**Nutritional info is provided as an estimate based on the ingredients I used and for convenience and as a courtesy only.**