No need to choose a flavor with these, ready in about an hour, Sweet & Salty, Vegan Soft Pretzel Bites. They're also egg, dairy & refined sugar free! Simple and easy to make, kid-friendly, party food that will satisfy you and your guests sweet & salty craving!
I love snack food, and soft pretzel bites have always been a fave.
I couldn't leave the mall without getting an order of bites. The dilemma I was always faced with was choosing between sweet cinnamon and sugar or savory salty pretzel bites. I usually opted for salty, but halfway through devouring the bag, I would go back to buy a bag of sugary bites to satisfy my sweet & salty craving.
As I've mentioned before, my husband, daughter and myself strictly eat at home. This means most of our snack foods are prepared by me.
If you're like my family, you try to stay away from nasty, chemical laden, overly processed foods. So homemade snacks become a must. Lately, we've been crazy about these homemade soft & chewy, sweet & salty, vegan pretzel bites!
I even twisted my first full pretzel! ↓
These pretzel bites are so "mall-like" you'll want to bring a bag with you on your next visit! 😜
---
Sweet & Salty, Vegan Soft Pretzel Bites
The key to getting that soft dough encased in a golden pretzel defining shell is the baking soda bath. The dough takes a quick 30-second dip in a mix of water and baking soda just before going into the oven. It's a must to give the bites their crisp, chewy outside and soft, fluffy inside.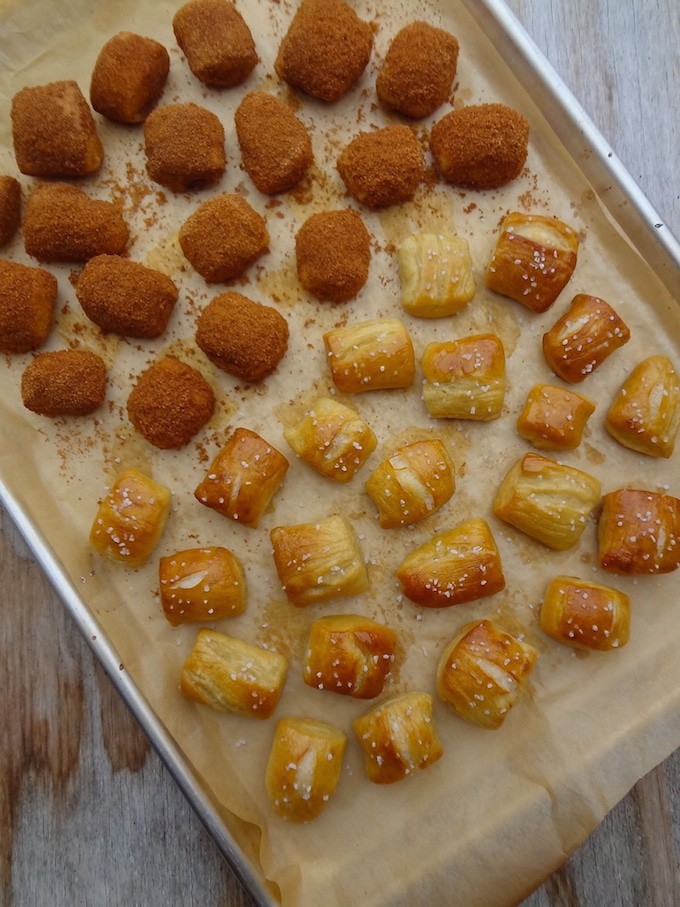 I decided not to pair the cinnamon and sugar bites with a dip. I thought they were sweet enough on their own. However, I did have leftover jalapeño nacho cheese (which was one of my inspirations for this recipe) that paired perfectly with the salty pretzel bites.
I am forewarning you though, the soft, chewy, salty bites dipped in spicy cheese sauce are amazing! As a result, some didn't make it to the photo shoot. My family devoured quite a few bites before my we even had a chance to photograph them!
If you love chocolate and pretzels, try replacing the cinnamon with cocoa powder for sweet chocolatey pretzel bites! 🍫 😋
---
Sweet & Salty, Vegan Soft Pretzel Bites
40 minPrep Time
20 minCook Time
1 hrTotal Time
Yields about 64 bites
Ingredients
Pretzel Bites Dough
1 1/2 cups water, warm
1 Tablespoon coconut sugar
2 teaspoons active dry yeast, or 1 package
1 1/2 teaspoons pink salt
3 Tablespoons coconut oil, melted
3½ to 4 cups organic all purpose flour
Baking soda bath
5 cups water
3 Tablespoons baking soda
Sweet, Cinnamon & Sugar Coating
Heaping 1/4 cup coconut sugar
2 1/2 teaspoons cinnamon
Salty Topping
Coarse sea salt
Other Options
Jalapeño Nacho Cheeze Dip (for salty pretzels)
Instructions
Pretzel Bites Dough

Start by warming your water. You want it to be warm to the touch, but not hot.
Pour the warm water into a large bowl and mix in the sugar. Then sprinkle the yeast on top. Cover and let sit for 10 min to activate the yeast.
Once the yeast is foamy, mix in the salt and coconut oil.
Now, slowly mix in 2 cups of flour. Once it is well blended, mix in the 3rd cup of flour. If the dough is too sticky to handle, mix in enough flour from the 4th cup until you can handle the dough.
On a clean lightly floured surface, knead your dough for 3-5 min adding more flour as needed. You shouldn't need more than the 4 cups.
Once the dough has been kneaded shape it into a ball and place in a large oiled bowl. Cover and set in a warm place to rise for 15-20 minutes.
Meanwhile, line 2 baking sheets with parchment paper and set aside. Then preheat your oven to 450ºF and heat the water for the baking soda bath.
Once the dough has risen a bit, cut it into 8 triangles, as you would a pizza.
With your hands, roll each triangle out to an 18 inch long rope. Cut each rope into 8-9 (2 inch) bites.

Baking Soda Bath

Once the water is boiling, add in 3 Tablespoons baking soda.
Place about 10 bites in the bath. (I used a large soup pot and impatiently gave about 20 bites a bath) Let soak for about 30 seconds. Once they "puff up" a bit remove the bites from the bath and place on your parchment lined baking sheets until it's full. Be sure not to crowd your baking sheet.
Bake at 450ºF for 10-12 minutes, or until the tops are nice and brown. Keep an eye on them at about half way through because they will darken quickly.

Cinnamon & Sugar Coating

In a bowl mix the cinnamon and sugar. Set aside.
Lightly brush each bite with just enough coconut oil to allow the sweet coating to stick.

Salty Topping

Brush the top of each bite with coconut oil. Sprinkle the tops with coarse sea salt.
7.8.1.2
34
https://www.whereyougetyourprotein.com/sweet-salty-vegan-soft-pretzel-bites/
Where You Get Your Protein - whereyougetyourprotein.com
To Store: If you don't plan on eating all the bites right away, I suggest topping only what you're going to eat. Store leftover, cooked bites in an airtight container in the fridge for up to 10 days. Or the freezer for up to 3 months. When ready to eat, preheat your oven to 400ºF and bake for 5-10 min. Add sweet or salty toppings to the bites after baking.
---