Vegan egg salad is a classic summer lunch. This recipe is made with cooked tofu for plenty of protein and the best egg-like texture. Use the included homemade vegan mayo or try it with your favorite store-bought mayo, either will taste great!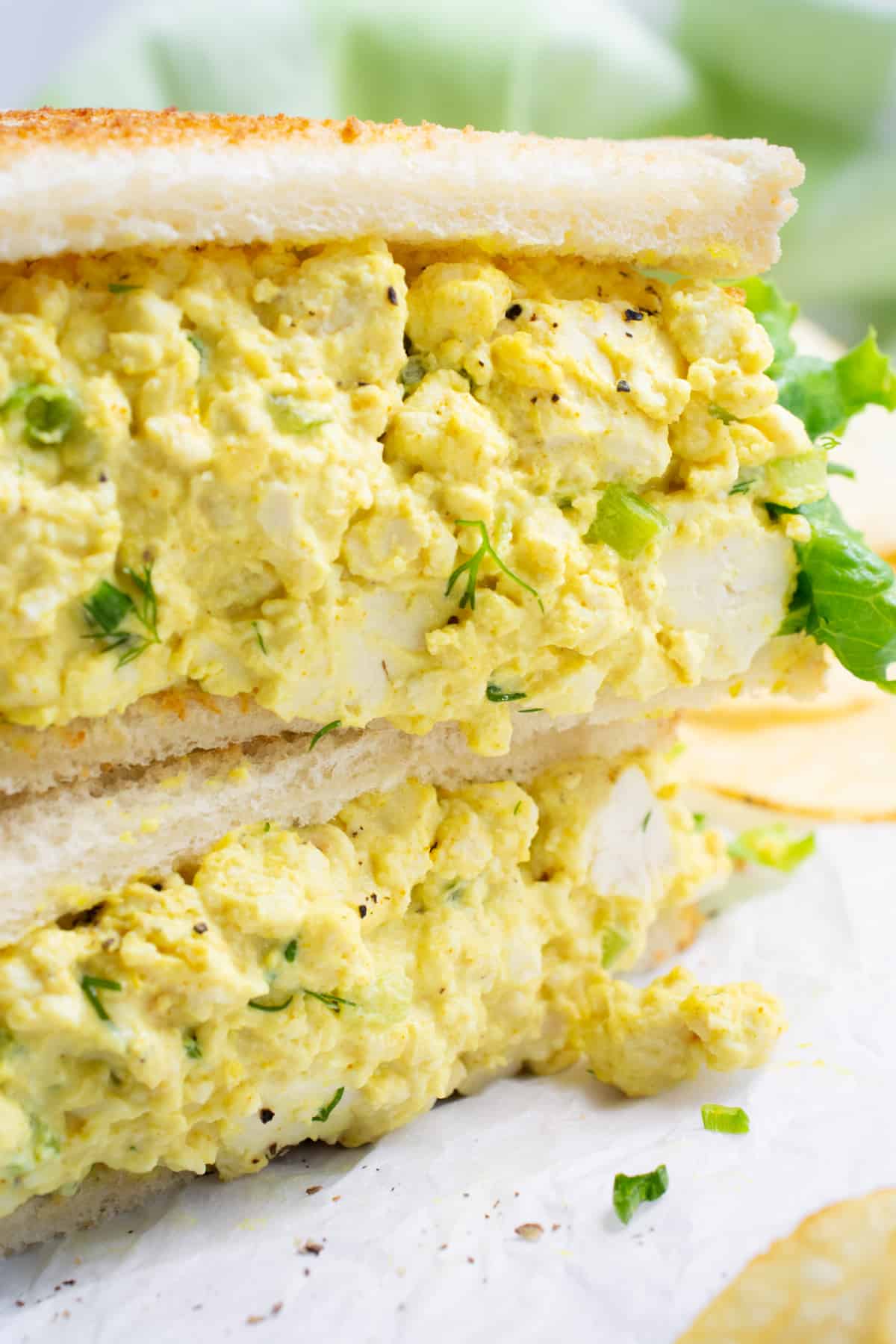 This easy-to-make, healthier vegan alternative doesn't skimp on flavor!
It's made with seasoned and lightly cooked tofu scramble, a flavorful homemade vegan mayonnaise, fresh dill, and optional black salt for that classic egg taste.
So, when it's officially summer and too hot to cook, reach for this eggless salad.
Or try my pineapple black bean salad or vegan chicken salad. They're all easy to make and take only a few simple ingredients.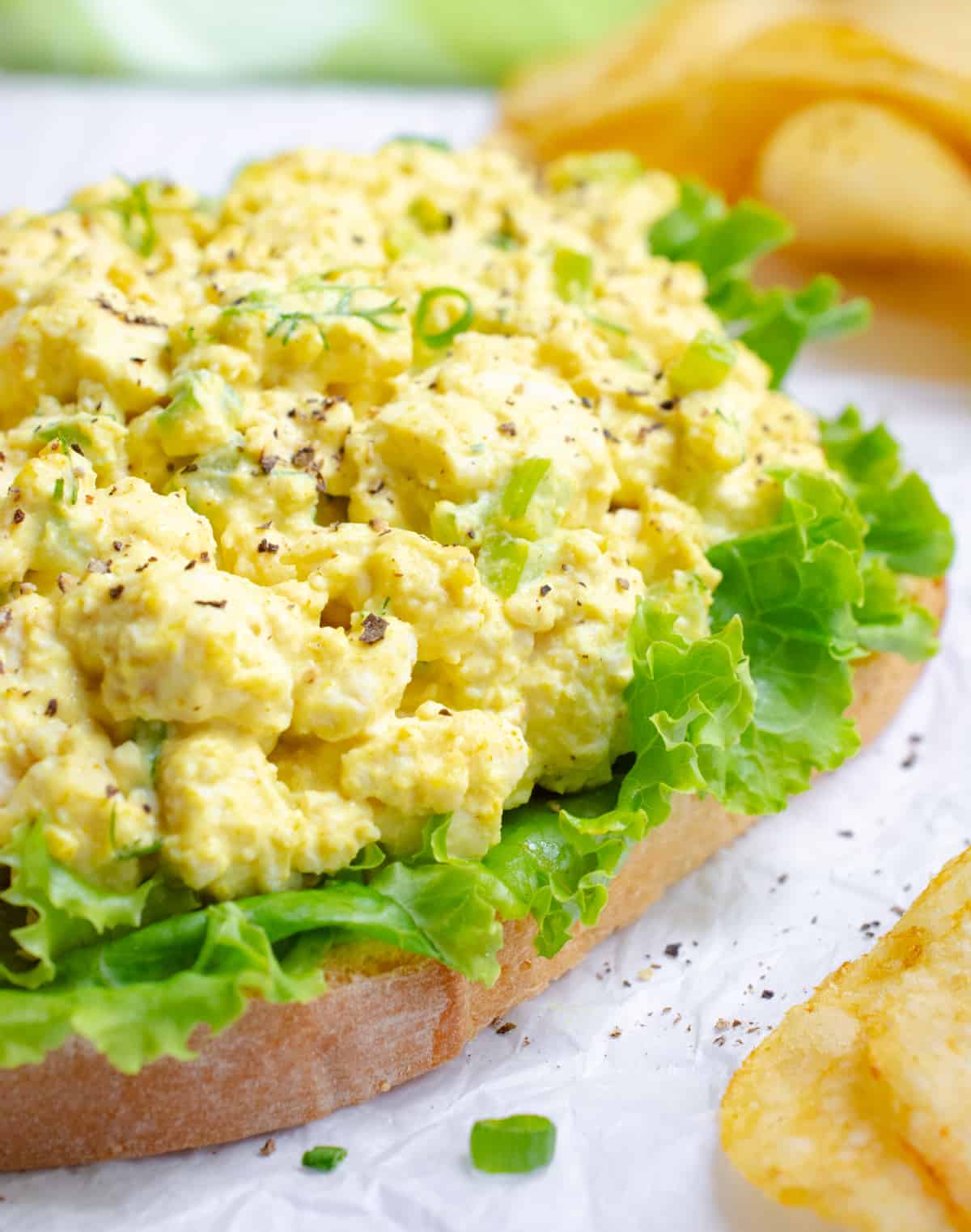 You may be wondering:
Does it taste like egg salad?
I think this vegan egg salad tastes close to the real thing without using real eggs.
However, black salt (also known as kala namak) is a secret ingredient that gives vegan egg salad recipes a distinct "eggy" taste.
But, I wanted this salad that tastes great even without the black salt, for those who don't have any on hand.
So, I created this vegan version to be as close to the real deal, with or without the addition of black salt.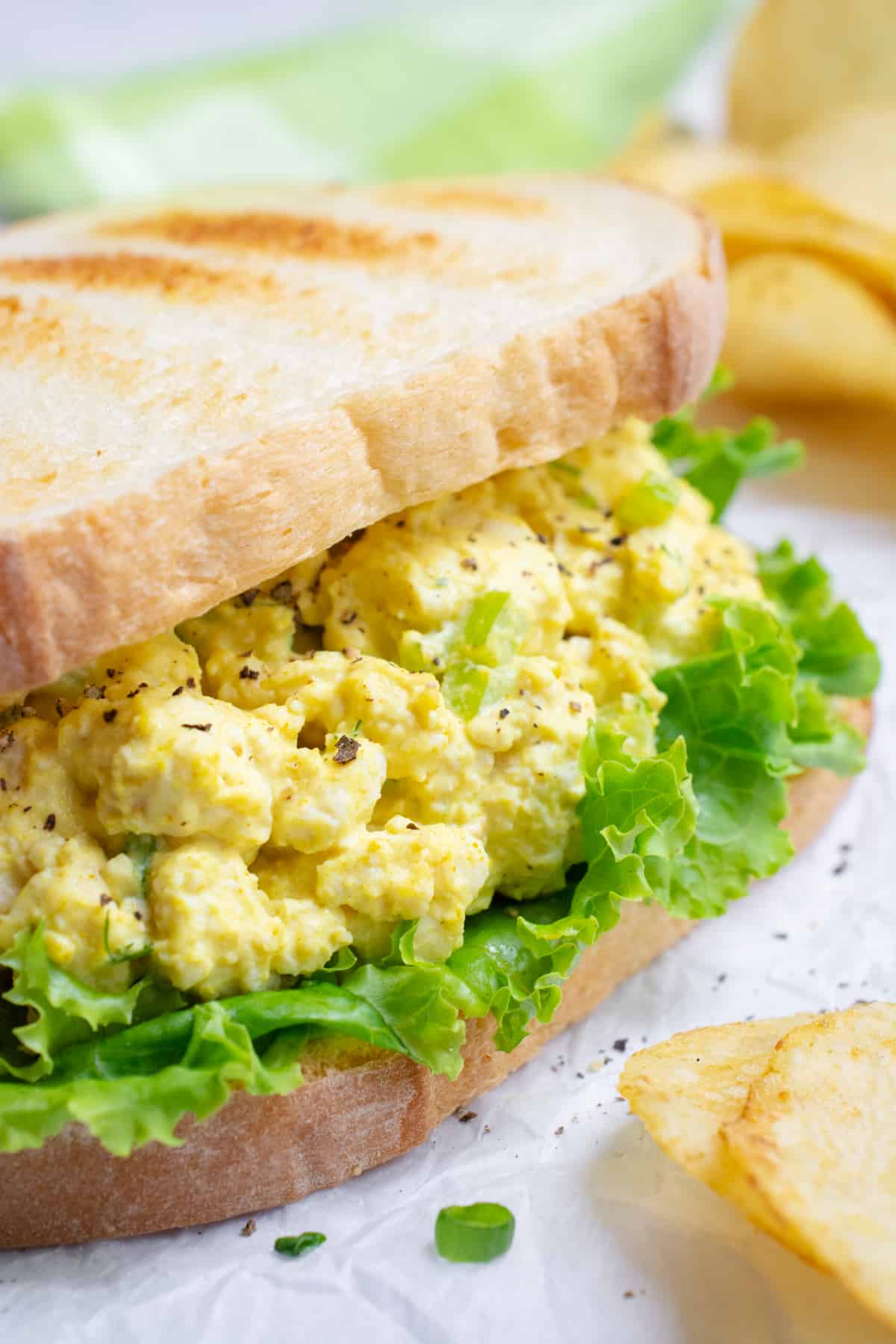 Ingredients
Simple, readily available ingredients bring this recipe together.
Ingredient notes and substitutes
Firm tofu – Tofu is a great egg substitute because the texture, when cooked, is similar to boiled eggs, firm but still tender. Use firm or extra firm tofu for the best texture.
Vegan mayo – The mayonnaise binds the ingredients together and adds flavor to the salad. I love it with my cashew mayo, but your favorite store-bought brand is delicious as well.
Green onions – These give the salad a mild onion taste. Replace them with diced red onion if you're looking for more onion flavor.
Fresh dill – Using fresh dill is best for this recipe. It provides a deliciously fresh herbaceous flavor. If you don't have any on hand dried dill can be used as a replacement.
Lemon juice – Use fresh lemon juice for the best taste.
Yellow mustard – This is a common ingredient in traditional egg salad adding another savory element to it. You can use Dijon mustard as a replacement.
Black salt - This ingredient is optional but it is the secret ingredient to making vegan egg salad taste like the real thing. If you don't have any (or can't find it) I made sure the recipe still tastes great without it.
Turmeric – This is what gives the salad the yellow color.
How to make vegan egg salad
This recipe is easy to make and comes together in a few simple steps.
Start by pressing the tofu block using a tofu press. Or wrap the block in a clean kitchen towel or paper towels and place a heavy object on top, such as a book or heavy plate.
After pressing, break it into small pieces using your hands or a potato masher.
Now, cook the tofu in a pan over medium heat to remove excess moisture and give it a firm texture, like hard-boiled eggs. Then set it aside to cool.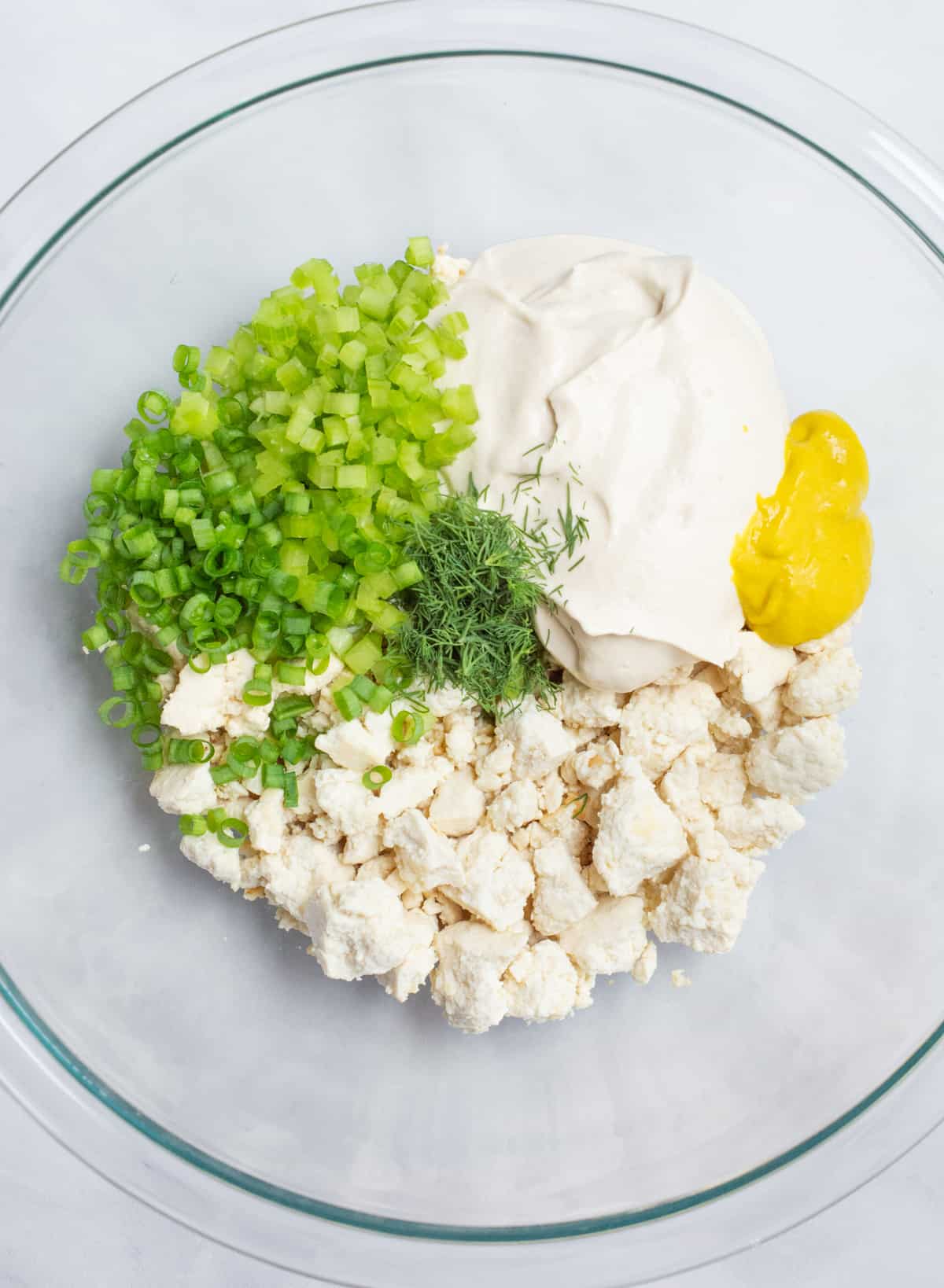 Next, add the cooled tofu to a large bowl along with the remaining ingredients.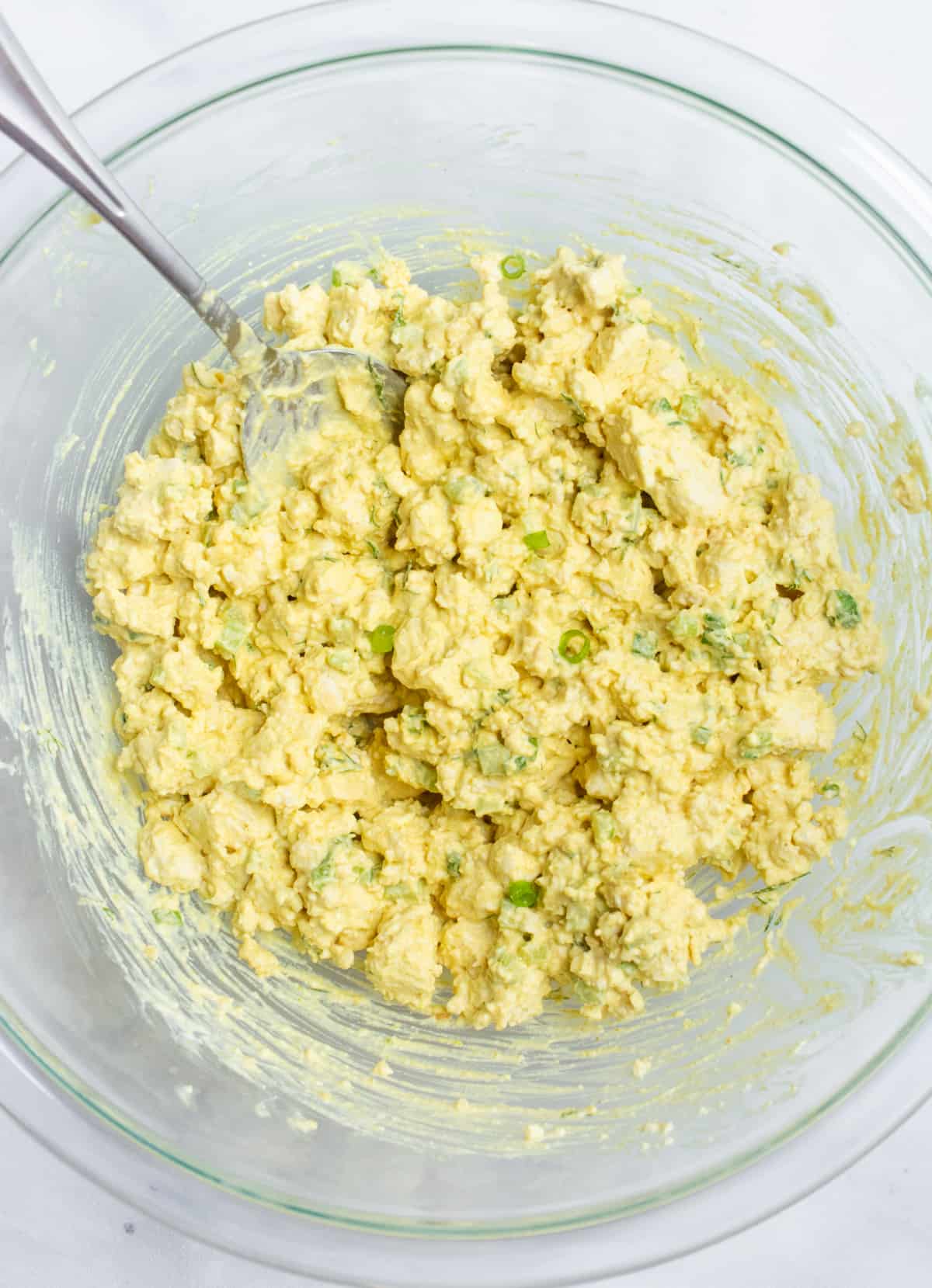 Finally, mix until the ingredients are evenly combined. Taste and adjust any seasonings as needed.
Cover and chill in the refrigerator for about an hour.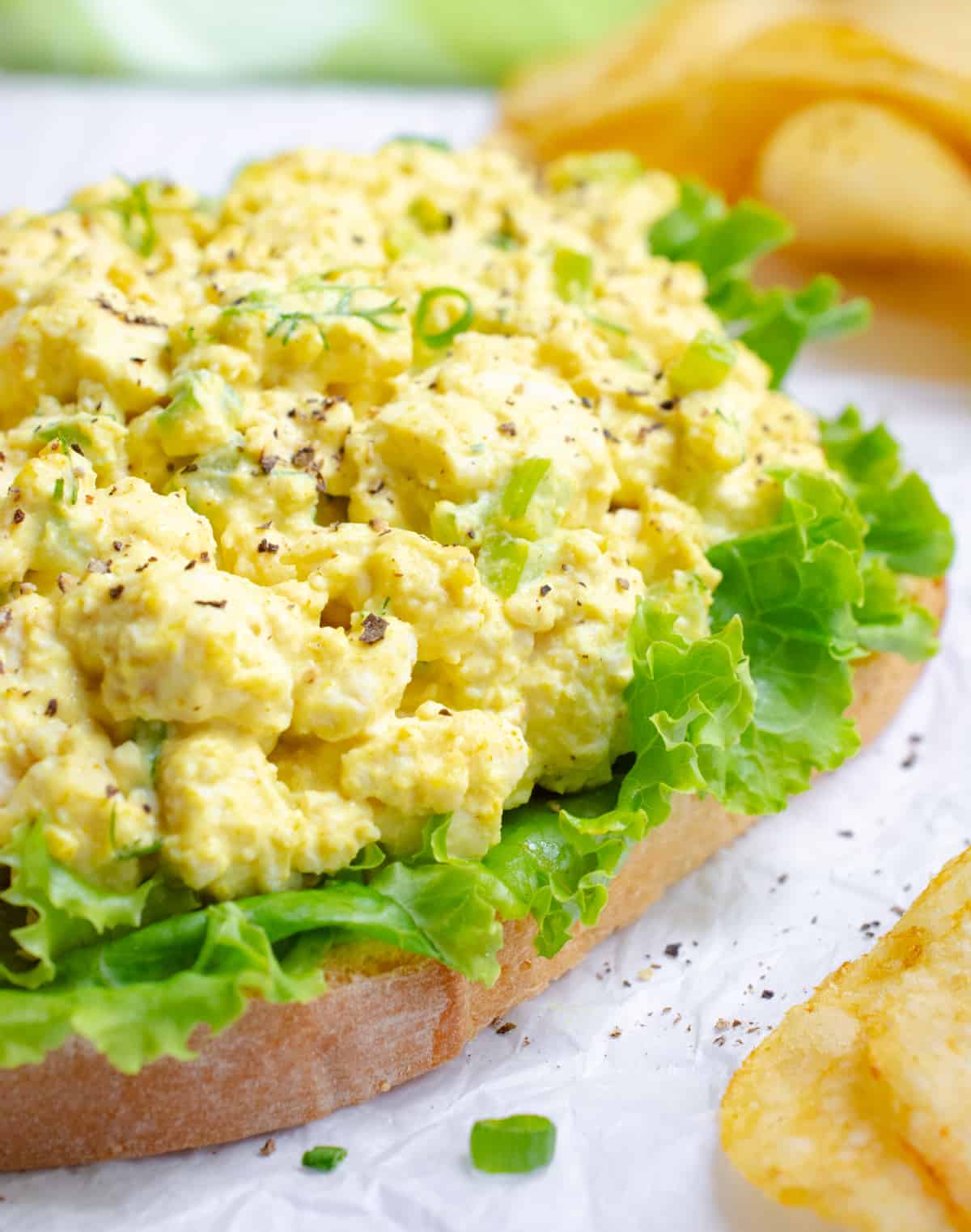 To Serve
Make a vegan egg salad sandwich topped with lettuce and tomato.
Enjoy it in a lettuce leaf for a gluten-free meal.
Stuff it in a pita with tomatoes for a quick and easy lunch.
Or pile this vegan salad on crackers and top them with sliced cherry tomatoes for a delicious appetizer.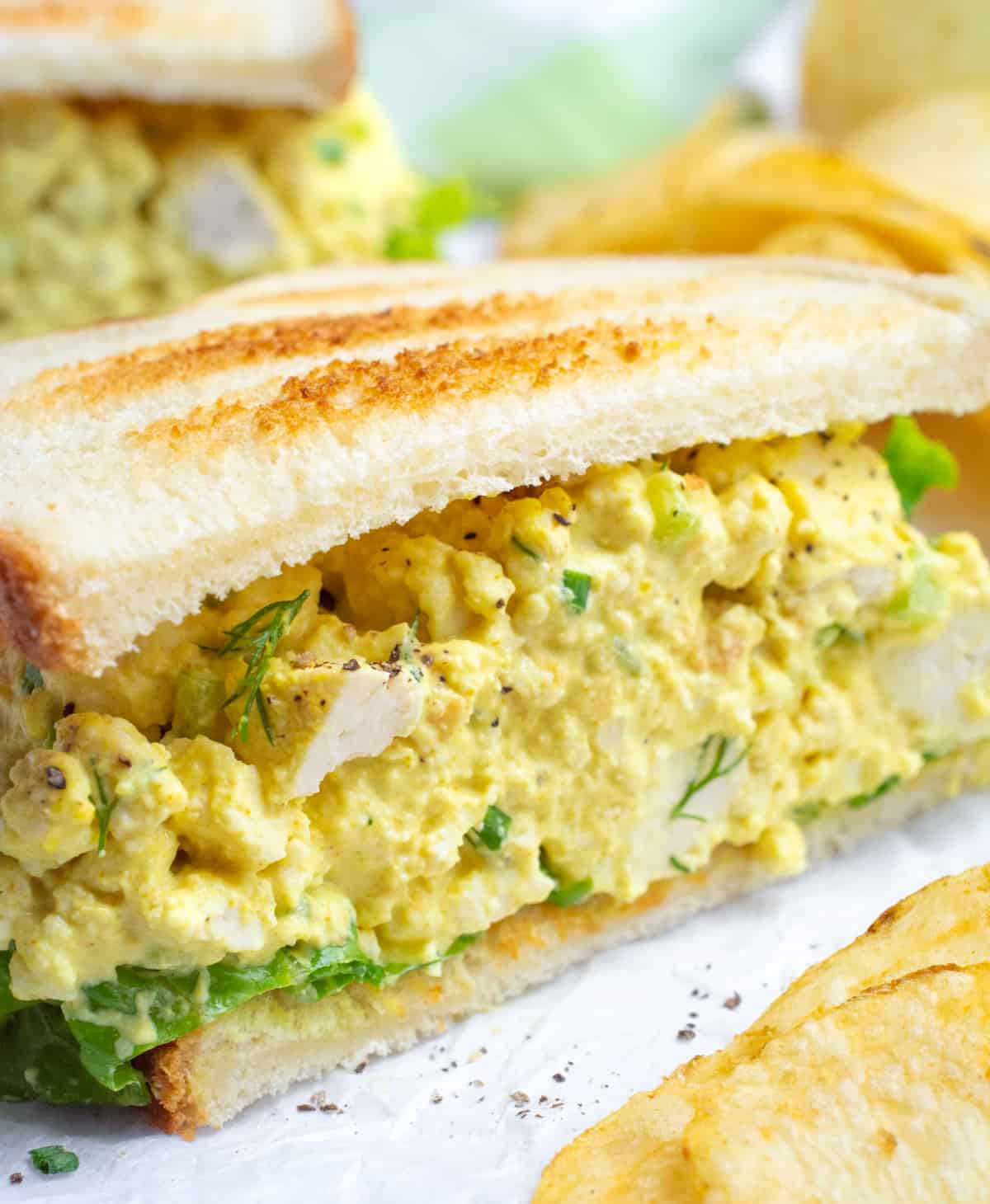 Tips for Success
Tofu: Cooking the tofu removes excess moisture and firms it up for the best egg-like texture. If you want to avoid cooking the tofu, I suggest using vacuum-sealed tofu. I don't recommend silken tofu, it's too soft.
Make this recipe your own: Add diced pickles, shallot, capers, or avocado.
Black salt: Use this if you want the full eggy flavor.
We'd love to hear from you!
If you enjoyed this vegan recipe, please leave a 5-star rating in the recipe card and share your thoughts in the comments below.
Also, if you snap a photo be sure to share it with us! We love to see your creations!! You can find us on Pinterest, Facebook, and Instagram.
Or, get the links to new recipes delivered straight to your inbox by signing up for our newsletter. See ya there!
Recipe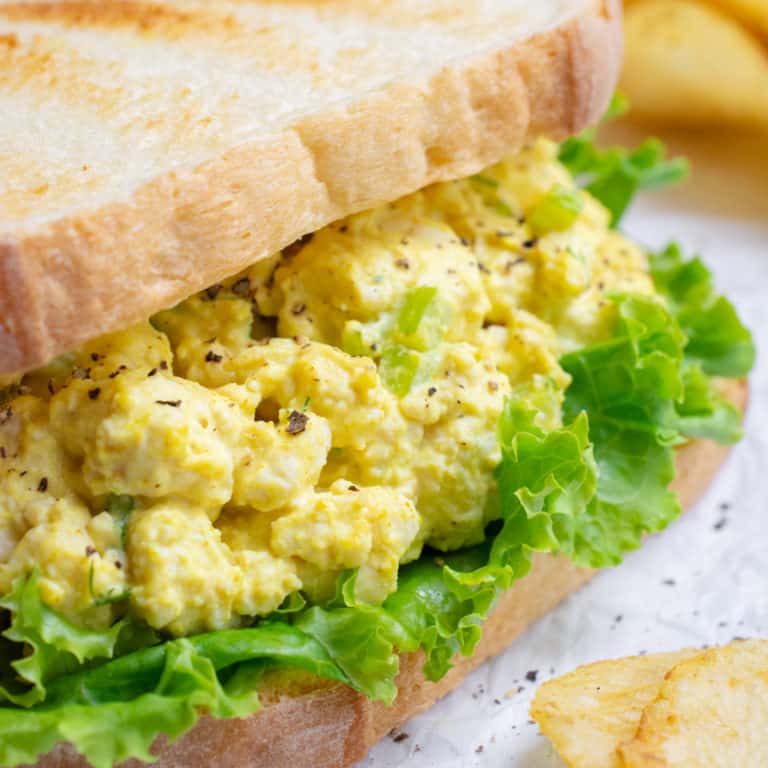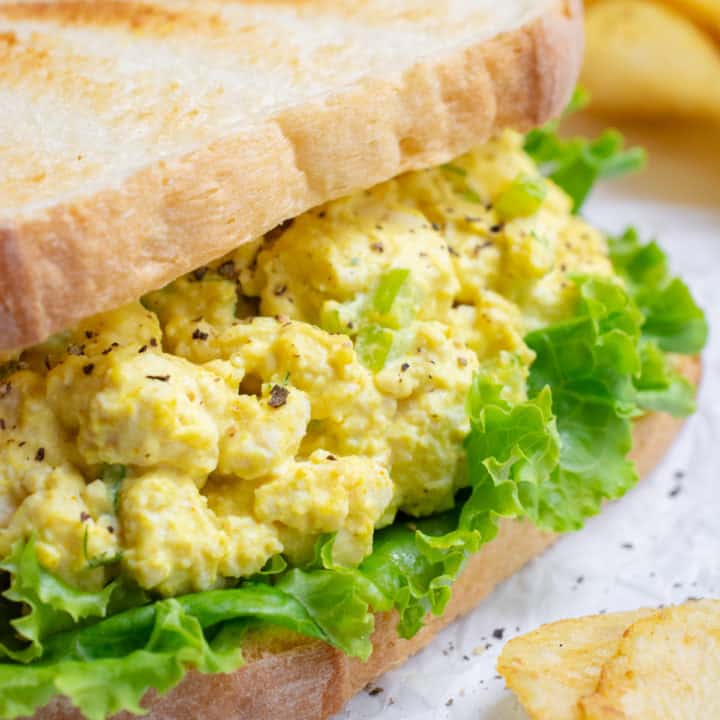 Vegan Egg Salad
This vegan tofu egg salad is made with cooked tofu for plenty of protein and the best egg-like texture. So when it's too hot to cook reach for this summertime favorite!
Ingredients
Tofu
1 (14-ounce) block of firm or extra firm tofu
2 teaspoons neutral oil, for sautéing
1 teaspoon onion powder
⅓ teaspoon Himalayan pink salt
Remaining Ingredients
1 celery stalk, diced
½ cup vegan mayo
2 Tablespoons green onion, thinly sliced
2 teaspoons fresh dill, finely chopped
1 and ½ teaspoon yellow mustard, or dijon mustard
1-2 teaspoon lemon juice
⅓ teaspoon turmeric
salt and black pepper to taste
Optional Ingredients
⅓ teaspoon black salt, or to taste (see notes)
1 Tablespoon nutritional yeast, add to tofu before cooking
Instructions
Start by pressing the tofu using a tofu press. If you don't have a tofu press wrap the tofu in a clean kitchen towel or paper towels and place a heavy plate or book on top.
Now, break the tofu into small pieces.
Add the oil, tofu pieces, onion powder, and salt to a medium saucepan. Cook the tofu over medium heat until it begins to firm up, about 15 minutes. This will remove more of the excess moisture and create a nice egg-like texture.
Transfer the tofu to a mixing bowl and allow it to cool down. You can place it in the fridge to speed up the process.
Add the remaining salad ingredients to the bowl and gently fold everything together.
Chill in the fridge for 30 minutes to an hour for the best flavor.
Store any leftover vegan egg salad in an airtight container in the refrigerator for 3-5 days.
Notes
If you're using black salt, leave out the salt in the tofu and add the black salt with the ingredients in Step 3. Once the salad is mixed, give it a taste and add more black salt or regular salt to your taste, if needed.
Nutrition Information:
Yield:

4
Serving Size:

1
Amount Per Serving:
Calories:

123
Total Fat:

8g
Saturated Fat:

1g
Unsaturated Fat:

7g
Sodium:

21mg
Carbohydrates:

3g
Fiber:

2g
Sugar:

1g
Protein:

12g
**Nutritional info is provided as an estimate based on the ingredients I used and for convenience and as a courtesy only.**
More Summer Favorites
Where You Get Your Protein is a participant in the Amazon Services LLC Associates Program, an affiliate advertising program designed to provide a means for sites to earn advertising fees by advertising and linking to Amazon.com. This site may contain some of these links to Amazon.com. If you make a purchase through one of those links, Where You Get Your Protein will receive a small commission from the purchase at no additional cost to you.