Instant Pot breakfast potatoes are prepared ahead of time for a quick breakfast, brunch or even dinner. Season this savory side in the IP then brown and crisp them on a skillet. They're easy to make and full of flavor!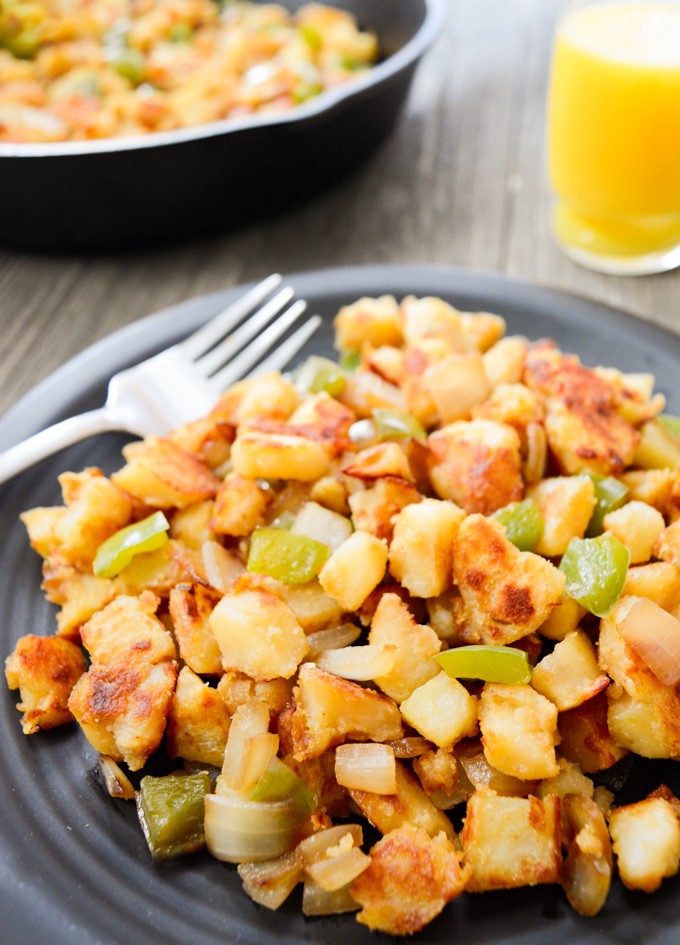 Let's be honest…oven roasted breakfast potatoes always take too long. The wait can be up to an hour! And when served with pancakes most of the time is spent waiting for the potatoes to cook. These breakfast potatoes can be flavored and prepared ahead of time making breakfast quick and easy.
Prepare breakfast potatoes ahead of time
I know making breakfast potatoes ahead of time doesn't necessarily make them faster, especially if breakfast is a spur of the moment meal. But, if you are planning breakfast/brunch these savory potatoes are a perfect addition to save you time in the morning.
The potatoes are prepared & seasoned in the Instant-Pot. Then chilled in the refrigerator until you're ready to use them. Placing the cooked potatoes in the fridge for at least 2 hours will help them firm up before cooking.
The prepped potatoes will keep well for a week in the refrigerator so they can be made days in advance.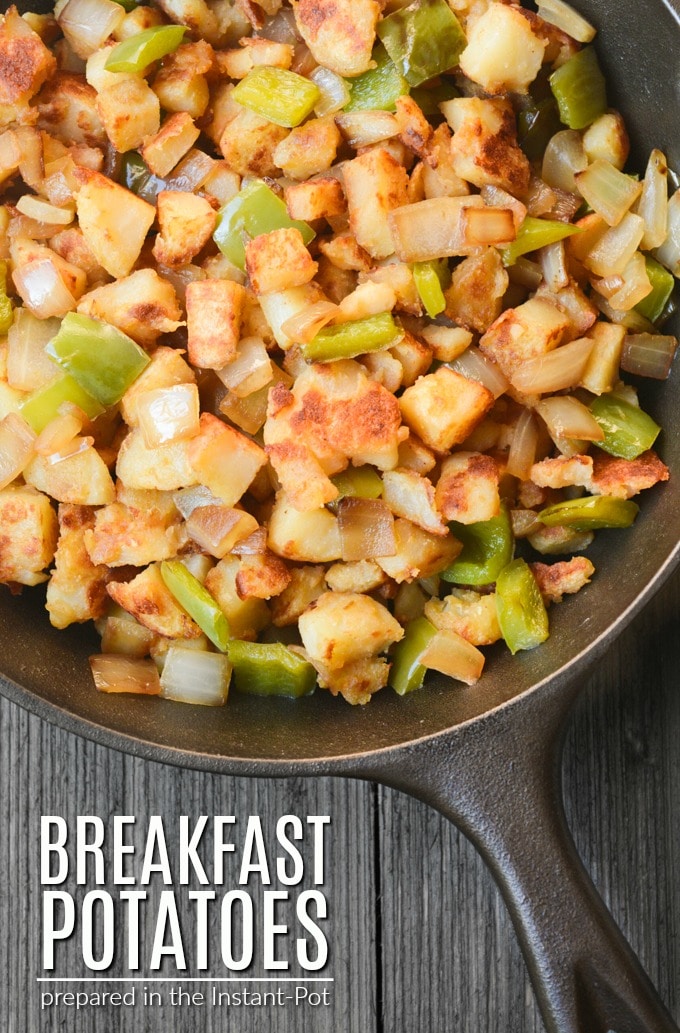 Instant Pot Breakfast potatoes are a great side to…
Serve the Ultimate Breakfast
Pair a sweet from the list above —pancakes, waffles or cinnamon rolls— with tofu scramble and Instant Pot Breakfast Potatoes for a hearty breakfast/brunch combination!
Add these potatoes to my vegan breakfast tacos, they're worth waking up for!
Or switch it up, prepare the potatoes in the morning and enjoy breakfast for dinner.
YUM!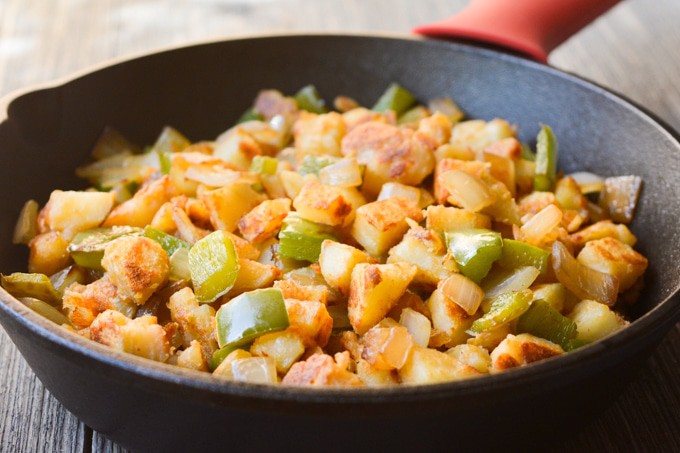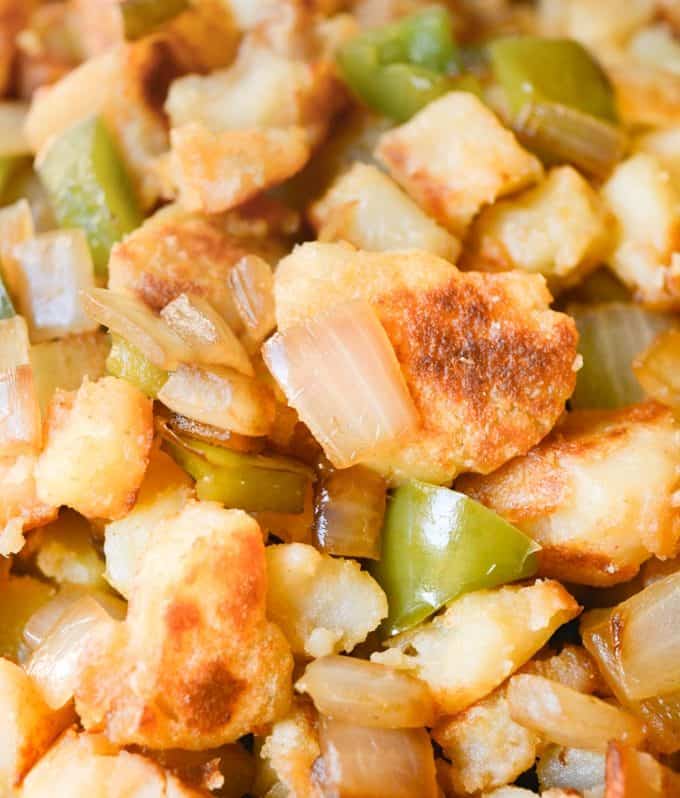 Enjoy these potatoes right out of the Instant-Pot
Instant-pot potatoes can also be enjoyed right away. The potatoes are much softer, but still full of flavor. They make a great dinner side.
Chop, sauté and season the potatoes in your IP. Add in the liquid and seal the lid. Now set it to high pressure for 1 minute. Allow for 5 minutes of natural release, then quick release the remaining pressure.
Once the pressure has fully released, carefully remove the lid and gently mix the potatoes to avoid mashing. Taste, adjust seasonings if needed and serve!
The potatoes are flavorful as is, or top them with ketchup.
If you don't own an Instant-Pot yet, what are you waiting for? They're life changing!
We'd love to hear from you!
If you loved this recipe, please leave a 5 star rating in the recipe card and share your thoughts in the comments below. Also, if you snap a photo be sure to share it with us! We love to see your creations! You can find us on Pinterest, Facebook and Instagram.
Instant Pot Breakfast Potatoes
Instant Pot breakfast potatoes are seasoned in the IP then browned and crisped on a skillet for the perfect breakfast side.
Ingredients
6 yukon gold or red potatoes, or 4 russets (roughly 2lbs), diced into 1/2-inch cubes
2-3 Tablespoons refined coconut oil, or neutral oil of choice
3/4 cup of water or vegetable broth
Seasonings
1 Tablespoon nutritional yeast
2 teaspoons garlic powder
1 teaspoons onion powder
1/4 teaspoon paprika
Himalayan pink salt to taste (I use about 3/4 teaspoon)
Pepper to taste
Veggies
neutral oil for sautéing, I use refined coconut oil
1 small onion
1 green bell pepper
Instructions
Instant-Pot Prep
In a small bowl combine the seasonings and set aside.
Dice the potatoes into evenly sized cubes. Dry the cubed potatoes with a kitchen/paper towels to remove excess moisture.
Add the potatoes and oil to the IP and press the sauté feature.
Sauté the potatoes just until they begin to change texture (about 5 minutes). The potatoes may stick so be sure to frequently stir them. Don't worry, any sticking will come up after pressure cooking and add extra flavor to the potatoes.
Halfway through cooking mix in the seasonings.
Once the potatoes have started to change texture, press the cancel button on the IP. You don't want to over sauté them since they will be pressure cooked as well.
Pour in the water or broth, but don't mix.
Secure the lid and make sure the steam vent is sealed. Set the IP to low pressure for 1 minute.
Once done, carefully, quick release the steam vent. The potatoes may be undercooked, but they will fully cook when reheated.
Gently mix the potatoes to prevent mashing while scraping up any browning on the bottom of the pot.
Let cool, then refrigerate for the next morning, or at least 2 hours.
Cook in the skillet
Remove the chilled potatoes from the fridge.
Add the oil, onions and bell peppers to a large non-stick fry pan. Sauté over medium heat, until the veggies have softened. About 7-10 minutes.
Remove the veggies from the pan and set aside.
Now add the potatoes to the pan and sauté for 10-15 minutes or until they are browned and crisp.
Add the veggies back to the pan with the potatoes and stir.
Serve immediately.
ENJOY!
Notes
The prepped potatoes keep well for a week in the refrigerator so they can be made days in advance.
To enjoy these potatoes as a side right out of the Instant-Pot, I suggest increasing the cook time to 2 minutes to insure the potatoes are fully cooked. They will be soft and can easily be turned into mashed potatoes or enjoyed as-is with ketchup.
Nutrition Information:
Yield:

5 servings
Serving Size:

1 serving
Amount Per Serving:
Calories:

203
**Nutritional info is provided as an estimate based on the ingredients I used and for convenience and as a courtesy only.**
*This post contains affiliate links.