Vegan Banana Milk Pancakes are an allergy-friendly, egg-free, dairy-free and nut-free breakfast! Sweet, ripe bananas and coconut sugar keep these pancakes refined-sugar-free as well! Top your banana-filled pancake stack with extra banana slices and a good covering of maple syrup for an easy weekend brunch!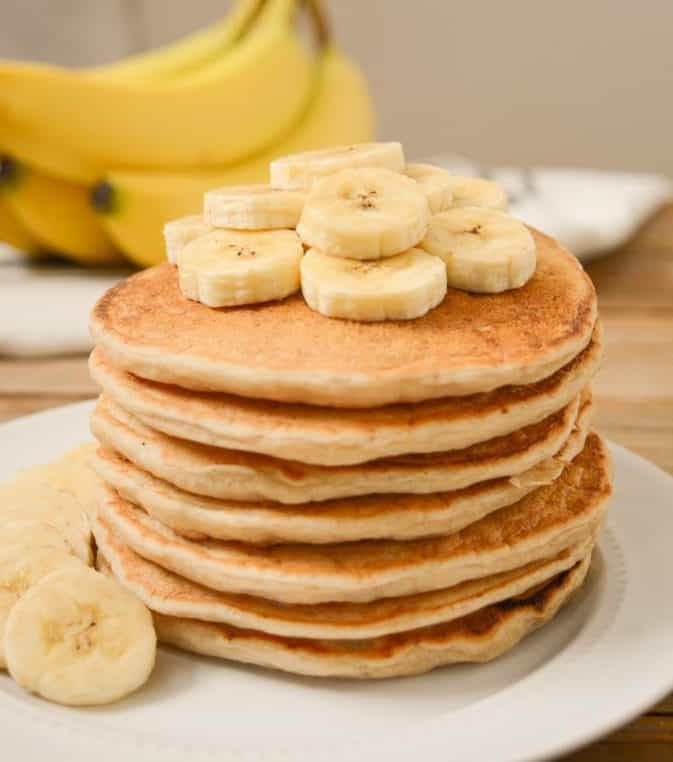 When I came out with my banana bread recipe it was an instant hit with you guys! And still is!
The banana bread uses simple, on-hand ingredients and I knew I wanted to do the same with these banana milk pancakes.
To keep this pancake recipe simple I decided to use water and bananas to create a banana milk. This eliminates the need of a non-dairy milk instantly making these an allergy friendly breakfast.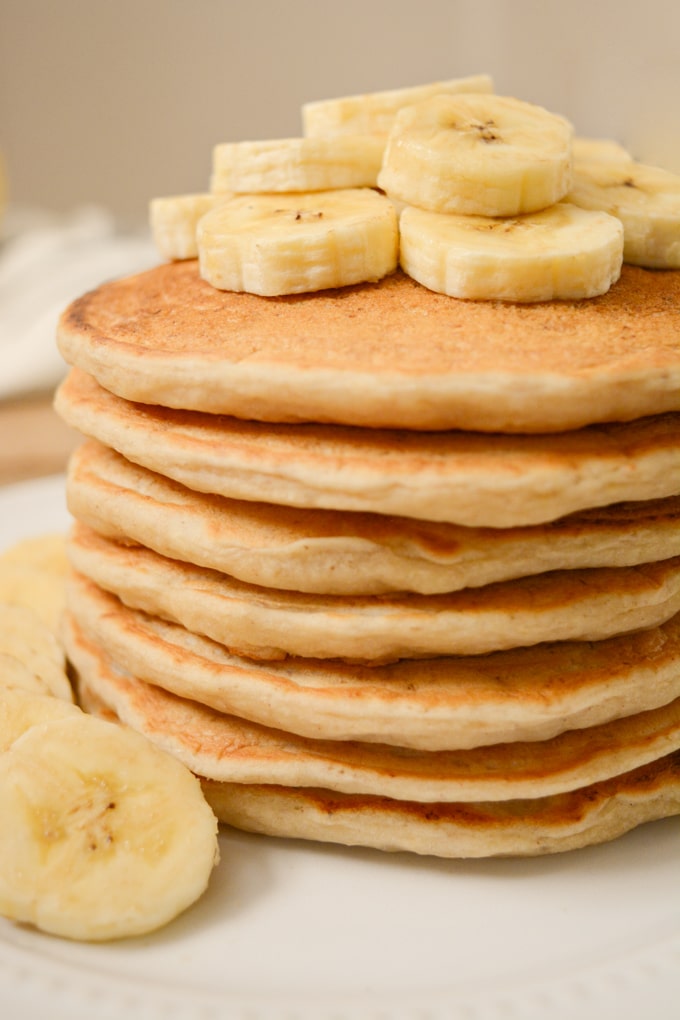 How to make Banana Milk
Banana Milk is one of the easiest non-dairy milks to make. It only takes 2 simple ingredients—
Bananas and Water!
Toss them both in the blender for about 30 seconds. That's it!
Now let's whip up some pancakes with that homemade banana milk!
How to make Banana Milk Pancakes
1. Blend up water and bananas to create banana milk.
2. Mix together the ingredients to create a batter.
3. Pour the batter on the griddle and cook the pancakes.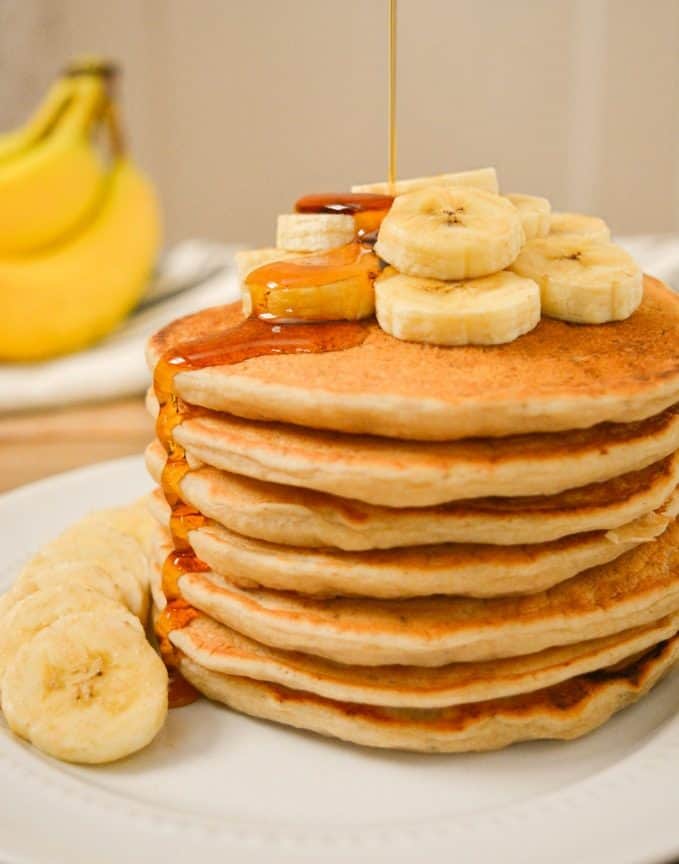 Perfect Vegan Banana Milk Pancakes
If you recall in my cinnamon pancake recipe l had plenty of trouble with the batter sticking to the pan. This caused me to add extra oil to the pan. I even went to the extreme and rubbed the pan with a potato before finally revising the batter.
Surprisingly, in this recipe the beautiful smooth golden top was achieved using a non-stick ceramic griddle, without any extra oil!
The new griddle has changed my pancake flippin' life!
Vegan Banana Milk Pancakes are soft, fluffy and ridiculously easy to bring together! They're loaded with sweet banana flavor and a hint of cinnamon which means they are one tasty pancake!
Use up your ripe bananas and enjoy some pancakes for breakfast, brunch, lunch or dinner.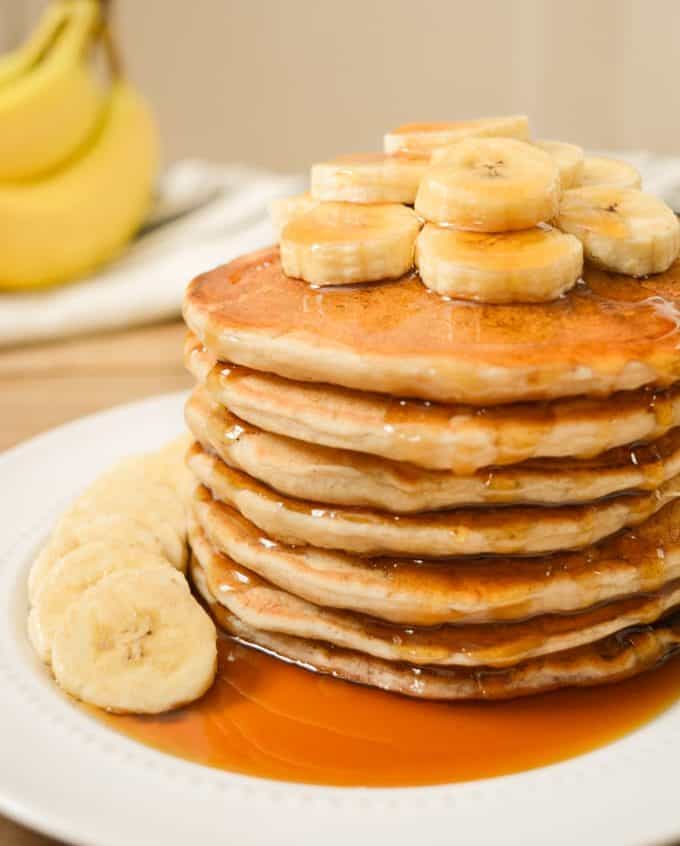 If you make this recipe, be sure to snap a photo and share it on Pinterest. We love to see your creations! You can also find us on Facebook @WhereYouGetYourProtein.
See you there!
---
Vegan Banana Milk Pancakes
Vegan Banana Milk Pancakes are an allergy-friendly, egg-free, dairy-free and nut-free breakfast! Sweet, ripe bananas and coconut sugar keep these pancakes refined-sugar-free as well!
10 minPrep Time
20 minCook Time
30 minTotal Time
Yields 10-12 pancakes
Ingredients
Dry
2 cups all purpose flour, sifted
1 Tablespoon baking powder
1 Tablespoons coconut sugar
2 teaspoons ground cinnamon
1/4 teaspoon Himalayan pink salt
Wet
2 cup water
2 bananas (about 8oz)
1 teaspoons vanilla extract
1 Tablespoon melted coconut oil, I use refined for a neutral taste
Instructions
Heat your griddle or pan over medium-high heat.
In a large mixing bowl, sift together the dry ingredients. Set aside.
Blend the water, bananas and vanilla extract in a blender just enough to create a smooth banana milk.
If froth is created after blending the banana milk, scoop it off and discard. Measure out 2 cups of banana milk. If needed, add more water to reach 2 cups.
Add the banana milk and oil to the bowl of dry ingredients.
Gently whisk together until just combined. Batter will be slightly lumpy.
Add a bit of oil to your griddle/pan. Pour 1/3 cup of batter on the heated griddle/pan.

(If you're using a non-stick surface the oil is optional.)

Flip each pancake once the edges begin to cook and bubbles form and pop on top. Cook for another 1-2 minutes, or until the bottoms are golden brown.
To keep warm, place the cooked pancakes on a plate and cover with a tea towel.
Serve topped with banana slices and maple syrup.

ENJOY!
Notes
Using more than the recommended 8oz of bananas may create a thicker banana milk, which may cause a thicker batter. In this instance add a few more Tablespoons of water to the batter and gently fold in.
I've also had success mashing the bananas by hand, then mixing the mashed bananas with water to create the 'banana milk'.
7.8.1.2
69
https://www.whereyougetyourprotein.com/vegan-banana-milk-pancakes/
Where You Get Your Protein - whereyougetyourprotein.com
---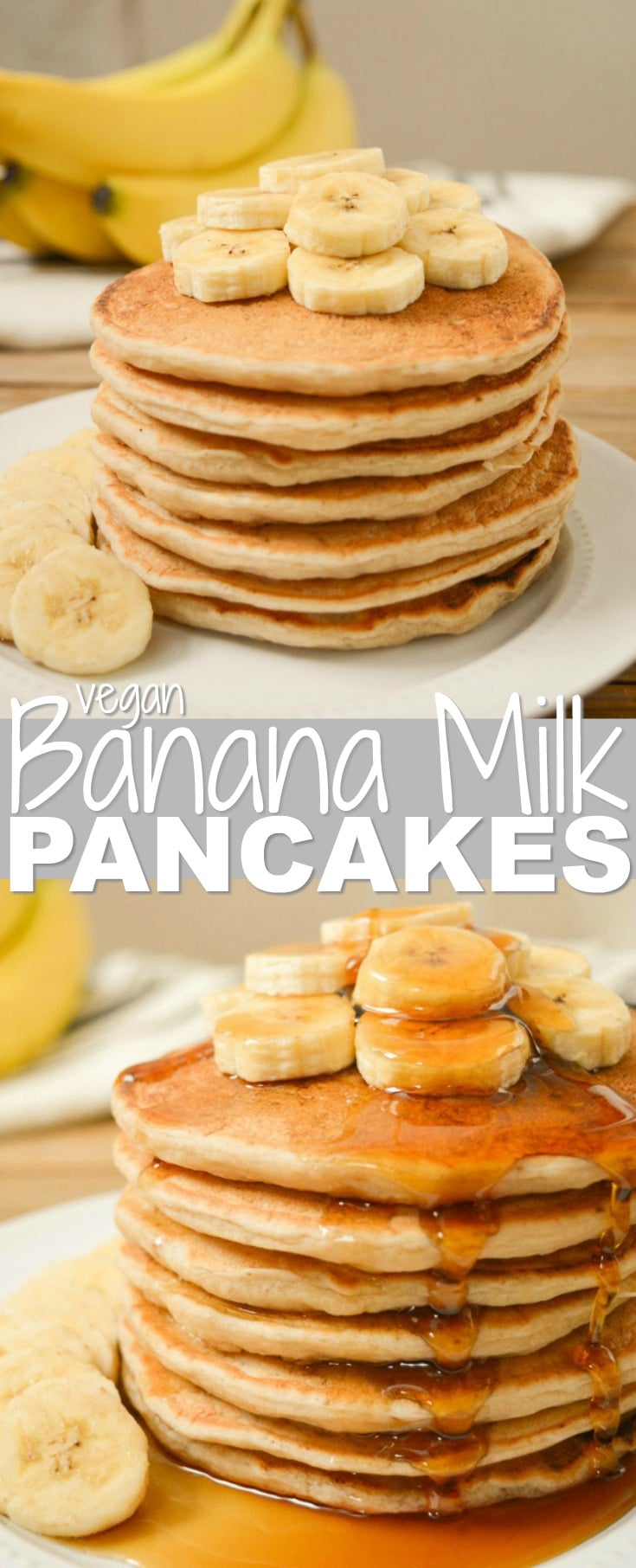 *This post contains affiliate links.