Vegan cinnamon pancakes are the perfect weekend breakfast! They're warm, light, fluffy and taste similar to a cinnamon roll. Add some chocolate chips to the batter for a chocolatey twist. They're easy to make, full of flavor and require only 9 simple ingredients!
I'll admit, pancakes never were a favorite of mine. Crispy waffles or a loaf of vegan banana bread have always been preferred over a soft spongy pancake for a weekend breakfast. My family, however, disagrees…..
So, this sent me on a quest to make pancakes even I would enjoy, without much luck at first. Most attempts would end up with the pancake batter stuck to the pan. As a result, I would add extra oil creating a greasy pancake that still stuck.
However, I never give up that easily!
After countless failures, I hopped on the computer and did a little research on why the batter was sticking.
I came across a video saying to cut a potato in half and rub it on the griddle before pouring down the batter. So, I decided to give this potato method a try. The first few pancakes flipped successfully. But as I proceeded with the remaining batter, the pancakes began to stick again.
The potato method didn't work! It only left the house smelling of hash browns furthering my breakfast hunger. So I came to the conclusion that the pancake batter needed reviving.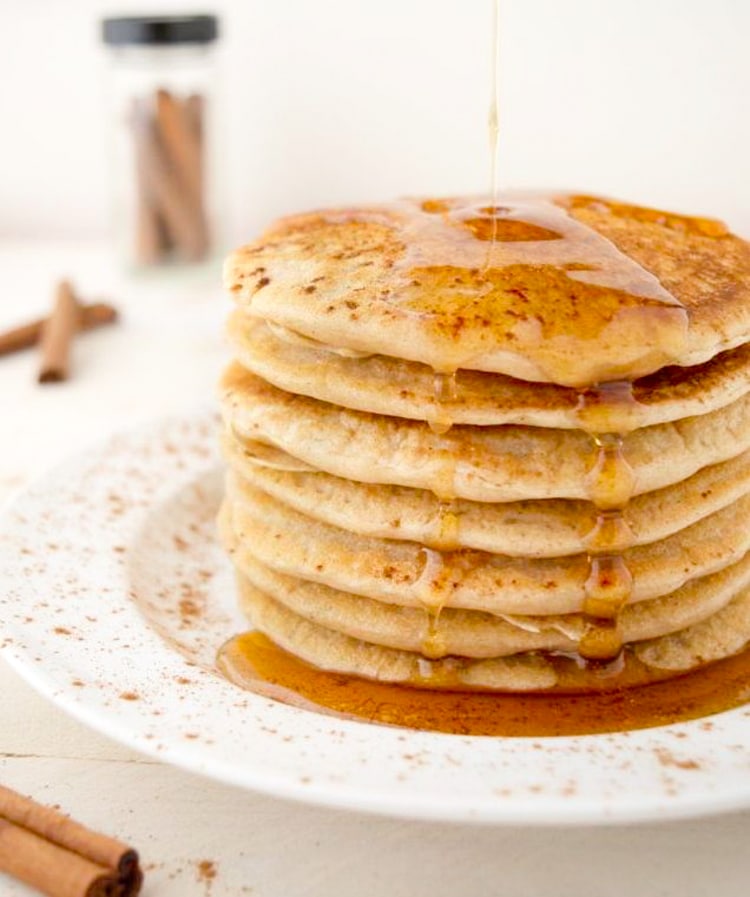 After slightly tweaking the batter, and adding a bit cinnamon for extra flavor, my family (me included) has been enjoying Vegan Cinnamon Pancakes regularly!
Vegan Cinnamon Pancakes are the perfect weekend breakfast
Cover these fluffy cinnamon pancakes with maple syrup for a family favorite breakfast.
Pair them with a side of tofu scramble, breakfast potatoes and tall glass of fresh squeezed orange juice for the ultimate weekend breakfast!
....I'm making my self hungry again…
Weekend hurry-up!!
For more vegan pancake recipes
Try these Banana Milk Pancakes they're made with banana milk (2 ingredients: bananas and water) instead of non-dairy milk.
Or check out these Apple Cinnamon Pancakes, they're topped with cooked apples and sweetened coconut whip.
We'd love to hear from you!
If you loved this recipe, please leave a 5 star rating in the recipe card and share your thoughts in the comments below. Also, if you snap a photo be sure to share it with us! We love to see your creations! You can find us on Pinterest, Facebook and Instagram.
Vegan Cinnamon Pancakes
Vegan cinnamon pancakes are the perfect weekend breakfast! These warm, light & fluffy pancakes are easy to make and require only 9 simple ingredients! 
Ingredients
Dry
2 cups unbleached all-purpose flour, sifted
2 Tablespoons coconut sugar, or granulated sugar
1 full Tablespoon ground cinnamon
1/4 teaspoon Himalayan pink salt
1 Tablespoon baking powder
Wet
2 cups non-dairy milk (I use almond milk)
2 teaspoons apple cider vinegar
1 Tablespoon vanilla extract
1 Tablespoons neutral cooking oil (I use melted refined coconut oil)
Instructions
In a glass measuring cup (or a small bowl), measure out the almond milk. Add the vinegar to create a buttermilk. Set aside while you prep the dry ingredients.
In a large bowl, sift the flour. Whisk in the remaining dry ingredients: coconut sugar, cinnamon, salt and baking powder.
Pour the wet ingredients; milk mixture, vanilla extract and oil, into the bowl of dry ingredients.
Gently whisk together the batter. don't over mix, small lumps are fine.
Let the batter rest, for about 3 minutes. This creates a perfect, fluffy pancake so I suggest you don't skip it. In the mean time heat the pan up over medium-high heat.
Add about 1/4 to 1/2 teaspoon of coconut oil to your heated pan/griddle where the pancake batter will be dropped. Oil is optional on a non-stick surface.
Pour 1/4 cup of batter on the oil. This will help keep the pancakes from sticking.
The pancakes are ready to be flipped once the edges appear cooked and bubbles form and pop on top.
Flip and cook on the other side until lightly browned, another minute or 2.
Serve immediately with maple syrup.
ENJOY!
Notes
To keep warm before serving, place in a 180º preheated oven.
Any left overs can easily be frozen. Place in a freezer safe container or bag with a sheet of parchment paper between each pancake.
Nutrition Information:
Yield:

12 pancakes
Serving Size:

1 pancake
Amount Per Serving:
Calories:

154
Total Fat:

4g
Saturated Fat:

2g
Trans Fat:

0g
Unsaturated Fat:

2g
Cholesterol:

3mg
Sodium:

195mg
Carbohydrates:

25g
Fiber:

2g
Sugar:

7g
Protein:

4g
**Nutritional info is provided as an estimate based on the ingredients I used and for convenience and as a courtesy only.**
How to freeze vegan cinnamon pancakes
This recipe makes about a dozen pancakes that can easily be frozen! Arrange the leftover pancakes on a cooling rack and allow them to cool completely. Place a sheet of parchment paper between each pancake and store in a freezer safe container or bag.
They also keep well for up to 3 days in the refrigerator.
Leftover pancakes can be reheated in a pan over medium heat. Flip them a few times until thoroughly heated.
Or reheat them in a toaster oven. Place the pancakes in the toaster oven at 375º until the center is fully heated.
• • •