Vegan sheet pan pancakes are an easy, oil-free, oven-baked breakfast perfect for a crowd or a lazy weekend morning. They're just as soft and fluffy as traditional pancakes without the hassle of flipping each one.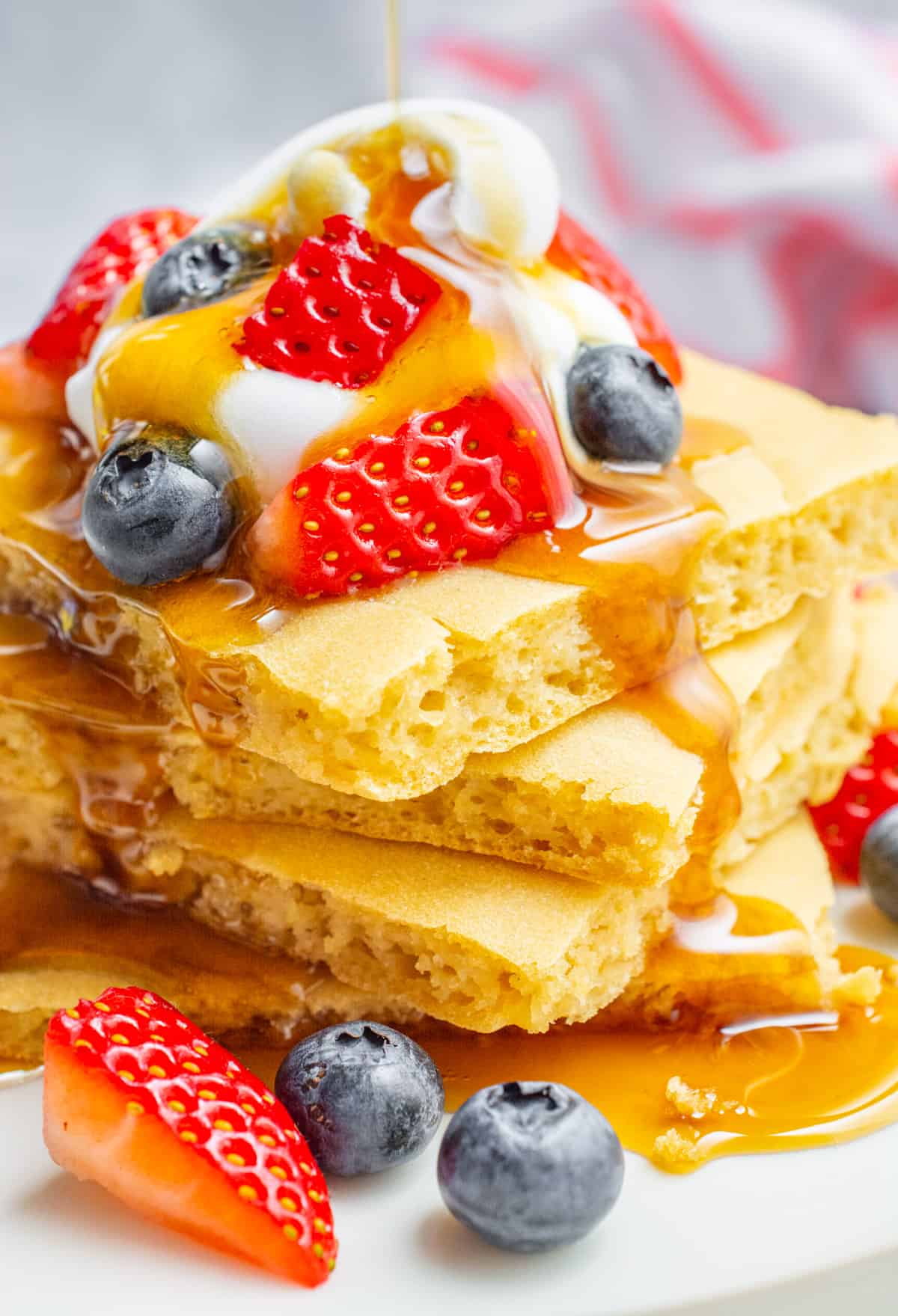 Leave the pancake flipper in the drawer and opt for these sheet pan pancakes instead.
There's no more eating cold pancakes. These pancakes are baked in the oven so the entire batch is ready at the same time!
At our house, vegan cinnamon pancakes are a weekend favorite, but sometimes I'm too lazy to stand over the stove flipping pancakes to feed the family.
So, to make things easier on those lazy mornings, I rotate between my french toast casserole and these baked pancakes for an effortless vegan breakfast.
Jump to:
Ingredients
This recipe is easy to make, oil-free, and requires these 7 pantry staples.
All-purpose flour – I use organic unbleached, but any all-purpose flour will work.
Coconut sugar – Sugar adds sweetness to them. You can use any granulated sugar of your choice.
Baking powder – This gives the pancakes a light and fluffy texture.
Himalayan pink salt – Adding salt to the batter helps bring the flavors together. Use salt of choice.
Non-dairy milk – Using milk instead of water creates a softer texture.
Non-dairy vanilla yogurt – The yogurt acts as a vegan buttermilk replacement. It keeps the texture soft and fluffy. (see recipe card notes for yogurt replacement)
Vanilla extract – The extract is the flavor. It complements the pancakes with a subtle vanilla taste.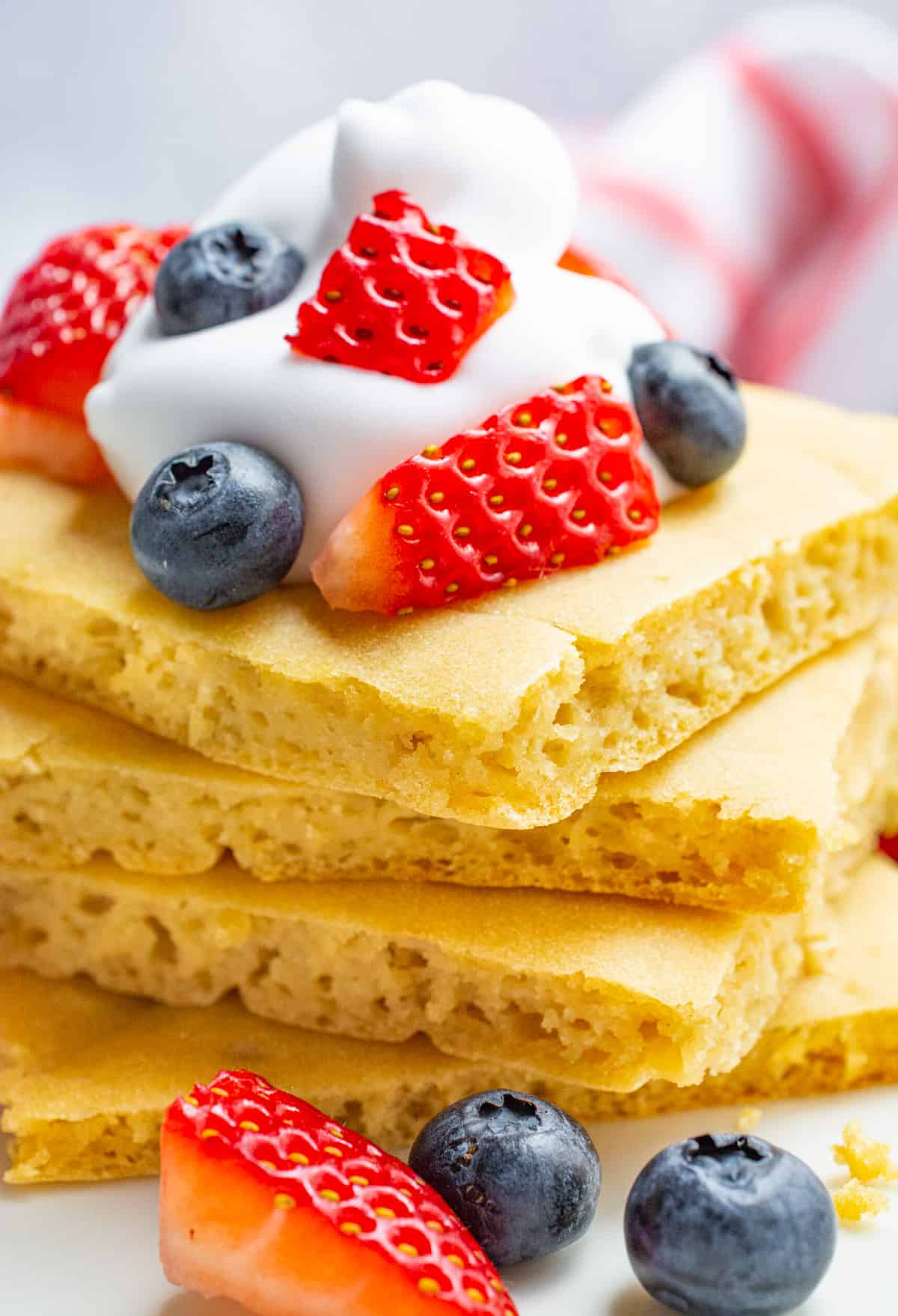 Instructions
Follow the simple steps below to easily make these baked pancakes.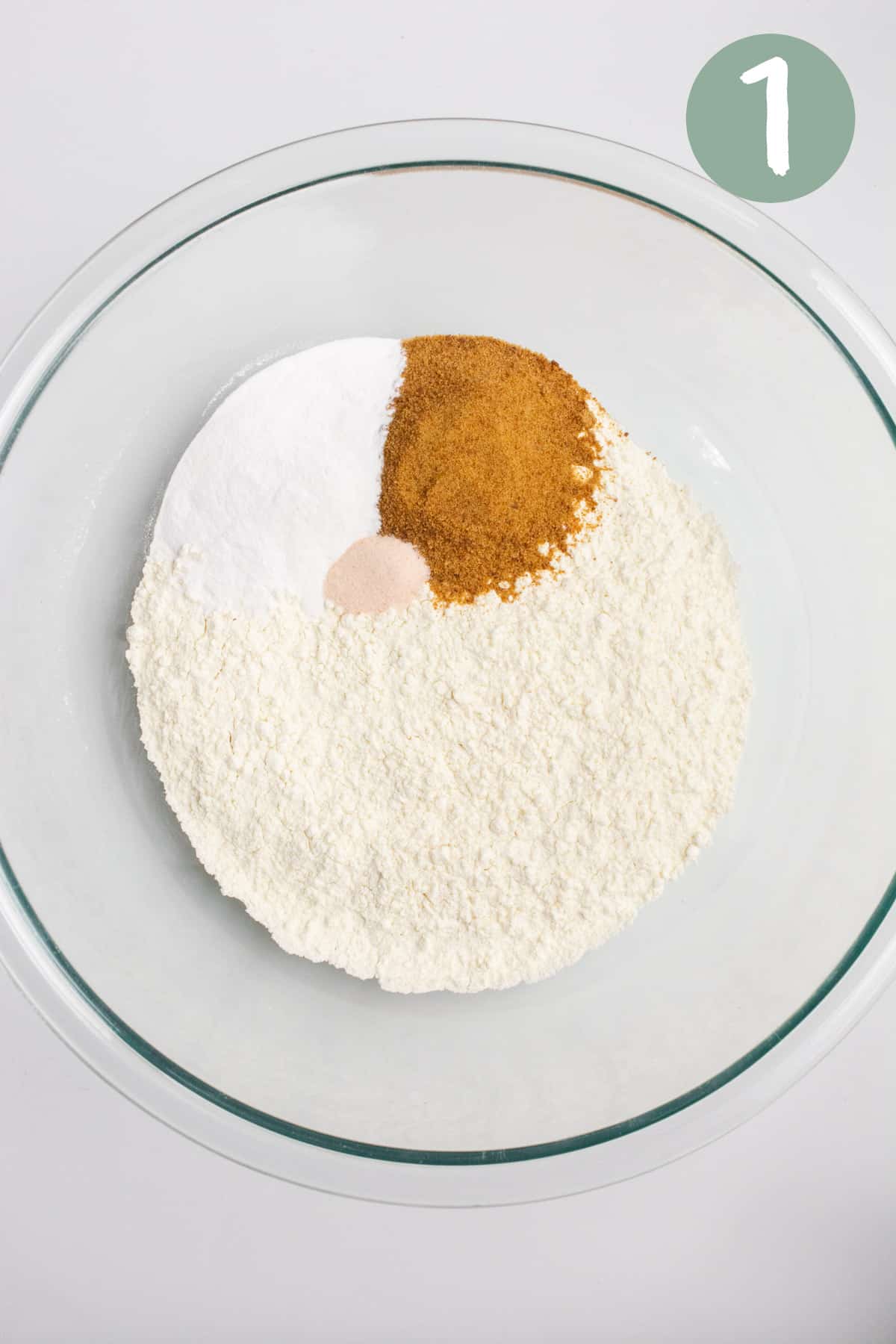 Step 1. Start by adding the dry ingredients to a large bowl and mixing them together.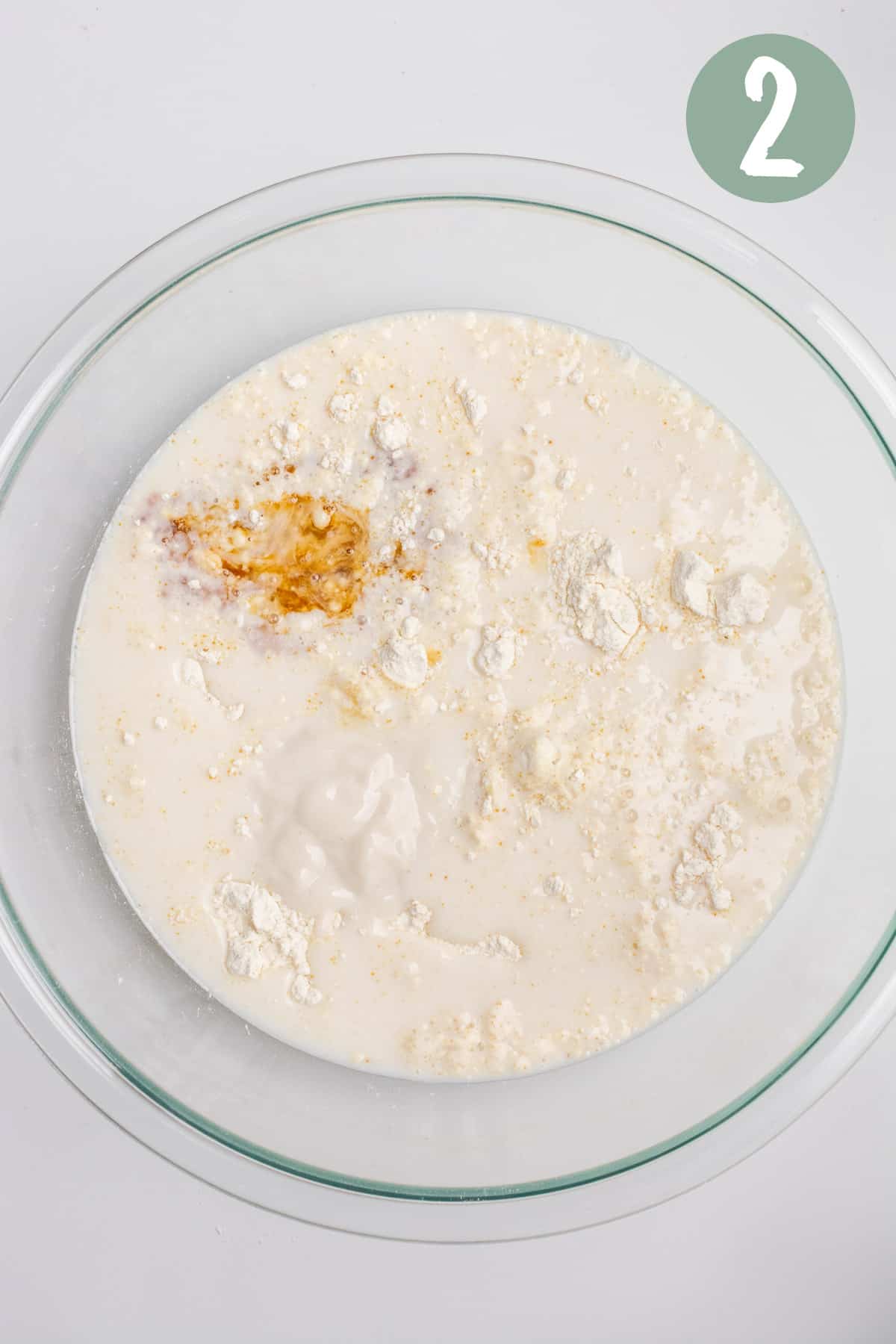 Step 2. Pour the wet ingredients into the bowl of dry.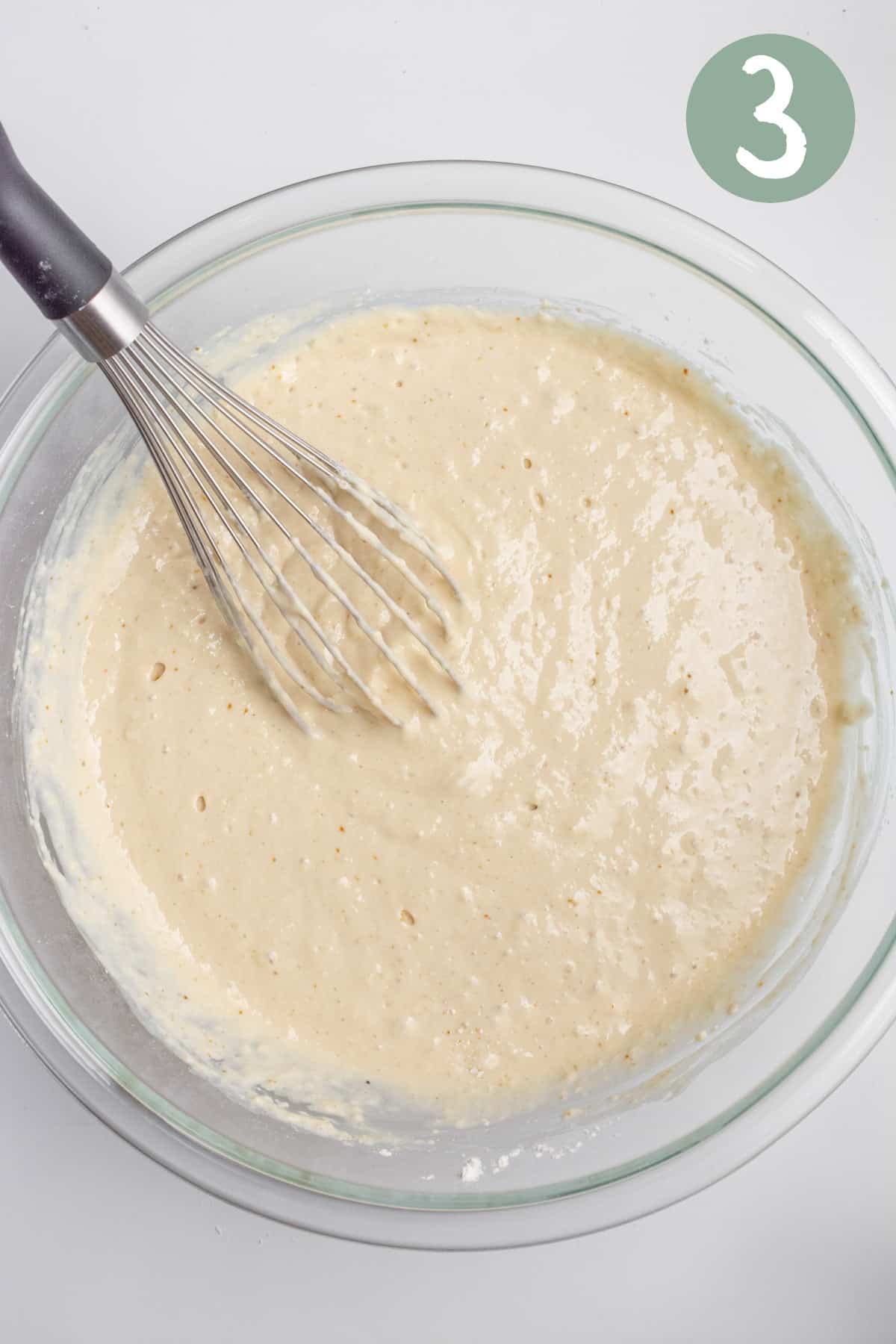 Step 3. Whisk everything together.
Tip: The batter will be slightly lumpy. Be sure not to over-whisk it trying to get rid of the lumps. Over-mixing will create gummy textured pancakes. So, be sure to whisk the batter just enough to incorporate the wet and dry ingredients.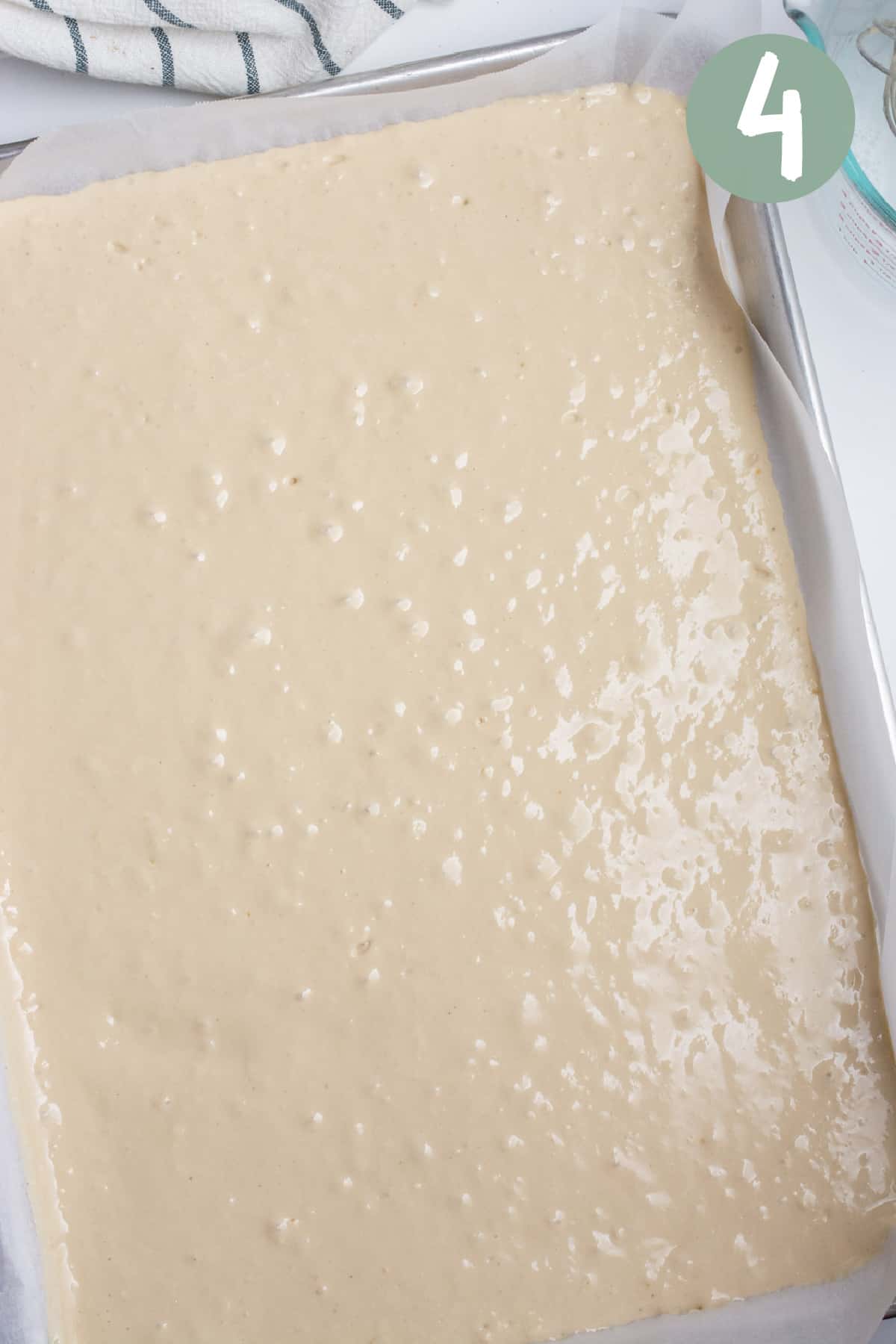 Step 4. Pour the pancake batter out on a sheet pan lined with parchment paper, then smooth it out.
At this point, you can bake the pancake as-is or add your favorite toppings.
To add toppings, section the large pancake into halves, thirds, or fourths. Then, add different topping combinations to each area, as pictured above.
I added a section of strawberries and blueberries and a section of bananas and vegan chocolate chips.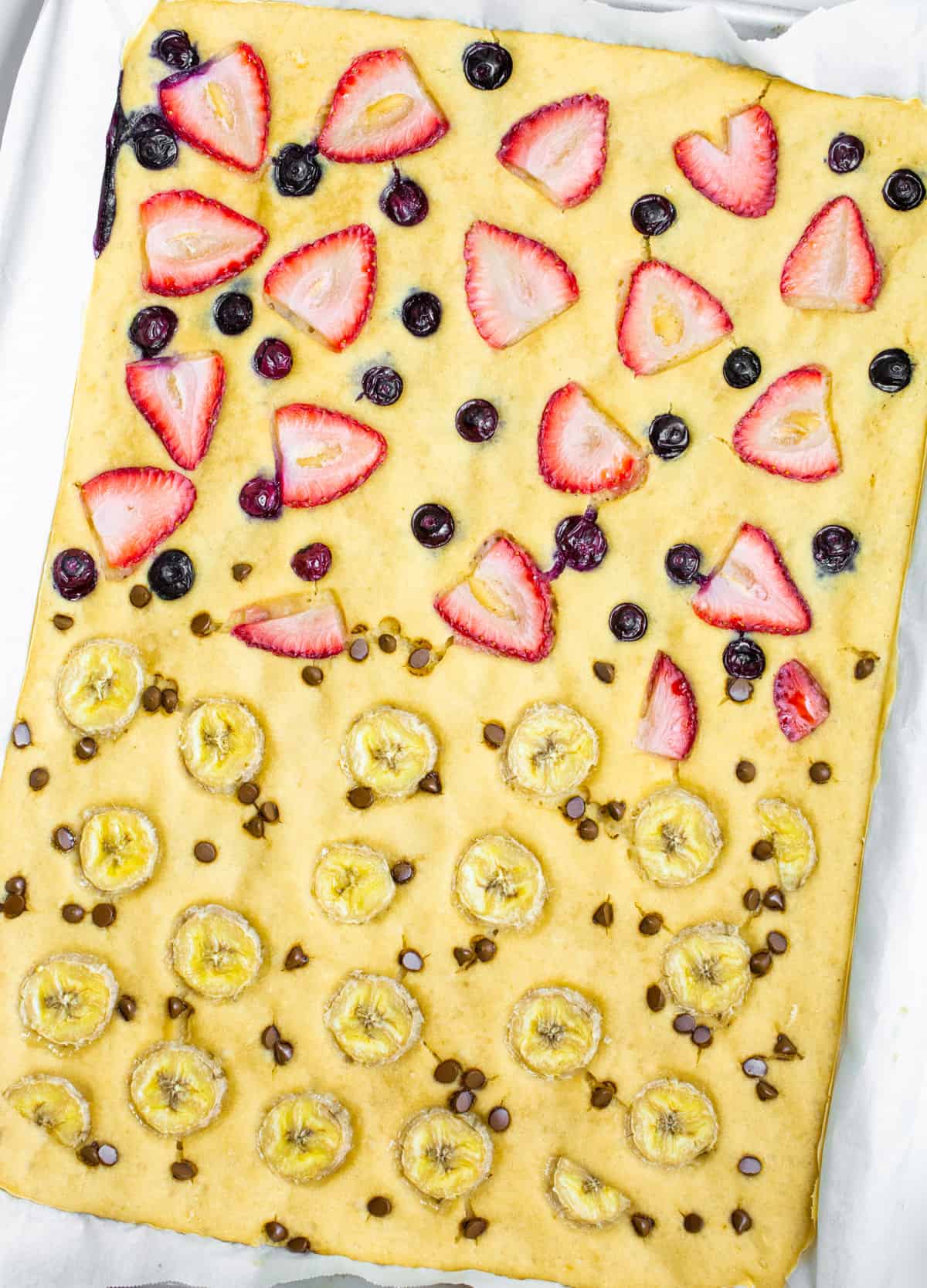 Place the pan in the oven and bake at 400ºF for 25-35 minutes.
It's done when a toothpick poked into the center comes out clean with no batter. Before serving, cut the pancake into 12-18 square pieces.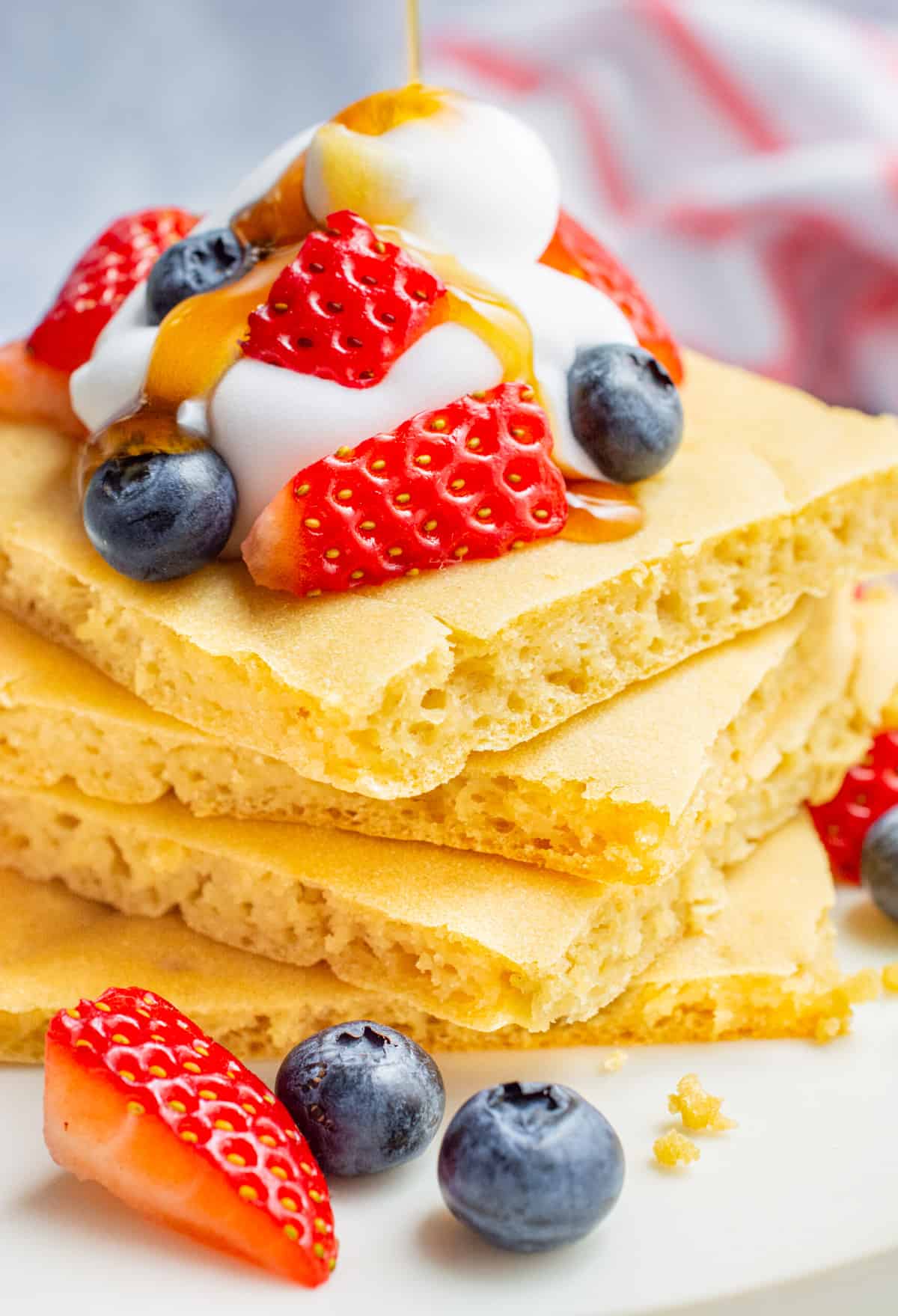 Serving suggestions
These pancakes can be served for breakfast, brunch, or even dessert.
Top your morning stack with fresh fruit such as blueberries, strawberries, raspberries, or bananas.
For a decadent breakfast/brunch add coconut whip, chopped nuts, peanut butter, or chocolate chips, and finish it off with a generous drizzle of maple syrup.
Complete your breakfast meal with a side of tofu scramble and a side of breakfast potatoes.
Or enjoy these baked vegan pancakes as an evening dessert topped with vanilla ice cream, chocolate drizzle, and chopped nuts. They're also delicious served with icing and sprinkles, or fruit compote and a dusting of powdered sugar.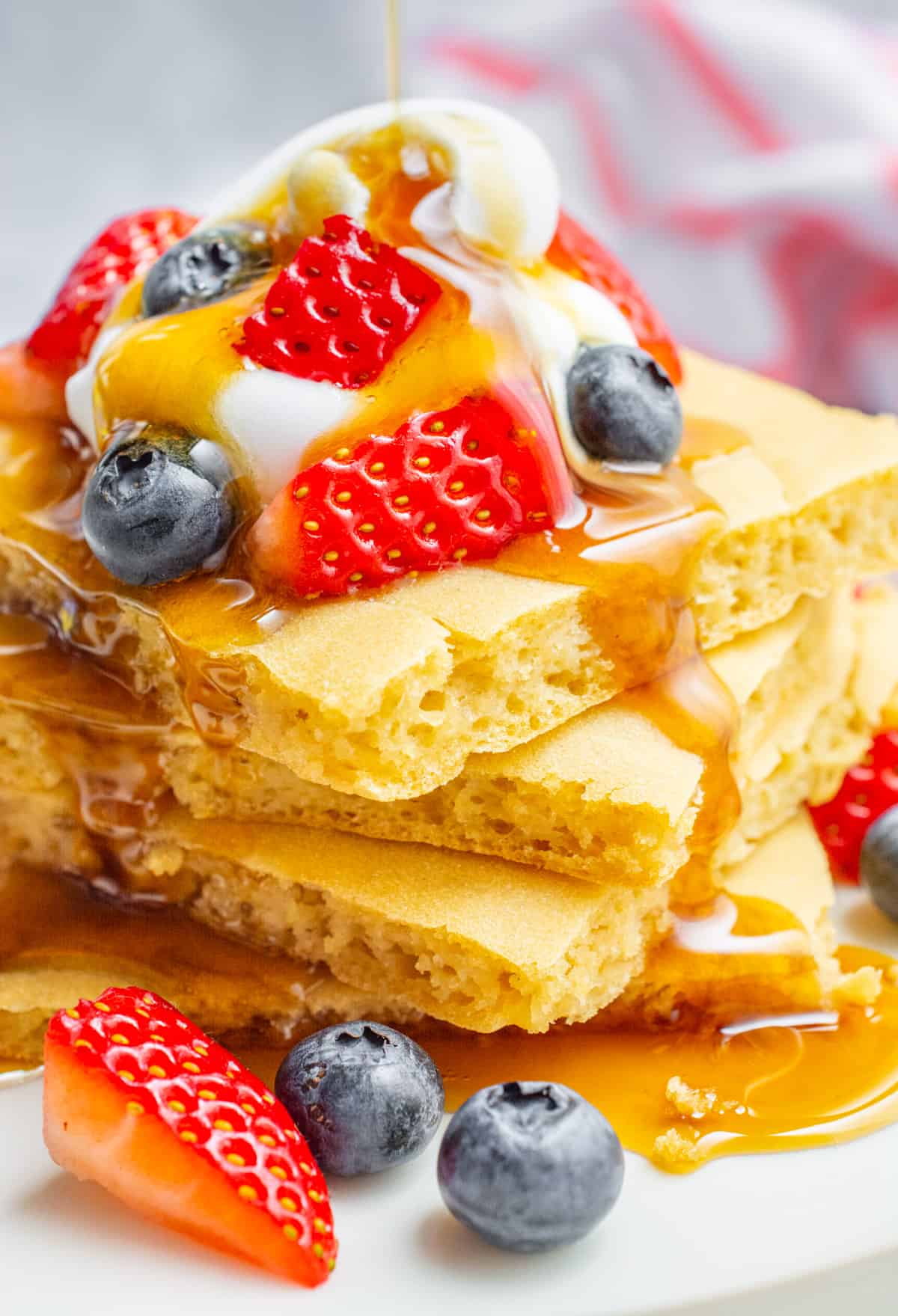 Tips for baking success
Don't over-mix the batter – A few lumps are ok.
For uniform pancakes – Evenly spread the batter across the pan.
Yogurt can be replaced – Use non-dairy milk and lemon juice instead. For measurements, see the notes in the recipe card.
Use white parchment paper – Avoid unbleached because the pancakes will stick. The parchment paper also helps to easily lift out and cut the whole pancake. It also makes for easier cleanup.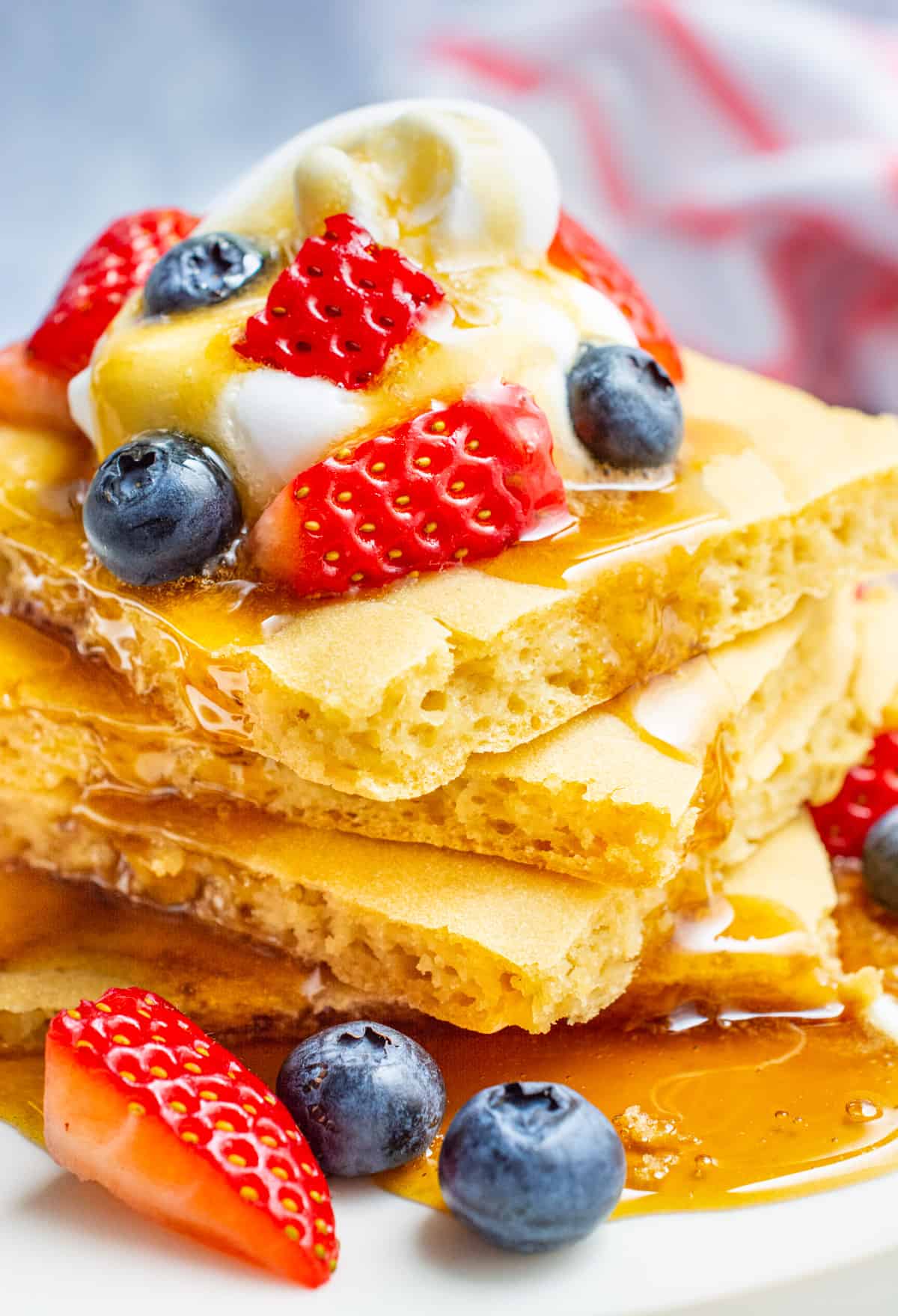 Perks of these pancakes
Oil-free – To keep this recipe oil-free, use parchment paper to line the baking sheet. As I mentioned above, I have noticed they will stick to unbleached paper, so I suggest using white parchment paper.
A one-bowl recipe – All the ingredients can be added to and mixed in one bowl.
An easy-to-make morning meal – Simply mix the ingredients together, spread the batter out on a prepared sheet pan, and bake.
Pancakes are ready at the same time – Since they are baked all at once in the oven, there is no waiting around to flip pancakes. The oven does the cooking so they are ready at the same time!
Feeds a crowd – This recipe feeds a lot making them the perfect breakfast, brunch, or dessert choice for large gatherings, holiday brunch, visiting family and friends, or a lazy weekend morning.
Customize your toppings – Add your favorite toppings to the batter before baking. You can mix and match combinations by sectioning the batter off.
Freezer friendly – If you have leftover pancakes they can be stored in the freezer for 1-2 months. Place a sheet of parchment paper between each pancake and store them in an airtight bag or container in the freezer.
We'd love to hear from you!
If you enjoyed this vegan recipe, please leave a 5-star rating in the recipe card and share your thoughts in the comments below.
Also, if you snap a photo be sure to share it with us! We love to see your creations!! You can find us on Pinterest, Facebook, and Instagram.
Or, get the links to new recipes delivered straight to your inbox by signing up for our newsletter. See ya there!
Recipe
Vegan Sheet Pan Pancakes
These vegan sheet pan pancakes are baked in the oven for an easy/lazy morning breakfast. They're soft and fluffy just like traditional pancakes.
Ingredients
Dry
2 and ½ cups all-purpose flour, sifted
3 Tablespoons coconut sugar, or granulated sugar of choice
1 and ½ Tablespoons baking powder
⅓ teaspoon Himalayan pink salt
Wet
2 cups non-dairy milk (445g)
⅓ cup non-dairy vanilla yogurt (90g)
1 Tablespoon vanilla extract
Instructions
Preheat your oven to 400ºF
In a large bowl mix together the dry ingredients.
Pour the wet ingredients into the bowl of dry.
Whisk everything together to create a batter. Lumps are okay. The batter will be airy which means light and fluffy pancakes!
Set the batter aside and prepare a baking sheet by lining it with parchment paper or oiling the sides and bottom.
Pour the batter onto the prepared sheet pan and smooth it out using a spatula.
Add optional toppings of your choice.
Bake at 400ºF for 25-35 minutes. Poke the center with a toothpick to test doneness.
Serve with maple syrup and your favorite toppings (banana slices, blueberries, strawberries, whipped cream, chocolate chips).
Enjoy!
Notes
To replace the yogurt use ⅓ cup non-dairy milk (for a total of 2 and ⅓ cups) AND 1 Tablespoon freshly squeezed lemon juice.
Add a few teaspoons of cinnamon powder for added flavor.
This recipe was tested using a 13x18-inch sheet pan.  If your pan is smaller in size the cooking time may need to be increased. You can also split the batter between two quarter sheet pans.
Nutrition Information:
Yield:

18
Serving Size:

2 pancakes
Amount Per Serving:
Calories:

47
Total Fat:

1g
Unsaturated Fat:

0g
Sodium:

56mg
Carbohydrates:

8g
Sugar:

3g
Protein:

2g
**Nutritional info is provided as an estimate based on the ingredients I used and for convenience and as a courtesy only.**
More Brunch Recipe
Where You Get Your Protein is a participant in the Amazon Services LLC Associates Program, an affiliate advertising program designed to provide a means for sites to earn advertising fees by advertising and linking to Amazon.com. This site may contain some of these links to Amazon.com. If you make a purchase through one of those links, Where You Get Your Protein will receive a small commission from the purchase at no additional cost to you.