Don't let your vegan zucchini bread fall flat! This zucchini bread recipe bakes up fluffy and moist every time. It's easy to make and the batter comes together in about 15 minutes.
Looking for a delicious vegan recipe to make with your garden-grown zucchini? You've come to the right place!
This vegan zucchini bread is always a winner with family and friends.
It's full of flavor and customizable. Add your favorite spices, nuts, dried fruit, and/or chocolate chips—for the kids of course.
And if you're garden didn't do so well this year (like mine) then store-bought zucchini it is!
Plus this recipe is a great way to sneak in vegetables for the picky eaters.
For another winning recipe try my carrot cake. It's perfect for sneaking carrots into dessert time.
Jump to:
🧾 Ingredients
All the ingredients needed to make this vegan zucchini bread are below. (See the recipe card for full measurements.)
Ingredients Notes and Substitutes
Flour. All-purpose flour is the best choice for this vegan zucchini bread.
Coconut sugar. The coconut sugar can be replaced with brown sugar.
Oil. Refined coconut oil is flavorless making it a good option. If you don't have coconut oil, any neutral oil will work in its place.
Yogurt. Any brand of non-dairy yogurt will do. As for the flavor, use either vanilla or plain for the best taste.
Zucchini. Grate the zucchini before measuring. There is no need to squeeze out any moisture after grating.
🔪 Instructions
Making vegan zucchini bread is super easy. It only takes about 15 minutes to bring the batter together.
Step 1. Mix the oil and sugars together.
Step 2. Add the remaining wet ingredients to the bowl and mix.
Step 3. Add the grated zucchini to the bowl.
Step 4. Mix in the zucchini.
Step 5. Add in the dry ingredients.
Step 6. Gently and carefully fold everything together.
Step 7. Pour the batter into a prepared loaf pan and evenly spread it out. (I use an 8-inch by 4-inch pan)
Step 8. Bake for 50-60 minutes or until a toothpick poked into the center of the zucchini bread comes out clean.
Enjoy vegan zucchini bread for breakfast, dessert, or snack time. Don't forget the butter!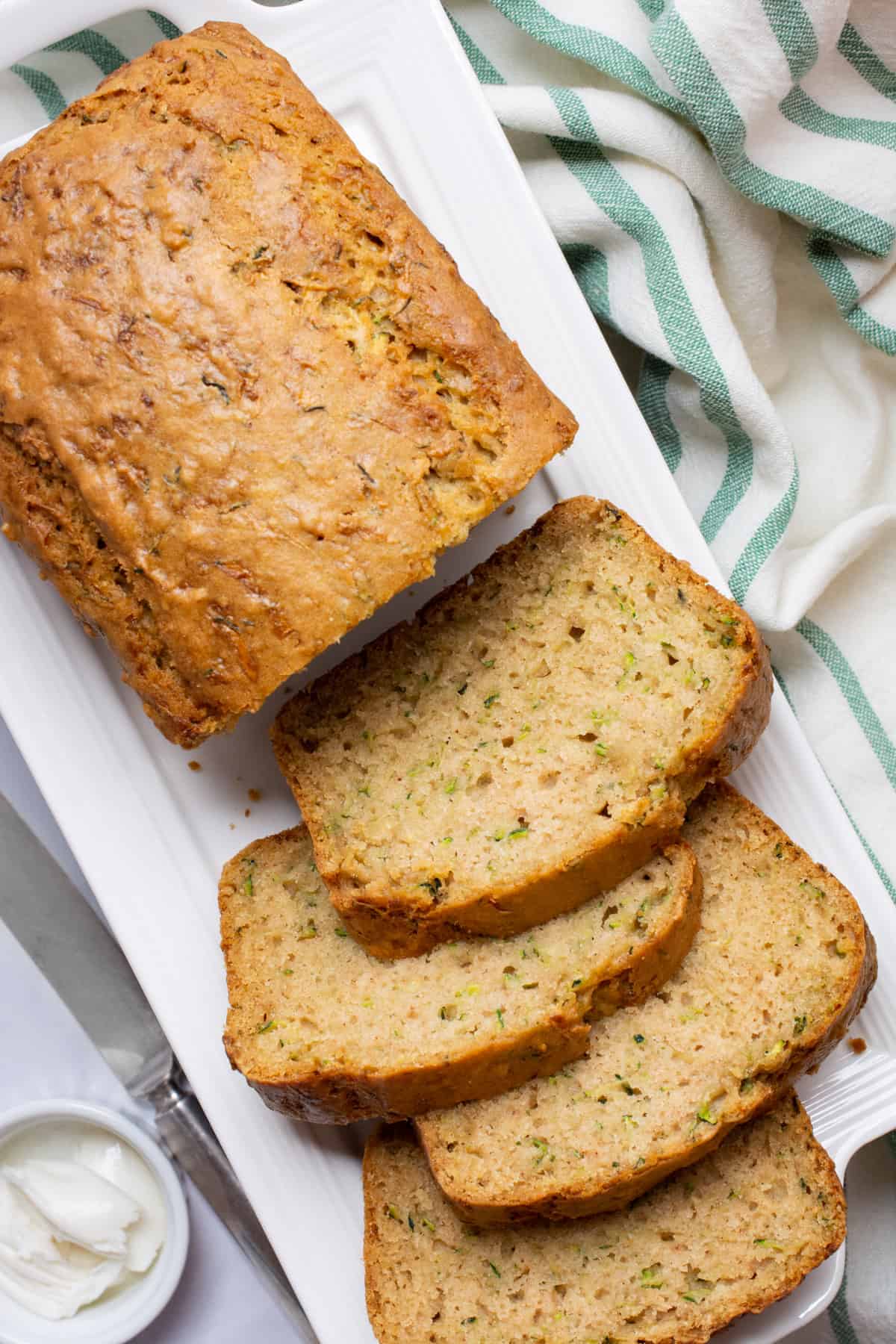 💭 Bakers Tips
Overmixing vegan zucchini bread can cause the texture to become rubbery/chewy, instead of soft and fluffy. Mixing the batter too much over-activates the gluten and destroys too many air bubbles. To avoid this problem, gently fold the ingredients together with a spatula just enough to mix the dry ingredients into the wet. (See the recipe card notes for more detail on how to fold the ingredients together.)
For an easy make-ahead breakfast recipe, bake this bread the night before and cool it on the counter for the next morning. This will ensure the loaf has fully cooled and is ready to slice.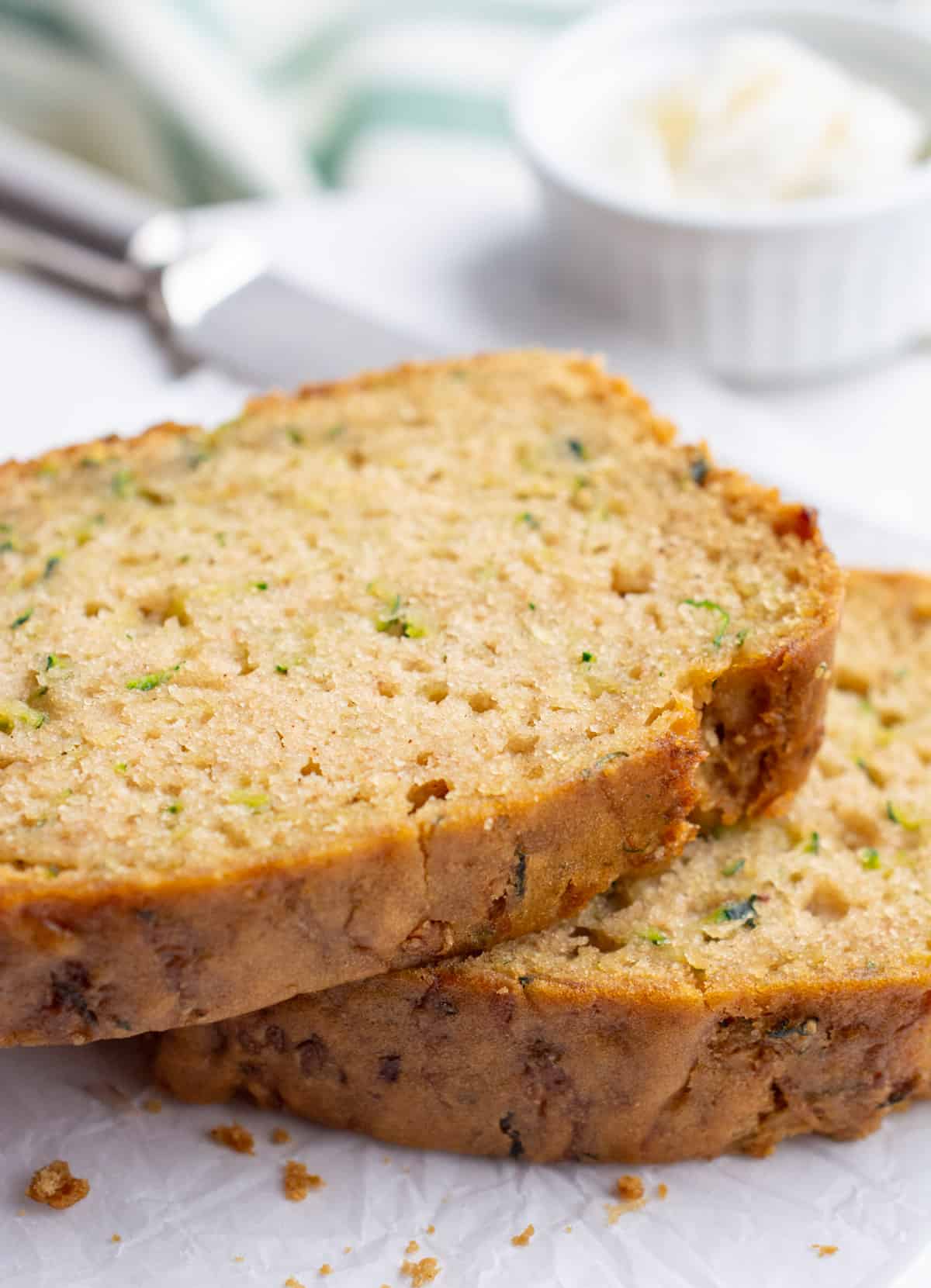 👩🏼‍🍳 Recipe FAQ's
Does the excess moisture need to be squeezed out of the zucchini?
There is no need to squeeze out any moisture from the zucchini. The extra moisture is needed in the batter.
Should the zucchini be peeled?
Nope. There is no need to peel the zucchini. Actually, the green of the skin is desired for that classic zucchini bread look.
Can vegan zucchini bread be frozen?
Yes! Tightly wrap the bread in plastic wrap, and foil if you want extra protection. Place the wrapped loaf in a freezer-safe bag and store it in the freezer for up to 3 months.
Why is the batter dry?
Older zucchini can be more dried out causing a dry batter. If this happens, add a few splashes of non-dairy milk for extra moisture and to bring the batter together.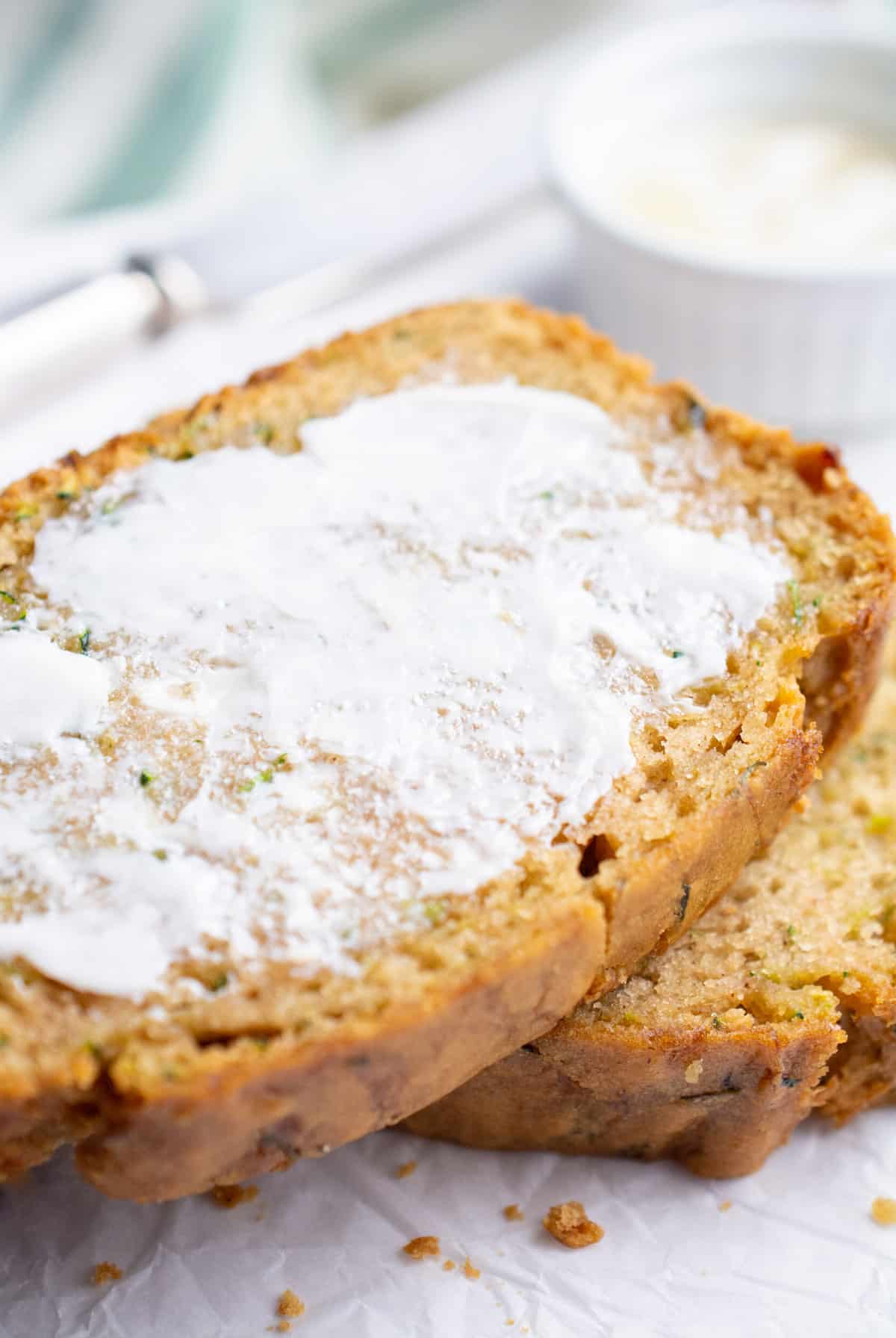 We'd love to hear from you!
If you enjoyed this vegan recipe, please leave a 5-star rating in the recipe card and share your thoughts in the comments below.
Also, if you snap a photo be sure to share it with us! We love to see your creations!! You can find us on Pinterest, Facebook, and Instagram.
Or, get the links to new recipes delivered straight to your inbox by signing up for our newsletter. See ya there!
Recipe Card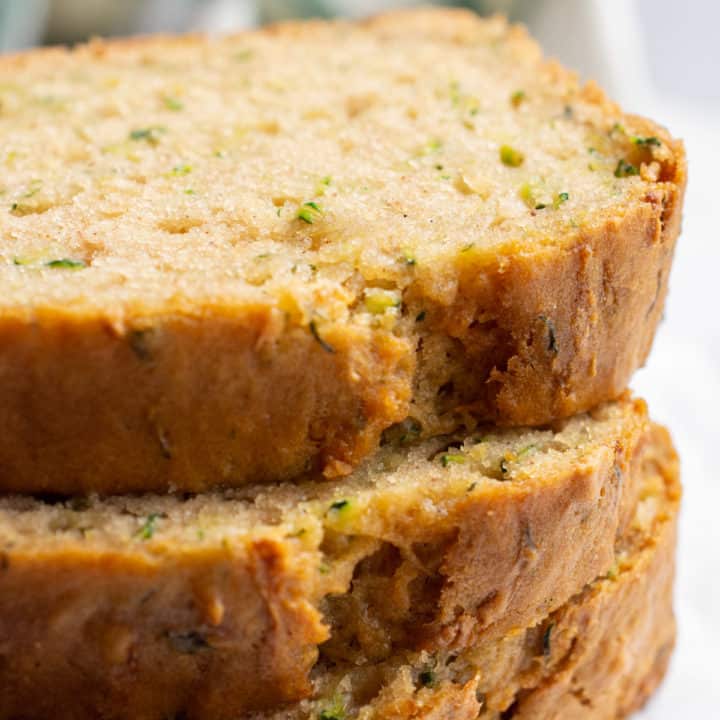 Vegan Zucchini Bread
Total Time:
1 hour
5 minutes
This vegan zucchini bread is perfect for using up your garden grown zucchini. This classic recipe easily comes together and is always a winner.
Ingredients
Dry
2 cups all-purpose flour
1 teaspoons baking powder
1/2 teaspoon baking soda
3/4 teaspoon cinnamon
1/2 teaspoon Himalayan pink salt
1/8 teaspoon nutmeg (optional)
Wet
1 and 1/3 cups shredded zucchini, packed
1/2 cup plain non-dairy yogurt, or 1 (5-ounce) container of yogurt
2/3 cup cane sugar
1/4 cup coconut sugar
1/4 cup coconut oil, melted
1 teaspoon vanilla extract
Instructions
Preheat your oven to 350ºF. Then prepare your loaf pan by lightly oiling the inside and lining it with a sheet of parchment paper (see image steps 7 & 8 in the above post for parchment placement).
In a medium bowl sift together all the dry ingredients and set aside.
In a large bowl mix together the oil and sugars until the sugar has fully incorporated the oil.
Now, mix in the yogurt and vanilla extract. Then, mix in the shredded zucchini.
Pour the dry ingredients into the bowl of wet and gently fold them together just enough to combine them with no dry flour remaining in the bowl. Be careful not to over mix the batter. Over mixing will create an unpleasant texture and dense zucchini bread.
Pour the batter into the prepared loaf pan and evenly spread it out.
Bake at 350ºF for 45-60 minutes, or until a toothpick poked into the center comes out clean,
Allow the bread to fully cool before slicing and serving.
ENJOY!
Notes
Vegan zucchini bread hates to be over mixed.  Doing so causes the texture to become rubbery and not as soft and fluffy as it should be. Gently folding the ingredients together will prevent over-mixing the batter. Use the side of a spatula to cut into the center of the ingredients. Turn the spatula flat scooping up the ingredients from the bottom and bringing them to the top.  Turn the bowl and repeat until the batter comes together with no dry flour visible.  Gently folding the ingredients together with as little mixing as possible will prevent over-mixing the batter.
Nutrition Information:
Yield:

10 slices of bread
Serving Size:

1 slice of bread
Amount Per Serving:
Calories:

238
Total Fat:

6g
Saturated Fat:

5g
Trans Fat:

0g
Unsaturated Fat:

1g
Sodium:

218mg
Carbohydrates:

41g
Fiber:

1g
Sugar:

21g
Protein:

5g
**Nutritional info is provided as an estimate based on the ingredients I used and for convenience and as a courtesy only.**
🍴More vegan baking recipes
Where You Get Your Protein is a participant in the Amazon Services LLC Associates Program, an affiliate advertising program designed to provide a means for sites to earn advertising fees by advertising and linking to Amazon.com. This site may contain some of these links to Amazon.com. If you make a purchase through one of those links, Where You Get Your Protein will receive a small commission from the purchase at no additional cost to you.