One bite of this Copycat In-N-Out Vegan Burger with Spread will have anyone questioning its authenticity. The mayo-free spread paired with grilled onions even had me fooled. So beat that chemical burger craving with this healthier, cruelty-free option.
Growing up in So. Cal. there was an In-N-Out Burger right down the street. For anyone unfamiliar with In-N-Out, it's a fast-food burger joint with only a few items on the menu and always a long line at the drive-thru. The locations were once limited to only California, but now there are locations in a few other states as well.
In my teen years I would frequently enjoy a grilled cheese with grilled onions and a boat of fries -with plenty of ketchup and powdered salt.
And don't forget the spread! I always made sure to order extra packets on the side. I would slather it on every bite of the sandwich, not even the fries could escape the spread.
My favorite part of an In-N-Out sandwich had to be the grilled onions paired with the spread. I enjoyed it so much that the first few months of being vegan I still found myself in the drive-thru ordering a bun with grilled onions, lettuce, and tomatoes.
The confused look on the employee's face was always priceless. And their questions of disbelief didn't stop me.
I would then take the sandwich home and proceed to create my own sauce with vegan mayo, ketchup, and relish. It only lasted a few months before my family and I completely cut out all restaurant/fast food and began eating only at home. That's when this amazing 'copycat' burger was born!
Copycat In-N-Out Vegan Burger with Spread
As you know, not that long ago I posted my No Crumble Black Bean Burger. Since then I've been thinking of other ways to enjoy my current love of these vegan patties.
A few days ago my husband questioned my ability to make a replica In-N-Out spread. After some thinking, into the kitchen I went… and this magical memory was created!
This Copycat In-N-Out Vegan Burger with Spread was so sinfully delicious! I couldn't believe how authentic the flavors were. And the mayo-free spread was exactly what I was looking for. It was sweet, savory, and tangy!
A perfect dip for the baked thin-cut fries!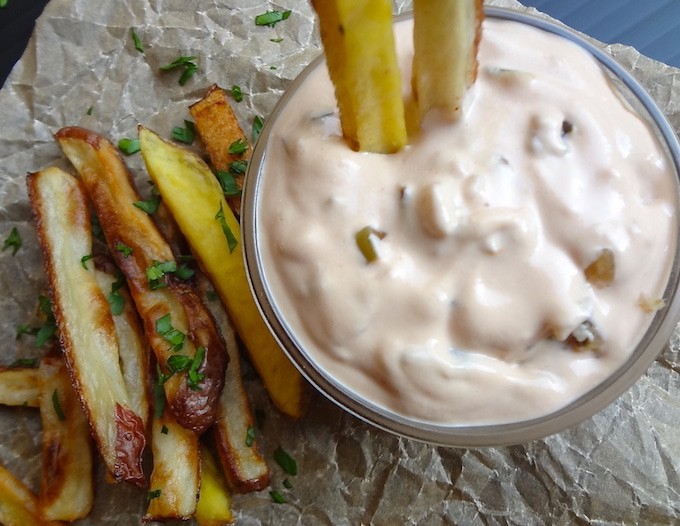 We'd love to hear from you!
If you enjoyed this recipe, please leave a 5-star rating in the recipe card and share your thoughts in the comments below.
Also, if you snap a photo be sure to share it with us! We love to see your creations! You can find us on Pinterest, Facebook, and Instagram.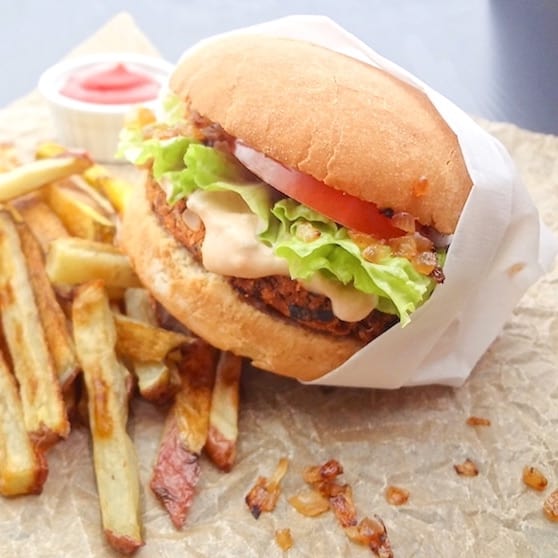 Copycat In-N-Out Vegan Burger with Spread
This Vegan In-N-Out Burger tastes like the real thing. A vegan burger patty is smothered in my homemade vegan spread for that authentic In-N-Out taste.
Ingredients
black bean patties, or vegan burger of choice
1 white or yellow onion, grilled
4 burger buns
Fresh lettuce
Tomato slices
Spread Ingredients
1/2 cup organic raw cashews soaked 2 to 4 hours, drained and rinsed (For a speedy soak, boil about a cup of water, turn off the heat and add the cashews. Let soak for 10-15 min. Drain and rinse with cold water.)
1/2 scant cup almond milk
1-2 Tablespoon fresh organic lemon juice
1/2 teaspoon pink salt or sea salt
1/2 teaspoon onion powder
1/4 teaspoon garlic powder
3-4 Tablespoons organic ketchup (start with 3 Tablespoons of ketchup, if needed, add more to taste.)
1 Tablespoon relish
Instructions
For the Spread
I suggest prepping the spread first to give it time to chill in the fridge.
Add your presoaked cashews along with the next 6 ingredients to a high speed blender or nutribullet. (leaving out the relish, that will be added after blending).
Blend until smooth.
Stir in the relish and place in the fridge to chill for 30 min.
Taste and adjust ketchup and relish. If needed, add more almond milk to thin.
For the Burgers
Prepare and cook your patties according to their directions. For an authentic patty, add mustard to one side and place that side down on the pan. Spread mustard on the other side of the patty before flipping.
While the patties are cooking, grill the onions (directions below) and prep the veggies: wash and prep the lettuce and slice the tomato.
Preheat your oven to 400º. Then toast the buns by lining a baking sheet with parchment paper and place the buns cut side down. Toast for about 5 min or until browned to your liking.
For the Grilled Onion
Chop your onion into small pieces.
Add about 1/4 teaspoon refined coconut oil to a pan or skillet along with the chopped onion.
Grill over medium-high heat until browned and caramelized, about 10-15 min. Stir frequently and lower the heat if needed.
Assemble
Place your patty on the toasted bun. Add spread, lettuce, tomato and grilled onions. Serve with a side of thin cut, baked fries and of course extra spread.
Nutrition Information:
Amount Per Serving:
Calories:

228
Total Fat:

5g
Carbohydrates:

39g
Protein:

7g