These vegan brownies have a chewy middle, glossy-crackly top, and crispy edges making them the best vegan brownies. This recipe is fool-proof and uses common ingredients. No egg replacer and no vegan butter are needed.
More often than not, vegan brownie recipes are just too chocolatey or too sweet for me.
This recipe is neither!
It has a perfectly rich and chocolatey flavor without being too sweet.
Even my husband (the non-chocolate lover) can't resist them!
And with simple ingredients going into these brownies, I always find an excuse to make them.
Ingredients you'll need
Gather these 9 simple ingredients to easily make the best homemade vegan brownies.
Ingredients Notes and Substitutions
Coconut oil. Substitute the coconut oil with any neutral oil of choice.
Cocoa Powder. Use unsweetened cocoa powder for the best brownie taste.
Coconut sugar. As a replacement, you can use brown sugar.
Cane sugar. Replace with any granulated sugar or turbinado sugar.
Milk. Any type of non-dairy milk will do.
Salt. I use Himalayan pink salt, but the salt you have on hand is perfectly fine.
Vanilla extract can be omitted if you're all out.
Instructions
These brownies can be whipped up in 9 easy-to-follow steps.
Step 1. In a medium bowl, sift together the dry ingredients.
Step 2. Mix the ingredients together and set aside.
Step 3. In a larger bowl, mix together the sugars and oil until well combined.
Step 4. Pour in the non-dairy milk and vanilla extract. Mix in.
Step 5. Add the dry ingredients to the bowl of wet ingredients.
Step 6. Fold everything together until a sticky, thicker batter forms.
Step 7. Transfer the batter to your baking pan. Use a knife or small spatula to evenly spread it out.
Step 8. Use the knife to swirl and whip up the top of the batter for a shiny, crackling top when baked.
Step 9. Bake in the oven for 20-25 minutes. (see recipe linked below for more detailed instructions)
Customize Your Vegan Brownies
Mix in chocolate chips to enhance the brownies chocolate flavor.
Serve with ice cream for a party favorite.
Add chopped walnuts to the batter for an "adult" brownie taste.
Top them with a dusting of powdered sugar for the kids.
Switch it up and swirl in peanut butter or any nut butter.
For a pepperminty holiday twist, mix in crushed candy canes.
Recipe FAQ
What can I use instead of oil?
Substitute melted vegan butter for the coconut oil. Applesauce can be used as well, but the texture will not be as gooey and chewy as brownies made with oil.
What's the best pan to bake brownies in?
A 9x9-inch or 7x11-inch metal or nonstick baking pan is best for evenly cooked brownies. Glass and ceramic pans will work, but you may need to reduce the cooking time. And they may not bake up as fudgy.
How can I tell when the brownies are done?
The brownies are done when the edges have risen, the top is set, and a toothpick (or thin knife) inserted into the center comes out clean.
Baker's Tips and Tricks
For a healthier brownie with added nutrients, include up to 1/4 cup of almond flour to the dry ingredients.
A finely ground sugar is the key to a glossy, crackly-topped brownie. To finely grind the sugars, blend the sugars in a blender until they become a fine powdered consistency.
For slightly chewy, cake-like brownies lightly scoop the flour into the measuring cup. Use the back of a knife to gently tap the top of the measuring cup a few times to lightly pack the flour before leveling it.
Turn these vegan brownies into a Valentine's Day recipe. Bake them in a heart-shaped baking pan. Top with raspberries before baking and dust with powdered sugar before serving.
Or, win over your Valentine with my vegan strawberry cheesecake. It's a dairy-free dessert that takes only 10 ingredients, including the crust.
We'd love to hear from you!
If you enjoyed this vegan recipe, please leave a 5-star rating in the recipe card and share your thoughts in the comments below.
Also, if you snap a photo be sure to share it with us! We love to see your creations!! You can find us on Pinterest, Facebook, and Instagram.
Or, get the links to new recipes delivered straight to your inbox by signing up for our newsletter. See ya there!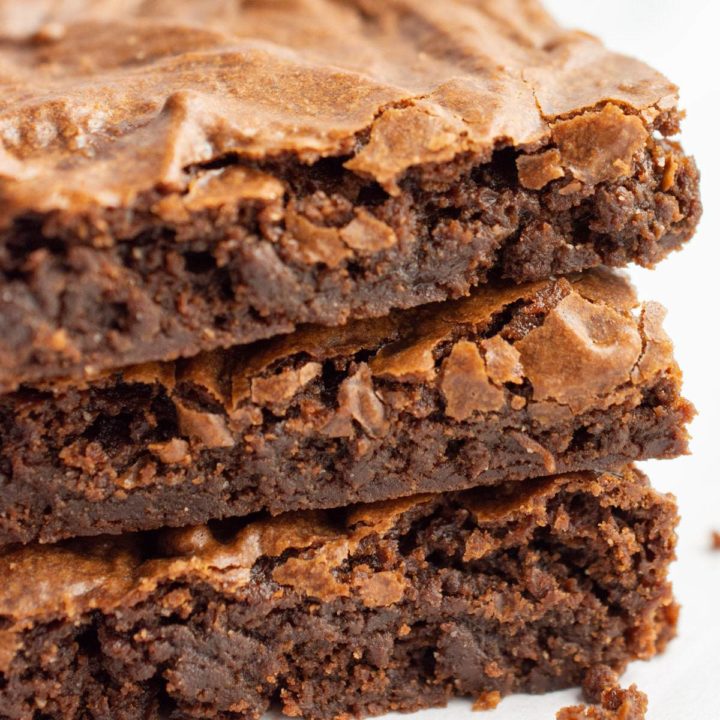 The Best Vegan Brownies
Total Time:
15 minutes
55 seconds
This brownie recipe is fool-proof and uses everyday ingredients, without lacking in the classic brownie taste and texture. Their chewy-fudgy middle, glossy-crackly top, and crispy edges make these the best vegan brownies.
Ingredients
dry ingredients
1 cup all-purpose flour, sifted
1/3 cup + 2 Tablespoons cocoa powder, sifted
1 teaspoon baking powder
1/3 teaspoon Himalayan pink salt
wet ingredients
1 cup cane sugar
1/3 cup coconut sugar
1/3 cup refined coconut oil, melted
1/2 cup non-dairy milk
1/2 teaspoon vanilla extract
Instructions
Preheat the oven to 350ºF. Oil the sides of a 9x9-inch baking pan and line a sheet of parchment paper across the middle of the pan. (see images 7 and 8 in the above instructions).
In a medium bowl, combine the dry ingredients --flour, cocoa powder, baking powder, and salt.
In a separate, larger bowl, mix together the oil, coconut sugar, and cane sugar until combined.
Pour in the non-dairy milk and vanilla extract. Mix them into the oil and sugars.
Add the dry ingredients to the bowl of wet ingredients and fold everything together until well combined. The brownie batter will be thick and sticky.
Scoop the batter into your prepared baking pan and evenly spread it out using a knife or small spatula.
Swirl and whip the top of the brownie batter with the knife for a perfect brownie top.
Bake at 350ºF for 25-35 minutes or until a toothpick poked in the center comes out clean. Allow the brownie to cool for 20-30 minutes before cutting.
To Store: Cover the brownie pan with foil or plastic wrap. Or, store the brownies in an airtight container. Vegan brownies keep well on the counter for up to 3 days.
Notes
Test the brownies at the 25-minute mark to see if they are done. If the toothpick comes out clean the brownies are done. If there is sticky batter on the toothpick, bake for another 2-5 minutes, or until a toothpick comes out clean.
To measure the flour, use the scoop and level method.  Spoon the flour into the measuring cup and level it off with the back of a knife. (See the above "baker's tips" for cake-like brownies.)
Nutrition Information:
Yield:

9 brownies
Serving Size:

1 brownie
Amount Per Serving:
Calories:

244
Total Fat:

8g
Saturated Fat:

7g
Trans Fat:

0g
Unsaturated Fat:

1g
Cholesterol:

0mg
Sodium:

112mg
Carbohydrates:

41g
Fiber:

1g
Sugar:

30g
Protein:

2g
**Nutritional info is provided as an estimate based on the ingredients I used and for convenience and as a courtesy only.**
Vegan Favorite Sweets
Where You Get Your Protein is a participant in the Amazon Services LLC Associates Program, an affiliate advertising program designed to provide a means for sites to earn advertising fees by advertising and linking to Amazon.com. This site may contain some of these links to Amazon.com. If you make a purchase through one of those links, Where You Get Your Protein will receive a small commission from the purchase at no additional cost to you.