This Vegan Chocolate Banana Bread is an easy recipe that's sure to cure those chocolate cravings. And it doesn't slack on the banana flavor either. It's packed with 5 ripe bananas turning it into a moist and tender, dessert-like quick bread. Enjoy a slice of this rich, chocolatey bread with a glass of non-dairy milk for a decadent breakfast this weekend.
This Vegan Chocolate Banana Bread is better than cake!
Yeah, I wouldn't believe it either.
But this fabulous recipe was created using our reader's favorite banana bread! And taste test after taste test I'd choose a loaf of this decadent chocolate quick bread over a slice of cake! Call me crazy for choosing the 'healthier' option, but it's that good!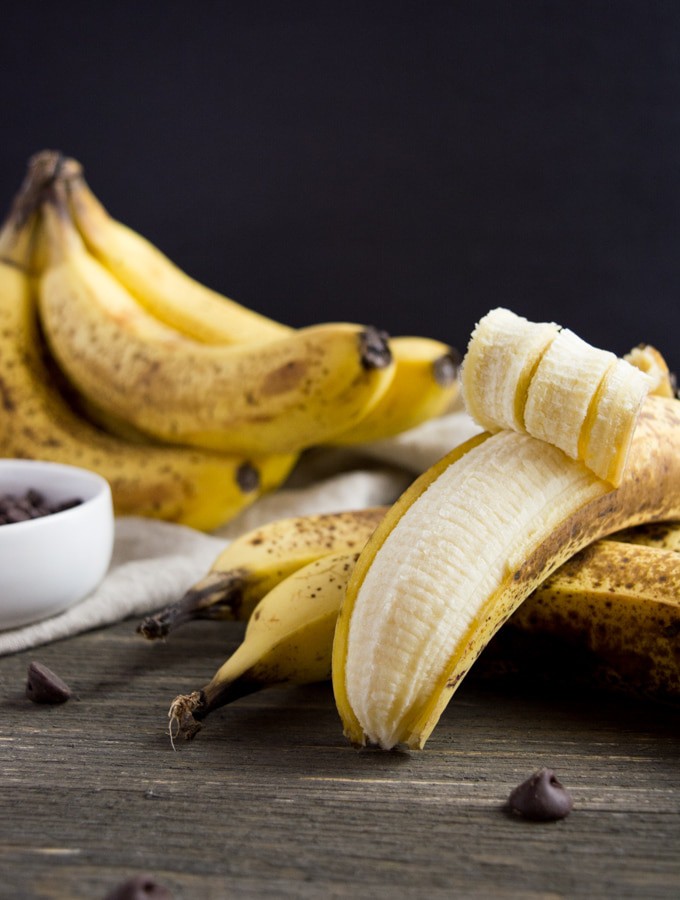 Useful tip: Use ripe bananas
Ripe brown bananas
are key to creating a moist and tender bread. And since this is a vegan recipe we are going for an egg-free bread. Which means, the bananas will act as the replacement and aid in creating the perfect texture.
They also help sweeten this rich, dark chocolate bread lessening the amount of sugar needed. So remember...
spotty brown bananas = sweet bananas
How to tell if your bananas are ripe enough
Spotty bananas are the best to use when making vegan chocolate banana bread. The spottier the better. They should look like the image above or spottier.
If you're unsure of the ripeness of your bananas, give them a taste. As long as they are sweet and banana-y they're good to go! If they're slightly green tasting, or not very flavorful they need to sit for another day or two.
I use 15-16oz of mashed bananas (or about 5 regular size bananas). This will give a hint of banana flavor without overpowering the chocolate bread. I find it best to always weigh the banana for a consistent bread.
If your bananas are lacking in sweetness I'd suggest adding 2-3 extra tablespoons of sugar.
How to make vegan chocolate banana bread muffins
If you like the convenience of muffins, here's what you need to know.
This recipe can easily be converted into 12 regular sized muffins.
Fill the muffin liners about ⅔ full with chocolate banana bread batter.
If you add extra chocolate chips on top be sure the press them in.
Bake time is shorter– 25-30 minutes or until a toothpick comes out clean.
Now grab a cold glass of non-dairy milk and indulge in these decadent chocolate muffins!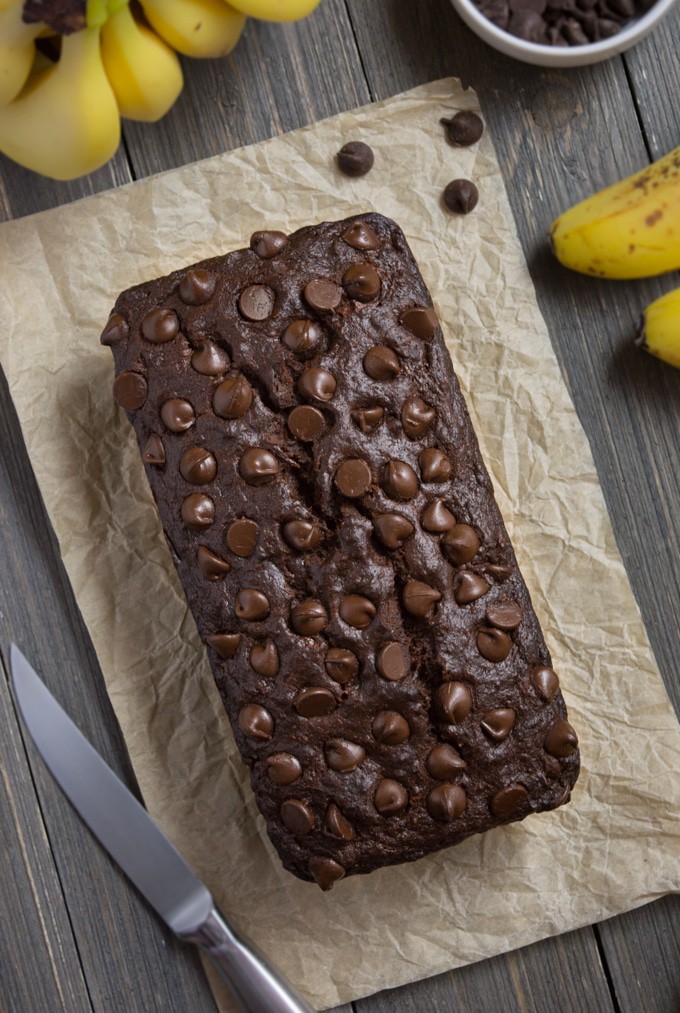 Liven-up your quick bread with add-ins like
chopped nuts
dried fruit
coconut shreds
chopped dates
hemp hearts
extra chocolate chips
• • •
We'd love to hear from you!
If you loved this recipe, please leave a 5-star rating in the recipe card and share your thoughts in the comments below. Also, if you snap a photo be sure to share it with us! We love to see your creations! You can find us on Pinterest, Facebook, and Instagram.
Recipe
Vegan Chocolate Banana Bread
Total Time:
1 hour
5 minutes
Vegan Chocolate Banana Bread is sure to cure those chocolate cravings. This intensely chocolatey recipe is packed with chocolate chips for a rich and decadent tasting quick bread.
Ingredients
Dry
1 and ¼ cups all-purpose flour
½ cup cocoa powder
1 and ½ teaspoon baking powder
½ teaspoon baking soda
½ cup chocolate chips, plus extra for topping
Wet
5 ripe organic bananas (about 15oz peeled)
1 teaspoon vanilla extract
2 Tablespoons non-dairy milk
¾ cup coconut sugar or brown sugar
¼ cup refined coconut oil, melted (or neutral oil of choice)
Instructions
Preheat your oven to 350ºF and grease the bread pan.
Sift the dry ingredients into a small bowl and set aside.
In a larger bowl, mash the bananas making sure not to leave any big chunks. Add the remaining wet ingredients and mix until well blended.
Gently fold in the dry ingredients just enough for everything to come together.
Then gently fold in the chocolate chips.
Pour the batter into your prepared bread pan and top with more chocolate chips.
Bake at 350ºF for 45-60 minutes. Test the bread with a toothpick for doneness. It should come out clean. If not, bake at 5-8 minute intervals until done.
Enjoy!
Notes
*I suggest weighing the bananas for best results.
*When measuring the flour and cocoa powder, use a spoon to scoop them into the measuring cup.
*Store in an airtight container or bag. Keeps fresh for up to 3 days on the counter, or a week in the fridge.
Nutrition Information:
Yield:

10 slices
Serving Size:

1 slice
Amount Per Serving:
Calories:

196