Ready in 20 minutes, these mini Vegan Chocolate Chip Muffins will be a new go-to, pop-able treat! Bursting with chocolate chip cookie flavor, these soft mini muffins are sure to be a hit! They're great for lunch boxes or as a fun after school snack.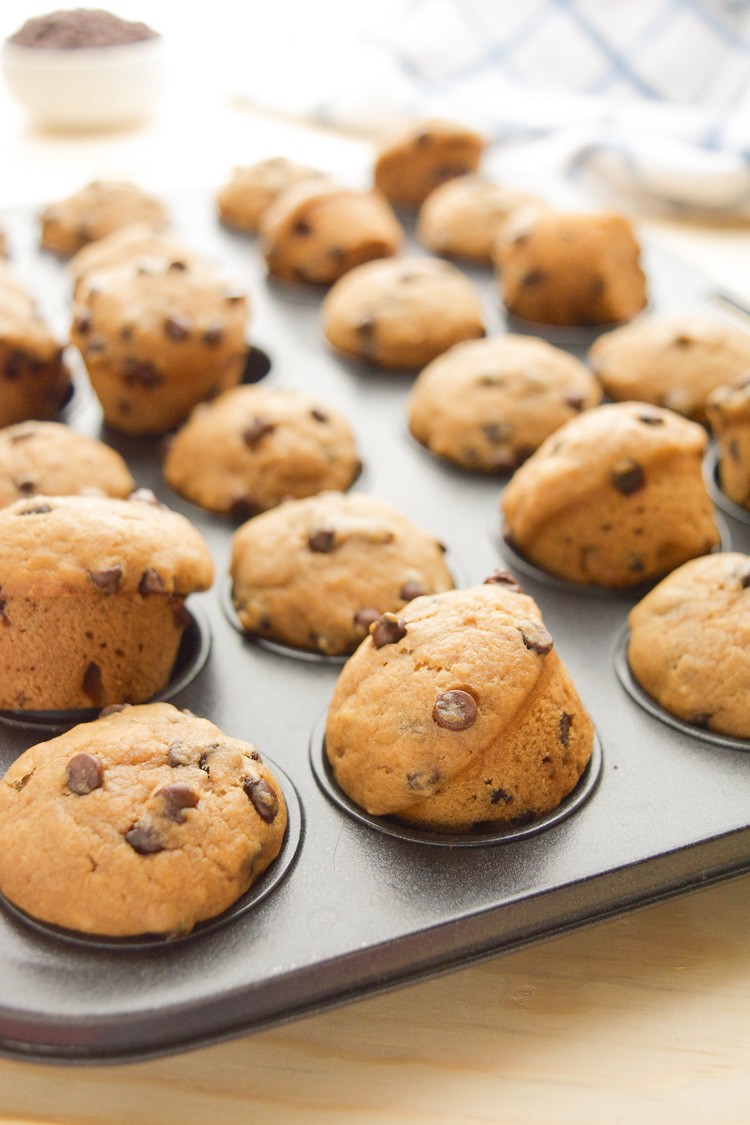 Does anyone else have a snack demanding 8 year old? Or is it just me?
My daughter's 3 favorite words throughout the day are "what's for snack?" After being asked multiple times in a day, I'm likely to reply: "Umm, you're 8 find something." Unfortunately that response didn't work today. Instead, she had plans for us whip up some chocolate chip cookies. I had a better idea…
I've had my eye on a mini muffin pan that was shoved to the back of the cupboard. I just hadn't figured out what cute little muffins to make, until my daughter brought up chocolate chip cookies. Then it hit me…
Cute mini muffin pans = Cute Mini Vegan Chocolate Chip Muffins!
Of course my daughter was all for the muffins because there were chocolate chips inside and she couldn't resist cute little muffins. Not to mention the popable factor even had me enticed.
Years ago, in my 20's, I remember snacking on mini muffins. I would buy a box of those individually packaged mini chocolate chip muffins, you know, the chintzy pack of 4. Even though there were only 4 to a pack, I thought they were the best 4 mini muffins ever. Now, I cringe at the ingredients in those little packages.
So, in the kitchen we went to make some healthier (than those mini chemical muffins), vegan and chemical-free Chocolate Chip Mini Muffins!
---
Mini Vegan Chocolate Chip Muffins
These mini muffins are ready in about 20 minutes. And they're fairly easy to toss together:
Create a buttermilk
Add in the dry ingredients to a large bowl.
Then, fold in the wet ingredients.
Fill-up the muffin cups and pop those babies in the oven.
Now, all that stands between you and those soft little chocolatey muffins is 10 minutes of baking.
How to achieve mini muffin perfection:
Sifting the flour and folding in the wet ingredients –rather than mixing–is important to achieve perfect, fluffy pillow top muffins. I've seen plenty of over mixed, flat-top muffins around the web (and in my own kitchen).
Not anymore!
Since I began sifting and folding in the dry ingredients, I've been able to achieve soft, fluffy muffins rather than dense, thick muffin pucks. And I know you'll have the same success, so let's get baking!
For another pop-able, fun kid snacks check out my sweet & salty, soft pretzel bites.
We'd love to hear from you!
If you loved this recipe, please leave a 5-star rating in the recipe card and share your thoughts in the comments below. Also, if you snap a photo be sure to share it with us! We love to see your creations! You can find us on Pinterest, Facebook, and Instagram.
Chocolate Chip Mini Muffins (vegan)
Yield:
24 mini or 12 regular muffins
Ready in 20 minutes, these mini Vegan Chocolate Chip Muffins will be a new go-to, pop-able treat!  Bursting with chocolate chip cookie flavor, these soft mini muffins are sure to be a hit! They're great for lunchboxes, or as a fun after school snack. 
Ingredients
Dry
Wet
1 cup non-dairy milk
2 teaspoons apple cider vinegar, or fresh lemon juice
1/4 cup refined coconut oil, melted
1 1/2 teaspoon vanilla extract
2 Tablespoons pure maple syrup
Instructions
Start by greasing a mini muffin pan with coconut oil and preheating your oven to 375º.
Measure the almond milk and stir in the vinegar. Set aside to create a buttermilk.
In a large bowl, sift together the flour, baking soda and salt. Now mix in the coconut sugar and chocolate chips.
Pour the non-dairy milk/vinegar mix and remaining wet ingredients (oil, vanilla and syrup) into the bowl of dry, then fold them together. Don't over mix, a few lumps are ok.
Fill each muffin cup to the top, using up the batter to fill all 24 cups.
Bake at 375º for 10-12 min or until toothpick comes out clean of batter.
Allow to cool for at least 5 min before transferring to a cooling rack.
To store–allow muffins to cool completely, then store in an airtight container for up to 5 days (if they last that long).
Notes
For sweeter muffins add 2-3 more Tablespoons of maple syrup.
For regular sized muffins: bake for 20-22 minutes then test with a toothpick for doneness.
I use unsweetened almond milk, but any non-dairy milk should work.
The coconut sugar can be replaced with brown sugar.
Nutrition Information:
Yield:

12
Serving Size:

2 mini muffins
Amount Per Serving:
Calories:

177
Total Fat:

3g
Saturated Fat:

2g
Trans Fat:

0g
Unsaturated Fat:

1g
Cholesterol:

3mg
Sodium:

74mg
Carbohydrates:

34g
Fiber:

1g
Sugar:

16g
Protein:

3g
**Nutritional info is provided as an estimate based on the ingredients I used and for convenience and as a courtesy only.**