Vegan chickpea soft tacos are an easy and delicious meatless alternative. They're packed with seasoned chickpeas, topped with chopped lettuce, diced tomatoes, and fresh onion. The tacos are then covered in a savory cashew ranch sauce creating the best vegan soft tacos!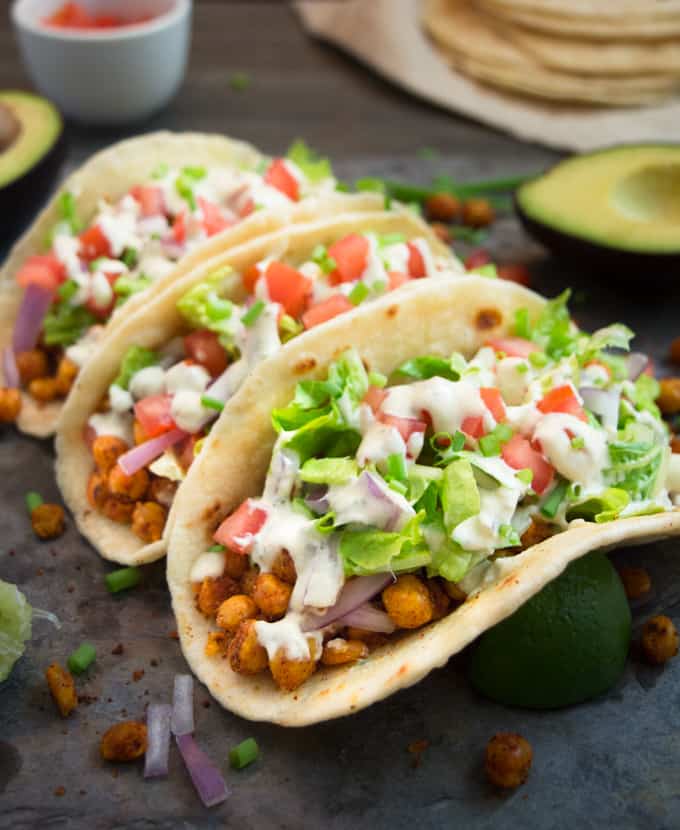 Are you guys sick of vegan tacos yet? Me either!
Making all of my family's meals at home means I create a lot of easy Mexican recipes. Some stick around and end up in the dinner rotation while others are tossed to the curb.
But when one sticks I'll always share it with YOU!
So today I present to you...
The most incredible vegan chickpea soft tacos you'll ever enjoy!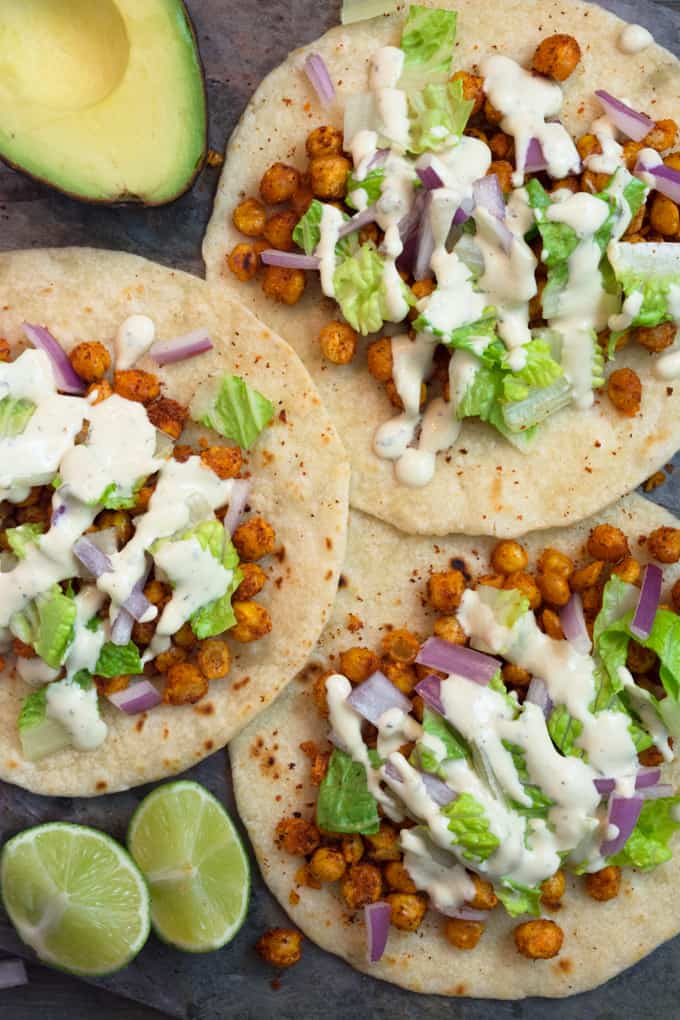 What makes these the best chickpea soft tacos?
These tacos are loaded with simple ingredients I'm sure you have on hand like- chickpeas, lettuce, tomato, and onion.
The chickpeas are seasoned with an easy homemade taco seasoning blend. They are then pan-sauteed to perfection before being stuffed into my homemade flour tortillas.
Add the simple toppings to your vegan chickpea tacos, then cover it all in the most amazing 'cheese-flavored' ranch sauce!
Now you've just made THE BEST CHICKPEA TACOS!
Welcome to taco bliss!
Did you say homemade flour tortillas?
Yes, I did!
I prefer making my own flour tortillas for these chickpea soft tacos. They're fairly easy to make and the recipe includes step-by-step photos to help you along.
And the best part about it - you probably have the ingredients on hand.
Of course, you can always use store-bought tortillas…but quite frankly, they just won't be as good!
Oh, who am I kidding? They'll be delicious!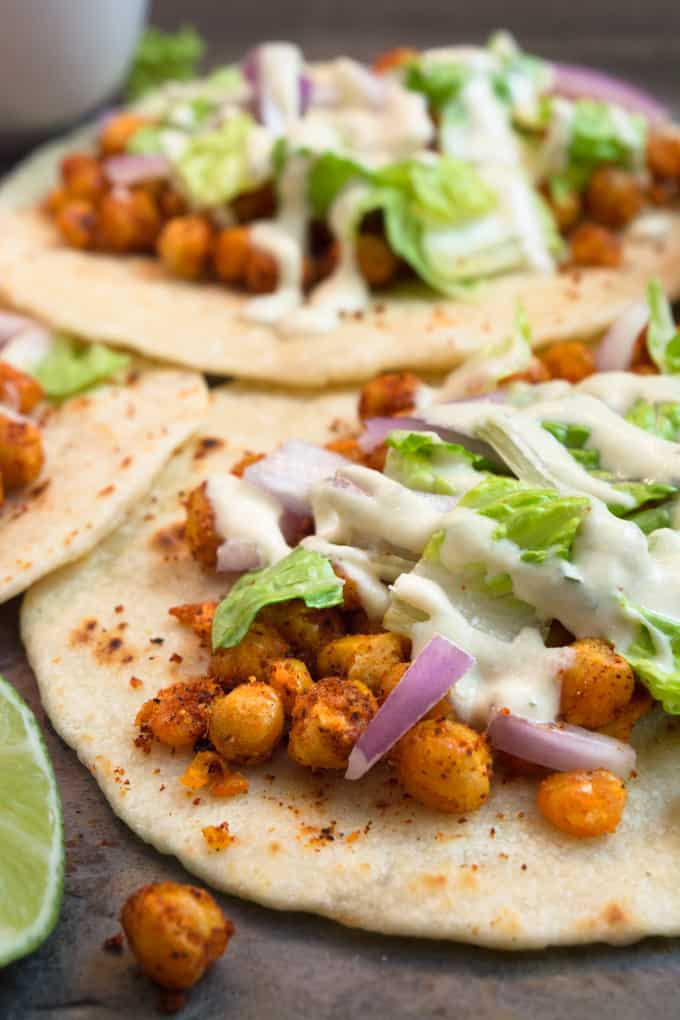 What can I serve with chickpea Tacos?
Pair these vegan soft tacos with a side of Spanish rice for a filling dinner. If you're a cool kid and own an Instant-Pot then the rice is super easy to make as well. No chopping involved!
Ok, even if you don't own an IP you can still be a cool kid and cook it on the stove. There are instructions for that too!
Save and reheat any leftovers for an extremely easy lunch!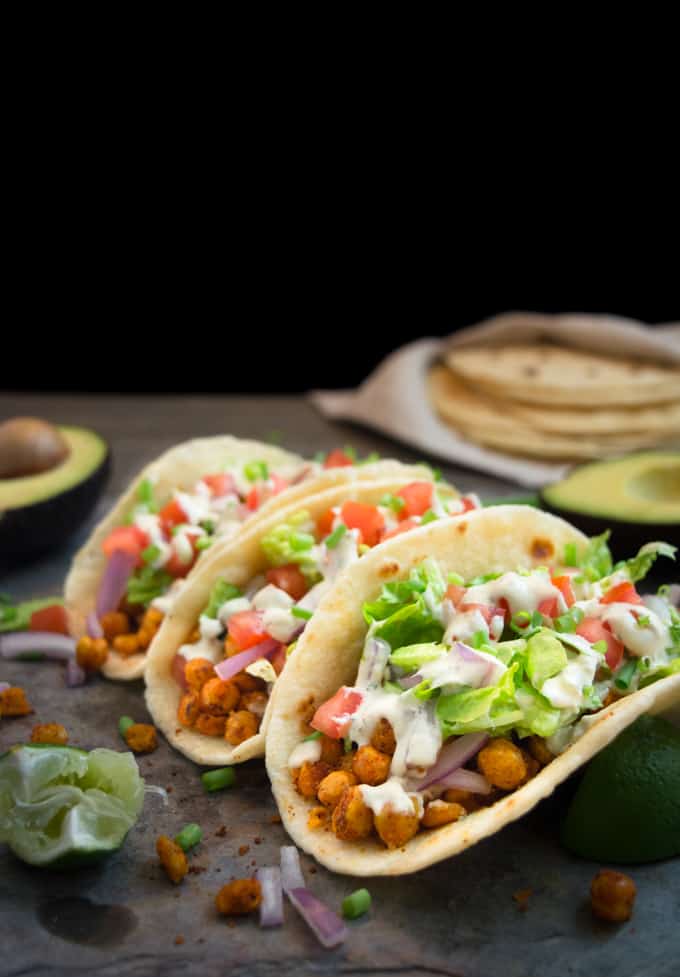 If you enjoyed this recipe you may also enjoy one of these:
We'd love to hear from you!
If you loved this recipe, please leave a 5-star rating in the recipe card and share your thoughts in the comments below. Also, if you snap a photo be sure to share it with us! We love to see your creations! You can find us on Pinterest, Facebook, and Instagram.
Recipe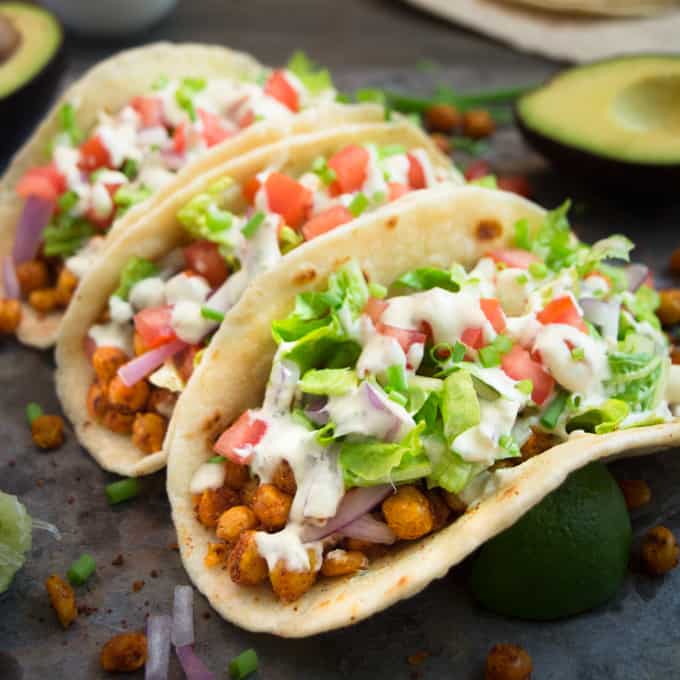 Chickpea Soft Tacos – vegan
Vegan chickpea soft tacos are packed with seasoned chickpeas, topped with chopped lettuce, diced tomatoes, fresh onions and covered in a savory 'cheesy' cashew ranch.
Ingredients
3 cups cooked chickpeas, or 2 (15oz) cans drained and rinsed
neutral oil for sautéing
Flour tortillas, homemade or store-bought
Taco Seasoning
2 teaspoon smoked paprika
1 teaspoon garlic powder
1 teaspoon chili powder
1 teaspoon Himalayan pink salt
½ teaspoon cumin
½ teaspoon black pepper
Creamy 'Cheesy' Ranch Dressing
½ cup raw cashews, soaked
⅔ cup non-dairy milk
1 Tablespoon nutritional yeast
1 teaspoon garlic powder
½ teaspoon Himalayan pink salt
½ teaspoon onion powder
½ teaspoon dried parsley flakes
1 teaspoon dried chives
Toppings
Lettuce of choice, chopped
½ of a small red onion, diced
1 tomato, chopped
fresh squeezed lime juice
avocado, optional
Creamy 'cheesy' ranch dressing (above)
Instructions
For the Chickpeas
In a small bowl mix the taco seasonings.
Add the chickpeas and about a teaspoon of oil to a large sauté pan. Sauté over medium heat for 10-15 minutes.
Once the chickpeas begin to brown add in a tad bit more oil and ½ of the taco seasoning. Taste and add more seasoning to your liking. Sauté for about 2-3 more minutes.
For the Cheesy Ranch Dressing
Add everything, except the parsley and chives, to a high speed blender. Blend until smooth and creamy.
Mix in the parsley and chives.
Add more non-dairy milk to thin if needed.
To Assemble
Place the seasoned chickpeas in a soft flour tortilla and top with fresh squeezed lime juice.
Add chopped lettuce & onions, and diced tomatoes.
Spoon on a generous amount of dressing.
Top with diced avocado if desired.
Enjoy!
Notes
To double the ranch sauce, lessen the garlic to 1 and ½ teaspoons and the salt to ¾ teaspoon. Taste and adjust seasonings if needed.
After adding the seasonings to the chickpeas watch them closely to not burn the seasonings.
Making homemade tortillas will definitely add some extra time to the recipe. But if I have the time, I find it's worth it!
Nutrition Information:
Yield:

3 servings
Serving Size:

2 tacos
Amount Per Serving:
Calories:

495
Total Fat:

22g
Saturated Fat:

3g
Unsaturated Fat:

17g
Sodium:

165mg
Carbohydrates:

60g
Fiber:

18g
Sugar:

14g
Protein:

19g
**Nutritional info is provided as an estimate based on the ingredients I used and for convenience and as a courtesy only.**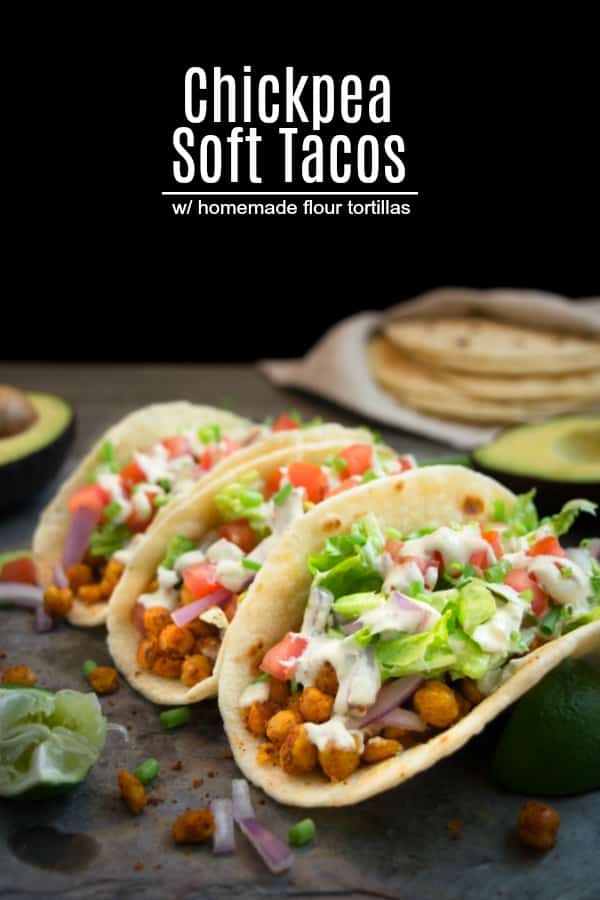 *This post contains affiliate links.