A vegan

No-Bake Strawberry Swirl Cheesecake

worth hoarding!  It has the authentic cheesecake taste without the heavy dairy.  This healthier, rich & creamy dessert is easy to whip-up, only takes 10 ingredients and includes a fresh strawberry swirl top with extra for drizzling!  
The cheesecake lover in me is upset I didn't make this No-Bake Strawberry Swirl Cheesecake years ago!!
I thought cream cheese was the only way to achieve that authentic "oh so creamy" cheesecake I desired.  Since I'm not too fond of processed foods, vegan cream cheese was out, as was anything pre-made.
And so, I was left cheesecakeless…
Until last week..
That's when I realized, with a combination of cashews and coconut cream, I was able to pull off the rich and creamy cheesecake texture I was looking for!
Now to complete that classic cheesecake flavor, I needed to add tartness to the cheesecake base and create a no-bake crust.  Well, the tartness of the cheesecake was easy to accomplish with fresh squeezed lemon juice.  And for the crust, I revised my strawberry pie's crust to be a no-bake. Double easy!!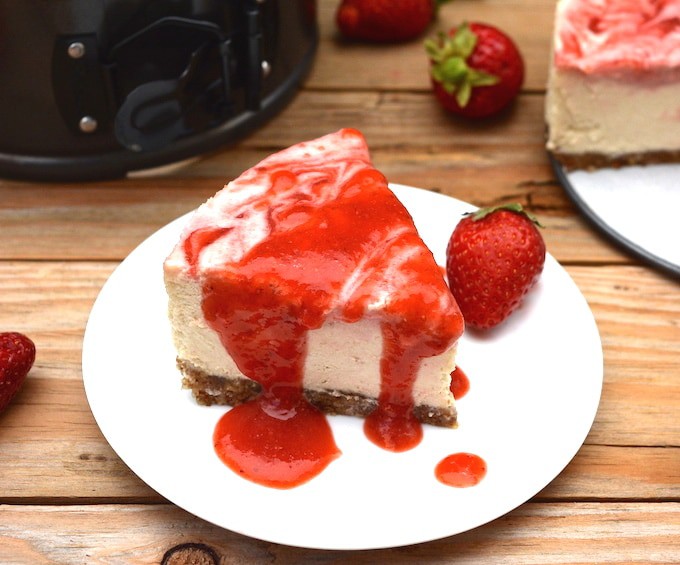 Then, to bring this cheesecake from plain and boring to hoard-able I decided to swirl in a fresh strawberry sauce.  Before the days of healthy eating, I would eat any cheesecake brought my way.  And if it had a strawberry swirl topping, I was scheming to eat it all!
Since my love of strawberry swirl is serious, this recipe makes extra to drizzle on top!
So, come join me in No-Bake Strawberry Swirl Cheesecake bliss!
---
No-Bake Strawberry Swirl Cheesecake (vegan, gluten-free)
20 minPrep Time
20 minTotal Time
Yields 6" vegan cheesecake
Ingredients
Crust
1/3 cup organic almonds
1/3 cup organic walnuts
2 Tablespoons oat flour, gluten-free
2 Tablespoons maple syrup
1 teaspoons vanilla extract
1/4 scant teaspoon cinnamon
Cheesecake Base
1 can coconut milk, only the cream* (or 3/4 cup of non-dairy yogurt)
1 cup organic cashews, soaked
4 Tablespoons maple syrup
1/4 cup lemon juice, 1-2 lemons
1 teaspoon vanilla extract
Strawberry Swirl/Drizzle
1 cup organic strawberries, greens cut off
1 Tablespoon maple syrup
Instructions
To begin

Soak cashews overnight.

Or for a quick soak, boil about 1 cup of water. Turn the fire off and toss in the cashews.

Allow the cashews to soak while you make the crust.
Line the bottom of a 6" springform pan with parchment paper. (I cut mine to fit the bottom of the pan)

Crust

Add the walnuts and almonds to your food processor.
Process until finely chopped.
Add the remaining crust ingredients to your food processor. Process until well combined.
Add the crust mix to your springform and gently press it down in the pan until evenly spread out.
Place in the freezer to set.

Cheesecake Base

Drain and rinse your cashews, then pat them dry.
Rinse out your food processor and add in the last 4 ingredients (leaving out the coconut cream):

cashews, maple syrup, lemon juice and vanilla extract.

Blend until smooth and creamy.
Add in the coconut cream and blend again until the base is whipped and fully combined.
Take the crust out of the freezer and pour in the cheesecake base. Using a spatula, level the top.
Set aside while you make the strawberry swirl.

Strawberry Swirl

Again, rinse out your food processor.
Then, add the strawberries and maple syrup.
Process until there are no strawberry chunks left.
Taste and adjust the sweetness if needed.
Spoon 6-7 dollops on the cheesecake. Using a chopstick or bamboo skewer swirl in the dollops.

I used figure 8's, zig zags, and waves to give the cheesecake an even swirl.

Add a few more dollops in areas that might need more, but don't swirl it in too much or you will end up with a pink strawberry top.
The key is to really swirl in the initial 6-7 dollops. Then go back and gently swirl in a few more dollops to give your cheesecake darker areas of strawberry swirl.
Place the cheesecake in the freezer for 2-3 hours before serving.
Allow to thaw at least 15 min before joining me in cheesecake bliss!
7.8.1.2
39
https://www.whereyougetyourprotein.com/no-bake-strawberry-swirl-cheesecake-vegan-gluten-free/
Where You Get Your Protein - whereyougetyourprotein.com
To Store:
Cheesecake is best kept covered in the freezer.
Coconut Milk Note: To harvest only the cream, place a can of full fat coconut milk in the back of your fridge overnight.  When ready to use, carefully remove it from the fridge and open the can.  The cream should be on top.  Gently scoop out the cream, leaving the liquid still in the can.  You can save the liquid for a later use, or discard it.
Pan Note: This recipe can easily be doubled if you are looking to fit a 9" pan.  I'm a penny pincher, and cashews are expensive, so I opted for the 6" springform pan.
---
No-Bake Strawberry Swirl Cheesecake Pin: