Vegan Strawberry Pie is easy to prepare and, hands down, this is the best strawberry pie recipe! Fresh strawberries are piled high inside an amazing walnut-oat crust makes this the perfect Spring/Summer pie!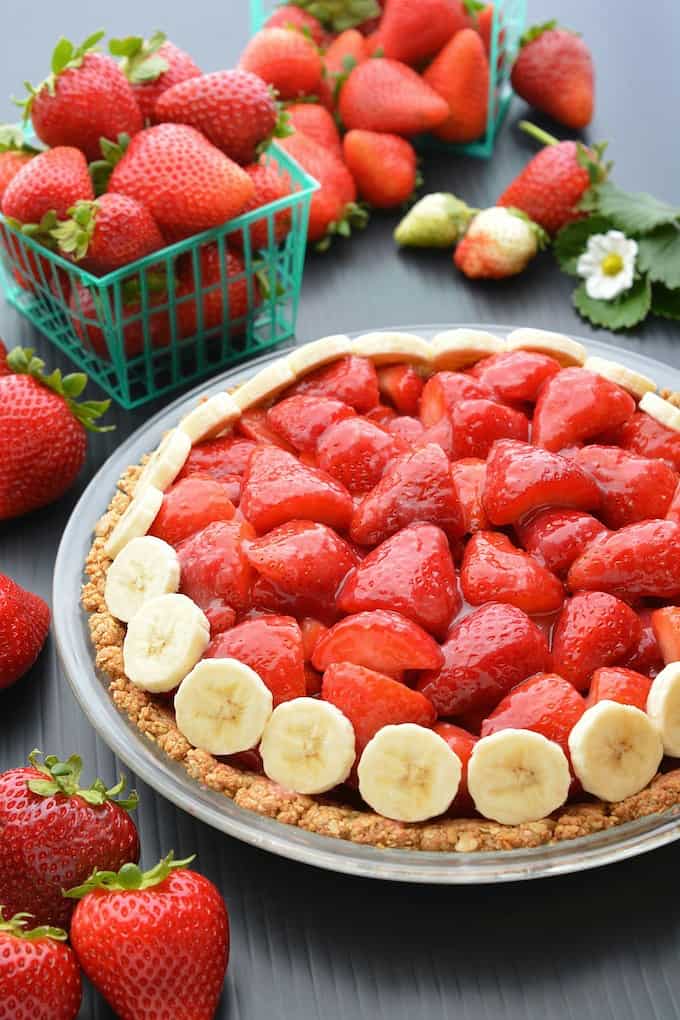 Homemade vegan strawberry pie
Vegan Strawberry Pie with Walnut-Oat Crust will be your new go-to strawberry pie! An irresistible walnut-oat crust piled high with fresh strawberries creates the perfect seasonal pie. Plus it's gluten-free too!
If you haven't experienced a homemade strawberry pie, I suggest whipping up this pie and seeing what all the hype is about!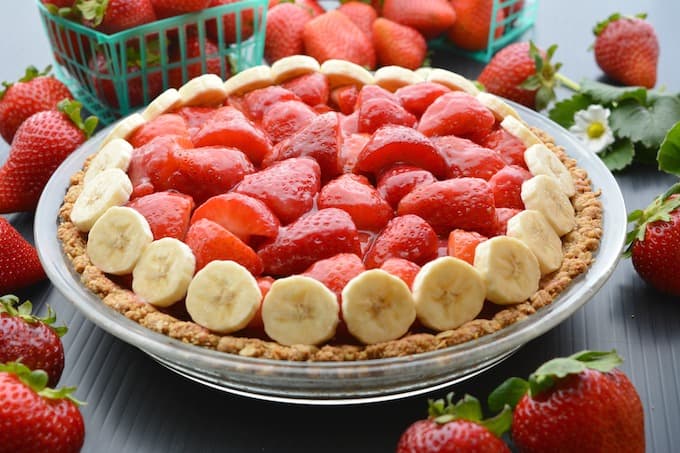 Fun fact about strawberries
Did you know strawberries are a perennial?
That means if you plant strawberries now they will continue to come back and produce berries for up to 5 years.
In my experience, the first year can be discouraging because it will yield the least amount of strawberries. However, let the plants do their thing and they will yield more berries in the next few years.
• • •
How to make the best Vegan Strawberry Pie
Step 1 - make the pie crust
Process the walnuts in a food processor until they are finely chopped.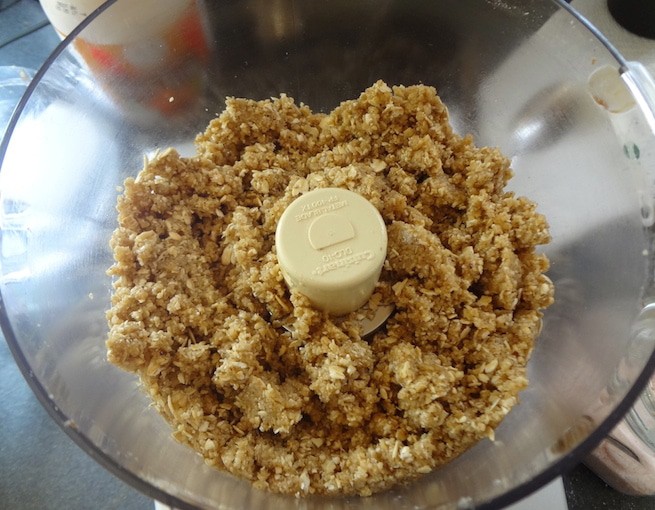 To the walnuts, add the oat flour, salt, oil, and maple syrup and process until well combined. Then add the whole oats and process again until they're roughly chopped.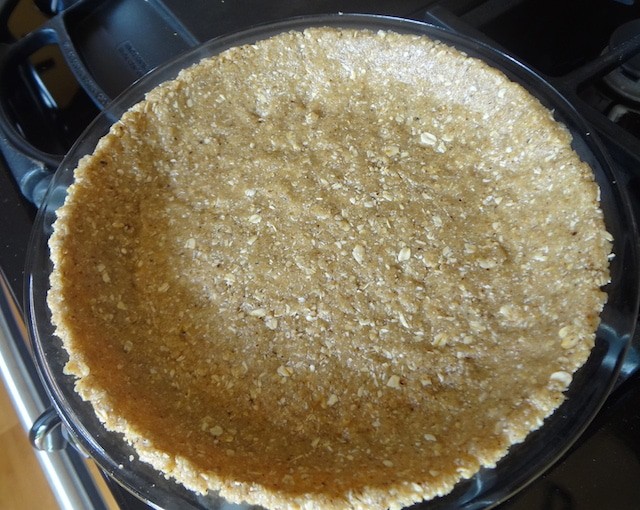 Gently spread the dough to fill out the oiled pie dish.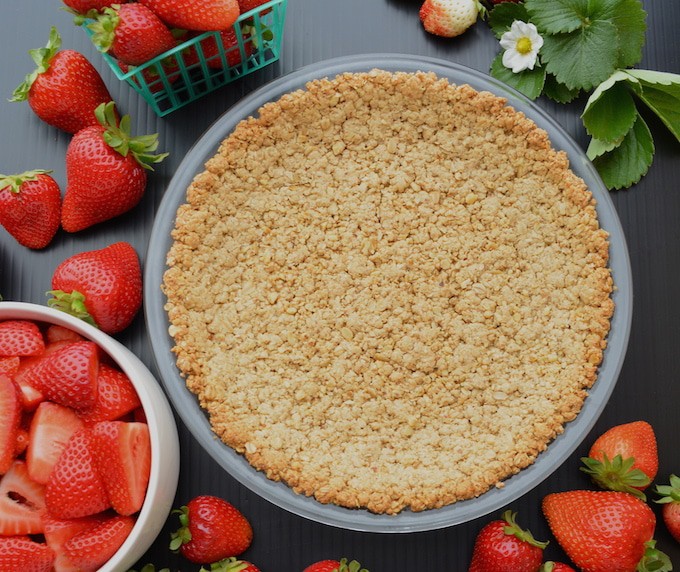 Bake at 350° for 10-15 min, or until the edge begins to darken. Set aside to cool.
Step 2 - Prepare the filling
Dissolve 2 full Tablespoons of cornstarch in ¼ cup cold water and set aside.
Add 4-6 strawberries to your food processor and process until pureed. Then add the strawberry puree, a ½ cup of apple juice, and 3 Tablespoons of turbinado sugar to a saucepan. Heat over medium heat until simmering. Pour in the cornstarch mixture and whisk until it becomes a gel consistency. Set aside to cool.
Hull and chop your strawberries. Place the strawberries in a large bowl and fold in the gel.
Add the strawberry filling to your pie crust and spread out evenly.
Place the pie in the fridge to set for at least 45 min.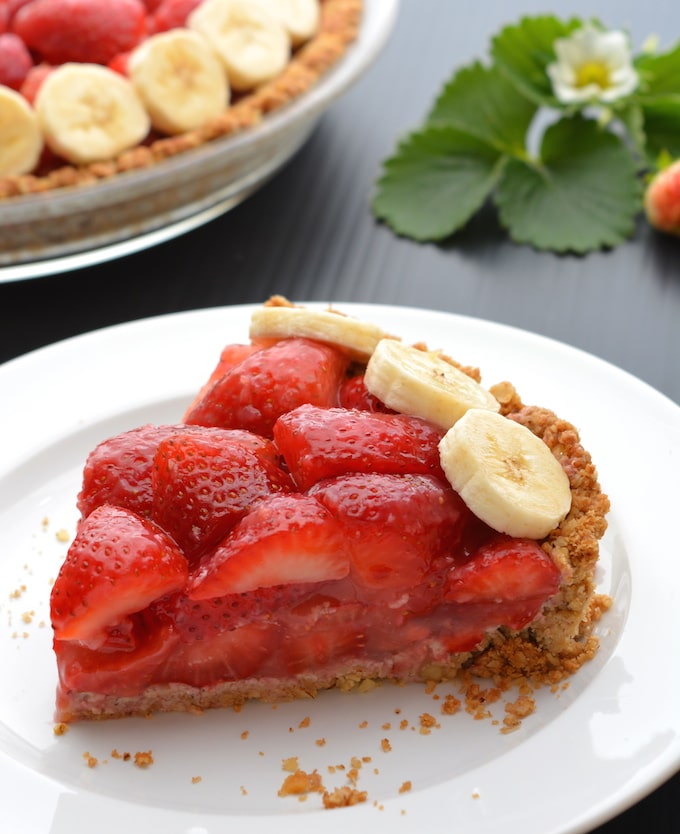 Step 3 - Serve
Just before serving line the pie with fresh banana slices. Serve as is, with a scoop of vegan ice cream, or top with vegan whipped cream.
• • •
For another pie-tastic recipe check out my Dutch Apple-Pear Pie!
We'd love to hear from you!
If you loved this recipe, please leave a 5-star rating in the recipe card and share your thoughts in the comments below. Also, if you snap a photo be sure to share it with us! We love to see your creations! You can find us on Pinterest, Facebook, and Instagram.
Recipe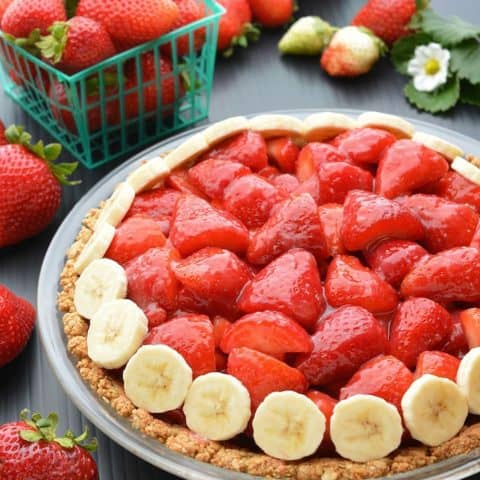 Vegan Strawberry Pie (gluten-free)
Vegan Strawberry Pie is super simple to prepare and, hands down, the best fruit pie!  Piled high with in-season strawberries and an amazing walnut-oat crust, this is the perfect summer pie!
Ingredients
Walnut Oat Crust
¾ cup walnuts
1 cup oat flour, GF if necessary (see note)
¼ teaspoon Himalayan pink salt
¼ cup refined coconut oil, melted
3 Tablespoons maple syrup
¾ cup rolled oats, GF if necessary
Pie Filling
2 and ½ pounds fresh strawberries, hulled and chopped
¼ cup cold water
2 full Tablespoons cornstarch
½ cup apple juice
¼ cup strawberry puree (see note)
3 Tablespoons granulated sugar
Instructions
Walnut Oat Crust:
Preheat your oven to 350° and oil your pie dish.
Measure out the walnuts and add them to a food processor. Pulse until the walnuts are roughly chopped.
Add in the oat flour, salt, oil, rolled oats, and maple syrup. Pulse a few times until just combined.
Spoon the crust into your pie dish. Gently spread and shape it with your fingers to fill out the dish. Be sure not to press too hard or it can cause the crust to stick.
Bake at 350°F for 10-15 min or until the edges of the crust begin to darken.
Pie Filling:
In a small bowl, mix the cold water and cornstarch until dissolved. Set aside.
In a small saucepan over medium heat, stir together the puréed strawberries, apple juice, and sugar. Once simmering, lower the heat and add in the cornstarch mix. Whisk until the filling reaches a thick glaze consistency. Remove from heat and set aside to cool.
Place the prepared strawberries in a large bowl. (Cut smaller strawberries in half and larger berries in thirds)
Once the filling has cooled to the touch (about 15 minutes), gently fold it into the bowl of strawberries.
Evenly spread the strawberry filling into the pie crust.
Let the pie set in the fridge for at least an hour before serving.
ENJOY!
Notes
To make oat flour - pulse about a cup and a half of oats in your food processor, blender, or Nutri-bullet until it becomes a fine, flour-like consistency. Measure out 1 cup.
To make strawberry purée - After blending the crust, wipe out the food processor and toss in 4-6 strawberries (depending on size). Blend until the strawberries are a liquid puree.
If you strawberries are tart, add an extra 2-3 Tablespoons of sugar to the strawberry glaze mixture before heating.
Nutrition Information:
Yield:

8
Serving Size:

1
Amount Per Serving:
Calories:

279
Total Fat:

15g
Saturated Fat:

7g
Unsaturated Fat:

7g
Sodium:

54mg
Carbohydrates:

33g
Fiber:

3g
Sugar:

15g
Protein:

5g
**Nutritional info is provided as an estimate based on the ingredients I used and for convenience and as a courtesy only.**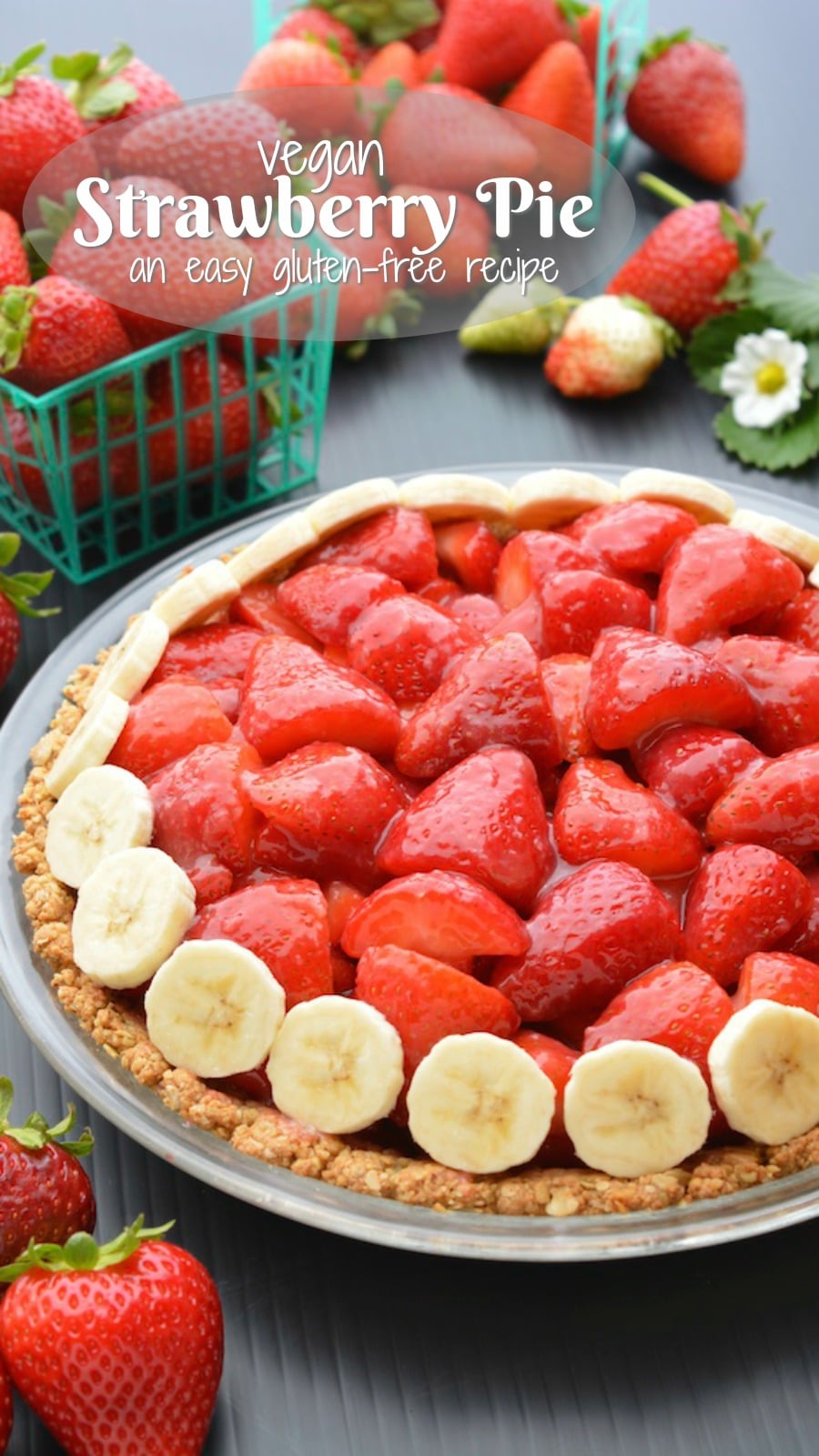 *This post contains affiliate links.