A 5 spice Cajun Seasoning that's ready in under 2 minutes! This spicy seasoning has no extra salt added! Plus, the quantity is completely adjustable so make as little or as much as you'd like!
I never thought about making a spice recipe for the blog. In fact, I had no idea where to even categorize this 5 spice cajun seasoning. It couldn't be placed under the dinner recipe section. Because, honestly, whose looking to eat a jar of seasoning for dinner?
I came to the conclusion it would be best filed under the condiments category. I know, it still doesn't fit 'per say'. But hey, at least you won't be tempted to sit down to a jar of spicy cajun seasoning for dinner.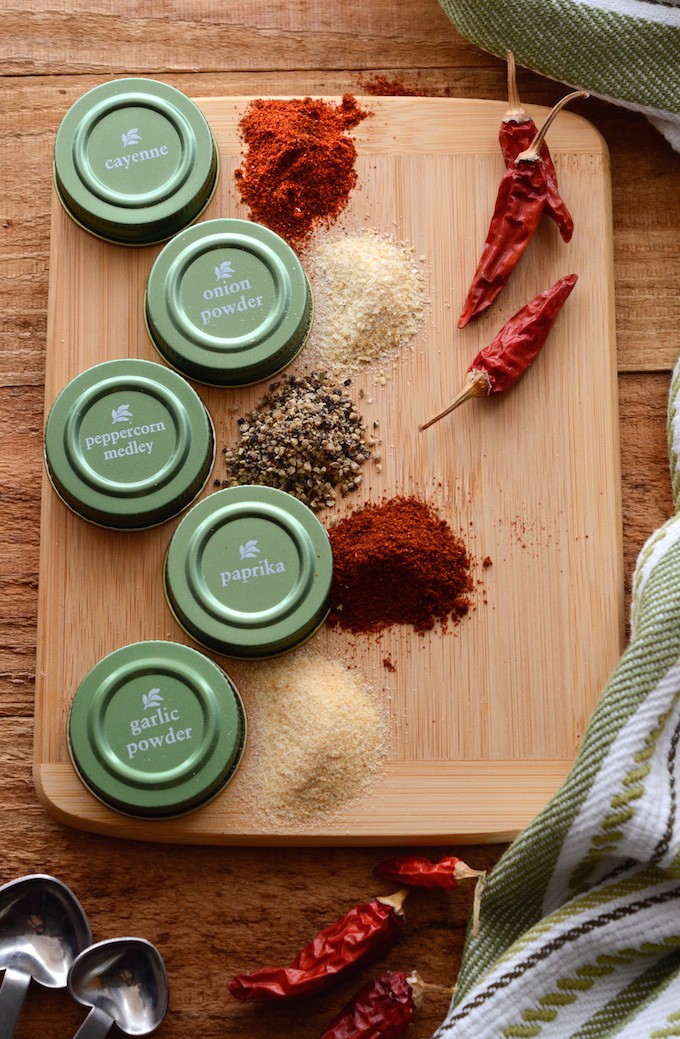 Well now that I got that off my mind, let me tell you what sets this cajun seasoning apart from most.
Why should I make a homemade cajun spice
It's

sa

lt free– Salt is not necessary in this spicy seasoning because it can easily be added to the dish.
It's

s

uper quick to make– Just measure and shake, that's it!

It's only 5 spices– And you probably have them in your cupboard!
Another benefit to making your own seasoning
The quantity can easily be adjusted to make as little or as much as you need.
For the cajun lovers like me, you'll want to double the recipe because it's going to be added to EVERYTHING!
However, if you like a little kick in your meals every once in a while you may want to make a half batch. It's super easy to do and if it gets lost in the back of the cupboard it won't be a complete waste.
This recipe was created for the sauce in my Chickpea Burgers with Spicy Cajun Sauce. If you love cajun spiced food you'll love this burger. It's amazing!
For more great recipes to spice up, add this cajun seasoning to:
We'd love to hear from you!
If you loved this recipe, please leave a 5 star rating in the recipe card and share your thoughts in the comments below. Also, if you snap a photo be sure to share it with us! We love to see your creations! You can find us on Pinterest, Facebook, and Instagram.
Recipe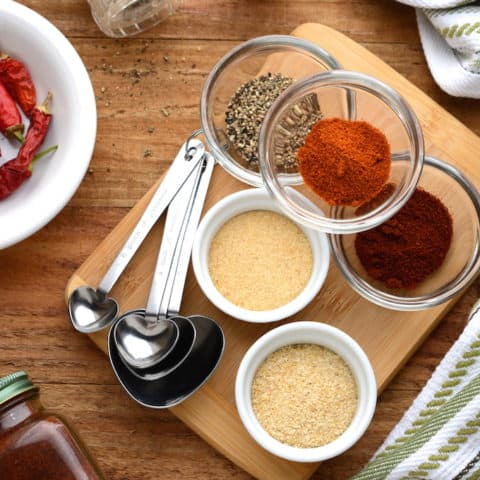 Cajun Seasoning (salt-free)
This cajun seasoning is salt-free, a cinch to bring together, and you probably have everything in your cupboard. You can check, I'll wait.
Ingredients
1-2 teaspoon cayenne pepper*
2 teaspoons onion powder
2 teaspoons garlic powder
2 teaspoons paprika
2 teaspoons fresh ground black pepper
Instructions
Add the ingredients to a lidded jar.
Shake
That's it!
Store with your spices for up to 3 months.
Notes
*For most recipes 1 teaspoon is enough heat for me, but if you like extra spicy food add more.
Nutrition Information:
Amount Per Serving:
Calories:

9
*Disclosure: This post may contain affiliate links.