This is THE Best Hummus dip! It has a smooth classic, lemon-garlic taste you are looking for. This healthy, quick and easy recipe can be whipped up in under 10 minutes!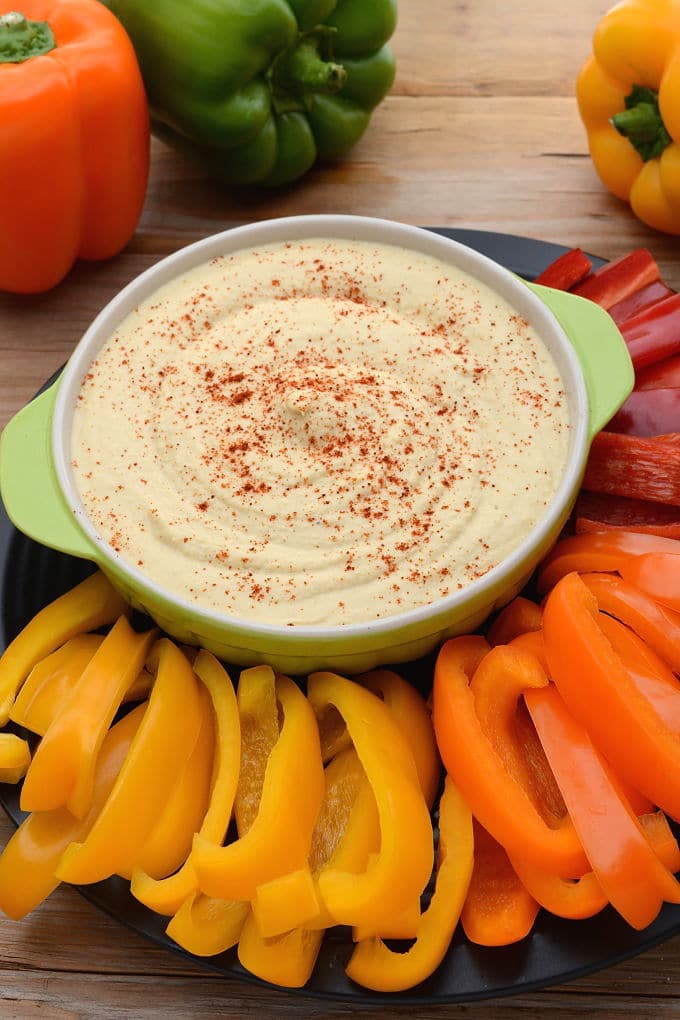 My husband considers this to be the Best Hummus recipe! So, I assure you to look no further in your classic hummus quest!
He is such a picky hummus eater. Every time I tried making it at home it would end up in the trash. He wouldn't touch the "bean paste". Instead, my husband favored a small, $5 container of organic stuff from the store. He would devour all of it in one sitting. I was jealous! I wanted my dip to be just as 'devourable'!
So it was on to create an equally delicious tasting hummus. I devoured a few containers of that unrivaled pre-made stuff myself. The goal was to see what flavors stood out so I could be confident enough to try again. But, I was still skeptical... I didn't want another batch to end up in the trash.
My first step to achieving the same quality as the pre-made hummus was to purchase dried organic chickpeas. I've always heard it makes a difference…and it does!
Next, I was looking to mimic the same lemon & garlic flavors. I was able to do so by adding fresh lemon juice and garlic powder. The garlic powder allowed me to have more control of the flavor, over using fresh garlic.
Last, the combination of processing the tahini and lemon juice first, along with the addition of water, made this some smooth Hummus!
Since perfecting my recipe, we haven't gone back to that expensive $5 dip. And my husband has even claimed my recipe to be better! Success!!
This healthy dip is so smooth and flavorful we finished the whole batch the first night! We've continued to enjoy it on hummus and avocado toast and spread on Apple-Walnut Chickpea Salad Sandwiches. YUM!
---
What you need to make The Best Hummus:
Organic dried chickpeas which have been precooked, then measured
Organic tahini
Fresh organic lemon juice
Pink salt
Organic garlic powder
Cold pressed organic olive oil
Filtered water
Food Processor ← I purchased this processor about a year ago and love it!
Hummus is great as a dip for:
Crisp raw veggies
Crackers
Pretzels
Chips
Or spread it on:
Sandwiches
Naan bread
Pita bread
Bagels
And so much more!
Recipe
Ultimate Hummus
The smooth texture and classic taste makes this the Ultimate Hummus! Use it as a healthier spread to enhance your sandwiches.
Ingredients
2 cups chickpeas*, cooked or canned
3 Tablespoons tahini
⅓ cup fresh lemon juice, about 2-3 lemons
¼ cup olive oil
1 and ⅓ teaspoon garlic powder
½ teaspoon Himalayan pink salt
3 Tablespoons filtered water, divided
Instructions
Easy hummus
Add the chickpeas, tahini, lemon juice, garlic, salt and 2 Tablespoons of water to a food processor.
Pulse a few times to combine everything. Scrape down the sides and pulse a few more times.
Turn the processor to on and slowly drizzle in the oil.
Once the oil is incorporated, process for 1-2 minutes stopping the processor periodically to scrape down the sides.
If needed, pour in the remaining Tablespoon of water to thin out the hummus.
Chill for at least an hour before serving.
For extra creamy hummus
Process the tahini and lemon juice for a minute and a half. Stop the processor at 30 second intervals to scrape down the sides.
To your food processor, add the cooked chickpeas (with skins removed), salt, garlic powder and 2 Tablespoons of water.
Pulse a few times to combine the mix. Once combined process for about 2 minutes. Slowly drizzle in the oil while the processor is running.
Pour in the remaining tablespoon of water. Add more if needed for a smooth, ultimate hummus.
Taste and adjust seasonings if needed. Sometimes I'll add a bit more lemon juice, salt and/or garlic powder.
Chill for at least an hour before serving.
Garnish with paprika, optional.
Notes
Chickpea Note: If you're cooking the chickpeas yourself, allow them to cook about 5 minutes more than usual. A bit of over cooking will create an even smoother hummus.
You may not need to add extra water if your chickpeas are soft.
Nutrition Information:
Yield:

24 Tablespoons
Serving Size:

2 Tablespoons
Amount Per Serving:
Calories:

57
Total Fat:

4g
Saturated Fat:

0g
Trans Fat:

0g
Unsaturated Fat:

3g
Cholesterol:

0mg
Sodium:

34mg
Carbohydrates:

5g
Fiber:

1g
Sugar:

1g
Protein:

2g
**Nutritional info is provided as an estimate based on the ingredients I used and for convenience and as a courtesy only.**