Black Beans and Lime Rice makes a quick, 30-minute dinner or side. Black beans are seasoned to perfection while the brown rice gets a generous dose of freshly squeezed lime juice. Top with fresh chopped cilantro and diced avocado for an easy meal. Gluten-free and great for meal prep!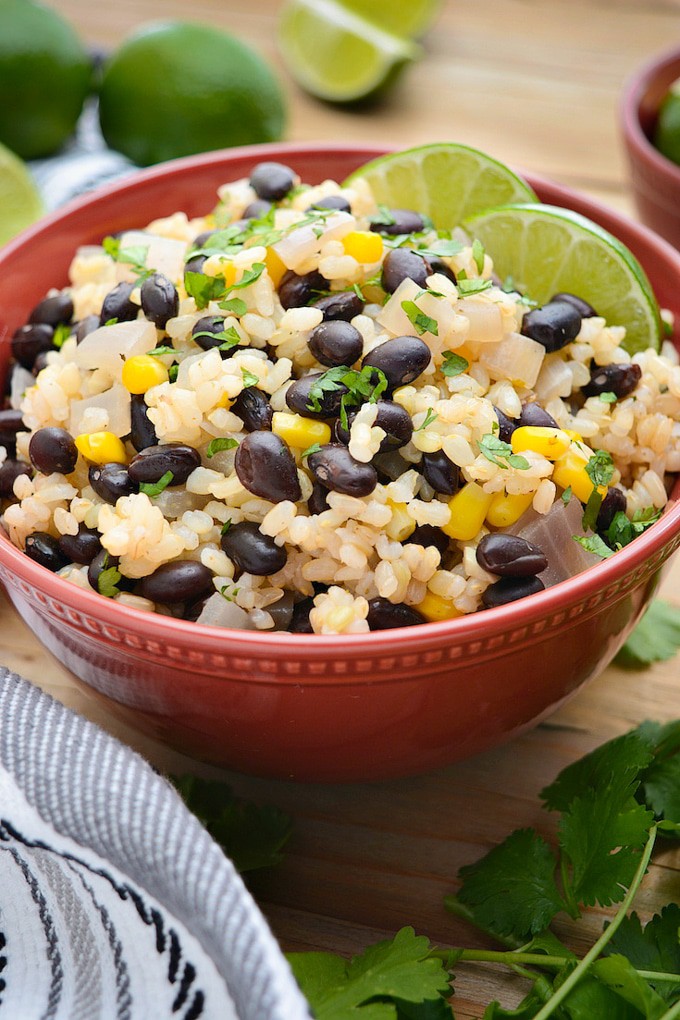 This simple yet delicious bowl of black beans and lime rice delivers a 'gotta have it' flavor. Black beans, corn, and onion are simmered in a seasoned broth then mixed with homemade lime rice.
This tasty Mexican-inspired dish will have you coming back for more.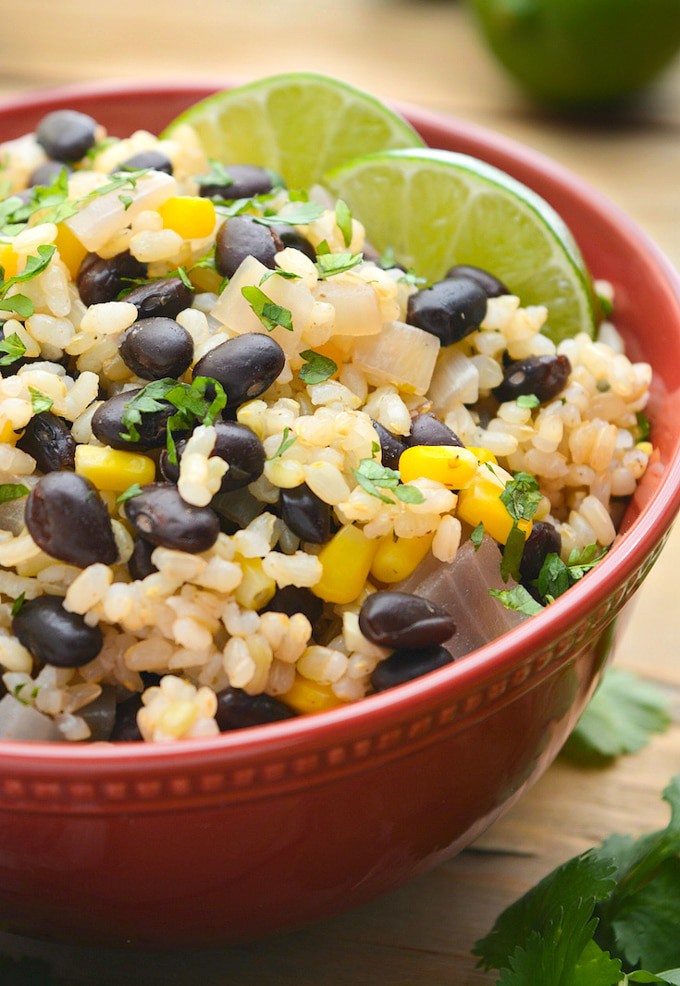 Tips for the black beans
Sometimes canned black beans can be split and lead to one of my biggest pet peeves, "hollow bean skins". (It's how I refer to this problem) This happens when the skins break and the bean inside becomes a mush leaving hollowed out bean skins.
Now I don't know about you, but I want to eat the whole bean not just the skin.
If you encounter the same problem hold off on adding them to the broth until the last 5 minutes of cook time.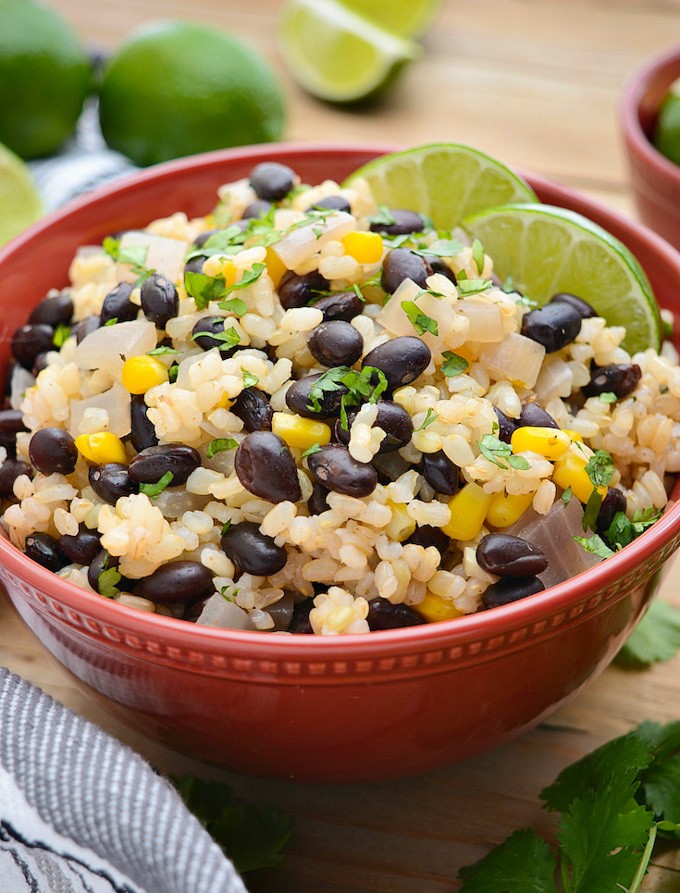 Skip the sautéing
Black beans and rice have become a family favorite. It's quick, easy and versatile.
When I feel extra lazy I skip sautéing the onion. Instead, I simmer all the bean ingredients together in a large saucepan. (If the beans are split wait to add them.)
It takes about 20-25 minutes for the onion to soften this way. Since that is the only 'raw' ingredient in the pot it's all that needs to cook. Once the onion has softened the beans are done!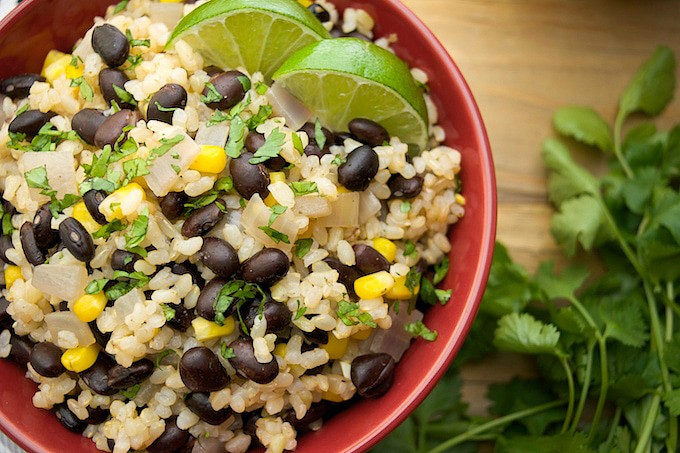 Serving Suggestions
Top your rice with a handful of chopped cilantro and extra freshly squeezed lime juice. For more flavor, add a bit of juice from the bean mixture.
To liven up the bowl and make it more filling add diced avocado and serve with your favorite tortilla chips.
Black beans and lime rice make a great burrito filling.
Serve it as a side with vegan tacos, potato tacos jackfruit tamales, or vegan taco soup.
The options are endless!
We'd love to hear from you!
If you loved this recipe, please leave a 5 star rating in the recipe card and share your thoughts in the comments below. Also, if you snap a photo be sure to share it with us! We love to see your creations! You can find us on Pinterest, Facebook, and Instagram.
Recipe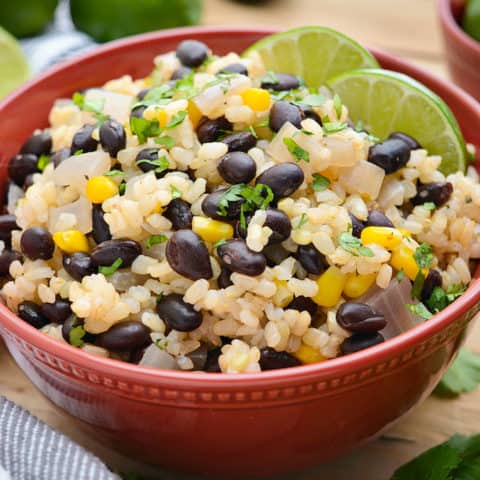 30 Minute Black Beans and Lime Rice
Black Beans are perfectly spiced with cumin, paprika and optional cayenne for a kick.  The lime rice adds an authentic 'gotta have it taste', and a handful of cilantro completes the bowl!  Gluten-free!
Ingredients
Black Beans
2 (15 oz.) cans low sodium organic black beans, drained and rinsed
1 small red onion, chopped_
2 garlic cloves, minced
2 cups vegetable broth (I use low sodium)
⅔ cup water
⅔ cup organic corn
1 ½ teaspoons pink salt, or to taste
1 teaspoon Italian seasoning
1 teaspoon cumin
1 teaspoon onion powder
½ teaspoon garlic powder
½ teaspoon chili powder
½ teaspoon paprika
Cayenne pepper to taste
Optional: chipotle powder for added flavor and heat
Lime Rice
2 cups uncooked organic brown rice
Juice of 2-3 limes
Garnish
Fresh organic cilantro
Organic lime wedges
Instructions
Cooking Rice
Cook the rice according to the package or rice cooker.
Once the rice has fully cooked, squeeze in the juice of 2-3 limes and mix.
Cooking Beans
Meanwhile, in a large saucepan sauté the diced onion and garlic in 1 Tablespoon broth until it begins to turn translucent. Add more broth as needed. This will take about 5-7 minutes.
Once the onion begins to soften, mix in the seasonings and sauté for another minute.
Now add the broth, water, beans and corn to the saucepan. Cover and let simmer for 15 min.
Taste and adjust seasonings.
To Serve
Add 1 cup of lime rice and 1 cup of drained bean mixture to your bowl. For extra flavor, mix in a spoonful or two of broth from the beans.
Serve with extra lime wedges, diced avocado, plenty of fresh cilantro, and a side of tortilla chips.
Notes
For an added flavor toss in a can of fire roasted tomatoes to the pot of beans!
If using a low sodium or light vegetable broth, omit the water and use all broth.
For best flavor, measure the seasoning using a full scoop, don't level.
Nutrition Information:
Yield:

4 bowls
Serving Size:

1 bowl
Amount Per Serving:
Calories:

267
Protein:

8g
**Nutritional info is provided as an estimate based on the ingredients I used and for convenience and as a courtesy only.**
---
Note: This recipe makes enough to serve 4 as a main dish. For a smaller portion or to serve as a side, the recipe can be cut in half.
Cayenne Note: If you have spicy and non-spicy eaters, individually mix the cayenne pepper to each bowl before serving.
*Recipe updated Jan 12, 2018
---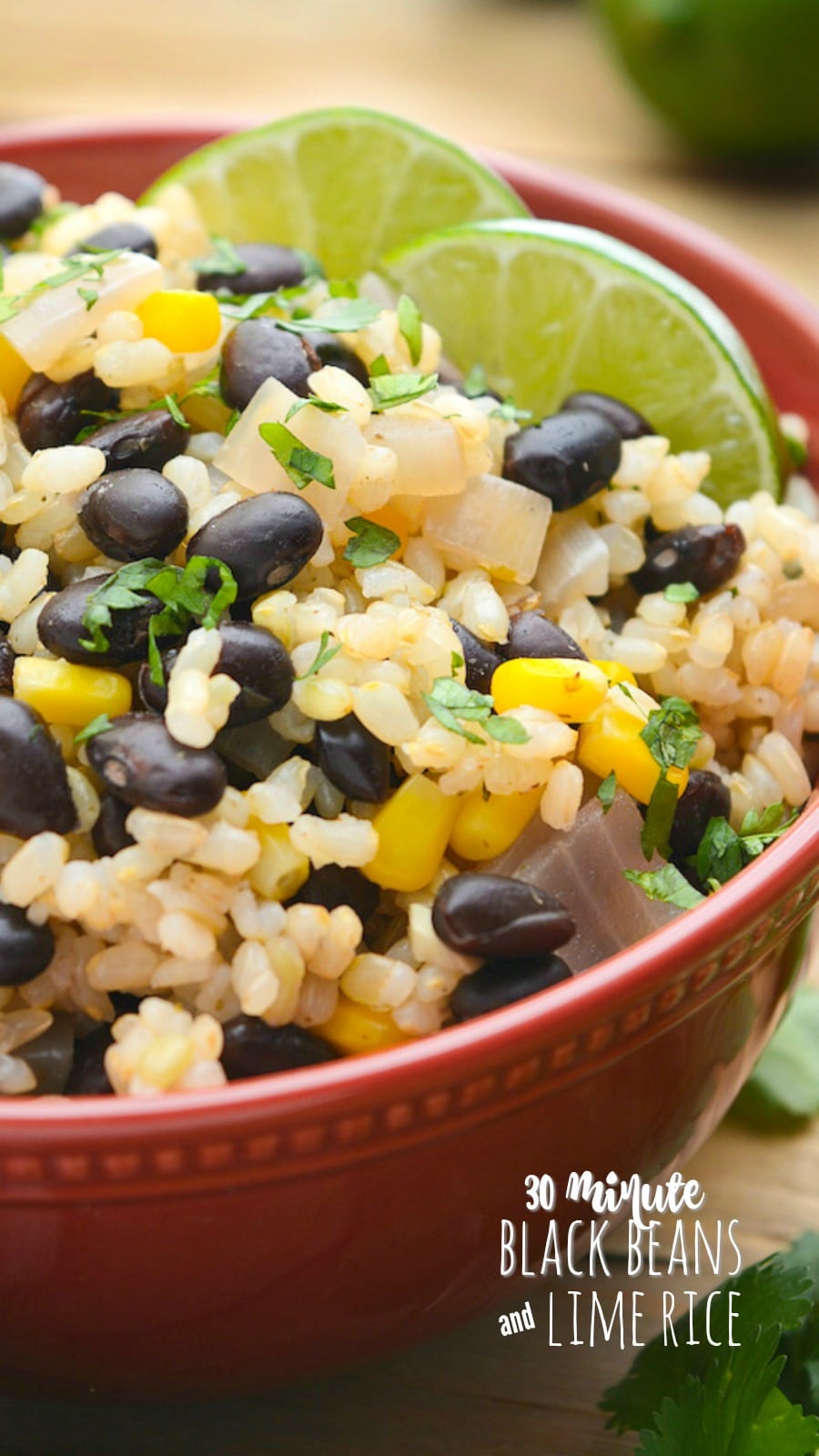 *Disclosure: This post may contain affiliate links.