These are the best vegan potato tacos! They are made with simple ingredients and full of flavor. The recipe is adaptable to what you have on hand making them the perfect dinner any night of the week.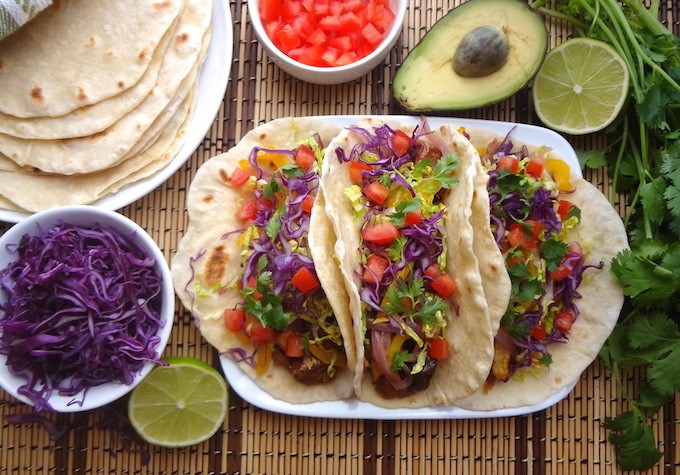 The BEST vegan potato tacos!
Before these vegan potato tacos came into my life, I was left unsatisfied with homemade tacos. They tended to be bland and lacking in flavor.
This recipe definitely changed that!
I make oven-roasted potatoes almost weekly using pink salt, adobo seasoning, and Italian seasoning. One evening it hit me--the seasoned potatoes would enhance those bland tacos.
And, sautéed garlic, onion, and bell peppers really added extra flavor, as well as seasoned refried beans.
Top them with shredded red cabbage, chopped cilantro, ripe avocado, and BBQ ranch dressing for THE BEST vegan potato tacos!
Prepare the potatoes
Start by prepping and cooking the potatoes since those will take the longest.
Rough chop your potatoes and add them to a bowl of water as you chop. Mix them around a bit, then drain and dry the potatoes and the bowl.
Add the potatoes back to the bowl and mix in the oil and seasonings. (You can always change out the seasonings for your favorite flavor combination)
You can skip rinsing the potatoes and add them straight into a dry bowl if time is an issue. However, rinsing and drying them will yield a better texture.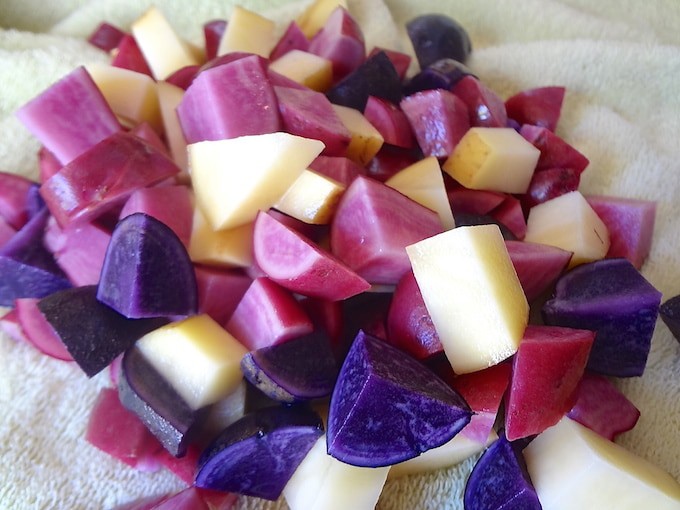 Prepare the veggies
Start by finely chopping the lettuce, cabbage. Slice the tomato into rounds (as you would for a sandwich) and remove the seeds, chop the tomato slices into small cubes. Place the veggies in the fridge to keep cold. Now chop the bell pepper onion and garlic.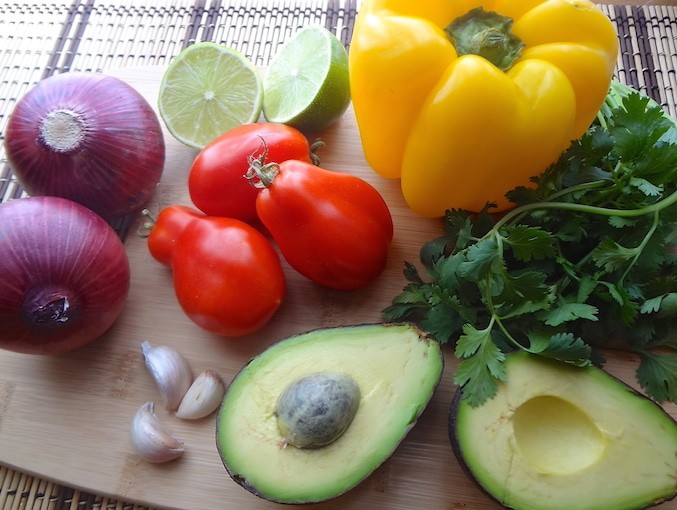 Add your onion, bell pepper, and garlic to a large pan; sauté for 10-15 minutes or until softened yet slightly crisp still.
How to Assemble Vegan Potato Tacos
Add a thin layer of beans, a handful of potatoes, sautéed veggies (I load mine with the veggies), lettuce, cabbage, tomatoes, cilantro, avocado, and a squeeze of lime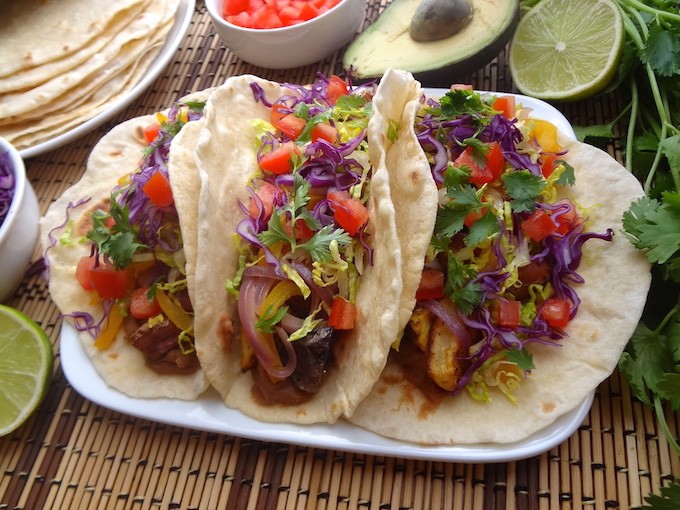 More Mexican-Inspired Vegan Recipes
We'd love to hear from you!
If you enjoyed this recipe, please leave a 5-star rating in the recipe card and share your thoughts in the comments below. Also, if you snap a photo be sure to share it with us! We love to see your creations! You can find us on Pinterest, Facebook, and Instagram.
Recipe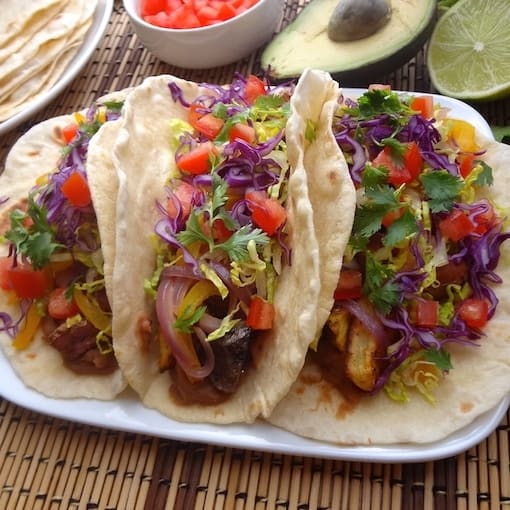 The Best Potato Tacos
Total Time:
1 hour
5 minutes
This potato tacos recipe is adaptable to what you have on hand making them the perfect vegan tacos. 
Ingredients
For the Potatoes
Sautéed Veggies
1 large onion
1 bell pepper
3 garlic cloves
Seasoned Refried Beans
1 (15oz) can of fat-free refried pinto beans 
1 teaspoon onion powder
⅓ teaspoon cumin 
¼ teaspoon himalayan pink salt 
¼ teaspoon garlic powder
⅛ teaspoon smoked paprika
non-dairy milk to thin
Toppings:
1 large tomato, diced
shredded lettuce
shredded purple cabbage
1-2 avocados
fresh cilantro
Fresh squeezed lime juice
Instructions
Potatoes
Preheat oven to 400º
In a large bowl add water. Chop the potatoes into small ½ inch to 1 inch thick chunks. Add them to the water as you chop. Mix them around a bit then drain the water and rise them once more. Dry the potatoes.
Add the dry potatoes, seasonings, and oil to a dry bowl. Mix well. Add the salt (if using) and mix once more.
Now, line a baking sheet with parchment paper, or oil a large skillet.
Evenly spread the potatoes across the baking sheet or skillet.
Bake at 400º for 40-45 minutes. Sample a potato and add more seasoning/salt, if needed. They should be well seasoned.
Toppings and Sautéed Veggies
While the potatoes bake, sauté the onion, bell pepper, and garlic.
Add ¼ teaspoon of oil to a large pan. Sauté the onion bell pepper and garlic on medium-low heat for about 10-15 min or until softened to your liking.
Now prepare the toppings by dicing the tomato and thinly chopping the lettuce and cabbage. Store in the fridge until ready to use.
Beans
Heat the beans in a large saucepan and season to taste. I rarely measure the seasonings, I just add them in to taste. The ingredients list includes a rough estimate to work off of.
To Assemble the Tacos
Add a scoop of beans down the center of the tortilla.
Next, add the potatoes and sautéed veggies.
Top with lettuce, cabbage, tomatoes, cilantro, avocado and a squeeze of fresh lime juice.
Serve with a side of Spanish rice or chips and nacho cheese.
Nutrition Information:
Yield:

7 tacos
Serving Size:

1
Amount Per Serving:
Calories:

327
Total Fat:

12g
Saturated Fat:

3g
Unsaturated Fat:

7g
Sodium:

313mg
Carbohydrates:

51g
Fiber:

11g
Sugar:

6g
Protein:

9g
**Nutritional info is provided as an estimate based on the ingredients I used and for convenience and as a courtesy only.**