Refined sugar-free vegan cinnamon rolls are topped with a rich maple icing. This homemade treat is soft, fluffy and perfectly sweetened! Enjoy these decadent, ready in about an hour, cinnamon rolls for breakfast this weekend!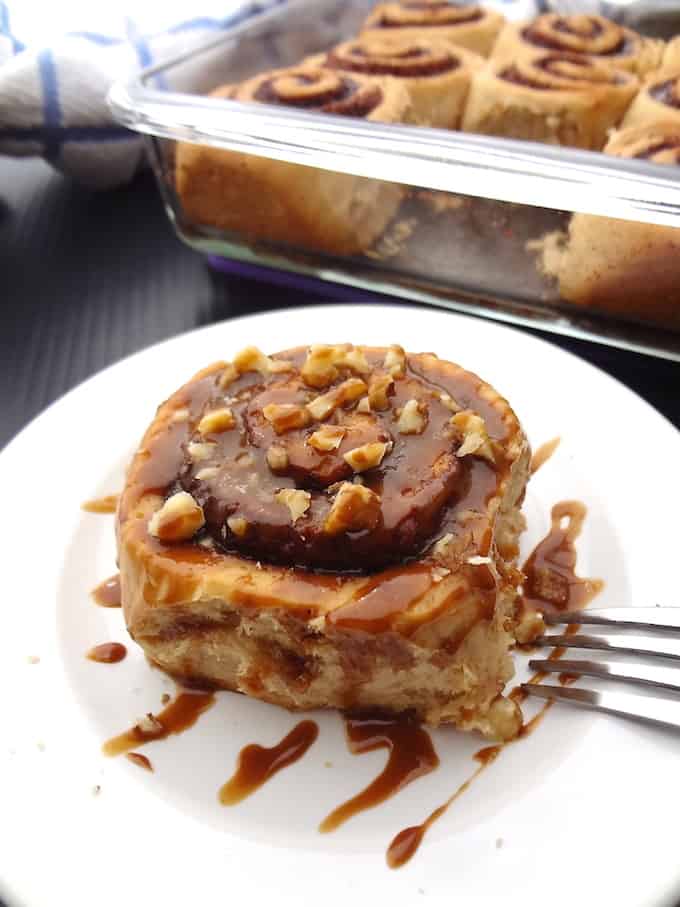 I thought a good cinnamon roll recipe took hours... My old recipe took a total of 3 hours from start to finish. As you can guess, we didn't enjoy cinnamon rolls very often. Instead, we enjoyed cinnamon pancakes or vegan banana bread as a morning breakfast treat!
Therefore, my recipe needed an update. I knew if I wasn't willing to wait 3 hours to devour cinnamon rolls neither were you.
So I simplified my old favorite recipe! These soft and fluffy cinnamon rolls are ready in about an hour!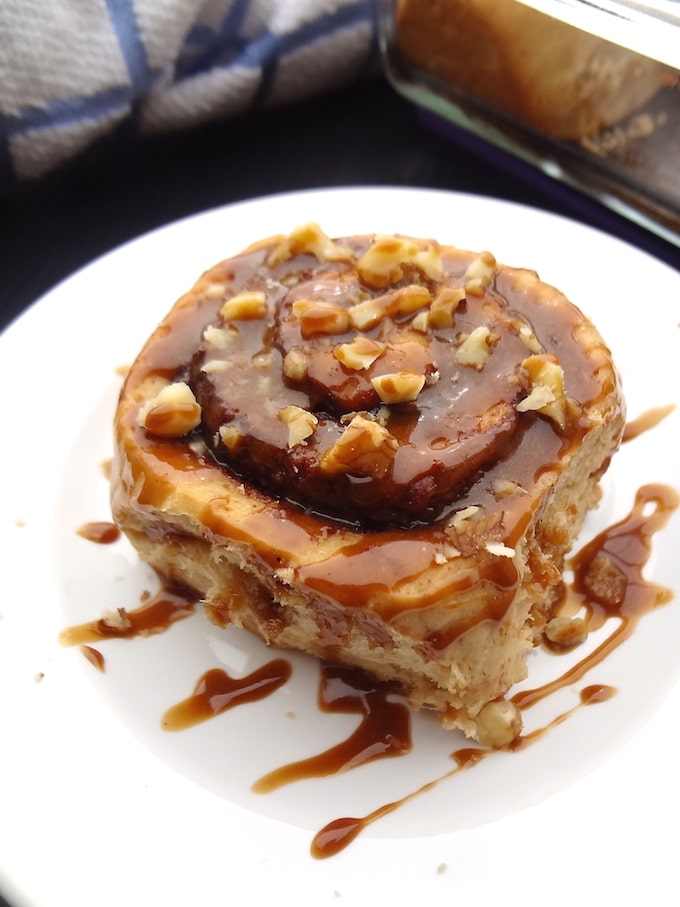 What did you use to make them refined-sugar-free?
I decided to go with an unrefined sugar for these decadent cinnamon rolls. They are sweetened with coconut sugar and maple syrup instead of white sugar keeping them free of refined sugar.
It was a bit tricky coming up with an unrefined sugar icing, but I was able to perfect it! To achieve a smooth icing I blended the coconut sugar in my NutriBullet creating a powdered sugar.
Once I had the "unrefined" powdered sugar, I added tapioca starch to neutralize the sweetness a bit.
What is maple Icing?
Since I went with a darker sugar for the icing, I wanted the flavor to match the color. I added maple syrup and maple extract creating a rich maple flavor that complements the cinnamon rolls.
I know you'll love these refined sugar free vegan cinnamon rolls with maple icing as much as I do!
How to make

refined

sugar free Vegan Cinnamon Rolls
When it comes to new recipes, I'm a visual person and figure some of you are as well. So, my husband snapped a few shots while I was preparing the dough. It's always helpful to have pictures of the process!
How to prep the dough
In a large bowl mix your dry ingredients. Create a well in the center.
Pour the warm almond milk, sugar, yeast and oil mixture into the well you just made.

Mix the dough until it comes together enough that you can begin kneading it. Knead it for about 3-5 minutes to create a slightly sticky yet smooth dough ball.
How to roll the dough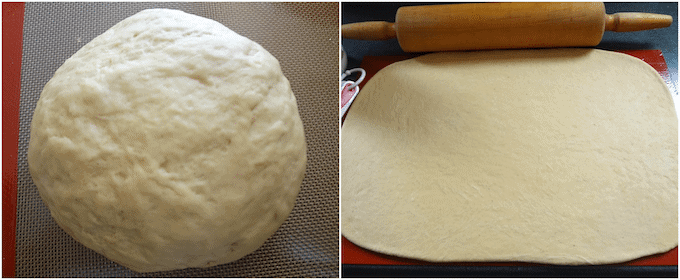 Leave the dough ball on your kneading surface or place it in an oiled bowl. Cover with a tea towel and let rest 15 minutes, while you prep the filling.
When ready, roll the dough out to a 14x11 inch rectangle and brush with softened coconut oil. Optional: sprinkle a pinch of pink salt over the oil to give the filling a buttery taste.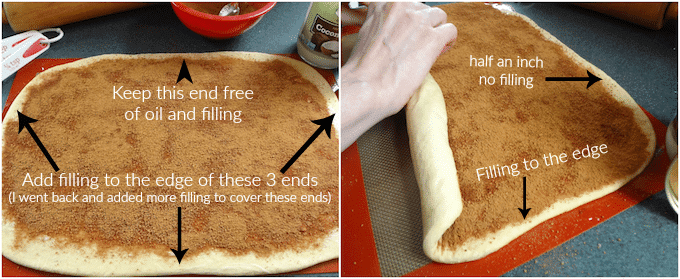 Add the cinnamon and sugar filling to your dough. Spread the filling to the edge of 3 of the sides, as pictured above. Leave half an inch, on the longest side furthest from you free of oil and filling. Slowly begin rolling the dough from the long end nearest you towards the "clean" end.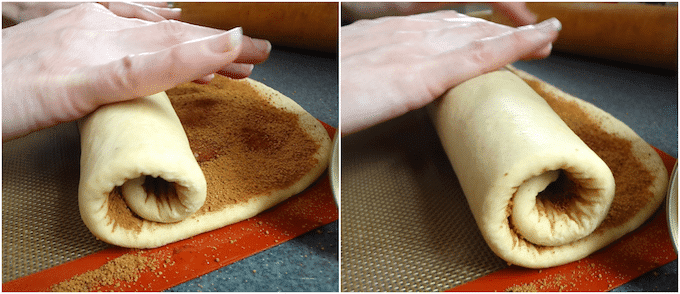 Use a pastry brush, or your finger, to brush water along the clean edge. This will help seal the edge.

Finish rolling up the dough. Gently press the water brushed end against the roll to seal.
How to cut the dough

Make 8 even marks in the dough. Then use a sharp knife to carefully, and slowly, slice the dough on the marks creating 9 even cinnamon rolls.
(Tip: I actually cut 11 rolls and bake the 2 ends in a small, oven-safe dish. The perfectionist in me likes to keep the 9 cinnamon rolls in the pan looking uniform.)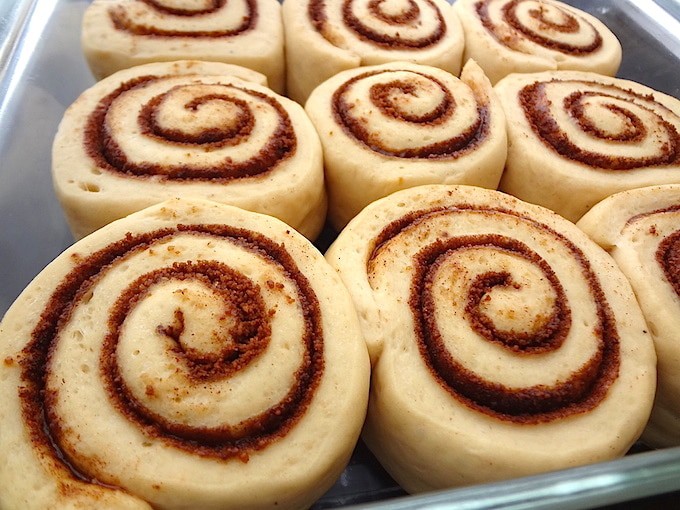 Arrange your rolls in a 9x9 inch oven-safe dish. Cover with a tea towel and allow them to rise for 15 minutes. Prep your icing while you wait.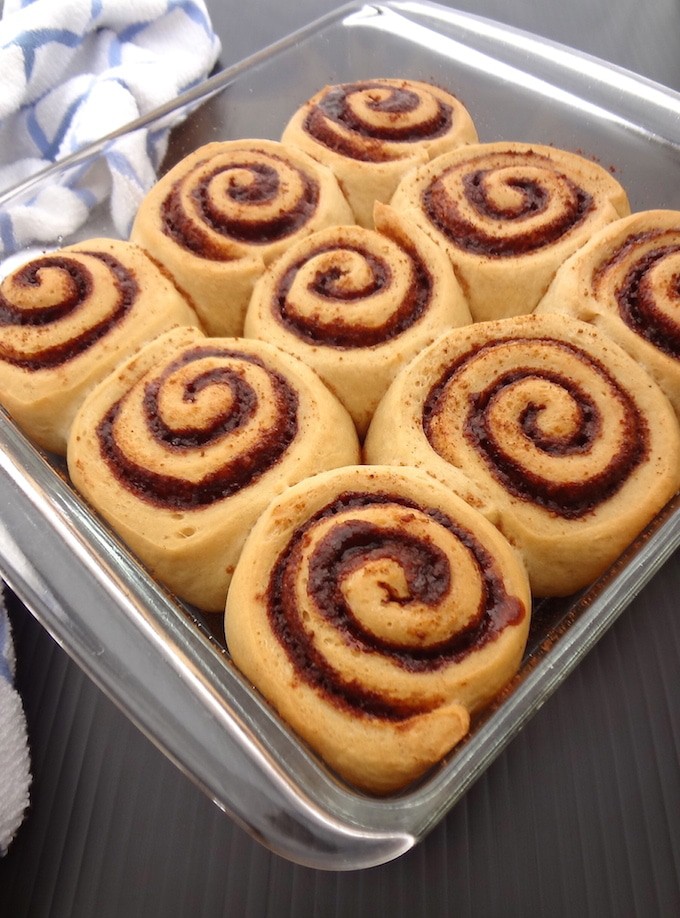 Bake at 350ºF for 25-30 minutes, or until they begin to lightly brown.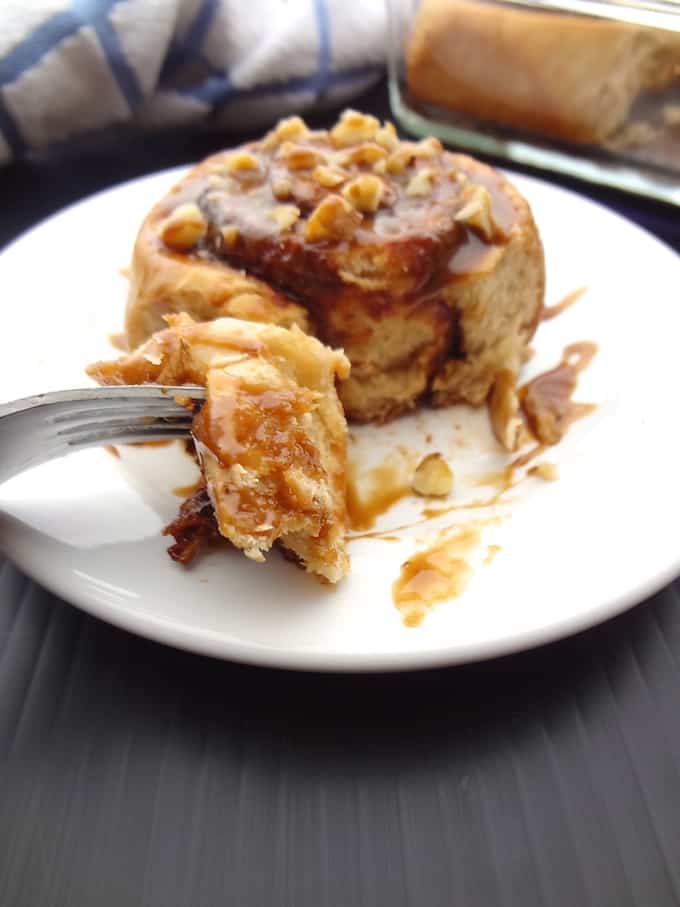 Now indulge in those decadent, soft, fluffy, free of refined sugar, vegan cinnamon rolls!
Turn these cinnamon rolls into a fun dip-able morning snack!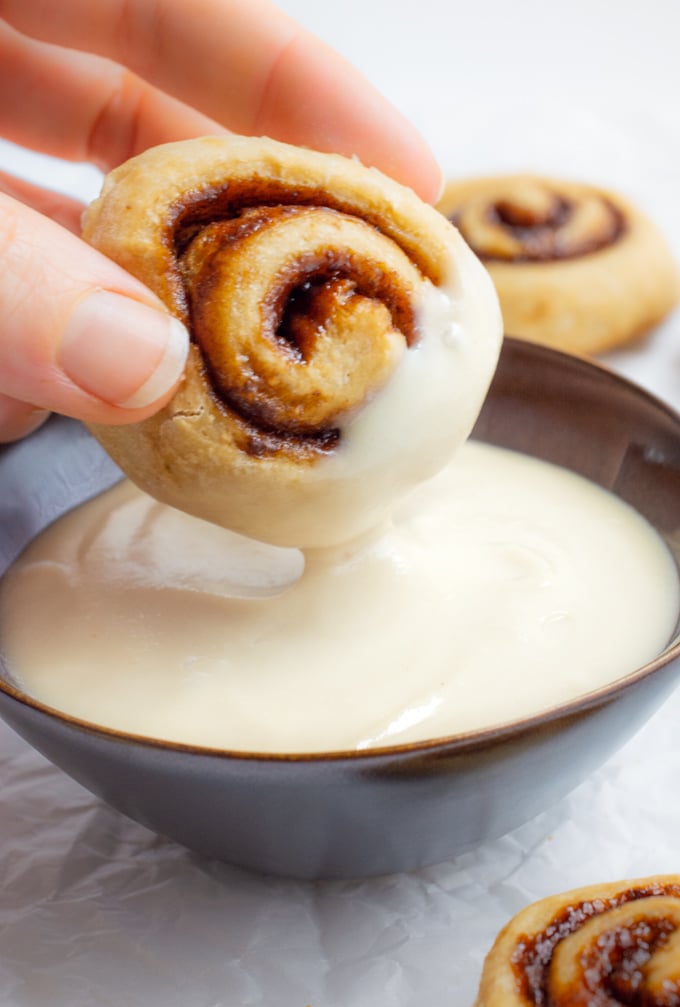 To make the above cini minis, make the below minor changes. I've also added notes in the steps of the recipe card.
When it's time to roll the dough out with the rolling pin, roll it out longer and skinnier than the recipe calls for. This will make a thin skinny log when rolled up.
Cut the log into 24-26 mini cinnamon rolls.
Bake in a 9x13-inch dish for 15-20 minutes.
Now, dips these delicious bite-sized cinnamon rolls in cashew icing for an amazing vegan treat the whole family will LOVE!
If you enjoyed this recipe you may also enjoy one of these:
We'd love to hear from you!
If you loved these cinnamon rolls, please leave a 5-star rating in the recipe card and share your thoughts in the comments below. Also, if you snap a photo be sure to share it with us! We love to see your creations! You can find us on Pinterest, Facebook, and Instagram.
Recipe
Vegan Cinnamon Rolls with maple icing
Yield:
9-11 cinnamon rolls
Total Time:
1 hour
5 minutes
Refined sugar free vegan cinnamon rolls are topped with a rich maple icing.  This homemade treat is soft, fluffy and perfectly sweetened!  Enjoy these decadent, ready in about an hour, cinnamon rolls for breakfast this weekend! 
Ingredients
Dough
1 cup + 2 Tablespoons almond milk, warm to the touch
2 teaspoons active yeast (or 1 packet)
3 Tablespoons + ¼ teaspoon coconut sugar, divided
2 Tablespoons coconut oil, melted
3 cups organic all purpose flour, divided
1 teaspoon Himalayan pink salt
pinch of nutmeg
Cinnamon Sugar Filling
1 and ½ Tablespoons coconut oil, softened to be spreadable
½ cup coconut sugar
2 scant Tablespoons ground cinnamon
pinch of salt, optional but I feel it helps enhance the flavors.
Maple Icing
½ cup coconut sugar, blend (see note)
1 Tablespoons tapioca starch
½ teaspoon coconut oil
¾ teaspoon maple extract
2 teaspoons maple syrup, more if needed
1 teaspoon almond milk, more if needed
Instructions
Dough
Start by warming the almond milk in a small saucepan. Once warmed to the touch (about bathwater temp) move your pan to a cooled burner. Add ¼ teaspoon coconut sugar and the yeast. Let sit for about 15 min to activate the yeast. Note: If your almond milk is heated too long, wait for it to cool to ideal temp before adding the sugar and yeast.
Meanwhile, in a large bowl mix the dry ingredients: 2 cups of flour, remaining 3T coconut sugar, salt, and nutmeg and make a well in the center of the mixture.
Once the milk/yeast mixture foams, whisk in the oil.
Now, add the wet ingredients to the dry. Mix together until combined. Slowly add in the last cup of flour until a sticky dough ball forms. (you may not need all of the flour, use the remaining for dusting during kneading)
Turn dough out on a clean floured surface. Knead the dough for about 3-5 min. (If you have a handy KitchenAid mixer, now would be the perfect time to use it!) The dough should be slightly sticky, but not sticking to your hands. If it sticks to your hands, dust your hands and the dough with more flour.
Once the dough comes together, it should still be slightly sticky, yet smooth. Form the dough into a ball, place in an oiled bowl, and cover with a tea towel. Let rest for 30 minutes. Meanwhile, prep the filling and oil a 9x9 inch square dish.
Filling & Rolling the Dough
Combine the cinnamon and sugar in a bowl.
Once the dough has rested, flour a clean dry surface and roll it out to about a 14 by 11-inch rectangle. (MINI ROLLS- roll the dough out to about 25x9-inch rectangle.)
Brush the top of the dough with your softened coconut oil leaving about a half-inch, clean, on one of the longer ends. Optional - Sprinkle a pinch of salt over the oil, it gives the filling a more buttery taste.
Spread the cinnamon and sugar over the oil. Make sure to leave the half-inch clean of the mix as well.
Now, roll the dough from the one longer end with filling, to the other clean end. Brush the un-oiled, clean end with water, this will help seal the dough to itself.
Using a sharp knife, slice the dough creating 9 even cinnamon rolls (or 24-26 MINI rolls). To make sure you get even cuts, you'll want to use your knife to mark out where to cut each roll. Then carefully and slowly slice each cinnamon roll.
In an oiled 9x9 inch pan, evenly place your 9 rolls. Let rise another 15 min.
Baking
While the rolls are rising, preheat your oven to 350º and prep the icing.
After 15 minutes of rising, bake the rolls for 25-30 min or until lightly brown.
Bake MINI rolls in a 9x13-inch baking dish for 15-20 minutes.
Maple Icing
Whisk together the ingredients--powdered coconut sugar, tapioca starch, coconut oil, maple extract, maple syrup, and almond milk. If needed, add more maple syrup and/or almond milk to achieve desired consistency.
Top cinnamon rolls with icing and optional walnut pieces as they are served.
To store
Cover remaining icing and store in the fridge.
Leftover cinnamon rolls can be covered and stored on the counter for up to 24 hours. If you plan on storing them longer I suggest placing them in the fridge for up to 3-4 days.
Notes
Coconut sugar: Using a high speed blender or coffee grinder, blend the sugar into a powder.
Nutrition Information:
Yield:

9 cinnamon rolls
Serving Size:

1 cinnamon roll
Amount Per Serving:
Calories:

286
Total Fat:

5g
Saturated Fat:

3g
Trans Fat:

0g
Unsaturated Fat:

1g
Cholesterol:

0mg
Sodium:

189mg
Carbohydrates:

57g
Fiber:

2g
Sugar:

23g
Protein:

5g
**Nutritional info is provided as an estimate based on the ingredients I used and for convenience and as a courtesy only.**