Vegan Pumpkin Banana Bread is a wonderful combination of moist banana bread and warm pumpkin spice flavor. This homemade quick bread is easy to make and oh-so-delicious! Swap out the pumpkin seeds for chocolate chips for a fall sweet treat that even the kids will enjoy!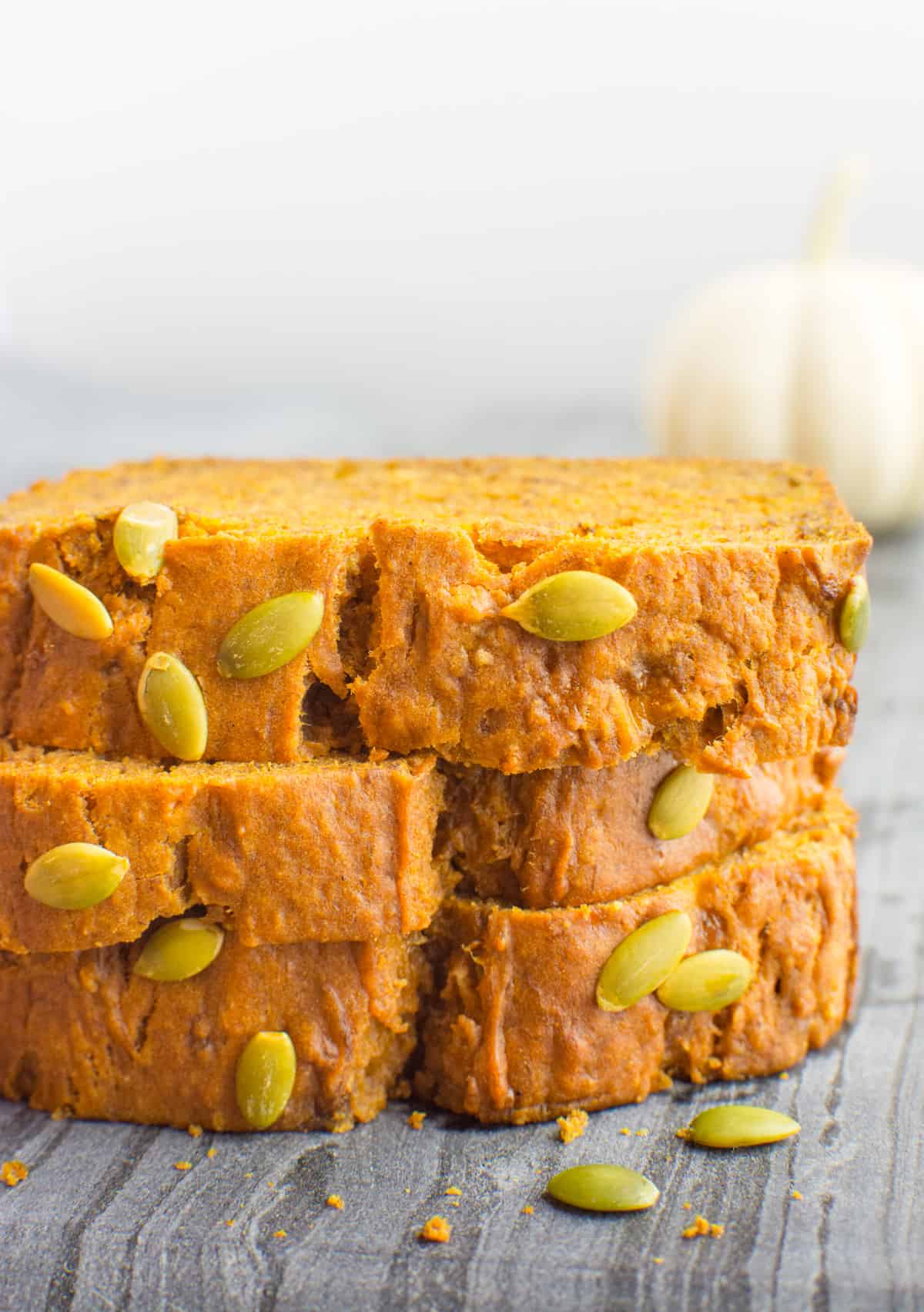 We all know fall means it's officially pumpkin season!
And that means PUMPKIN EVERYTHING, which is why I'm sharing this recipe for the best vegan pumpkin bread you'll enjoy this season.
This holiday bread is a spin-off of my traditional banana bread recipe but with lots of fall flavors.
It's perfectly moist just like the banana bread, but with an added pumpkin flavor that's fitting for the holiday season!
Ingredients and Substitutions
This recipe is made with 10 simple ingredients. No flax eggs or weird ingredients are needed.
Flour - Use all-purpose flour for the best results. if you want to make this recipe gluten free you can substitute it with an all-purpose gluten free flour.
Bananas – Use ripe or overripe bananas.
Pumpkin pureé – Use fresh or canned pumpkin pureé. They both work great in this recipe! Your pureé should be thick and easily scooped with a spoon. If it is thin and runs off the spoon, use less milk.
Plant milk - Any variety and brand will work. I used plain unsweetened almond milk.
Coconut sugar – I used coconut sugar for a healthier pumpkin bread recipe. You can use brown sugar, cane sugar, or any granulated sugar you have on hand as a substitute.
Pumpkin pie spice – This gives the loaf a wonderful fall flavor. If you're all out of this spice, you can swap it out for a few teaspoons of cinnamon.
Oil – I chose to use melted refined coconut oil. You can use the same, or try it with virgin coconut oil or any neutral vegetable oil.
Leavening agents – Baking soda and baking powder are used to help the bread rise. I don't suggest skipping either.
Salt – I used himilayan pink salt, but you can use any salt you have on hand.
Step-By-Step Instructions
Step 1: Prepare your kitchenware and gather ingredients
Preheat your oven to 350ºF, grease your loaf pan, and lay about a 4-inch wide strip of parchment paper across the pan. This will make it easier to remove the loaf from the pan. Then gather the ingredients.
Step 2: Mix the batter
In a medium bowl, sift the dry ingredients. Mix them together so they are well combined.
In a large bowl, mash the bananas. You can use a fork or a potato masher. Mash until there are no large chunks. The smaller chunks are okay.
Now add the remaining wet ingredients to the bowl of mashed bananas and mix.
Transfer the dry ingredients to the banana mix. Gently fold them together using a spatula. Scoop the ingredients from the bottom of the bowl and bring them to the top. Repeat until there is no dry flour in the bowl.
Step 3: Bake the loaf
Transfer the batter to your prepared loaf pan.
Bake at 350ºF for 40-50 minutes.
To see if the pumpkin bread is done, poke the center of the loaf with a toothpick. If the toothpick comes out clean it's ready. If there is batter on it, cook the loaf for another 5-8 minutes before checking it again.
Allow the bread to cool in the loaf pan for 8-10 minutes. Then, remove it from the pan using the parchment paper flaps and place it on a cooling rack to fully cool.
Serving Suggestions and Storage
This vegan pumpkin bread is great for breakfast topped with nut butter and a cup of coffee.
Or serve it topped with vegan butter alongside a cup of tea for a delicious evening dessert.
Store any leftovers at room temperature in an airtight container for up to 3 days. It will also keep in the refrigerator for up to a week. You can also wrap the bread loaf, or individual slices, in plastic wrap and store it in the freezer for up to 3 months.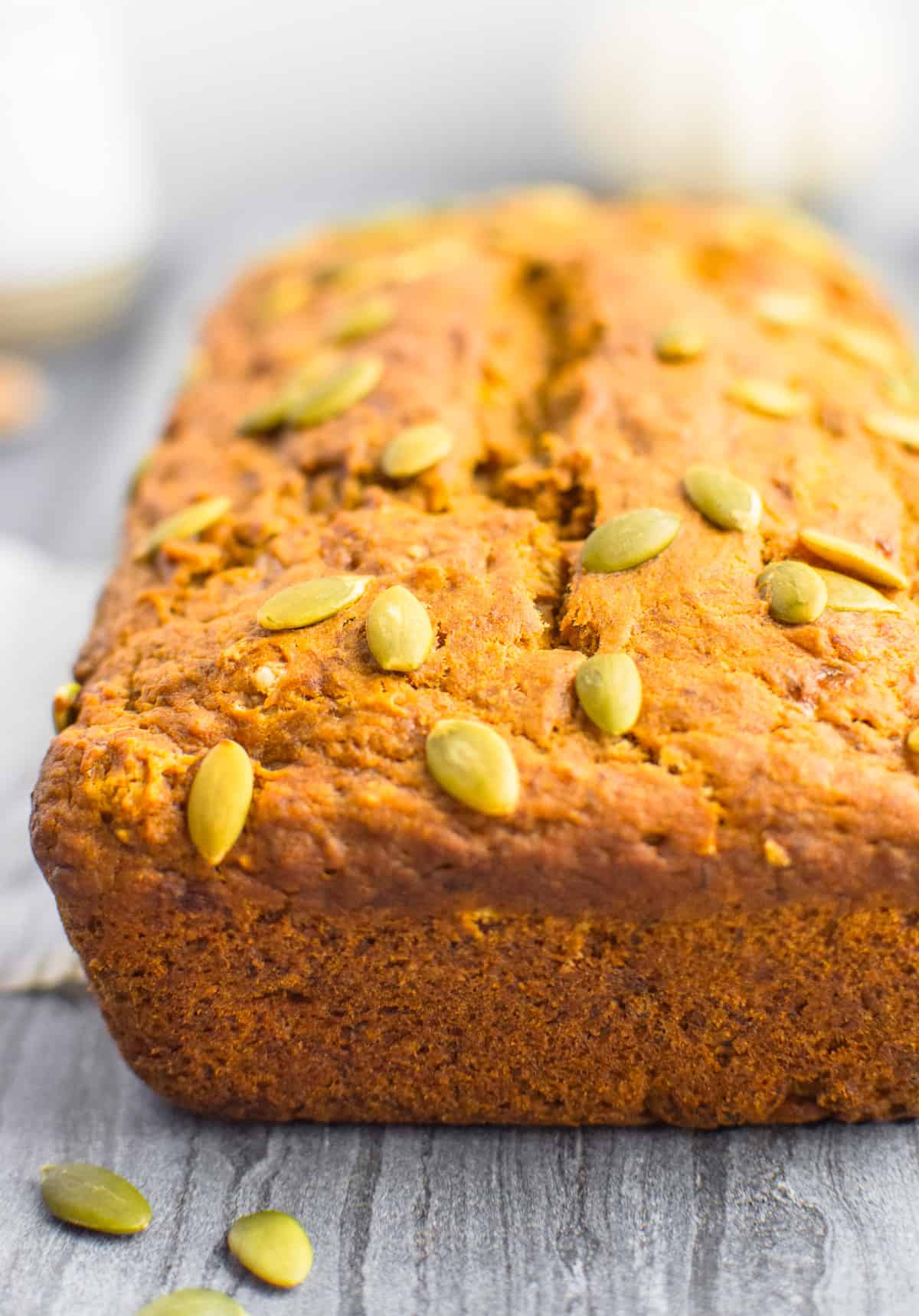 Helpful Tips
To measure the flour: Use the scoop and level method to measure the flour. Gently spoon the flour into the measuring cup and level it off with the back of a knife. Don't tap or pack the flour into the cup.
Canned pumpkin: If your pumpkin purée is thick and can easily be scooped with a spoon, add the suggested amount of non-dairy milk to the batter. However, some canned purée can be on the thin side. If your puree is thin and runs off the spoon, only add half of the non-dairy milk.
Parchment paper: Cut about a 4-inch wide strip of parchment paper and place it across the center of your loaf pan before pouring in the batter. To remove the bread from the pan after cooking, gently lift the parchment flaps.
Variations
Customize this pumpkin bread to your liking. Add any of these suggestions below, or let us know in the comment section what your favorite mix-in is.
pumpkin seeds
chocolate chips
chopped pecans
chopped walnuts
dried cranberries
Simply fold them in after the batter is mixed.
Can I make this loaf into muffins?
Yes! This quick bread can easily be made into muffins for a grab-n-go fall-flavored breakfast.
Follow the instructions in the recipe card to make the batter. Then use these 3 steps to fill your muffin tin and bake the muffins.
Line a muffin tin with paper liners.
Evenly distribute the batter between the liners.
Bake at 350ºF for 25-30 minutes or until a toothpick comes out clean.
Enjoy!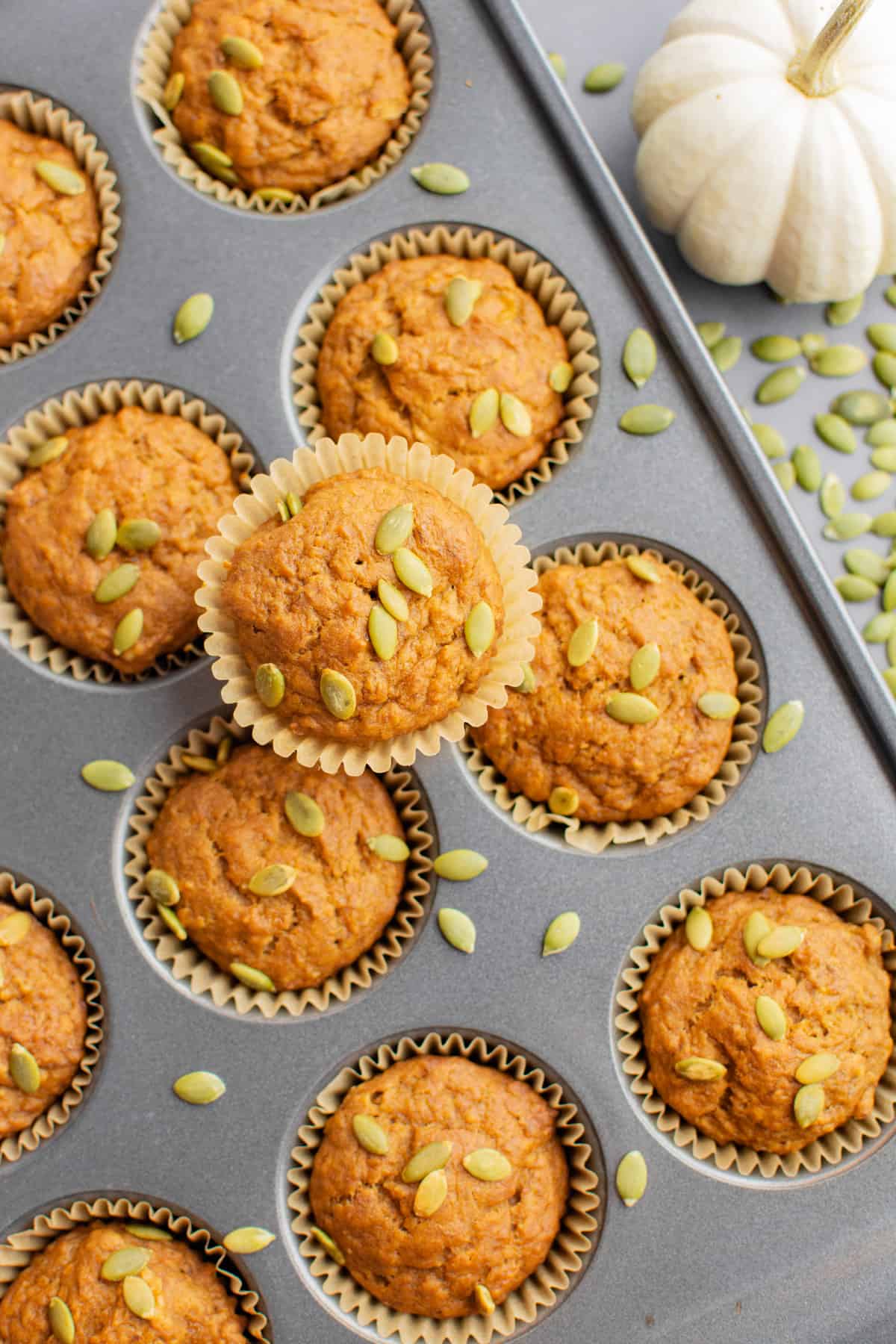 We'd love to hear from you!
If you enjoyed this vegan recipe, please leave a 5-star rating in the recipe card and share your thoughts in the comments below.
Also, if you snap a photo be sure to share it with us! We love to see your creations!! You can find us on Pinterest, Facebook, and Instagram.
Or, get the links to new recipes delivered straight to your inbox by signing up for our newsletter. See ya there!
Recipe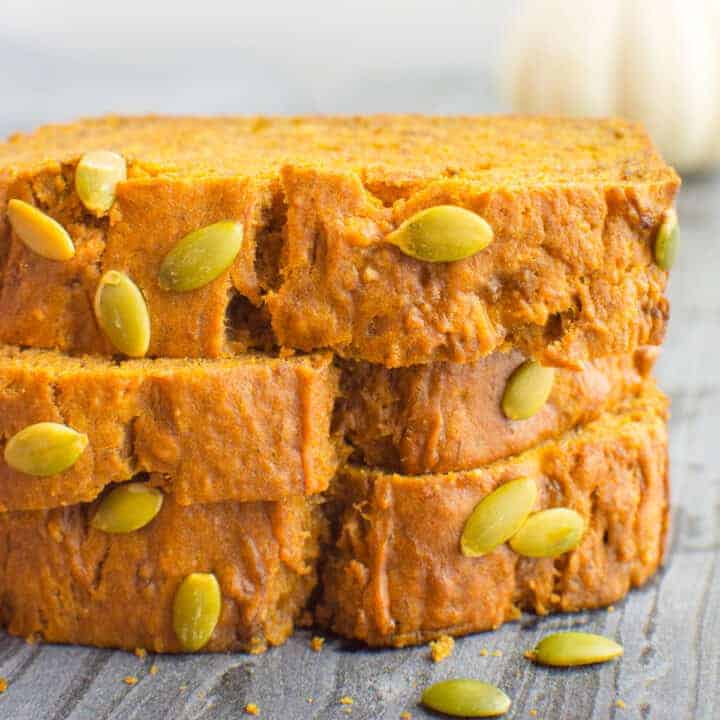 Vegan Pumpkin Banana Bread
Enjoy the Fall season with this wonderfully spiced vegan pumpkin banana bread. Mashed bananas and pumpkin puree keep this loaf moist and tender. The added pumpkin pie spice completes the Fall flavor!
Ingredients
Dry Ingredients
Wet Ingredients
2 ripe bananas (280g), about 1 heaping cup of mashed bananas
½ cup of pumpkin purée slightly over filled (120g)
½ cup coconut sugar
¼ cup refined coconut oil, melted
2 Tablespoons non-dairy milk
Instructions
Preheat your oven to 350ºF and grease your loaf pan. To easily remove the bread from the pan after cooking, add a strip of parchment paper to the pan.
In a medium bowl, sift the dry ingredients together.
In a larger bowl, mash the bananas making sure not to leave big chunks. Small chunks are fine.
Now add the remaining wet ingredients to the bowl of mashed bananas: pumpkin purée, coconut sugar, oil, and non-dairy milk.
Gently fold the dry ingredients into the banana mix just enough to combine everything.
At this point, if you are using any add-ins they can be folded in as well.
Carefully pour the batter into the prepared loaf pan.
Bake at 350ºF for 40-50 minutes, or until a toothpick poked into the center comes out clean. If the toothpick has batter on it, bake the loaf for another 5-8 minutes or until done.
Store in an airtight container or ziplock bag. Keeps fresh for up to 3 days at room temperature or a week in the fridge.
Enjoy!
Notes
I suggest weighing the bananas and pumpkin purée for best results.
When measuring the flour use a spoon to lightly scoop it into the measuring cup. Scooping the flour with the measuring cup can cause too much flour to be added and a dense loaf.
Non-dairy milk: Add in the non-dairy milk if your pumpkin puree is thick. If your puree is on the thin side you can half of the milk.
Parchment paper: Cut a 4-inch wide strip of parchment paper and place it in the center of your loaf pan. To remove the bread from the pan, gently lift the parchment flaps.
Nutrition Information:
Yield:

10
Serving Size:

1 slice
Amount Per Serving:
Calories:

80
Total Fat:

1g
Saturated Fat:

1g
Sodium:

97mg
Carbohydrates:

18g
Fiber:

2g
Sugar:

7g
Protein:

1g
**Nutritional info is provided as an estimate based on the ingredients I used and for convenience and as a courtesy only.**
Sweet Vegan Recipes
Where You Get Your Protein is a participant in the Amazon Services LLC Associates Program, an affiliate advertising program designed to provide a means for sites to earn advertising fees by advertising and linking to Amazon.com. This site may contain some of these links to Amazon.com. If you make a purchase through one of those links, Where You Get Your Protein will receive a small commission from the purchase at no additional cost to you.