A Vegan Mac and Cheese so creamy and cheesy it's the perfect dairy free alternative! This classic comfort food can be made stovetop or in the Instant-Pot.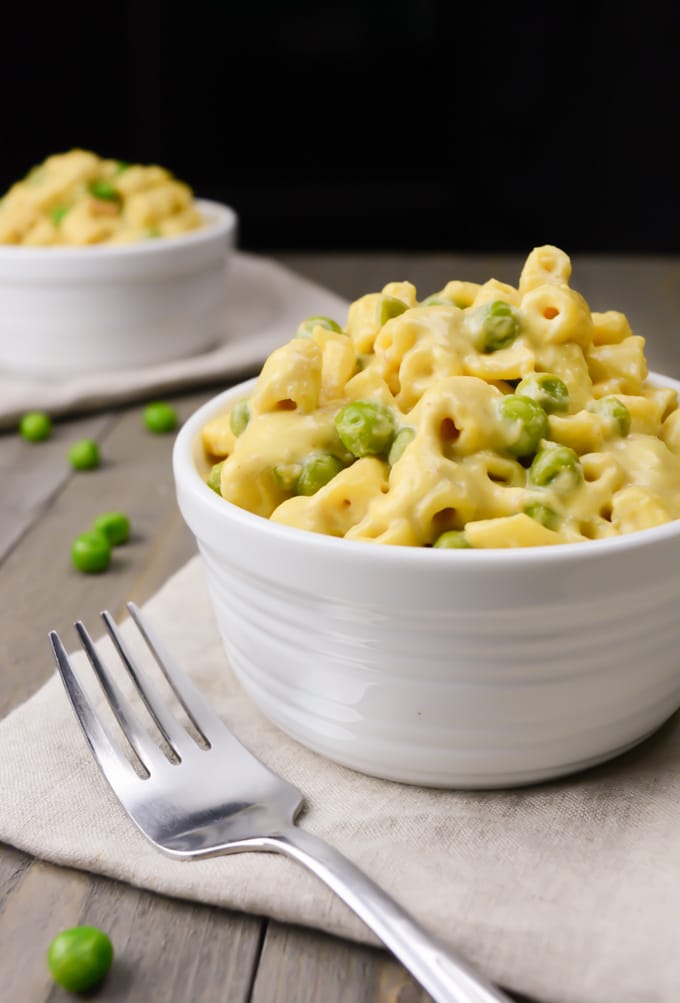 A few years back I dappled in vegan cheese sauce recipes creating Jalapeño Nacho Cheese. Around that time, the potato/carrot based cheese sauce was all the rage. So as you can guess, that was the base of my nacho cheese. It's my favorite 'cheese dip', but I wasn't fond of it over pasta.
That's when this Creamy Vegan Mac and Cheese saved my classic comfort food cravings! This cheese sauce is made with soaked cashew to create a perfectly creamy vegan cheese sauce the whole family will love.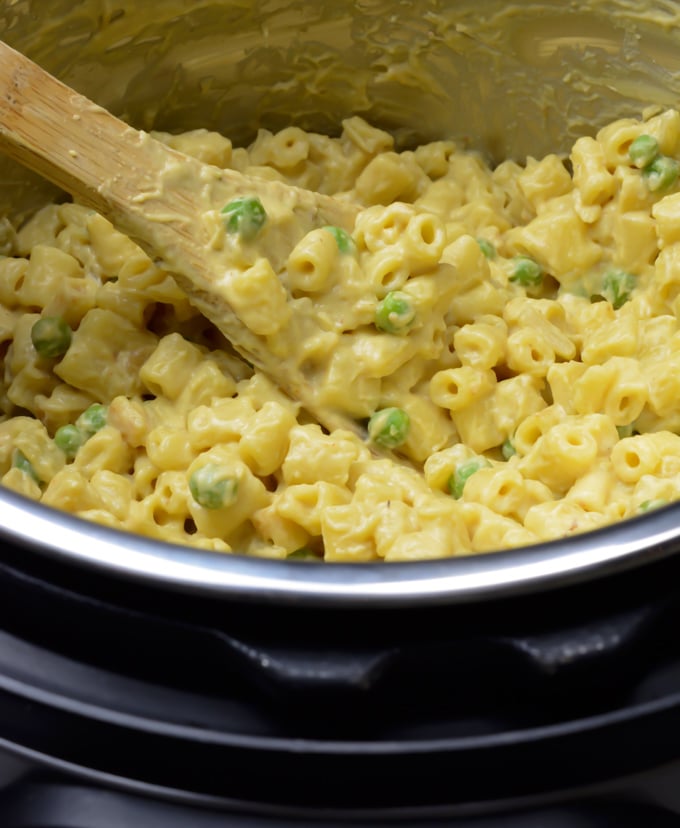 This isn't your typical mac and cheese. It's Vegan Mac and Cheese with peas The peas add a bit of protein and an extra burst of flavor to the dish. Plus it's fun to say…"Mac and cheese with PEAS! PLEASE!"
The peas aren't the only flavor addition to this classic pasta dish. Sautéed onions also make an appearance. Sautéing the onions first brings out their natural sweetness further enhancing the taste of this vegan mac and cheese.
How do I make Vegan Mac and Cheese?
This recipe can easily be made in the Instant Pot or on the stovetop. Instructions for both are included!
Instant Pot
My favorite way to prepare this mac and cheese is in the Instant Pot. If you don't own one, I highly suggest getting one. It has quickly become one of my favorite kitchen appliances.
There are 3 steps to making Instant Pot mac and cheese:
Blend the cheese sauce.
Sauté the onion.
Pressure cook the mac and cheese.
It's so easy my husband has successfully made it on nights I'm not up for cooking!
Stovetop
If you don't own an Instant Pot I've included stovetop instructions as well. The method is just as simple and can be made in one pot. The only difference is the pasta will simmer on the stove and need a bit more attention.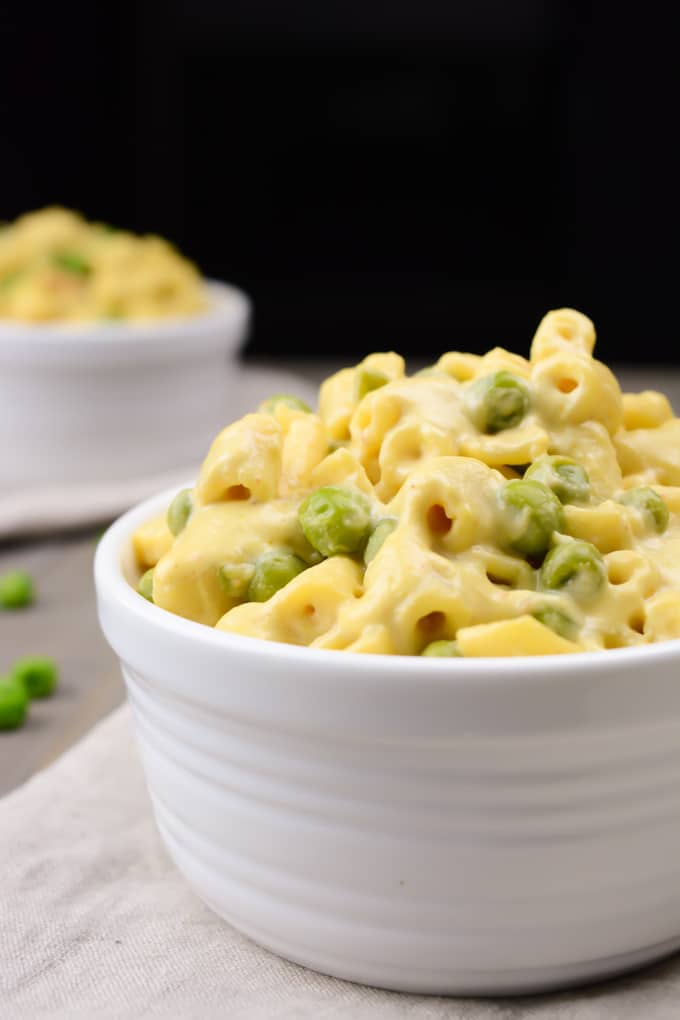 Pasta Tip
There have been a few times I've made pasta in the Instant-Pot with a slight hiccup. The pressure-time begins counting down before the pot has reached full pressure.
Since pasta sinks, it can stick to the bottom of the pot. When this happens, my solution has been to turn the IP off, set the valve to release any pressure that may have built up, then carefully open the lid.
Now give the pasta a good stir being sure to free any noodles stuck to the bottom. Reseal the lid and set the IP to low pressure for 5-10 minutes. It should come to pressure now and cook perfectly.
If you enjoyed this Instant Pot recipe you may enjoy one of these:
We'd love to hear from you!
If you loved this recipe, please leave a 5-star rating in the recipe card and share your thoughts in the comments below. Also, if you snap a photo be sure to share it with us! We love to see your creations! You can find us on Pinterest, Facebook, and Instagram.
Recipe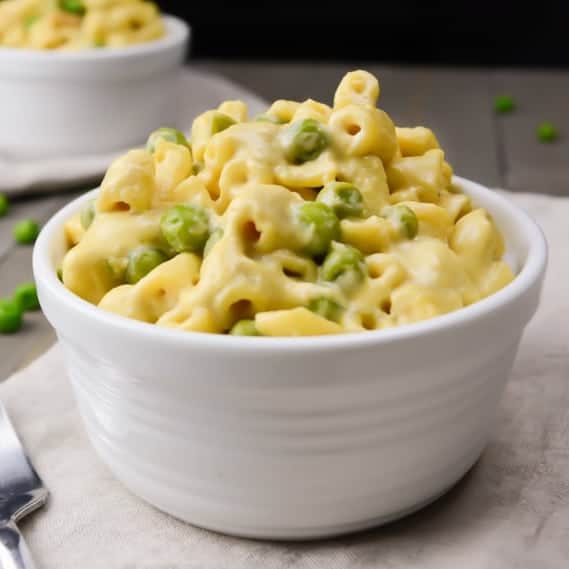 Creamy Vegan Mac and Cheese with Peas (Instant-Pot & Stovetop)
Vegan Mac and Cheese is so creamy and cheesy! It's the perfect dairy-free alternative to a classic comfort food. This one-pot recipe can be made stovetop or in the Instant-Pot.
Ingredients
1 onion, diced*
Neutral oil for sautéing (I use about 2 teaspoons of refined coconut oil)
2 cups water
2 cups vegetable broth
16 oz elbow or ditalini pasta
1 cup frozen peas
Cheese Sauce*
1 cup raw cashews, soaked
2 cups water, divided
1 Tablespoon fresh lemon juice
7-8 Tablespoons nutritional yeast
2 teaspoons Himalayan pink salt, or to taste
1 teaspoon onion powder
1 teaspoon garlic powder
⅓ teaspoon paprika
¼ teaspoon dried mustard seed
⅛ teaspoon turmeric powder
pepper to taste
Instructions
To make the Cheese Sauce
Add 1 and ½ cups of water (reserving the other ½ cup to clean the blender), soaked cashews, lemon juice and seasonings to a high-speed blender. Blend until the cashews are smooth. (Tip: the sauce will be liquid after blending, but thicken up during cooking)
Instant-Pot Mac and Cheese
Once the cheese sauce has been prepped, Using the Instant-Pot's sauté feature, sauté the onions in oil, or water, until softened and slightly browned. This should take about 5-8 minutes. Once the onions have cooked, press the cancel button on your IP.
Now add 2 cups of water, 2 cups broth and the blended cheese sauce to your IP. After adding the cheese sauce swirl the reserved ½ cup of water around in the blender and include that water to the IP. Give it a mix then wait for the water and onions to settle.
Once the water has settled, add in the pasta but don't mix again. (Allowing the onions to settle on the bottom of the pot will help keep the pasta from sticking.) Seal the lid and steam valve.
Using the manual/pressure level feature, cook on low pressure for 13 minutes.
Allow it to naturally release pressure for 10 minutes before opening the lid.
Carefully open the lid and give the mac and cheese a stir.
Add in the peas and give it another stir.
Taste and adjust seasonings. (If needed, add more salt, garlic and/or nutritional yeast)
Serve immediately!
Stove Top Mac and Cheese
Start by prepping the above cheese sauce.
Add the diced onion and oil to a large ceramic or non-stick pot. Sauté over medium heat for 5-8 minutes, or until softened and slightly browned.
Pour the 2 cups of water, 2 cups of broth and blended cheese sauce into the pot. Swish the remaining ½ cup of water from the cheese sauce around in the blender to clean it, include that water to the pot as well.
Add in the pasta and give it a mix.
Cover and bring the pasta to a low simmer. Continuously check and stir the pasta to keep it from sticking to the bottom and adjust the heat as needed. Simmer for 7-10 minute or until the pasta is al dente. (If necessary, add more water, a few tablespoons at a time, to maintain creaminess while the pasta cooks.)
Stir in the peas.
Taste and adjust seasonings. (If needed, add more salt, garlic and/or nooch)
Serve immediately!
Notes
If you're unsure on how to soak cashews, check out my post on soaking cashews.
Instant-Pot: The above Instant-Pot cooking method produces an al dente mac and cheese. If you like your pasta softer, add up to ½ cup more water and allow the mac and cheese to sit for 20-25 minutes.
Seasonings: I never level seasonings or spices while cooking. I measure them slightly rounded.
Leftovers: For best results, reheat any leftovers in the oven. Place in an oven-safe dish, cover with foil and bake at 350ºF for 20-25 minutes or until thoroughly heated.
Nutrition Information:
Yield:

6 servings
Serving Size:

1 serving
Amount Per Serving:
Calories:

289
Total Fat:

12g
Saturated Fat:

2g
Trans Fat:

0g
Unsaturated Fat:

8g
Cholesterol:

0mg
Sodium:

667mg
Carbohydrates:

36g
Fiber:

6g
Sugar:

4g
Protein:

13g
**Nutritional info is provided as an estimate based on the ingredients I used and for convenience and as a courtesy only.**