Vegan Vanilla Waffle sticks are a fun, dippable breakfast for kids and adults alike! A few special ingredients give these homemade waffle sticks an extra crispy outside while the center remains soft and fluffy. Keep the recipe classic and serve with maple syrup, or go all out with a fancy fruit dip and coconut whipped cream!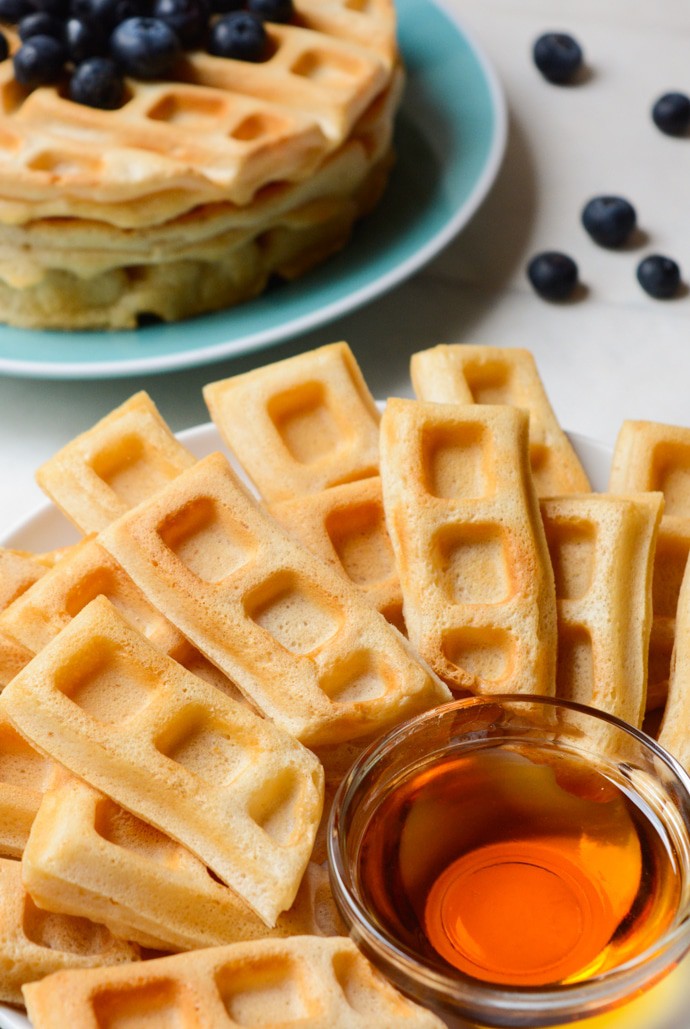 As a kid I enjoyed homemade waffles regularly. Being the picky eater I was, they had to be crispy on the outside and soft on the inside.
There was only one waffle recipe that satisfied my expectations, but it included whipped egg whites.
Yeah, that's not going to happen around here anymore so, new plan… Cornstarch and sparkling water to the rescue!
The addition of cornstarch in these vegan vanilla waffle sticks helps create an EXTRA crispy outside. And what's a waffle without a crisp outside?… umm, I'd call that a pancake xD …
The sparkling water is great because it gives these waffles the airy bubbles you see. And those airy bubbles create a much desired, soft and fluffy inside!
Hurry, heat up the waffle iron and surprise your family with these Vegan Vanilla Waffle Sticks.
Speaking of waffle irons, I use this mess-free waffle maker. It creates a round waffle that can be cut into 8 sticks for dipping, or left whole for your favorite toppings.
Another perk about this waffle maker is the mess-free design. Its overflow channel keeps the batter from seeping out and making a drippy mess on the side of the waffle maker. We've all been there and it's no fun to clean!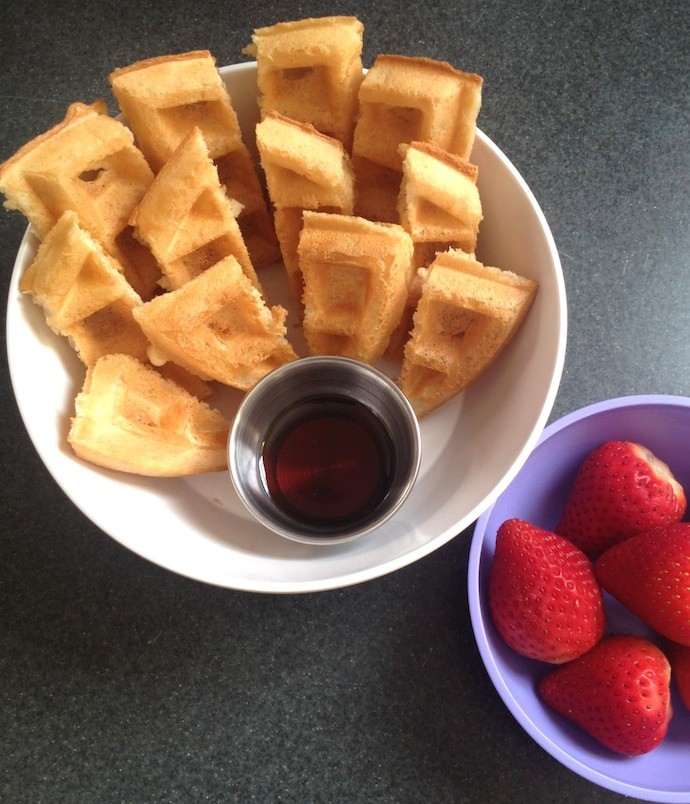 A special waffle maker is not necessary for sticks, but it does make things easier. The above photo of my daughter's breakfast shows how a regular waffle can still be cut into kid-friendly dippers.
Vegan Vanilla Waffle Sticks are...
perfect for dipping
never soggy
amazing with

fruit compote

fun for the whole family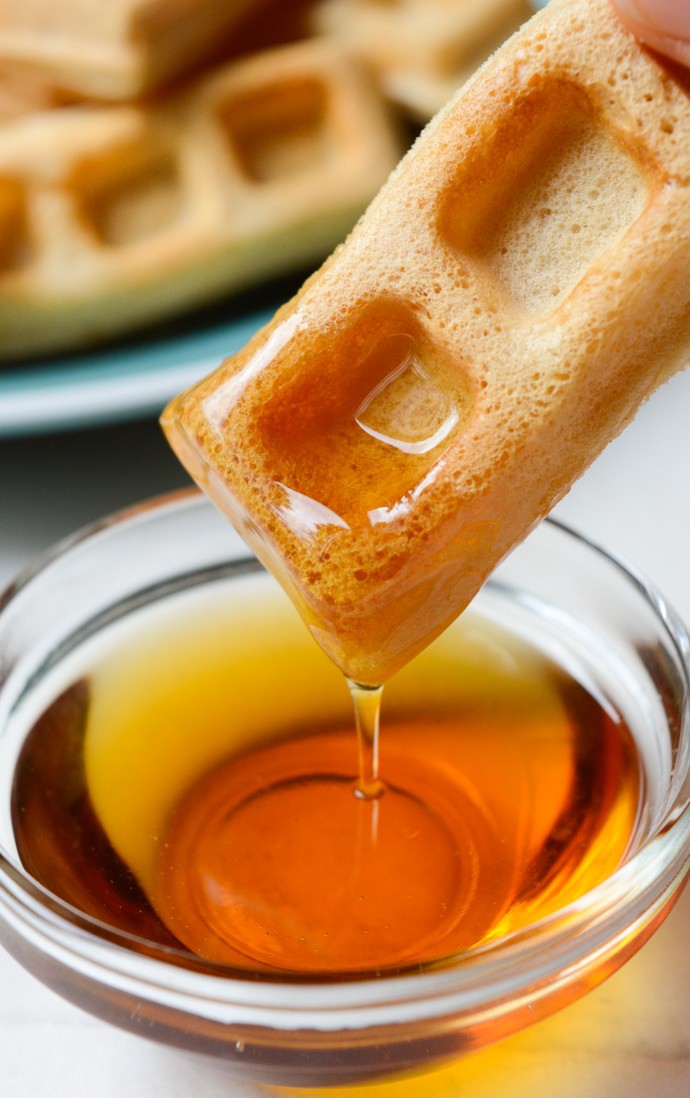 The vanilla flavor came about when my husband accidentally purchased a carton of vanilla almond milk. I can't blame him with all the options now days.
Anyways, the vanilla flavored plant-milk in addition to the vanilla extract paired perfectly in the waffle recipe I was making. It gave them an enhanced vanilla taste and filled the entire house with the aroma of vanilla waffles! YUM!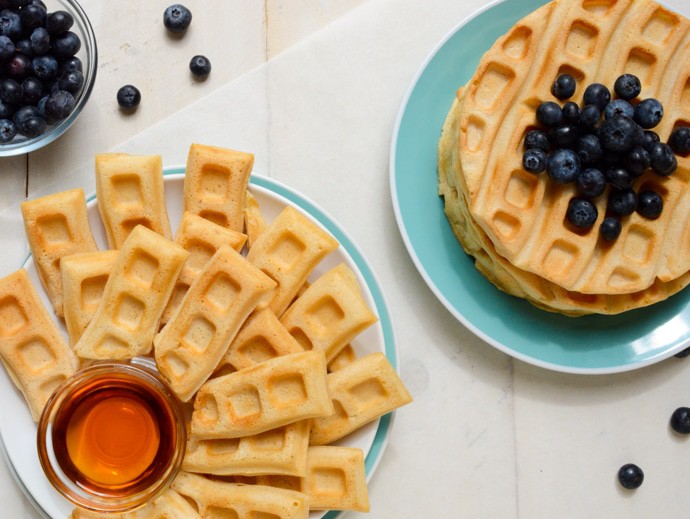 If you feel crispy waffles are second to fluffy pancakes, hurry on over to these vegan cinnamon pancakes! They never disappoint!
Got ripe bananas on hand? Bake up a loaf of vegan banana bread! It's a reader favorite!
Recipe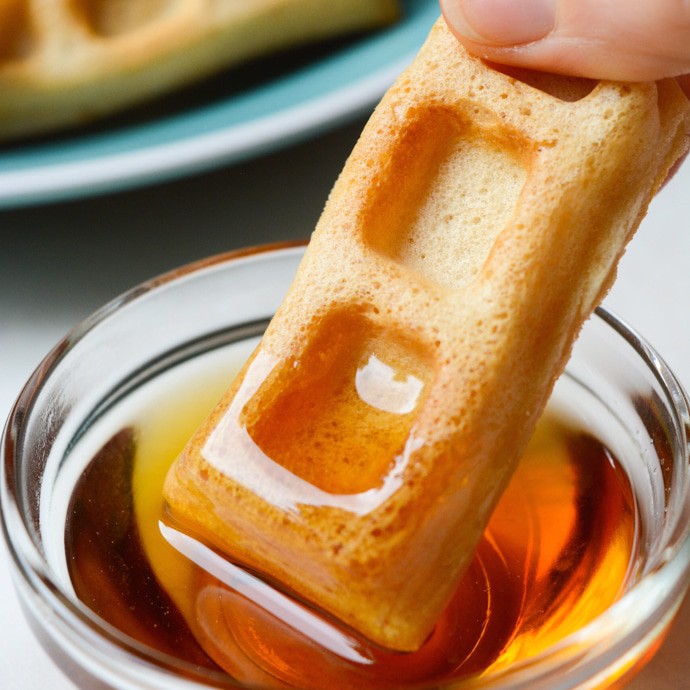 Vegan Vanilla Waffle Sticks
Vegan Vanilla Waffle sticks are a fun breakfast to dip! A few special ingredients give these homemade, egg-free waffles an extra crispy outside and fluffy inside.
Ingredients
Dry
3 cups unbleached all purpose flour
3 teaspoons baking powder
1 Tablespoon organic cornstarch
3 Tablespoons coconut sugar
⅓ teaspoon Himalayan pink salt
Wet
2 cups vanilla non-dairy milk*, unsweetened
1 cup sparkling spring water, or club soda
⅓ cup organic coconut oil, use refined to avoid coconut taste
1 Tablespoons pure vanilla extract
Instructions
Combine the dry ingredients into a large bowl.
Pour in the wet ingredients and whisk to create a batter.
Pour the batter into the heated waffle maker.
Cook per your waffle makers directions.
Serve the waffles immediately or place them on a wire rack to cool for freezing.
Freeze any leftover waffles in a freezer-safe container or bag with parchment between them. For a quick breakfast, reheat the frozen waffle in the toaster oven.
Nutrition Information:
Yield:

8 waffles
Serving Size:

1
Amount Per Serving:
Calories:

491
Total Fat:

13g
Saturated Fat:

11g
Trans Fat:

0g
Unsaturated Fat:

1g
Cholesterol:

2mg
Sodium:

321mg
Carbohydrates:

55g
Fiber:

2g
Sugar:

17g
Protein:

6g
**Nutritional info is provided as an estimate based on the ingredients I used and for convenience and as a courtesy only.**
Non-dairy milk note:
For unflavored non-dairy, add-in 1 and ½ Tablespoons vanilla extract.