Vegan Pistachio Chocolate Chip Cookies are loaded with salty pistachios and mini chocolate chips. The sweet/salty combo makes them an ideal baked treat!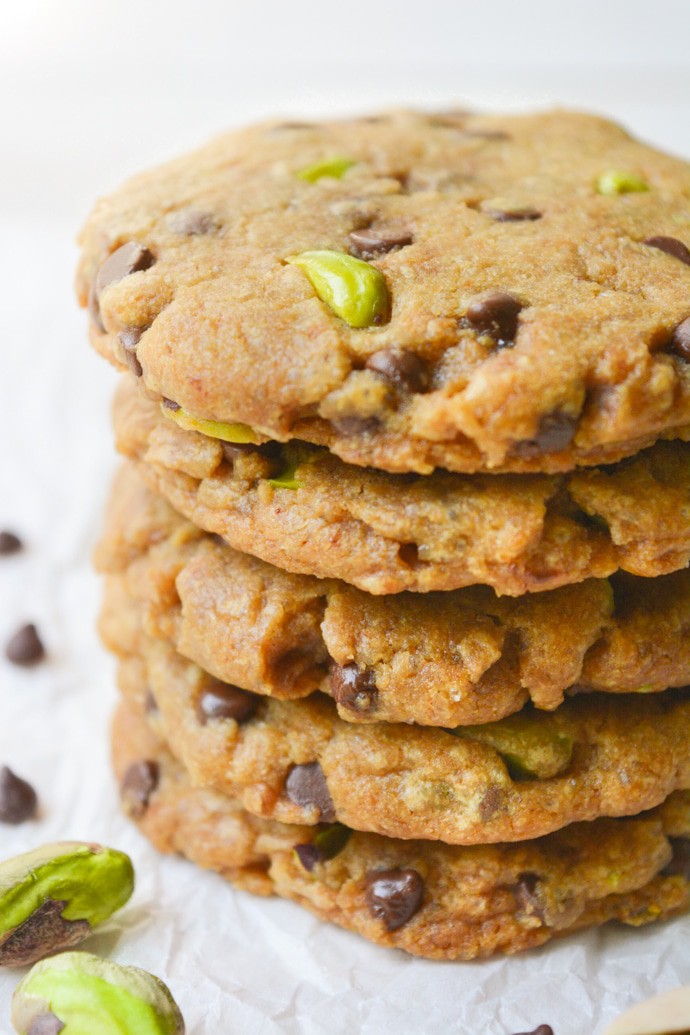 Cookies are definetly my favorite sweet treat to make. The endless flavor possibilities and combinations, not to mention the ease, has me making them weekly! And you should be too, with all the cookie recipes here!!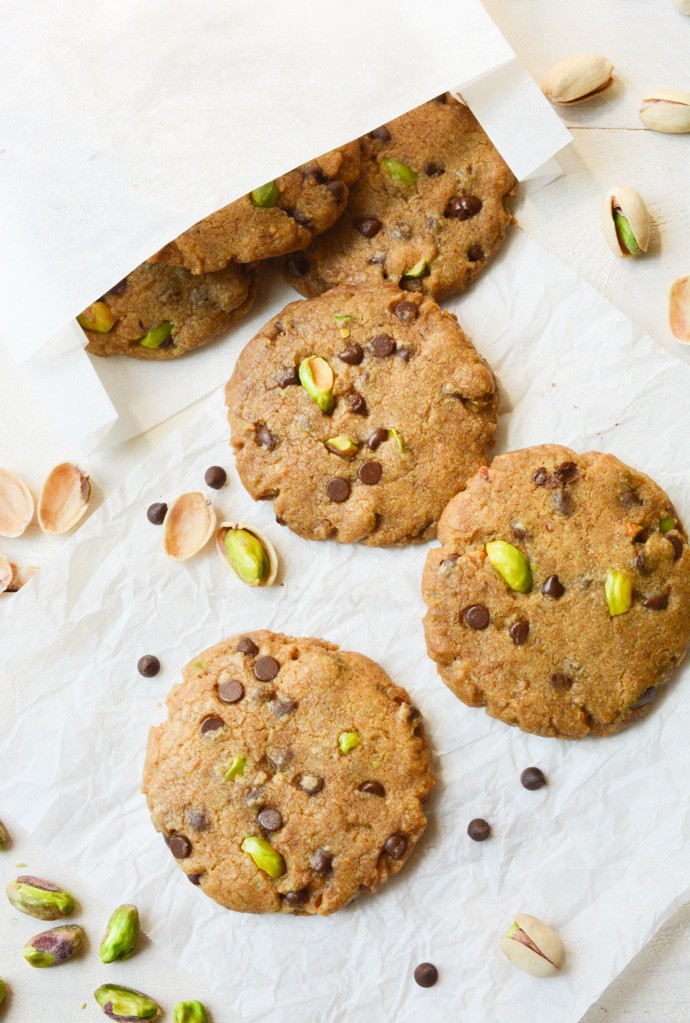 While scrolling through all those cookie recipes on the blog I realized I didn't have any chocolate chip cookies. And that's just wrong! So, today things are going to change because these Pistachio Chocolate Chip Cookies have made their debut.
I couldn't post a classic vegan chocolate chip cookie recipe, there are plenty of those already. So I switched it up a bit and added in one of the best nuts to have hit my mouth.
I'm talking about the PISTACHIOS of course!!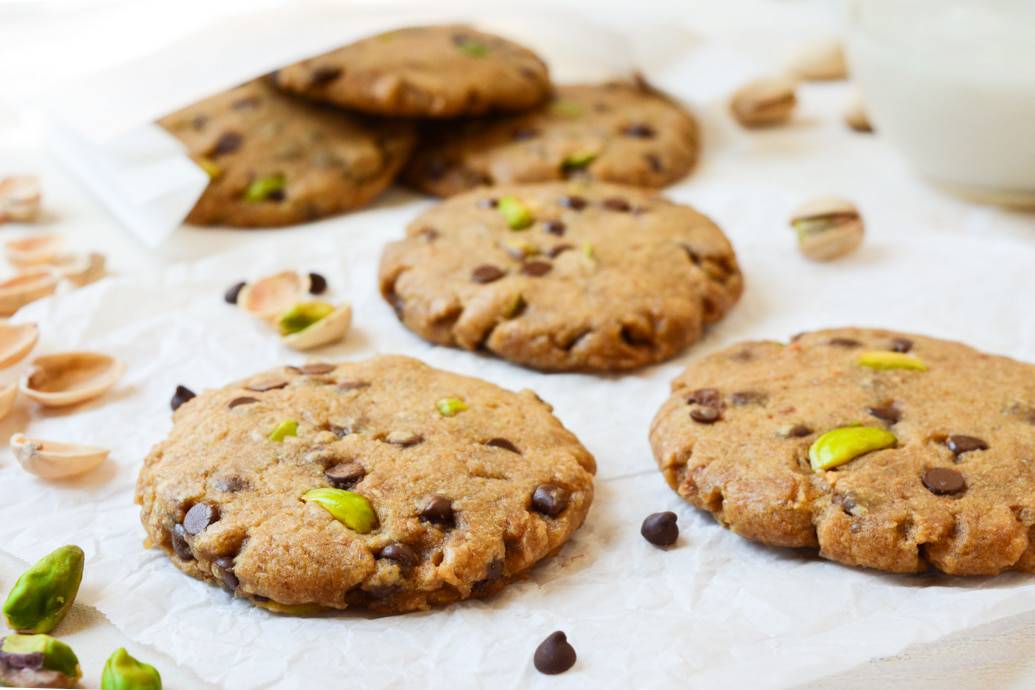 These Pistachio Chocolate Chip Cookies have quickly become a favorite of mine. They're right up there with
thin mints
,
peanut butter
and
chocolate brownie cookies
!
The rich sweet/salty taste is reminiscent of a high quality bakery cookie. And that's what I'm after! I mean, who isn't looking to eat the best vegan pistachio cookie ever?!
So let's get bakin'!
Salty pistachios are the perfect addition to the classic chocolate chip cookie! I opted for salted pistachios because I love a good salty to sweet ratio. (however, feel free to use unsalted)
This overlooked nut gives the cookies an unrivaled nutty flavor that'll have you instantly hooked! The crisp edges and soft centers will have you declaring these the ultimate chocolate chip cookie!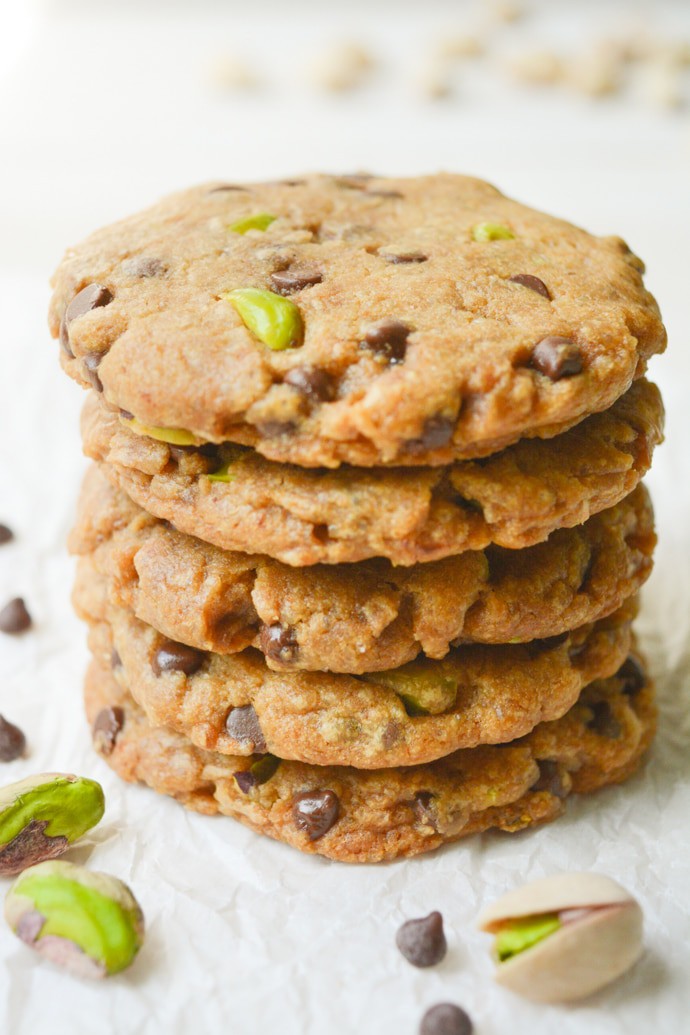 Tips for Pistachio Chocolate Chip Cookies
If you really want to enhance the saltiness, lessen the salt in the dough and top the cookies with a sprinkle of sea salt! YUM!
For a softer, chewier cookie bake for 9-10 minutes.
For a crispier cookie bake for 12-13 minutes.
Now, go bake these tasty vegan Pistachio Chocolate Chip Cookies ASAP!
---
Pistachio Chocolate Chip Cookies [vegan]
Vegan Pistachio Chocolate Chip Cookies are loaded with salty pistachios and mini chocolate chips. The sweet/salty combo makes them an ideal baked treat! They're egg-free and dairy-free!
10 minPrep Time
10 minCook Time
20 minTotal Time
Yields 16 cookies
Ingredients
Dry
1 and 1/2 cups organic unbleached all purpose flour
1 teaspoon baking soda
1/2 teaspoon baking powder
1/3 teaspoon Himalayan pink salt
Wet
1/2 cup refined coconut oil, softened, not melted
1/3 cup coconut sugar, powdered*
1/3 cup turbinado sugar
1 and 1/2 teaspoons pure vanilla extract
2 Tablespoon non-dairy milk
Add-ins
1/2 cup non-dairy mini chocolate chips
1/2 cup pistachios, coarsely chopped
Instructions
Preheat the oven to 350ºF and line a baking sheet with parchment paper.
Mix the dry ingredients together.
In a separate, large bowl whip the coconut oil until smooth and silky.
Whip the sugars with the oil until it is light and airy.
Slowly add in the non dairy milk while continuing to mix. Then mix in the vanilla extract.
Add the dry ingredients into the bowl of wet and mix to form a dough.
Fold in the pistachios and chocolate chips.
Using a cookie scoop , evenly place dough balls on the cookie sheet. Gently flatten each cookie with your palm or the bottom of a glass.
Bake at 350ºF for 10-12 minutes.
Once cooled to the touch, place the cookies on a wire rack to fully cool.
Store in an airtight container.
7.8.1.2
58
https://www.whereyougetyourprotein.com/pistachio-chocolate-chip-cookies/
Where You Get Your Protein - whereyougetyourprotein.com
---