Vegan Peanut Butter Cookies are a quick and easy treat that will disappear fast!   If you're looking for a soft irresistible cookie that's bursting with peanut butter flavor, these classic cookies will hit the spot!   Plus they're egg free, dairy free, refined-sugar free and made with fresh ground peanut butter, which makes them a healthier choice! 
How to make Vegan Peanut Butter Cookies – no-chill 
---
---
I just impressed myself (and my family) with the quickest peanut butter cookies ever!  If you know anything about me then you'll know I'm super impatient about waiting for things to chill, rise, set, etc.  And today was no exception!  I just wanted eat cookies. Not look at them in the fridge for the next hour while they chill!  So the rebel in me skipped that step and made these cookies no-chill!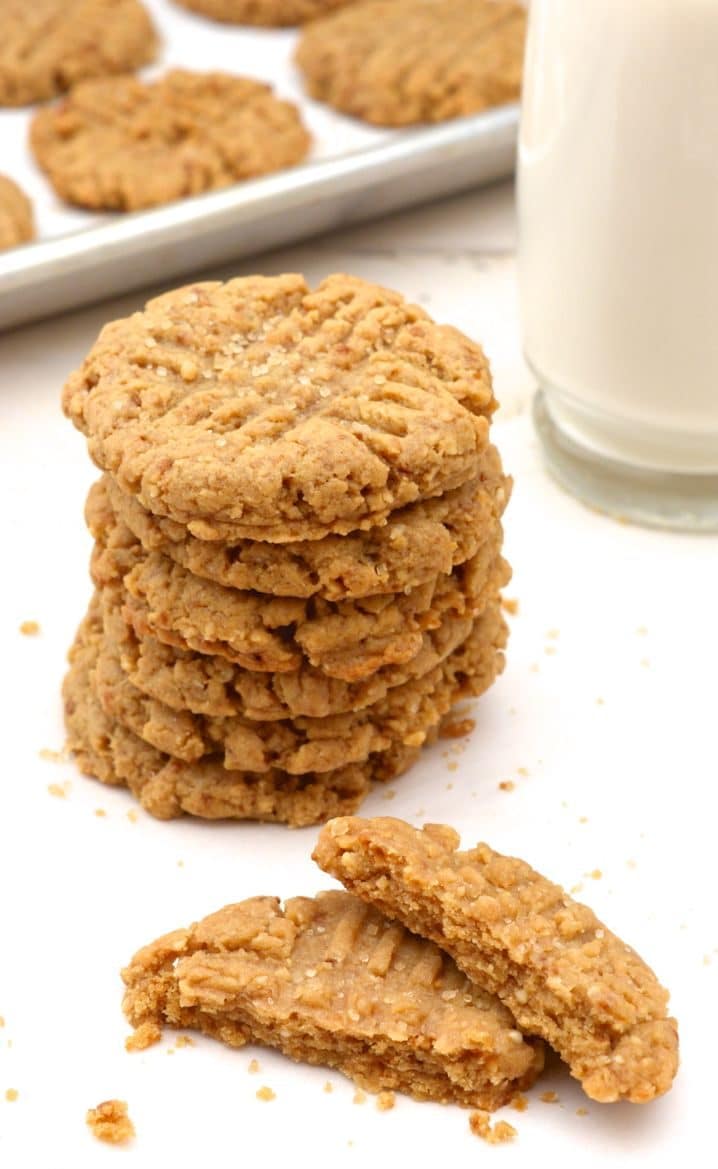 Once the dough was mixed I impatiently began forming balls with it.  The dough balls were placed straight on the pan to be smashed, then into the oven to bake.  When the timer went off, I was excited to see how they came out.  My first thought was- 'they look a bit dry'.  
But looks

can

be deceiving– 
so I gave them a try.  3 cookies later there was no question..
these cookies are amazing!
Super soft, warm peanut butter cookies with a touch of salt!   
All I can say is → Classic Peanut Butter Cookie perfection!
And to solidify my amazement with these cookies I called my husband over to try them (him and peanut butter have a special bond).  I knew I'd get an honest answer from him.  4 cookies later he says "you need to keep these stocked in the house, I'm not kidding".  My daughter ran over and snatched one then exclaimed these are her new favorite cookie!  Needless to say, we all agreed they were delicious and the whole batch was gone that night!
Vegan Peanut Butter Cookies
These cookies are actually a result of something that caught my eye at a local organic market a few days ago.  It was a machine, that makes fresh ground peanut butter.  I was intrigued and bought about a pound of it.  (I don't know if you've seen such a thing, but if you have, I recommend you grab a container and fill it up!)
I brought it home not know what I was going to do with it until my husband suggested I make peanut butter cookies.  And since I've been making
lemon cookies
lately, I was excited for the change!
---
Vegan Peanut Butter Cookies – 20 min no-chill
10 minPrep Time
10 minCook Time
20 minTotal Time
Yields 26 cookies
Ingredients
Dry
1 2/3 cup organic all purpose flour
1/2 teaspoon pink salt
1 teaspoon baking soda
Wet
1/3 cup coconut oil, solid
1/3 cup turbinado sugar
1/3 cup coconut sugar
3/4 cup fresh ground peanut butter- *see note
1/3 cup non-dairy milk- *see note
1 teaspoon vanilla extract
Topping
Sprinkle with extra turbinado sugar
Instructions
Dough

Preaheat your oven to 350ºF.
Mix the dry ingredients in a medium bowl and set aside.
In a large bowl, cream together the coconut oil and sugars.
Add in the remaining wet ingredients and mix until combined.
Pour half of the dry ingredients into the bowl of wet and mix.
Pour in the other half and mix until fully combined. The dough should be soft and easily stick to it's self. If your dough is a bit dry add a teaspoon or 2 more of non-dairy milk.

To Form the Cookies

Place a Tablespoon of dough on your baking sheet. Using the bottom of a cup (or palm of your hand like I did) gently smash each cookie.
Using a fork, crosshatch each cookie then sprinkle with turbinado sugar.
Bake at 350º for 10-13 minutes.

10 minutes will yield a softer cookie.

Serve these soft peanut butter cookies with a glass of non-dairy milk and watch them disappear!
7.8.1.2
47
https://www.whereyougetyourprotein.com/vegan-peanut-butter-cookies-20-min-no-chill/
Where You Get Your Protein - whereyougetyourprotein.com
Note:
 If you can't find fresh ground peanut butter, natural peanut butter in a jar will be just as irresistible.  If you go for the jarred pb 1/3 cup of non-dairy milk should be perfect.  But if you were lucky enough to come across a
'peanut butter makin' machine'
you might need another teaspoon or 2 of non-dairy milk.  The dough should easily stick to itself while kneading it with your hands.  If it is a bit crumbly add more non-dairy milk. But be sure not to add too much, you don't want a sticky dough.
---
*Disclosure: This post may contain affiliate links.