Vegan snowball cookies will complete your holiday cookie tins, platters, and gift boxes. These shortbread-style cookies are filled with chopped pecans and then dusted with powdered sugar.  They're made with coconut oil instead of butter for a slightly healthier Christmas cookie. (I say slightly because you won't want to stop eating them!) 
Snowball cookies are a traditional holiday cookie!
As a child, I remember seeing them in the holiday cookie tin looking delicious and covered in powdered sugar. But after a few bites and a mouth full of nutty cookie, I quickly realized they were deceiving and grabbed a chocolate chip cookie instead.
Fast forward many years later, I've come to realize snowballs are the best cookie in the tin!
A shortbread cookie filled with chopped nuts, covered in powdered sugar with just the right amount of melt-in-your-mouth cookie crumble. YES PLEASE!
They're my new favorite holiday cookies and are definitely going in this year's cookie boxes!
You may also know these cookies as
Mexican Wedding Cookies
Pecan Snowballs
Russian Tea Cakes
Tea Cookies
Butterballs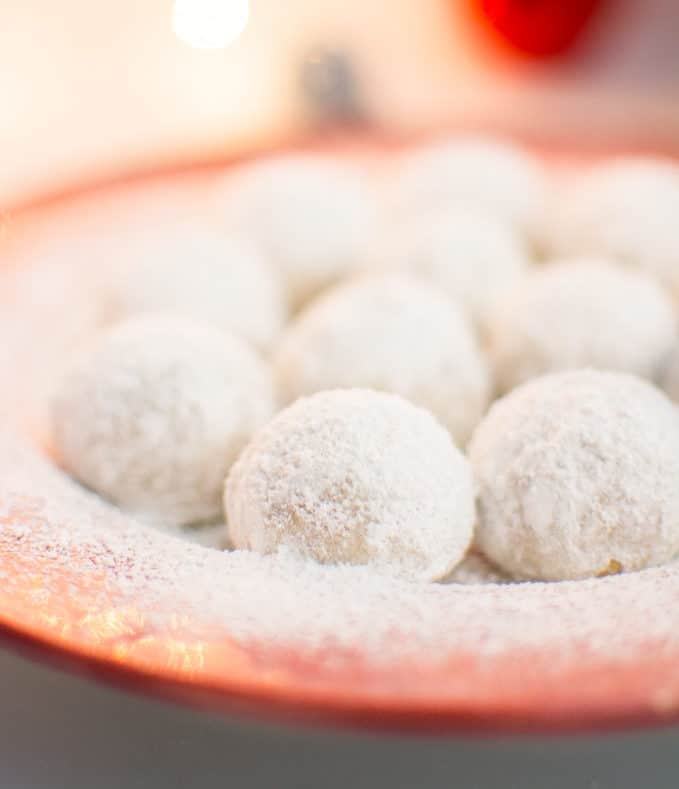 Coconut Oil Instead of Butter
Most recipes (vegan or not) use 1 cup of butter, which I replaced with coconut oil.
You can choose virgin or refined oil depending on your taste preference. I tested this recipe using refined coconut oil to keep the flavor neutral.
Using a little less oil and adding a chia egg allowed these cookies to hold their shape. In fact, the cookies held their shape so well the first time around they were nearly perfect balls after baking.
Next batch around I lightly pressed the cookie balls down before going in the oven. This gave them the perfect bottoms I was looking for.
How to Make Vegan Snowball Cookies
Start by creaming together the coconut oil and sugar. Then mix in the salt, vanilla, and chia egg.
Cut in the flour with the side of a stiff spatula or pastry cutter. (It should look similar to the dough on the far left in the first image below.)
Add the chopped nuts to the bowl. Use the same method to cut them into the dough. This may take a few minutes to get everything well combined.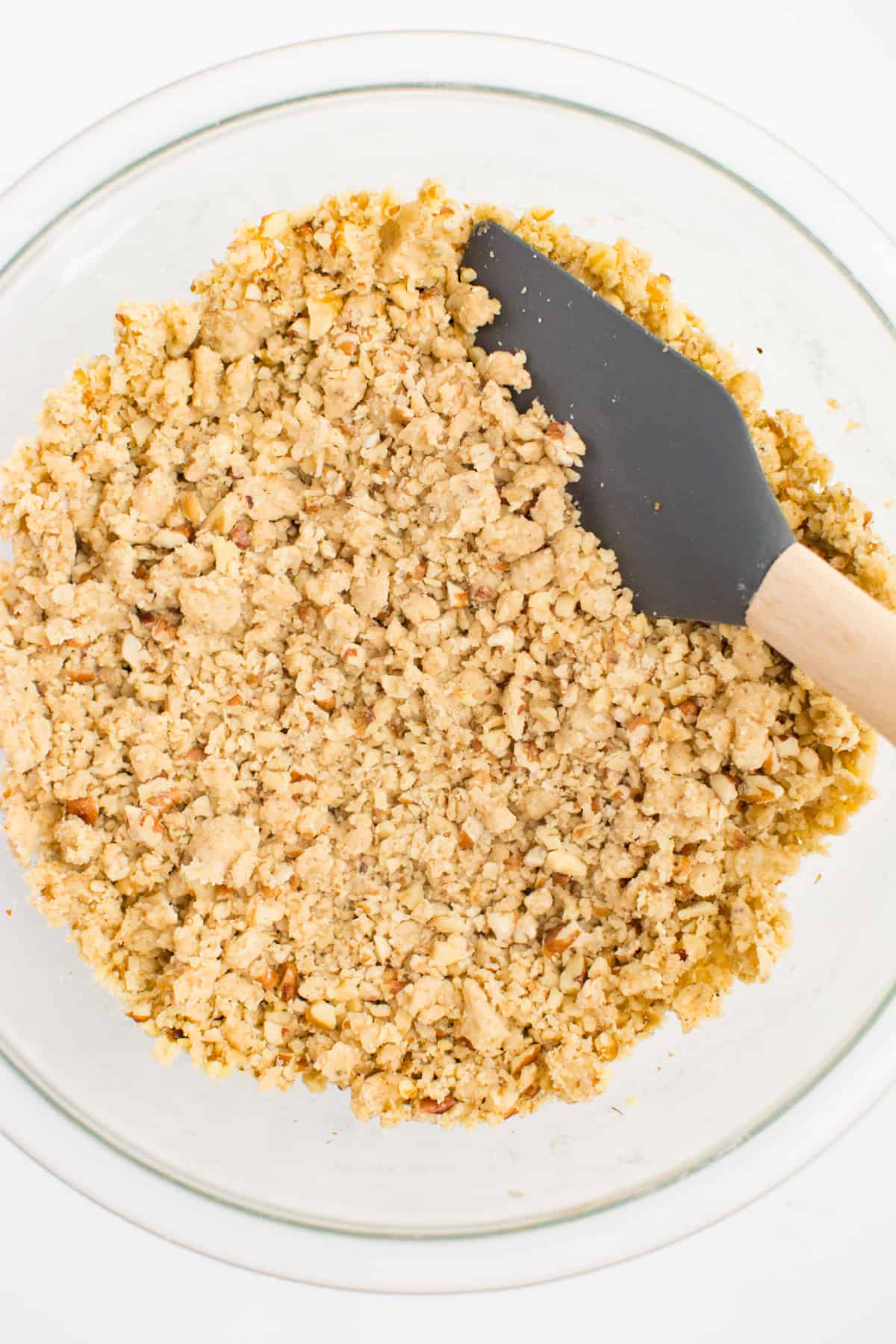 The dough should look crumbly after mixing.
Tip: If pecans aren't your thing (or you don't have any on hand) try adding chopped walnuts, almonds, macadamia nuts, or a combination of nuts instead!
To shape the cookie balls
Press the dough into a tablespoon measuring spoon and level. Pop the measured dough out by lightly pressing on one side with your thumb.
Roll the dough into a ball by firmly pressing and pinching it together so it holds shape. It may seem crumbly at first, but the dough will hold its shape when worked enough. Place the dough ball on a baking sheet lined with parchment paper.
Bake the cookies at 350ºF for 18-20 minutes.
One great thing about this recipe- the cookies spread very minimally so there's no need to chill the dough before baking.
Roll the fully-cooled cookies in powdered sugar. Repeat this step 2-3 times to fully coat the snowball cookies.
For gifting
Use a sieve to give the cookies a final top dusting of "snowy" powdered sugar before placing them in the cookie tin.
Now stuff them in some festive (affiliate link) holiday cookie boxes for the perfect homemade gift.
Vegan snowball cookies are also great with a warm mug of pumpkin spice hot chocolate. YUM!
More vegan recipes to fill your cookie tin
No-Chill Peanut Butter Cookies
We'd love to hear from you!
If you enjoyed this vegan recipe, please leave a 5-star rating in the recipe card and share your thoughts in the comments below.
Also, if you snap a photo be sure to tag us! We love to see your creations!! You can find us on Pinterest, Facebook, and Instagram.
Or, get the links to new recipes delivered straight to your inbox by signing up for our newsletter.
See ya there!
Recipe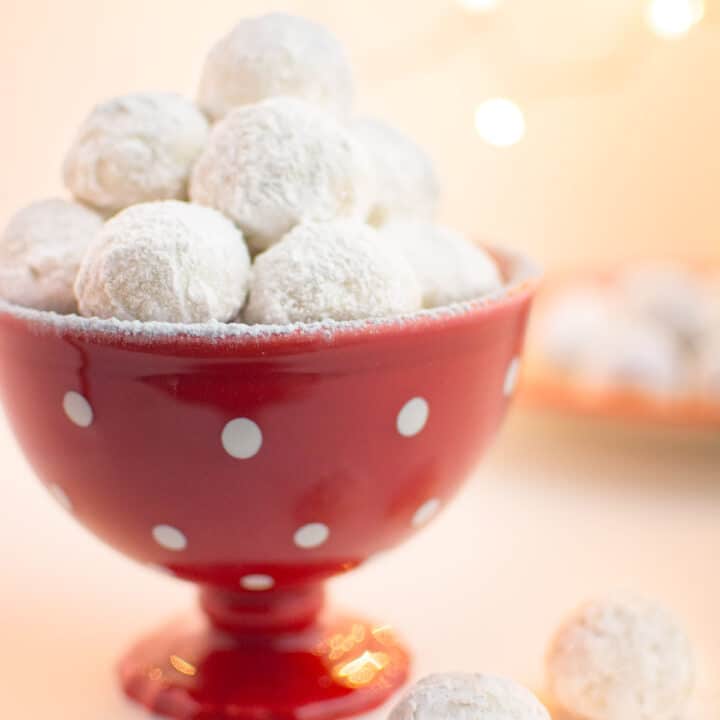 Vegan Snowball Cookies
Vegan snowball cookies are shortbread style cookies filled with chopped pecans then dusted with powdered sugar. Complete your holiday cookie tins, platters and gift boxes with a batch of these classic cookies!
Ingredients
1 and ⅓ cups toasted pecans, finely chopped
2 cups all-purpose flour
⅔ cups plus 1 Tablespoon refined coconut oil, solid at room temperature
½ cup coconut sugar, or cane sugar
1 chia egg (see notes)
1 and ½ teaspoon vanilla extract
pinch of Himalayan pink salt
1 and ½ cups powdered sugar for rolling
Instructions
Toast the pecans, preheat your oven to 350ºF, and line a baking sheet with parchment paper.
Make the chia egg and it set aside.
In a large bowl, cream together the coconut oil and sugar. Mix in the salt, vanilla extract, and chia egg.
With the side of a stiff spatula cut in 1 cup of flour. You can also use a pastry cutter or hand mixer for this step.
Once blended, use the same method to cut in the second cup of flour. Don't worry if it's slightly dry and floury, the oil from the nuts will bring it together.
Mix in the chopped nuts to form a crumbly dough.
Firmly press the dough into a 1 Tablespoon measuring spoon. Level it off and remove it from the measuring spoon.
Using your fingers/hands, press and shape the dough to form a "snowball". To do this you'll want to firmly press and pinch it together with your fingers so it holds shape. It may seem crumbly at first, but the dough will hold its shape when worked enough.
Place about 2 inches apart on a baking sheet lined with parchment paper. Gently press the balls down to slightly flatten the bottoms.
Bake at 350ºF for 18-20 minutes. Allow the cookies to completely cool before rolling in powdered sugar.
Sift the powdered sugar into a small bowl.
Roll the cooled cookies in the powdered sugar to coat. They may need 2-3 coatings.
For gifting, use a sieve to give the cookies a final top dusting of powdered sugar.
ENJOY!
Notes
Pecans. Measure the nuts before chopping. For a nuttier flavor, toast them in a dry pan over medium heat for 5-8 minutes before chopping.
To make a chia egg, mix together 1 Tablespoon ground chia seed + 3 Tablespoons water. Set aside for 3-5 minutes to thicken. The chia egg can be replaced with a flax egg, just make sure it's thick.
Powder the sugar. Use a blender to powder the coconut/cane sugar and make the dough easier to work with. This step is not necessary, but it does create a better cookie. You can also replace it with powdered sugar and skip the blending.
Nutrition Information:
Yield:

40
Serving Size:

2
Amount Per Serving:
Calories:

33
Sodium:

2mg
Carbohydrates:

7g
Sugar:

2g
Protein:

1g
**Nutritional info is provided as an estimate based on the ingredients I used and for convenience and as a courtesy only.**
More Holiday Favorites
Where You Get Your Protein is a participant in the Amazon Services LLC Associates Program, an affiliate advertising program designed to provide a means for sites to earn advertising fees by advertising and linking to Amazon.com. This site may contain some of these links to Amazon.com. If you make a purchase through one of those links, Where You Get Your Protein will receive a small commission from the purchase at no additional cost to you.